We are reader supported and may earn a commission when you buy through links on our site.
Learn more
How to Install a VPN on Firestick and Fire TV [No Root Needed]
If you're not using a VPN with your Amazon Fire TV, you're missing out–it's surprisingly easy to install one, and use it to unblock loads of region-locked content, while beating ISP throttling. Today, we'll show you how to get started configuring your Fire TV for VPN encryption, WITHOUT needing to root your device.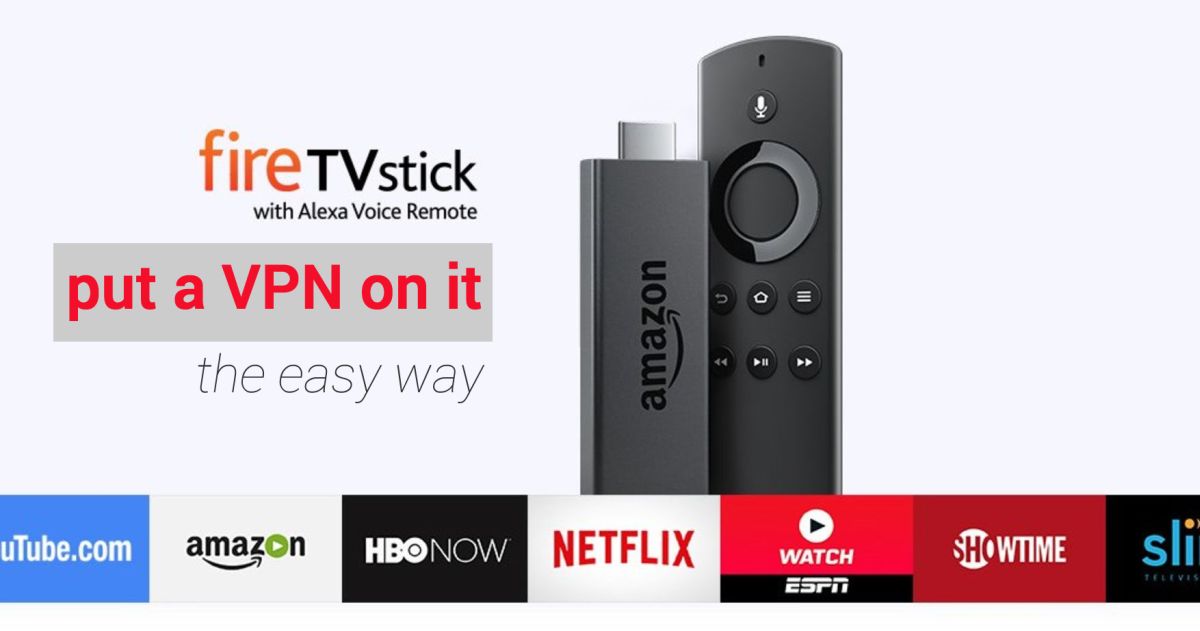 Amazon's Fire TV Stick bridges the gap between streaming videos from the internet and watching TV. The tiny device makes it easy to watch Netflix, Hulu, HBO Now, BBC iPlayer, Crackle, Amazon Instant Videos, and countless other channels and services, all in HD quality. It's portable, inexpensive, and extremely convenient, especially if you pair it with a good VPN.
There's a limit to what the Amazon Fire TV Stick can do, however, and that mainly centers on content availability. Channels and providers can restrict videos based on your location, preventing you from watching shows outside of your region. This can be especially frustrating if you're traveling overseas and can't access the content you're used to.
Unlock the potential of your Firestick with these outstanding VPNs:
NordVPN – Best Firestick VPN – NordVPN offers the most functionally robust VPN app native to Firestick–no sideloading or jailbreaking required. Securely spoof into nearly 60 countries worldwide.
Surfshark – Sleek but powerful VPN app that conserves the Firestick's limited processing power.
IPVanish – The classic choice for Firestick owners for years, unblock content libraries in privacy.
VyprVPN – Powerful tunneling, strong encryption, great logging policy.
A quick and simple workaround to the geo-locking problem is to use a virtual private network. Installing a VPN on your Firestick or Fire TV only takes a few minutes and can deliver countless hours of content with no restrictions. It's a popular option with those using Kodi on their Fire Stick where the content sits in a legal gray area.
30-days money back guarantee
First, choose the right provider
Choosing the right VPN can be tough. There are so many details about security protocols, logging practices, server locations, and data plans to sort out, it seems like more of a hassle than it's worth. We've made the process easy by focusing on trusted providers with long standing reputations in the VPN marketplace. They also feature software and support that covers the Fire TV Stick, so if you run into any problems while streaming, they can make it right.
Below are the criteria we used to evaluate VPNs best suited to install on your Fire TV Stick:
Best performing Firestick VPNs that don't require root
When you're ready for a cozy night of streaming movies and TV shows, you don't want to mess around for hours rooting your device just to gain access to your favorite geoblocked content. Instead, use one of the following VPNs, each tailor-made for your Amazon Fire TV device: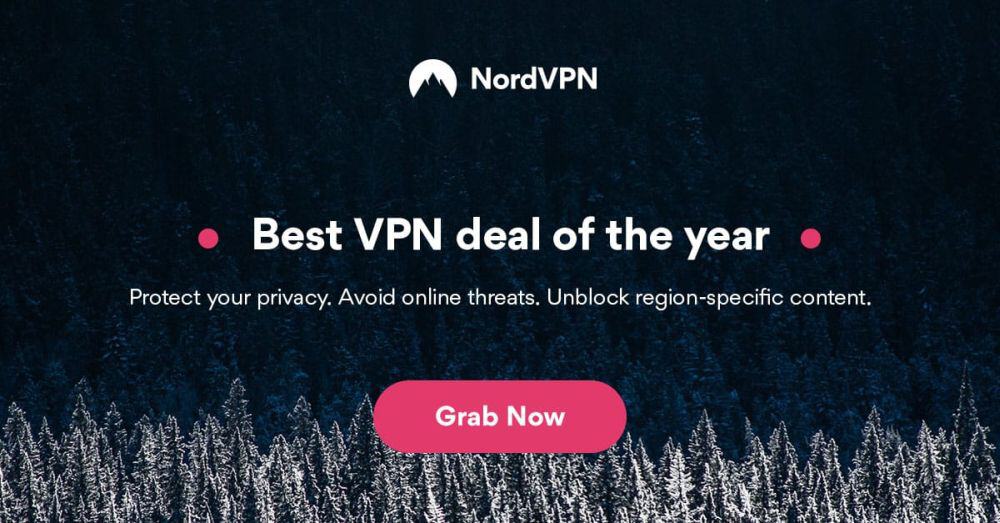 A longtime leader in the VPN field, NordVPN has a reputation for providing impeccable connection speeds along with unbeatable security. The service encrypts all data twice, wrapping it in 2048-bit SSL encryption that even a supercomputer can't crack. Paired with that security is a zero-logging policy, unlimited bandwidth, and a massive network of 5,500+ servers in 58 countries, a number that's constantly growing. Server switching to access region locked content is also unlimited, making NordVPN a strong choice for Fire TV users looking for more freedom.
One of the best features of NordVPN is SmartPlay. This clever service automatically unblocks streaming services that aren't available in your area. If you can't access Hulu or BBC iPlayer, for example, NordVPN seamlessly switches and unblocks them in the background. This doesn't prevent you from changing server locations on your own, of course, it's just a convenience feature you'll learn to love.
Read our full NordVPN review.
Pros
Unblocks US Netflix, iPlayer, Amazon Prime and other streaming services
Over 5,400 servers in 61 countries
Strong security features
Retains no metadata of your browsing
24/7 Chat Support.
Cons
Some servers can be slow and unreliable
Can't specify City or Province in App.

Surfshark is a relative newcomer to the Firestick's app store, but it's fast becoming one of the most popular choices for streamers all over the world. At first glance, you might wonder why; after all they "only" have 800 servers in 50 countries compared to the multiple thousands elsewhere. But, the old adage goes: quality over quantity.
In this respect, Surfshark certainly delivers. Each one of those servers exists on RAM-only infrastructure, reducing latency while making it impossible for your VPN to log your usage metadata (as it continuously overwrites its databanks). Moreover, they all just work to unblock streaming sites like Netflix–no fiddling with arcane VPN settings.
Of course, if you are more technically inclined, you'll delight at the security of the 256-AES-GCM encryption standard, as well as the performance of OpenVPN, IKEv2/IPSec, and WireGuard tunneling protocols. Auto-obfuscation also disguises your VPN traffic and gets you past harsh censorship.
Finally, Surfshark never keeps logs–a claim that's been independently audited and verified.
Pros
Robust servers blast through geoblocks to access your favorite streaming sites
Diskless server network ensures you leave no trace behind
Trial in confidence with a 30-day money back guarantee
Absolutely no logging of connection data, IP addresses, bandwidth used, or traffic
Get help any time of day via email, phone, or live chat.
Cons
Overall, not much to complain about
Relatively young VPN still has to prove itself trustworthy over the long haul.
Read our full Surfshark review.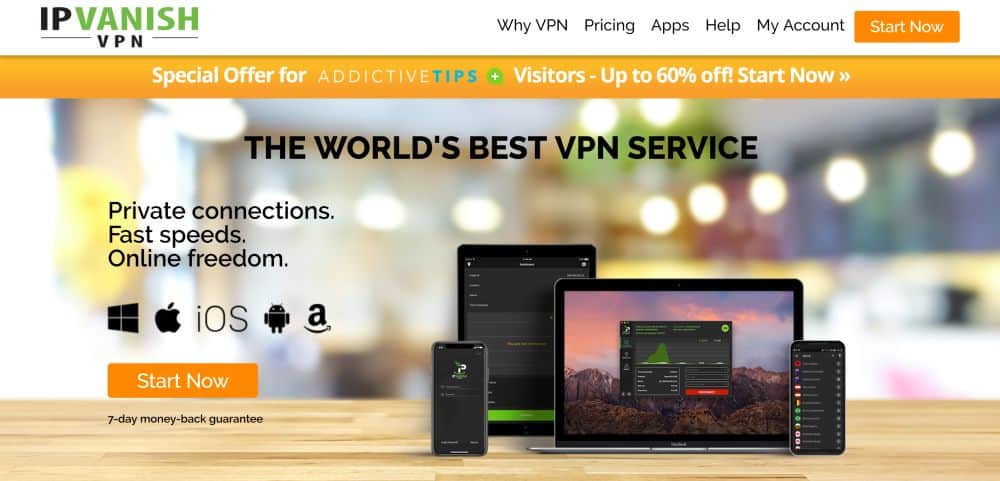 IPVanish mainly focuses on privacy and keeping the internet secure for its users. However, the company operates over 1,300 anonymous servers in over 60 countries, giving it one of the widest ranges in the market. With unlimited switching in place you can sidestep restricted content on your Fire TV in seconds. Unlimited bandwidth and fast connection speeds make it even easier to keep the streaming going strong.
The IPVanish Android software is known as one of the more friendly apps for Fire TV Stick users. Following the instructions below yields a seamless install that isn't too resource intensive, allowing for crystal clear HD video without any stuttering.
Read our full IPVanish review.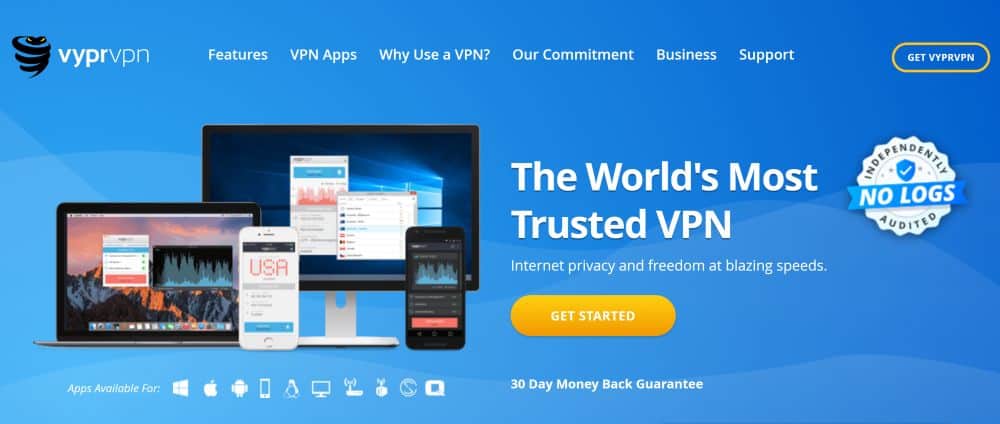 VyprVPN owns and operates its own massive network of servers that includes over 200,000 IP addresses spread across 700 servers in 70 different locations. Unlimited switching is a core feature, along with zero-logging, unrestricted bandwidth, and no file type restrictions. Those features alone make it a prime candidate for Fire TV users looking to bypass region locked content on Netflix, BBC iPlayer, and other channels.
The defining feature of VyprVPN for Fire TV is that the app is available to install through the Amazon Appstore, and it works like a dream. This means you can skip the complex install instructions below and just start watching movies.
Read our full VyprVPN review.
Benefits of a VPN on a Fire Stick
Virtual private networks offer a host of benefits for users on all kinds of devices, from laptops to cell phones, PCs and tablets. Even if you only use your Fire TV Stick for streaming the occasional movie, having a VPN active will provide an extra layer of privacy to keep you safe in an expanding digital world.
Some of the biggest benefits of installing a VPN on your Fire TV Stick include:
Unblocking restricted content
Certain movies and TV shows are only available to viewers in a small list of countries. A VPN allows you to switch your virtual location with just a few taps, making it easy to change locations and access the content you're interested in regardless of where you're physically sitting.
Staying anonymous
Internet service providers can collect and even sell user data without your permission. Even watching movies on a Fire TV Stick adds to that database and can be tracked and linked back to your identity. A VPN eliminates that issue by encrypting data and associating it with random IP addresses instead of IPs linked to your service provider.
Traveling with confidence
The Fire TV Stick is the perfect portable streaming device. Plugging it into TVs while you travel and using public Wi-Fi broadcasts information about your viewing habits across the network, however, and if you cross a country's border you might find the TV show you were watching is suddenly unavailable. Using a VPN helps protect your data even on public networks and makes it easy to switch your virtual location to access the content you need, even while abroad.
RELATED: How to update your Firestick
Installing VPN Software on Amazon Fire TV Stick
The Fire TV Stick is normally limited to downloading software from Amazon's Appstore. There's a wide variety of apps and utilities there, but to get a VPN onto the device, you'll need to install it on your own. This process is called sideloading, and it will only take a few minutes to complete from start to finish.
There are multiple ways to sideload apps onto your Fire TV Stick, some of which require a PC or an Android device. Below are two of the more straightforward methods.
Sideload a VPN with Downloader app (free, no PC required):
Go to your Fire TV Stick's settings page.
Select Device > Developer Options and set "Apps from Unknown Sources" to On.
Accept the warning message about installing external apps.
Return to the home screen and open Amazon's Appstore.
Search for Downloader and install the program.
Run Downloader.
On your PC, locate the download link for the Android version of your VPN's software.
Enter that URL into the Downloader app's text box. It should end with .apk
Download and install the VPN software to your Fire TV Stick.
Run the VPN app and enter your login details.
Use your Fire TV Stick as you normally would.
Sideload a VPN with adbLink (free, PC required):
Go to your Fire TV Stick's settings page.
Select Device > Developer Options and set "Apps from Unknown Sources" to On.
Accept the warning message about installing external apps.
Find your devices IP address by going to Settings > System > About > Network
Return to the home screen.
Visit the adbLink website on your PC and download the program.
Run and install adbLink.
Click "new" next to the devices box and add your Fire TV Stick.
Type the IP address of your Fire TV Stick into adbLink.
Click "Save", then "Connect".
Visit your VPN provider's website on your PC and download the Android version of their software.
In adbLink, click "Install APK", then find the VPN file from above.
Install the VPN software to your Fire TV Stick.
Run the VPN, log in, and stream as normal.
Recommended: Install IPVanish on your Amazon Fire TV Stick
Although the process of sideloading and using a VPN on Fire TV devices isn't difficult, performance can vary depending on the provider's software. IPVanish neatly sidesteps this limitation with a lightweight app that's easy to use and works extraordinarily well on the Fire TV Stick. No video stuttering and no complex set-up process, just safe streaming through a sturdy and reliable VPN.
Follow the steps below to install IPVanish on your Fire TV device:
Click on your Fire TV Stick's settings icon.
Choose Device > Developer Options and set "Apps from Unknown Sources" to On.
Accept the warning message about installing external apps.
Return to the home screen and open Amazon's Appstore.
Search for Downloader and install the program.
Run Downloader.
Enter the following URL into the Downloader text box: https://www.ipvanish.com/software/android/IPVanish.apk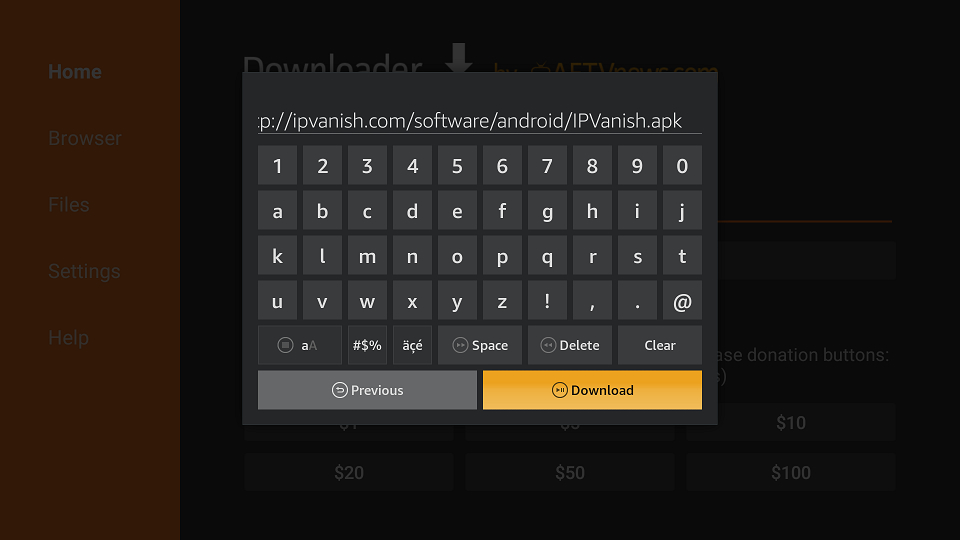 The file will download and install automatically.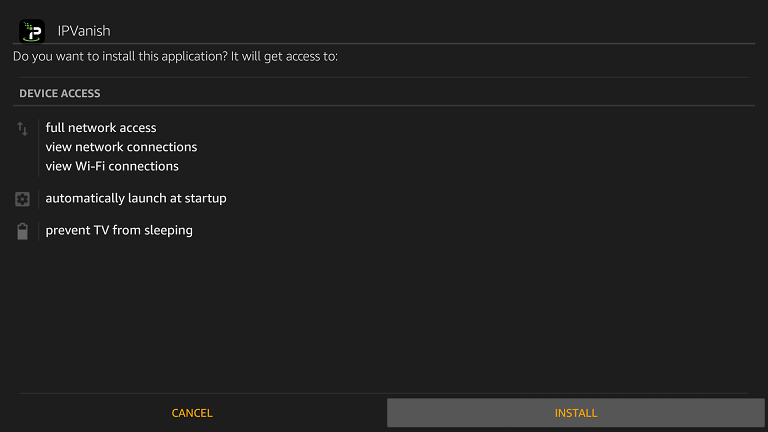 Visit the IPVanish website and sign up for an account.
On your Fire TV Stick, go to Settings > Applications > Manage Installed Applications
Choose the IPVanish VPN software and launch it.
Enter your login credentials and connect.
Use your Fire TV Stick as normal. The VPN will remain active until you manually close the program or disconnect.
Install a VPN on Your Router
If you can't quite get the VPN installation to work on your Fire TV Stick, there are some workarounds you can try. The best is to install your VPN provider's software directly to your router, eliminating the need to use software on every device that connects to the internet. It can require a little more technical knowledge to get running, however, and your Fire TV Stick will only gain the region switching benefits when connected to your home network, but it can be a great solution if you don't want to mess with sideloading apps.
The process of installing a VPN to your router will vary depending on the type of router you own as well as your VPN provider, so check their support pages for detailed instructions. Before you get started, make sure your router is compatible with your VPN. This usually means supporting PPTP, L2TP, or OpenVPN connection types. If it doesn't, custom firmware like DD-WRT or Tomato are perfect solutions to prepare your router for hosting VPN software.
RELATED READING: Clear the Cache on your Firestick (Tutorial)
Avoid free VPNs
One of the most common warnings you'll hear from the VPN community is this: never use a free VPN. No-cost providers are still businesses, and if they're not making money from users, they have to look elsewhere for revenue. This often comes in the form of selling collected user data, which is something most people are trying to avoid when they start using VPNs in the first place.
Even if you're only using a VPN for streaming videos on Fire TV, you're still compromising your privacy and security if you use a free provider. The risk just isn't worth it. A good VPN is a small investment that's absolutely worth the asking price.
VPN vs DNS
The simplicity of the Fire TV Stick's offerings have many users wondering if a DNS rerouting service is preferable to a VPN. Put simply, DNS rerouting delivers the virtual location switching feature from a VPN so you can watch content from around the world without limitation. There are no privacy or anonymity measures in place, just a quick and inexpensive way to change virtual locations so accessing geo-blocked content is never an issue.
Deciding between a full blown VPN and a DNS rerouting services largely comes down to user choice. Both deliver great results when it comes to unrestricted video streaming from sources around the world. VPNs can be a little more expensive, but the features they offer are worth the asking price, especially if you use multiple devices on the same connection. If you're not sure, a VPN is easily the best choice between the two. Kodi users should avoid DNS and stick to VPNs.
Conclusion
If you want to get the most mileage out of your Amazon Fire TV device, you are going to want a VPN. With it, you can spoof your location to access geoblocked content, bypass ISP throttling, and just generally remain anonymous online. Our recommended VPN providers all make it dead simple to get started without rooting your Firestick, so unleash the power of your streaming device today.
Did you have any trouble installing a VPN on your Firestick? Let us know in a comment below, and we'll be happy to help you out.