We are reader supported and may earn a commission when you buy through links on our site.
Learn more
How to Unblock Sites in China and Restore Access to the Free and Open Internet
China is the most populous country in the world – and one of the most digitally connected. With over 1.32 billion mobile subscriptions in China, virtually everyone has a mobile phone, a desktop computer, or both. Unfortunately, most of the Internet is closed off to Chinese residents and travelers. Some offices and universities make an exception, but by and large, the web is tightly controlled and restricted in China.
Fortunately, a quality VPN can help you overcome these problems (and many others). In this article, we'll explain what the main features of a VPN are, which specific VPNs are the best for China, and why many websites are unavailable in the country. We'll also tell you how a VPN helps you beat website blocks and protect your device(s) and identity.
What makes a great VPN?
A VPN can help you unblock any website in the world from China. It can also open access to foreign content libraries by letting you use Netflix as if you were in the US, BBC iPlayer as if you were in the UK, and so on and so forth. Here are some of the main features you'll want when getting a VPN for China:
Encryption – quality encryption does 2 things. First, it keeps your information safe from the Chinese government. Second, it helps you bypass national censorship blocks and the Great Firewall of China. Put simply, encryption should be the very first thing you look at when picking a VPN in the Communist country.
Server network – a large server network means that connections are fast and latency – low. It also means you can get any IP you want, accessing content from anywhere in the world. To unblock a large number of websites, you'll want the largest server network possible.
Software availability – installing a VPN can be tricky. Look for providers who have remote set-up services, or offer a large suite of apps that make it easy for you to install and start using your service. Avoid appless providers where possible.
Logging policy – some VPN providers keep track of everything you do while connected to their service. The best ones keep no records of any data that can be traced back to you. Look for phrases like "zero-logging" and "no-logging" to make sure you protect your identity and your data while in China.
Top VPNs for unblocking sites in China
For users trapped behind the Great Firewall of China, the following 5 VPNs will help restore access to blocked websites: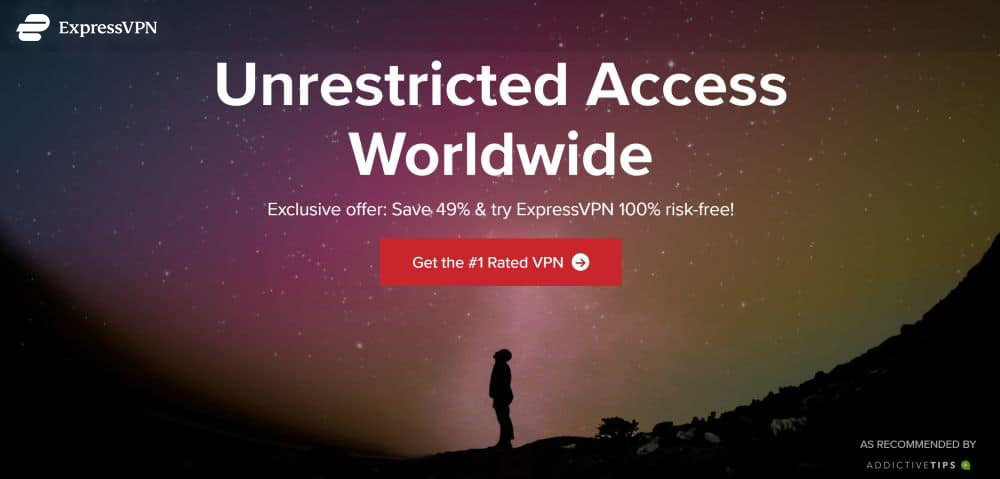 ExpressVPN is the single best VPN provider for China for two primary reasons: speed and security. First, as the name suggests, ExpressVPN is incredibly fast. It routinely ranks as our top VPN in speed tests, and with 2,000+ proxy servers in 94 countries, connections are always fast – while latencies are low. The encryption protocols available include OpenVPN's UDP and TCP, which are incredibly fast. There are no speed or bandwidth restrictions, meaning you won't experience any slowdown no matter how much you stay online. Even the software is lightweight and quick to download, meaning you can use ExpressVPN in a matter of minutes after registering. All of this makes the service perfect for streaming, torrenting, downloading large files, and other high-speed activities.
The second reason to get ExpressVPN is next-gen security. The encryption codes used by the service are AES-256 bit, meaning they have more possible combinations than there are atoms in the known universe. The no-logging policy is robust and reliable, with no logs of traffic, DNS requests, IP addresses, browsing history, or anything that can be traced back to you. Moreover, the holding company itself is based in the British Virgin Islands, which makes it exempt from the Five, Nine and Fourteen Eyes international surveillance agreements. ExpressVPN is so confident in the service's security they even include a free DNS leak test that helps you make sure your connection is secure.
Pros
Unblocking Netflix, iPlayer, Hulu, Amazon Prime
3,000+ super fast servers
AES-256 encryption
No personal information logs kept
24/7 Customer Service.
Cons
Power-users configuration options.
To learn more, check out our ExpressVPN review.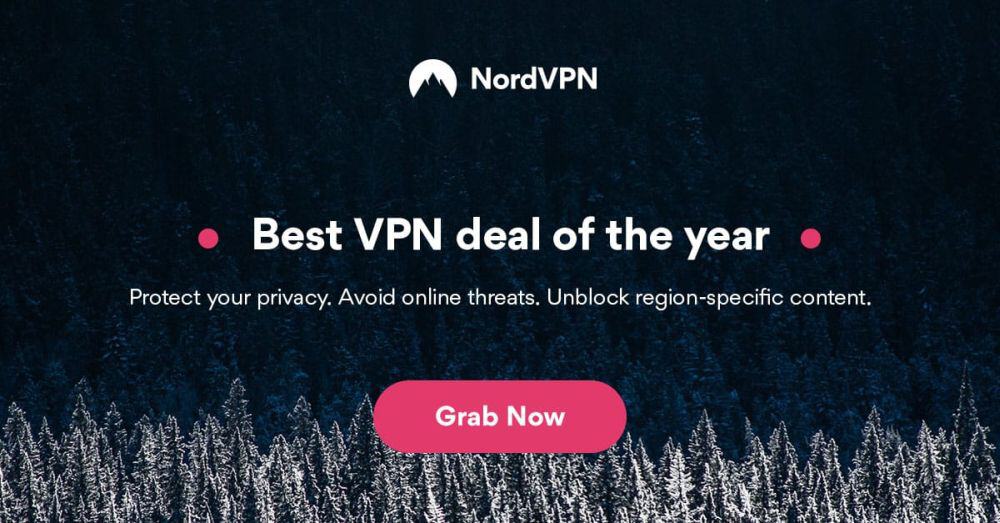 NordVPN offers excellent value-for-money VPN provider to Chinese users. It boasts an incredible variety of security and anti-censorship features. Everything starts with NordVPN's specialty servers. These range from double VPN nodes that route your data through two layers of encryption to obfuscated servers that hide your VPN use. In a country with draconian laws like China, these servers can make a tangible difference in your security, and they're all included in every NordVPN subscription. The service also boasts one of the most complete zero-logging policies in the VPN industry, with no logs of anything that can be traced back to you – including browsing history, bandwidth, IP addresses, and more. Most importantly, the service uses AES 256-bit encryption and includes the SSTP protocol that can beat even the most hardcore censorship block in mainland China.
In addition to being very safe to use, NordVPN is strong on VPN fundamentals. Its server network is one of the biggest in the industry, with 5,200+ nodes in 62 countries. This means that connections are always fast and low-latency, with plenty of IP options. Apps are available for all common devices, with attractive, intuitive user interfaces where every feature is just a click away. There are also some cool extras, like an automatic kill switch that stops you from leaking data if something goes wrong with your connection, and a DNS leak test that helps prevent ISP tracking.
Pros
Highly affordable plans
GooglePlay users rating: 4.3/5.0
Strong encryption is used on all connections
Extra-secure Double VPN for data encryption
Great support (24/7 chat).
Cons
Some servers can have average d/l speeds
Sometimes slow in procesing refunds (but always do).
You can learn more about this outstanding service in our NordVPN review.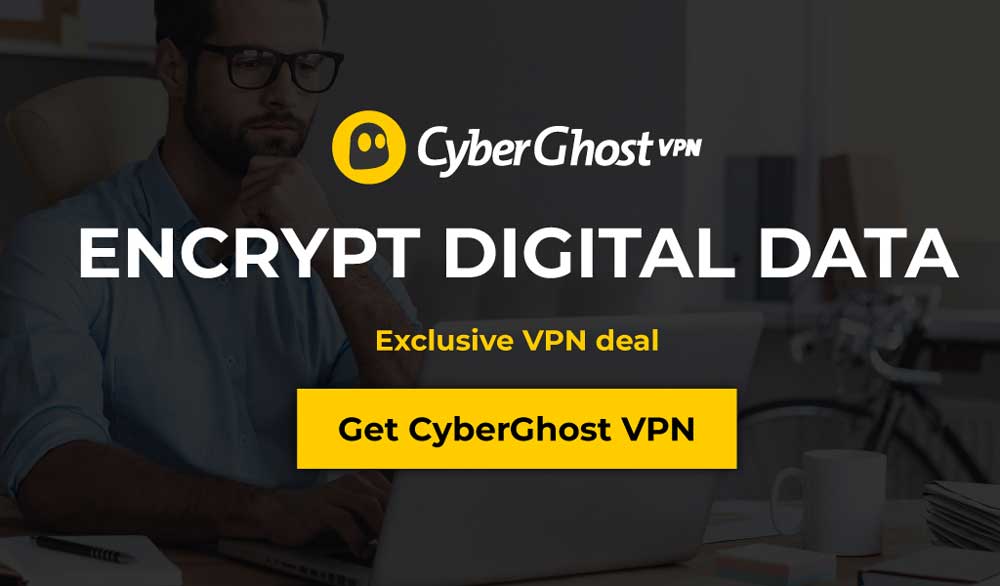 CyberGhost is a VPN that combines ease of use and power with an incredibly attractive price point. We'll start with ease of use. Unlike many other VPNs that ask you to configure your connection manually, CyberGhost makes getting started easy. All you have to do is install the app designed for your device. Compatible options include macOS, iOS, Android, Windows, Linux, and others, so there's virtually no modern device you won't be able to connect. Once you're done with that, you simply need to choose one of six configuration profiles. These run the gamut from "surf anonymously" to "unblock streaming", and can help you access the websites and services you need from China. If you want to customize your connection further, you can use a number of simple toggles like "Block Ads" and "Extra Speed" to activate CyberGhost's advance features.
Despite being this easy to use, CyberGhost is also serious about security. It uses 256-bit AES encryption, which is military-grade with more possible combinations than there are atoms in the known universe. Specific protocols include OpenVPN's UDP and TCP, as well as PPTP: an older protocol that tends to work well in China. The logging policy is immaculate, with CyberGhost storing absolutely nothing that can help identify you; not even your login e-mail. Security aside, the network is one of the biggest in the industry, with 2,700+ proxy nodes in 60 countries. With all these features coming at an extremely low price, CyberGhost is another one of our top picks for China.
Pros
Works with American Netflix
Fast, constant speeds
7 simultaneous connections
Strict no logging
Reliable and knowledgeable 24/7 live chat support.
Cons
Doesn't work well in China.
If you'd like to learn more, visit our full CyberGhost review.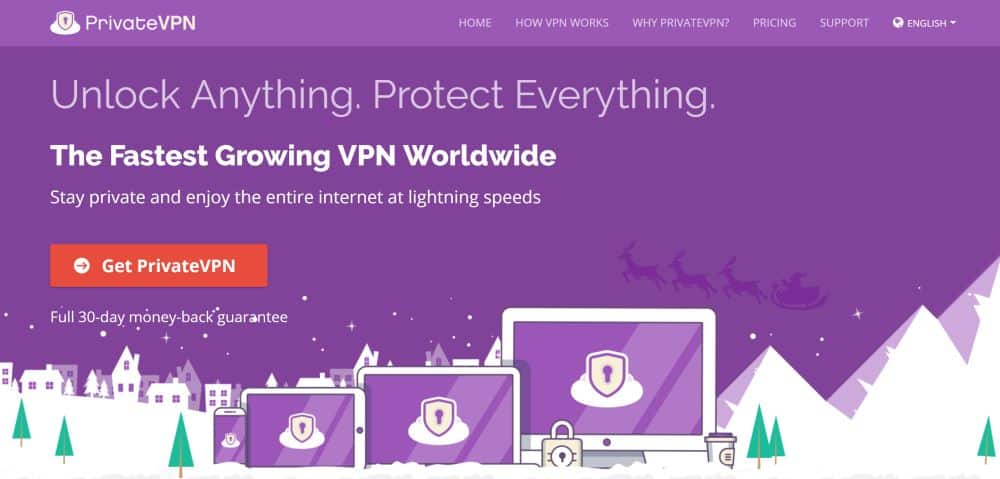 PrivateVPN is one of the fastest VPNs on the web, and – this is important – it's P2P and stream-friendly. The service may have fewer servers than most, with 80+ servers in over 50 countries. However, each PrivateVPN server is more powerful than 5-10 regular VPN nodes. This means that download speeds are high and latency – low, even with what looks like a small network. Bandwidth, speed, and server switches are all unlimited, meaning you can use your PrivateVPN account as much as you want. Even better, you get 6 simultaneous connections, meaning you can stay online on your smartphone, computer, multimedia box, game console, and router – and still have one more connection left over for another device.
In addition to all of the above, PrivateVPN has a number of benefits specific to Chinese users. Its uses military-grade AES-256 encryption with 2048-bit keys, which a supercomputer would need quadrillions of years to crack. Encryption protocols include speedy L2TP as well as the censorship-busting PPTP. The SOCKS5 technology, designed to specifically beat the Great Firewall of China, is built into the app, meaning you'll have an easy time bypassing China's web filters. Last but not least, there's a free remote setup to help you make sure everything's working properly.
To learn more, check out our PrivateVPN review.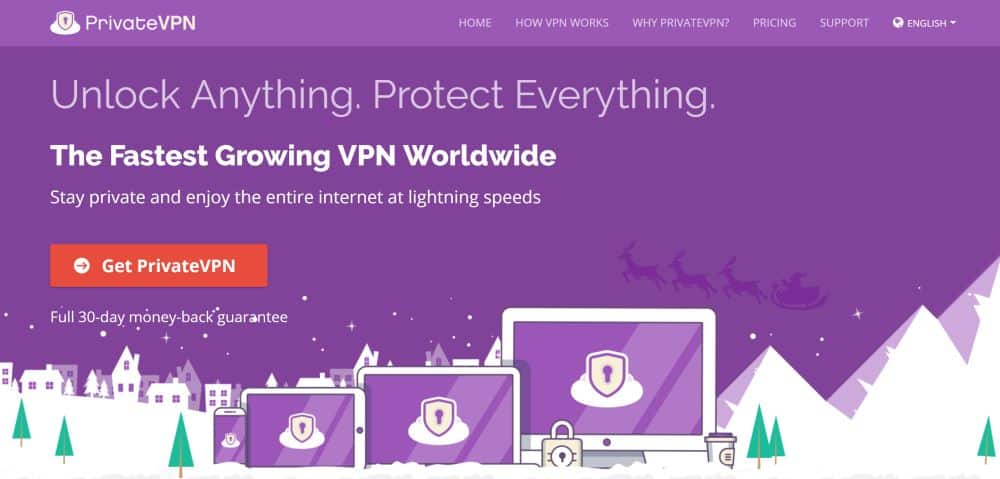 PureVPN consistently ranks as a top choice for many countries due to its ease of use and enormous utility. The service comes with a large suite of native apps for all common devices, including Android and iOS smartphones and tablets, desktops (Linux/Windows/macOS), as well as video game consoles, smart TVs, multimedia boxes, and even routers. Even better, all the apps are intuitive and attractive, with a 1-click interface that makes connecting a breeze. Live support is available 24/7 – a rarity in the VPN space – meaning you can get the qualified help you need, when you need it, without paying extra.
PureVPN stands out from the pack in terms of its array of cybersecurity features. These include app filtering, DDoS protection, dedicated IP address, a NAT firewall, anti-spam filtering, and antivirus software; all constituting perhaps the most complete package on the market.
With 2,000+ servers in over 140 countries, this provider offers connections to a wide variety of IP addresses, some of which can't be found with any other provider. Whether you want an IP from the US or somewhere in Asia or Africa, PureVPN can help. Bandwidth, speed, and server switches are all unlimited, meaning you'll never run out of traffic or experience a slowdown. This is especially important because PureVPN is P2P-friendly, meaning you can torrent and use P2P Kodi add-ons with no limits or restrictions. In fact, PureVPN can help you remove your ISP's speed throttling and enjoy the Internet at full speed from China: something very few other VPNs can do.
Why are some websites blocked in China?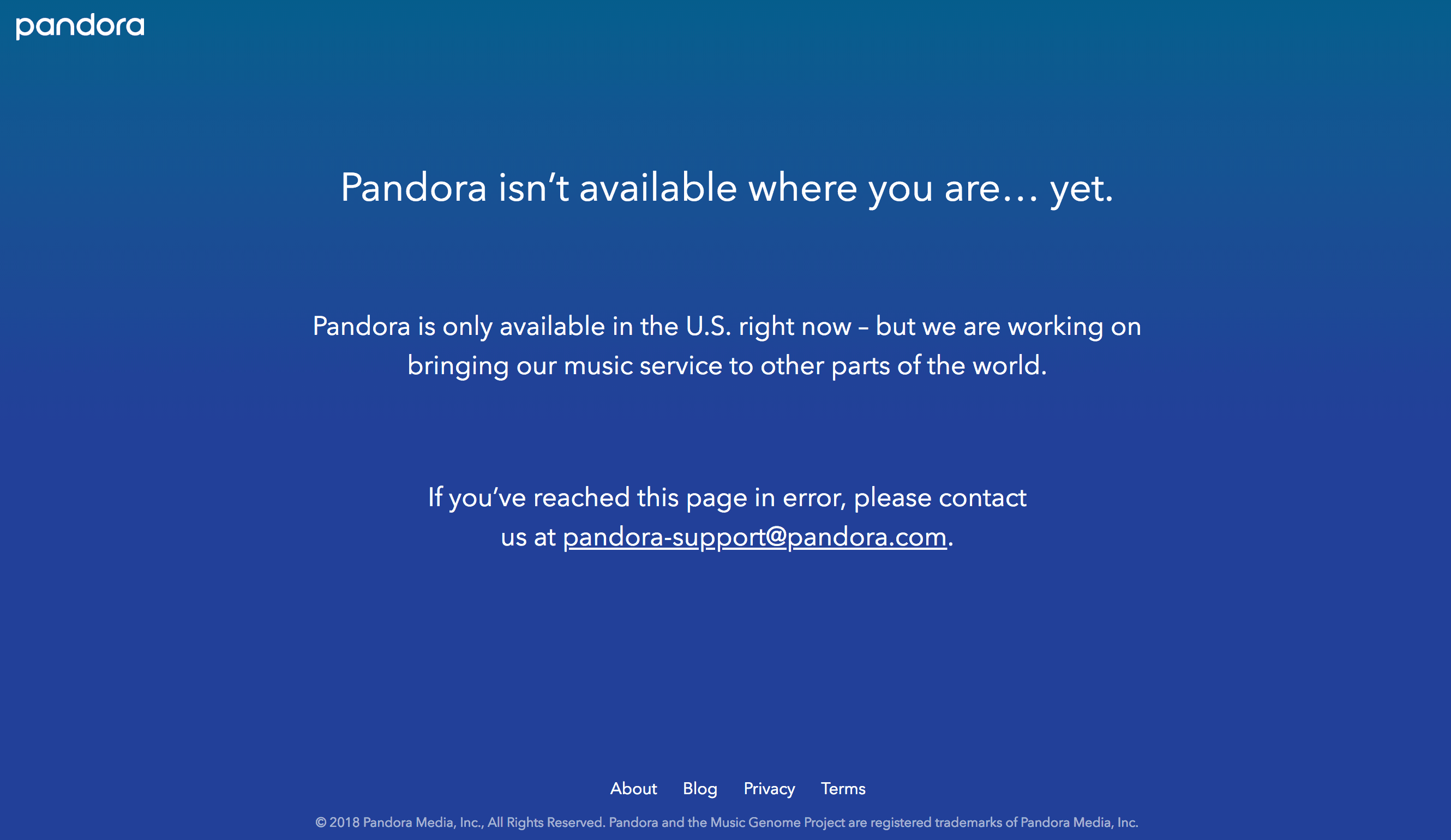 There are 2 main reasons why some of your favorite websites aren't available in China. The first, you may know about. China is a communist state, and all the content that its residents can access is restricted by the government. Most popular services we're all used to – like Netflix, Hulu, and even Google – are either completely unavailable or heavily restricted inside the country. The reason is that their content goes against the policies and worldview of the Chinese communist party. To help fight all websites that fit this description, the government created what's called the Great Firewall of China: a selection of technologies and filters that make it impossible for Chinese residents and visitors to access the free Internet.
In addition to the above, there's another reason you can't access most of the Internet from China. The reason is, simply put, that most companies simply don't cater to the Chinese market. They're not legally allowed in the country – so they may either block off Chinese IPs or offer them a very restricted range of content. For example, if you try to access Pandora from China, you'll find it impossible to do so. The same applies for many popular services, including CBC, BBC iPlayer, and many others.
How can a VPN help?
VPNs have 2 main features. The first is encryption, which does two things. First, it protects your data from surveillance. This is important for users based in China, where the government tracks your every move – either directly or through ISP Tracking. With strong encryption, you can know that the government won't be able to prosecute you even if you access materials that are banned in the country. In addition to this, certain encryption protocols – like SSTP – can reliably pierce firewalls, including the Great Firewall of China. In other words, strong encryption can both help you bypass China's national filters and keep your online activities safe.
Besides encryption, a VPN's main feature is giving you a foreign IP. You can digitally relocate anywhere in the world this way. For example, you can be in Shanghai with an American IP and access anything you want (so long as it's legal in the USA). Or you may opt for an IP from a country like Norway with very lax Internet laws. Either way, the end result is the same. With a foreign IP and encryption that can pierce national firewalls, there's virtually nothing you can't access.
Can I get in trouble for using a VPN?
First thing's first: VPNs are not illegal in China. Many campuses, businesses, and offices need free access to the Internet to do business. This means that VPNs cannot be illegal in and of themselves. At the same time, as you may imagine, China doesn't want to make it officially known that it lets people bypass their censorship laws. As a result, in April 2018, many of the most popular VPNs were banned from China's Apple and Android stores. This doesn't mean you can't use them inside the country; they just can't be downloaded by ordinary Chinese citizens. So long as you can figure out a way to register with a VPN you want and download their app(s), nobody's going to try and actively stop you.
Having said all that, there are two caveats. First, avoid doing anything outright illegal when you're in China. If you get found out doing something the government strictly prohibits, you're going to be in a lot of trouble. Limit VPN usage to streaming, downloading torrent files, gaming, etc. In addition to this, be mindful of who sees you using a VPN. They may not be illegal, but it's best to avoid unnecessary questions from officials and government employees anyway.
Conclusion
The Internet in China is very limited. Unless you want to spend all your time using Chinese websites and services like WeChat, you need a way to get a foreign IP and stay secure online. VPNs can help with both. Now that you know all about unblocking websites in China, how're you going to use your VPN? Leave us a comment below and let us know!