We are reader supported and may earn a commission when you buy through links on our site.
Learn more
Best Showtime VPN for 2021: How to Watch Showtime Outside US
Streaming fans outside the U.S., if you're tired of wondering how to unblock Showtime anywhere in the world, rest easy. With a VPN, it's surprisingly easy to do, and we'll walk you through the process of installing and using a VPN to beat geoblocks in today's guide. We'll also present the best VPN providers for accessing Showtime abroad, so stay tuned 'til the end!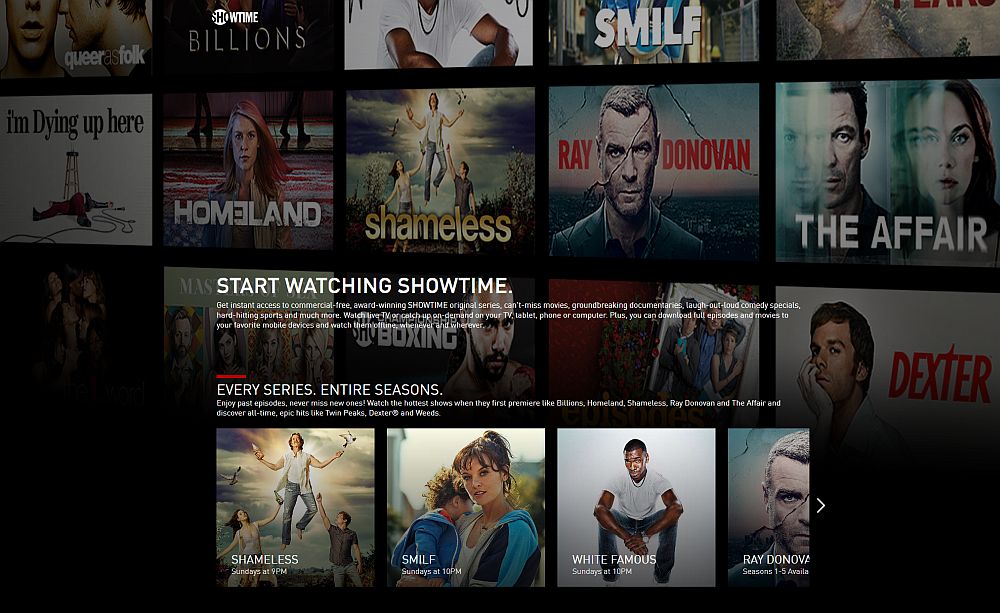 Showtime is a hugely popular US television network, known for showing movies and quirky-yet-quality original television series like Dexter, Weeds, Penny Dreadful, and Homeland. The network also shows sports events like boxing and mixed martial arts matches, making it an essential feature for entertainment lovers.
For a long time, customers who were subscribed to Showtime's cable packages could also get access to online on demand viewing with a service called Showtime On Demand, which came free with the cable package. But more recently, the company has phased this out and ushered in a new on demand service called Showtime Anytime which includes streams of movies, Showtime original shows, comedies, documentaries, and sports. This service is available for anyone, whether you have a cable subscription or not, making it a popular choice for users who are cutting the cord from cable TV.
Showtime is blocked outside the US–use one of these VPNs to bypass unfair geoblocks and stream your favorite content:
NordVPN – Best for Showtime – NordVPN doesn't pull punches when it comes to unblocking any site on the Internet, including Showtime. Stream in complete anonymity with zero buffering courtesy of US servers protected by cutting-edge NordLynx encryption.
Surfshark – A young VPN with state-of-the-art server infrastructure, smart DNS unblocking, and blanket obfuscation.
ExpressVPN – Turnkey solution to unblocking streaming sites the world over, delivering some of the fastest speeds on the market.
IPVanish – Excellent choice for low-powered streaming devices like Firestick and Chromecast.
VyprVPN – Owns its entire network, allowing for maximum transparency. Get through censorship with Chameleon encryption.
However, currently you can only access Showtime Anytime from within the US. If you live outside of the US, you won't be able to access the content – that is, unless you use a VPN. In this article we'll walk you through how the restrictions on Showtime work and how you can get around them using a VPN, then we'll show you our picks for the best VPNs for watching Showtime outside of the US.
30-days money back guarantee
How We Select a VPN for Recommendation
We hope you can see how useful a VPN is, from letting you access sites like Showtime from outside of the US to protecting your privacy and security on public Wi-Fi networks. However, it can be tough to know how to pick from the hundreds of providers out there.
To help you with your decision, we've compiled a list of the best VPNs for watching Showtime, as judged by the following criteria:
Fast connection speeds. When you're streaming video, you want to use fast connections so that you don't experience buffering or stuttering. We look for the VPNs with the fastest connections to keep you watching happily.
Servers located in the US. When you want to watch US-based content like Showtime, you need a VPN with servers in the US that you can connect to. We also look for servers in lots of other countries so you can get around any region locks.
Solid security. To keep you safe, we look for VPNs with strong encryption and a no-logging policy to protect your data from being passed to the wrong hands.
Easy-to-use software. The software from each VPN provider is different, and you'll likely be using it regularly. We like to see clean, easy-to-use software which supports multiple different platforms and has extra features.
The Best VPNs for Showtime Users
Ready to unblock Showtime in your country? Check out our top-recommended VPNs for accessing Showtime anywhere: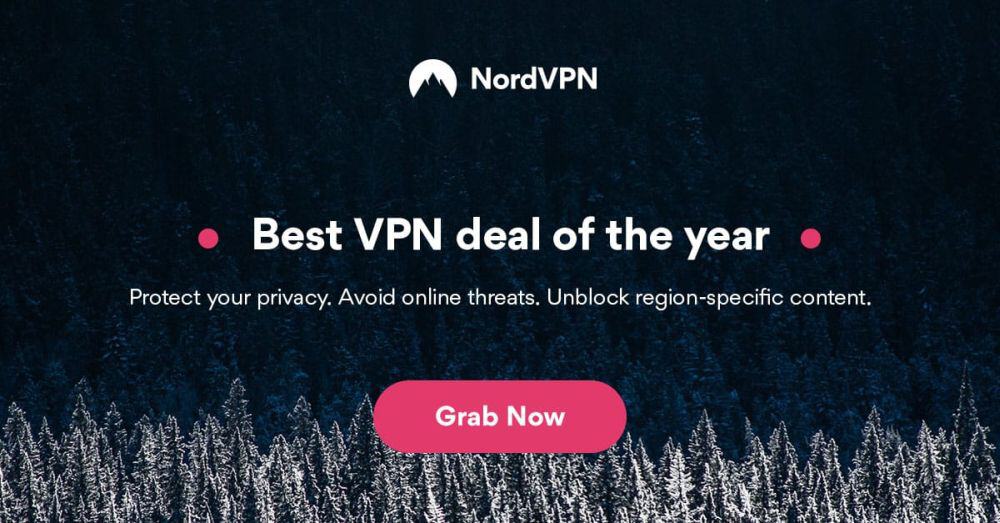 For highly security conscious users, we recommend NordVPN. The connections are blazing fast for streaming buffer-free Showtime video, and the network is truly impressive, with more than 5,100 servers in around 60 different countries including the US for easy access to Showtime.
Where this service really shines is in its extra security. As well as the strong 256-bit AES encryption and no logging policy that you'd expect, NordVPN has extra security features like double encryption which keeps your data as safe as it possibly can be.
The software is available for Windows, Mac OS, Linux, iOS, Chrome OS, Android, and Windows Phone, plus a Chrome browser extension which makes it dead easy to watch Showtime with just a few clicks.
Read our full NordVPN review.
Pros
Unblocks US Netflix, iPlayer, Amazon Prime and other streaming services
Over 5,400 servers in 61 countries
Tor over VPN, double VPN
Strict zero logs policy on both traffic and metadata
Live chat support is available.
Cons
Apps can sometime be slow to connect.

Surfshark is a scrappy young VPN with the feature set to compete with providers many times its age. It ditches outdated policies and protocols in favor of features that "just work" to unblock your favorite sites like Showtime, no matter where in the world you are or go.
They offer a constantly-growing network of more than 3200 servers in 65 countries. Of these, there are nodes scattered across the US, with static IP and multi-hop connections available for greater flexibility. And with 256-bit AES encryption locking down your traffic, you'll be able to spoof to your heart's content without your ISP or government having a say (or a clue).
Of course, sites like Showtime and Netflix are increasingly employing VPN blockers, but Surfshark still gets through–making use of smart DNS and blanket obfuscation on every US server. You'll never leave a trace of your activity behind, either, as Surfshark's RAM-only network purges your metadata from memory upon restart, dovetailing nicely with their no-logging policy.
Pros
Break through harsh censorship to securely access social media and foreign news sites
Over 800 servers in 50 countries worldwide, and constantly growing
TrustPilot 4.3/5 rating
Logging policy independently audited and verified
Support staff manned by actual human beings 24/7.
Cons
Overall, not much to complain about
Young VPN still has plenty of room to grow in terms of advanced functionality.
Read our full Surfshark review.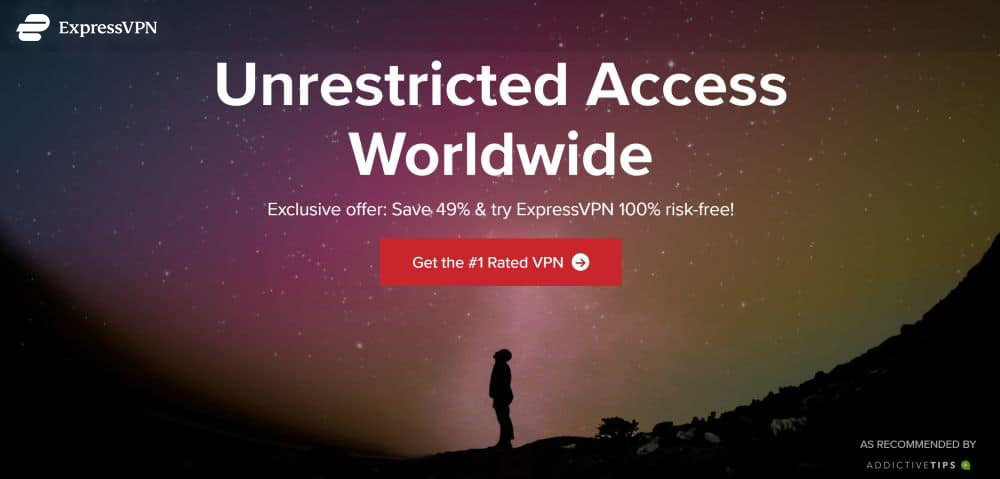 ExpressVPN is a favorite among power users thanks to its lightning-fast connections and huge network of over 3,000 servers in 145 different locations, including many within the US. You'll easily be able to watch Showtime content no matter where you are, even in high definition with no buffering.
The security is excellent, with strong 256-bit encryption and a strict no-logging policy. The software supports a variety of platforms like Windows, Mac OS, Linux, iOS, and Android, as well as browser extensions for Google Chrome and Mozilla Firefox. Browser extensions are a very easy way to use a VPN for watching Showtime; you just need to click the ExpressVPN symbol in your browser's tool bar and you'll be able to quickly connect to a server in the US and start watching.
Read our full ExpressVPN review.
Pros
Unblocking Netflix, iPlayer, Hulu, Amazon Prime
Superfast servers (minimal speed loss)
AES-256 encryption
Keeps no logs of personal data
24/7 Customer Service.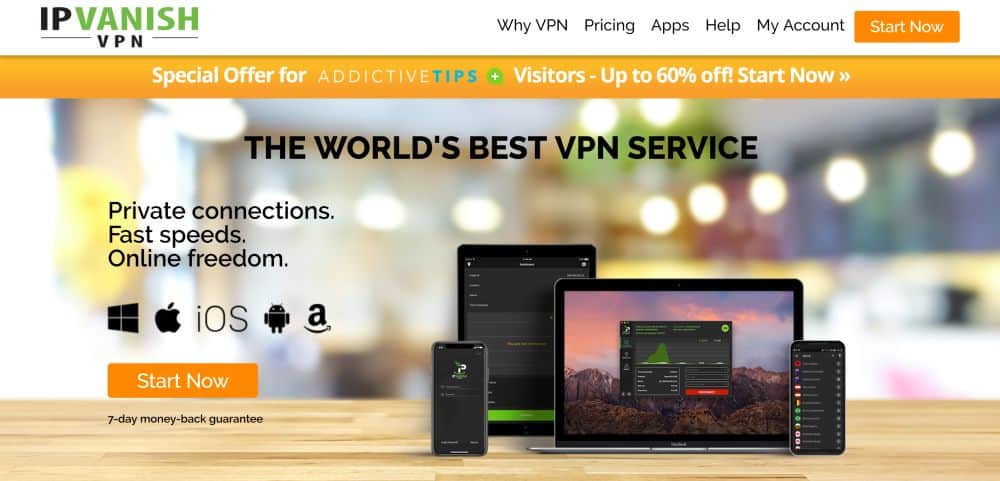 Another great choice for users who place a premium on performance is IPVanish. This company is known for their great speeds and reliable service, which will make your connection perfect for watching videos online without any buffering or interruptions.
The server network is large, with 1,300+ servers in more than 60 different countries including lots of locations in the US. This means that you can easily use the service for watching Showtime. The security is as strong as we like to see, with 256-bit encryption to prevent your data being stolen and one of the best no-logging policies around to make sure your browsing data stays private.
The IPVanish software supports plenty of operating systems, including Windows 7, 8, and 10, as well as Mac OS, Linux, and Android.
Read our full IPVanish review.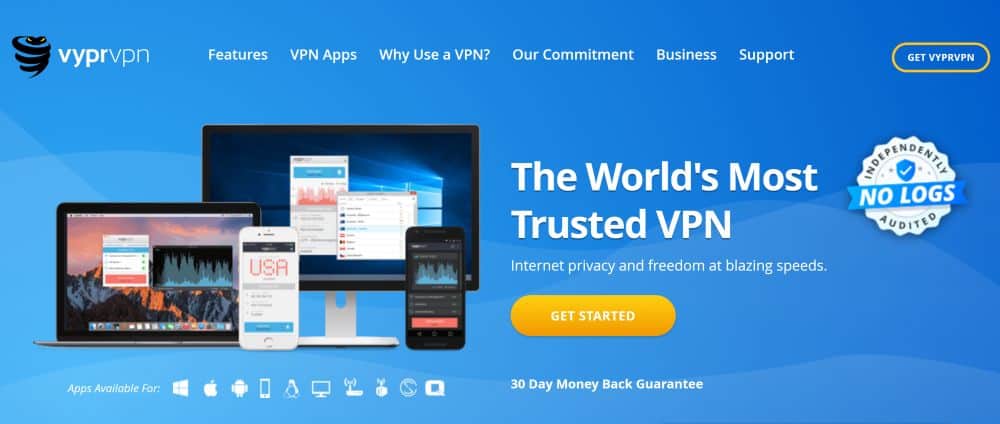 If you want to watch US shows on channels like Showtime and you're based in or travelling through an especially restrictive country like China, then we recommend that you try VyprVPN.
When you try to use a VPN in China or on other highly restricted networks, it may not work due to a method called VPN blocking which is used by governments to detect and prevent VPN connections. But VyperVPN has a special protocol called Chameleon which encrypts both the data you are sending over a network and the metadata – that is, information about the origin and destination of the data packets. This means that you can use the service even on VPN protected networks.
This double layer of encryption works to keep you safe, and the VyprVPN network has more than 700 servers in 70 different countries including the US. As with any top-tier VPN, they have a no-logging policy, and the software is available for Windows, Mac, Android, and iOS.
Read our full VyprVPN review.
How Showtime Restricts Access for Visitors from Outside of the US
For users within the US, it's simple to set up a Showtime account and to start using Showtime Anytime straight away. However, if you're living elsewhere or even if you're just travelling for a short time, watching is not so easy. If you try to access the Showtime Anytime website from anywhere in the world other than the US, you'll see the following error message: "SHOWTIME ANYTIME is accessible for viewing solely in the United States and its territories and possessions." and you won't be able to access any of the videos, even if you have an account.
This is called a region lock. It means that only users from a particular geographic region are able to access certain content or certain parts of a website.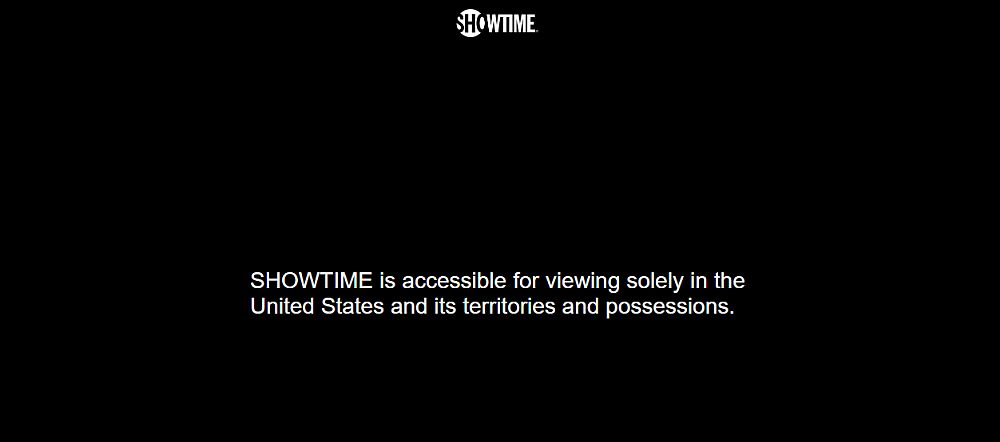 The way that the website determines your geographic location is through your IP address. This is a string of numbers (though in some rare cases it might contain letters too) which indicates the location of your particular device. Whenever you connect to a network, your device will be assigned a unique IP address to distinguish it from all the other devices on the network. This way, when you request data from the internet, the data which is sent back is routed to the correct device: yours, in this case.
The problem with regions is that contained within your IP address is information on the country in which you are located. Certain ranges of IP address numbers are assigned to particular countries, so whenever you visit a website the site can immediately see what country you are located in because of your IP. This is sometimes useful, as it lets site serve you content in your local language, for example. But it also allows websites to cut off access to anyone who isn't located in a particular country. This is what happens in the case of the Showtime Anytime site.
How to Use a VPN to Watch Showtime Outside of the US
Fortunately, there is a way to get around region locks using a Virtual Private Network. A VPN functions by installing a piece of software onto your device which encrypts all of the data you send over the internet. The encrypted data is sent to a server run by your VPN provider in the country of your choice, where the data is decrypted and sent on to its original destination.
This means that when you use a VPN, you can continue to use the internet as normal. But because your data is decrypted at a remote server, you are assigned an IP address corresponding to whichever country the server is located in (called a "virtual IP address"). So you can get a US IP address, even if you're based somewhere else in the world.
When you use a VPN to connect to a server in the US and then go to the Showtime website, the website will read your IP as from the US and you will be able to watch any of the video content on the site. In short, your VPN hides your IP behind a spoofed one Showtime will accept, granting you full access.
Other Reasons to Use a VPN
A VPN is obviously very useful for accessing region locked content, but that's not all it does. It also improves your privacy by making sure that your ISP can't read your browsing history, which is especially important if you're going to download or stream content. Many of these services, while technically legal, can still get you in trouble with rights holders, who take a dim view of any method of distributing their content they don't own.
VPNs also help to improve your security by making it much harder for hackers to access your personal data. This is vitally important when you're using a public Wi-Fi network, as hackers can easily see your data if you use an unencrypted internet connection.
Conclusion
Showtime is a big network in the US, known for its original programming as well as for showing movies, sports, documentaries, and more. For those who don't want a cable subscription, the Showtime Anytime service offers on-demand access to Showtime's shows and movies through your web browser.
The only downside of Showtime Anytime is that you have to be within the US for it to work. Even if you have a subscription, if you travel or move outside of the US then you will no longer be able to use the site to watch videos.
To overcome this issue, you can use a VPN to connect to a server in the US. This will give you access to all the US content you want, including watching Showtime. You can use any of the VPNs which we have recommended to start watching straight away.
Do you like to watch Showtime from outside of the US, and what method do you use? Let us know below in the comments!