We are reader supported and may earn a commission when you buy through links on our site.
Learn more
Buffered VPN Netflix Blocked; Working Solution for 2021
Netflix has been agressively blocking various VPNs from accessing its international content catalogue, and Buffered VPN is no exception. Today, we run through the best alternative methods Buffered VPN users can try to bypass the Netflix VPN ban–many of which have proven consistently effective even as the media streaming giant ramps up its efforts to ruin your movie night.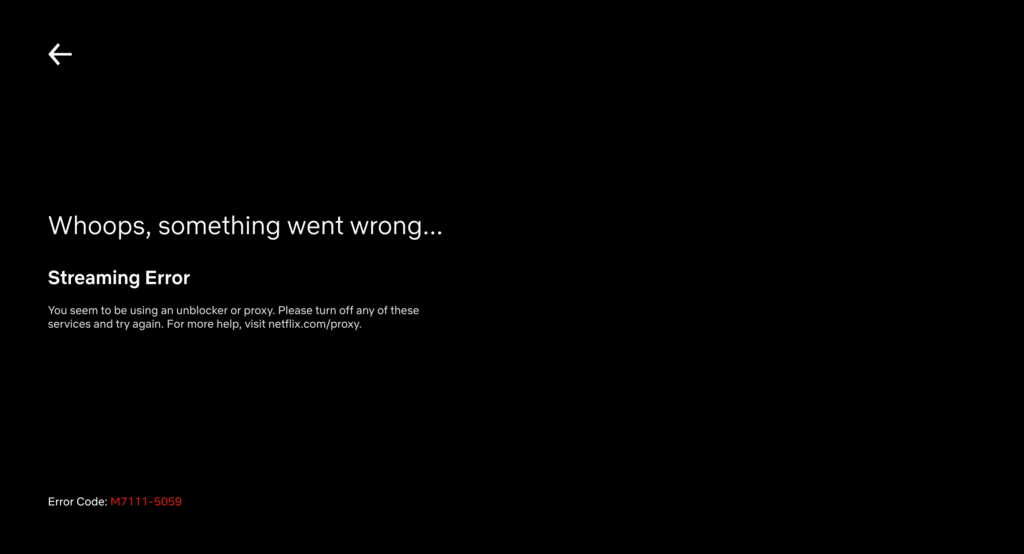 For Buffered VPN users who found Netflix to be blocked in their region, we have good news — we've done the testing and found working solutions to unblock Netflix from anywhere in the world.
Imagine this: you're traveling or living abroad and you want to watch a favorite film or series. You turn on your go-to VPN — Buffered VPN — and go to Netflix.com. Once logged in, though, you quickly realize you can't watch your favorite content. It's blocked or restricted. Despite paying for a top-notch VPN service, you can't enjoy Netflix. What you need, then, is a Buffered VPN "Netflix blocked" workaround for 2020, and that's exactly what we're bringing to you in today's article.
Netflix's proxy ban claims another victim in Buffered, but these VPNs still reliably work to unblock the streaming giant:
NordVPN – Best Netflix VPN – NordVPN has stayed a step ahead of Netflix's unfair geoblocking for years. With tens of thousands of spoofable IPs and the unbreakable NordLynx protocol, NordVPN is unlikely fail the way Buffered VPN has.
Surfshark – Automatic obfuscation and smart DNS functionality consistently unblock 17 international Netflix libraries.
ExpressVPN – The classic choice for unblocking Netflix, due to blazing fast speeds and incredible encryption.
CyberGhost – Makes "unblocking streaming" sites easy, just click on the settings profile that says just that.
PrivateVPN – Customize your VPN connection to dial in the perfect blend of speed and security.
PureVPN – Reliable Netflix access–even in China.
Spoiler alert: there's no silver-bullet configuration which will make Netflix work with Buffered VPN. Instead, you'll have to find a different VPN provider that meets your needs. In this guide, we'll remove the guesswork in selecting a service that actually works with Netflix, then explain why streaming sites enact geoblocks in the first place. Finally, we'll discuss why Buffered VPN falls short where our recommended services succeed.
30-days money back guarantee
Trusted VPN providers
With Netflix's VPN bans becoming more aggressive and sophisticated all the time, the list of VPNs confirmed to grant access to the site grows thinner each week. But don't worry–we've got you covered!
Below, you'll find the top VPNs on the market, each with a proven track record unblocking Netflix: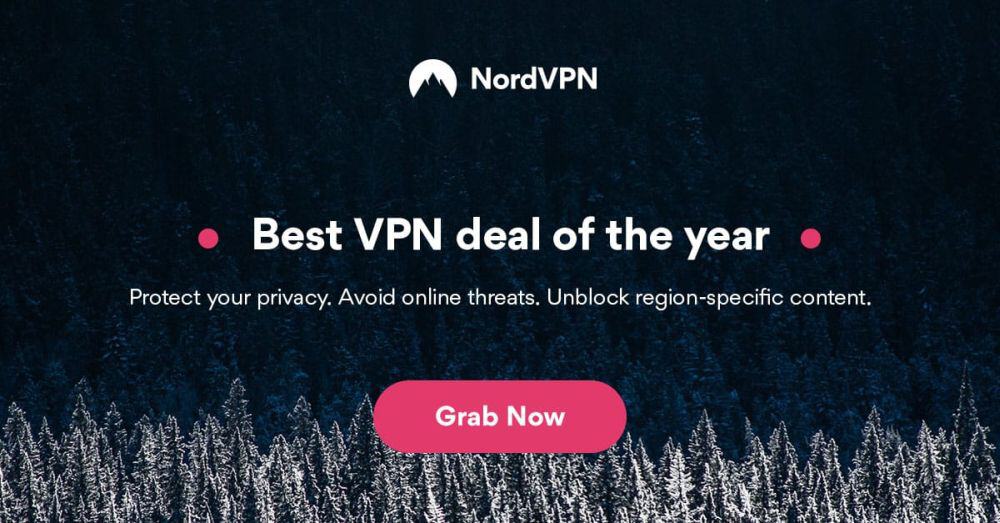 NordVPN is a security-first VPN service. While that might not sound like a natural choice for Netflix users, don't rush to conclusions. The ability to cycle through IPs combined with NordVPN's security features are a great way to watch the streaming service no matter where you are. One major reason is the massive server network. With over 5,800 servers in 59 countries, even Netflix finds it difficult to keep up with NordVPN's long list of IPs. It helps that some servers are optimized for streaming. For example, you can get a dedicated IP that beats shared IP blacklists (like the ones used by Netflix). If censorship is a problem, you can count on obfuscated servers to hide the fact you're using a VPN from third parties.
Another important factor with NordVPN is directly related to security. As you likely know, using a VPN slows down your Internet connection – even if only a little bit. Fortunately, NordVPN uses some of the fastest encryption protocols available today. These include OpenVPN's UDP and TCP, both of which combine speed with security. They also include L2TP: a fast, slightly less secure option that's perfect for using Netflix. These protocols, combined with unlimited speed, bandwidth, and server switches, means that you can use NordVPN to stream freely – and as often as you'd like. There are even 6 simultaneous connections available so you can stream from multiple devices simultaneously.
Read our full NordVPN review.
Pros
Unblocks American Netflix
Mind-boggling number of servers
No IP/DNS leaks found
"Double" data protection
Customer Service (24/7 Chat).
Cons
Sometimes slow in procesing refunds (but always do).

Of all the new stock of VPNs to debut in recent years, Surfshark is far and away the best at unblocking Netflix. In fact, users regularly report it "just works" without having to fiddle with advanced settings or fish around for that one server that still works.
Taking a peek under the hood, we find Surfshark offers a litany of advanced features. For purposes of beating the proxy ban, a combination of 256-AES-GCM encryption, blanket obfuscation, and smart DNS settings work in tandem to evade detection by VPN-sniffers and blacklists.
Surfshark's massive network encompasses 3200+ servers in 65 countries, with 17 of these offering Netflix libraries you can easily unblock. Should you connect to a country where this doesn't apply, it just defaults to Netflix US, which is probably what you wanted anyway. Stream in confidence with Surfshark's strict no-logging policy.
Pros
Bypass government censorship with NoBorders mode
Diskless server network ensures you leave no trace behind
No questions asked money back guarantee
Based in the British Virgin Islands, where there are no data retention laws
Refund requests are simple and fast–no waiting or hassle.
Cons
Connection speeds won't impress users of other high-end VPNs
Power users may wish for more settings to fiddle with.
Read our full Surfshark review.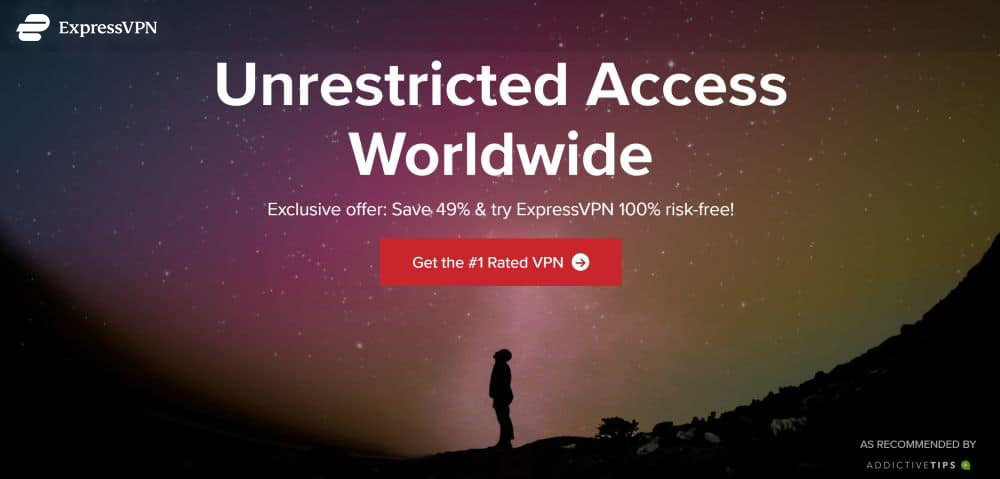 ExpressVPN is a consistently strong choice for Netflix users. The reason is readily apparent from the service's name: ExpressVPN is one of the fastest VPNs in the industry, which makes it ideal for smooth streaming. Another key advantage is the tremendously large server network of over 3,000 servers in 94 countries. With so many servers and IPs, it's virtually always possible to find one that opens Netflix quickly, easily, and with no buffering or black screens. It also means that you can access a variety of Netflix libraries in addition to the US and Canadian ones, which is nice if you like international series and films.
Technologically, ExpressVPN combines speed with security. It uses 256-bit AES encryption to make your data unreadable. With this feature, even a government won't be able to prove you were watching Netflix by intercepting your communications. Specific encryption protocols include OpenVPN's UDP and TCP, which are perfect for streamers, as well as SSTP: a protocol that works well in countries with intense censorship methods like China.
Bandwidth, speed, and server switches are all unlimited, meaning you can enjoy Netflix to your heart's content and no matter where you are. Simultaneous connections let you connect up to 3 devices so you can share with other household members and multi-stream when you need to. Apps and instructions are available for all common devices, from Mac desktops to routers and Smart TVs, which makes installation fast and easy.
Read our full ExpressVPN review.
Pros
Unblocks Netflix and other streaming sites
3,000+ super fast servers
No DNS/IP leaks found
No logs for personal data
24/7 Live Chat.
Cons
Expensive month-to-month plan.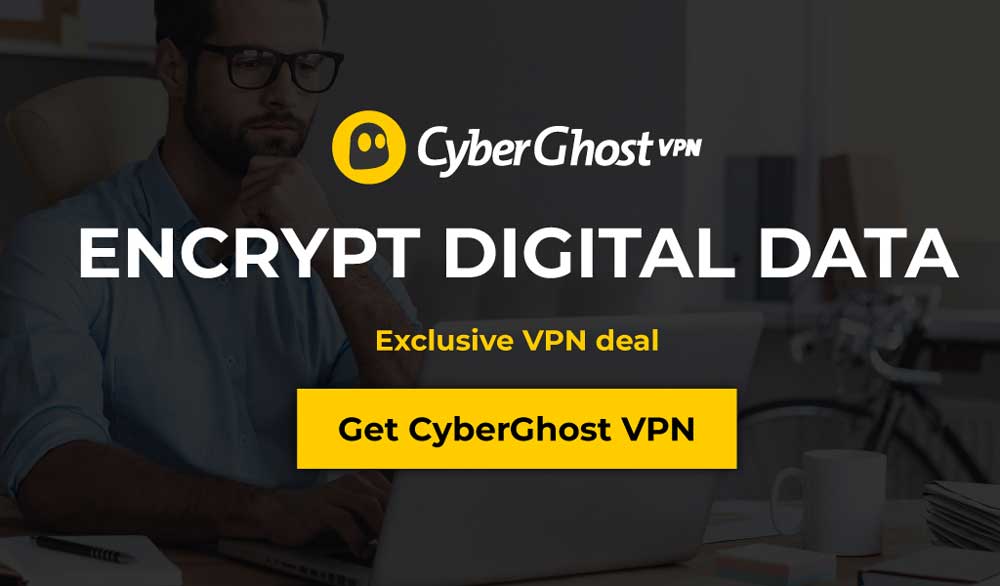 CyberGhost is an excellent choice for anyone who just wants to enjoy Netflix without wading through endless VPN settings. Unlike most other providers, where you have to make choices about servers, encryption, and other things, CyberGhost streamlines the process with 6 simple configuration profiles, ranging from "surf anonymously" to "unblock streaming". The latter option is perfectly suited for Netflix, and all configuration profiles are easy to customize with simple toggles. For example, you can compress your data or get a speed boost for faster streaming by choosing the relevant options. The result is a flexible, powerful VPN service that makes it easy for users to get the exact connection they need when they need it.
In addition to being excellent for simple, straightforward Netflix use, CyberGhost has a few important features optimized for streaming. For example, it uses OpenVPN's UDP and TCP, as well as L2TP, to give you the highest possible speed while keeping connections secure. Its server network is massive, with 6,000+ servers in 87 countries, meaning you can get IPs to match the location of any Netflix regional catalogue you want. Software is readily available for all modern operating systems, including Windows, MacOS, and Linux, meaning you can use CyberGhost with virtually any device you have. Last but not least, extra features like a kill switch and a connection guard help safeguard those affected by censorship.
Read our full CyberGhost review.
Pros
Unblocks US Netflix in web browser
Compatible with TOR
Located in Romania (out of 14 eyes)
No log files
45-days 'No-hassle' money back guarante.
Cons
Can't unblock some other streaming sites.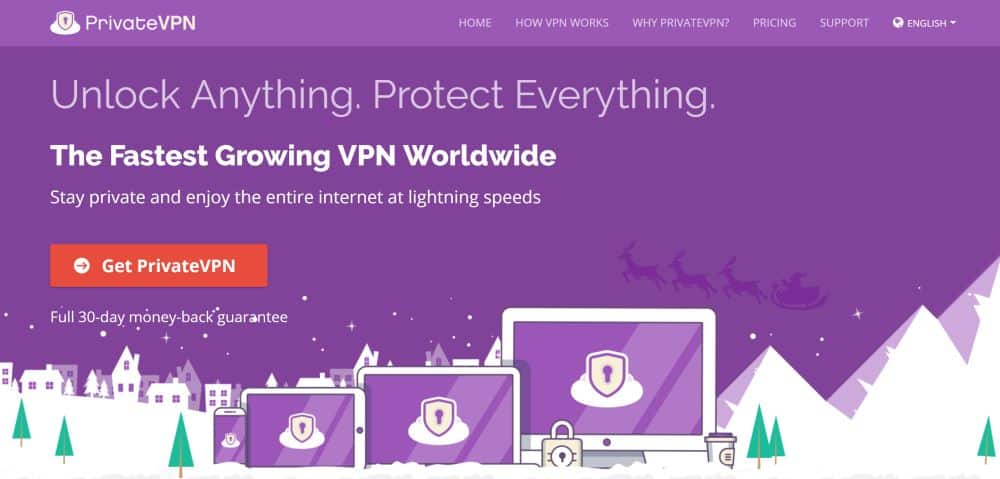 According to their own website, PrivateVPN was created with the express intention of giving its users ready Netflix access. So, how does it succeed? In our testing, we found PrivateVPN's connections to be among the speediest and most reliable on the market–indeed the perfect companion to Netflix. It's an impressive feat too, considering their network numbers a mere ~150 servers in 60+ countries. Of this spread, PrivateVPN has graciously labeled the servers specifically configured to unblock Netflix and other streaming sites, removing all guesswork involved. Furthermore, PrivateVPN is known to cycle their IPs often in order to overcome IP blacklists. This feature, combined with next-gen equipment and unlimited speed, bandwidth, and server switches, make PrivateVPN a good choice for anyone looking for a turnkey stream-unblocking solution.
PrivateVPN locks down your connection with impenetrable 256-bit AES encryption, and offers the ability to step down to 128 bits when speed is more important than security. Another selling point is the availability of SOCKS5: a proxy that bypasses censorship firewalls (including the Great Firewall of China). If you want to stream Netflix from countries like China, Kyrgyzstan, and the UAE, PrivateVPN is a great choice. Backing it all up is a comprehensive no-logging policy that promises never to hold connection and usage metadata which might be used to identify you. Truly, PrivateVPN lives up to its namesake, and beyond.
Read our full PrivateVPN review.
PureVPN is an outstanding value-for-money VPN with a number of features that make it a perfect fit for Netflix users. For starters, PureVPN runs an impressive network, with a massive volume of servers (over 2000) spanning a mind-blowing 140 countries. That last point means you can get some truly unusual IP addresses, including Uzbekistan, Belize, Kuwait and more. (We found it fun just to discover new places to connect to!) No matter which version of Netflix you want, you'll quickly be able to find servers that let you access your desired content. Access to all of these servers is included in every single PureVPN plan, as are unlimited traffic and bandwidth, meaning you can stream to your heart's content. As an added bonus, there are dedicated streaming servers optimized for services like Netflix, preventing buffering, lagging, and low-quality streaming.
In addition to its massive server network, PureVPN has a number of secondary advantages. For example, it can help you defeat ISP throttling: a method Internet providers use to artificially reduce your speed. There's also a VPN split tunneling feature, which lets you encrypt individual applications while allowing the rest of your traffic to proceed to your ISP as normal. For extra security, connect through their proprietary Ozone server, which automatically enables anti-malware protection, IDS/IPS, URL and content filters, as well as an app blocker.
PureVPN is available on all common devices and operating systems. Unlike most other VPNs, it comes with a remote setup service that installs PureVPN on Windows, Linux and MacOS devices without your involvement. Together with up to 5 multi-logins per household, this makes PureVPN an excellent choice for anyone who appreciates good value for money – and especially for families.
Read our full PureVPN review.
Why does Netflix block proxies and VPNs?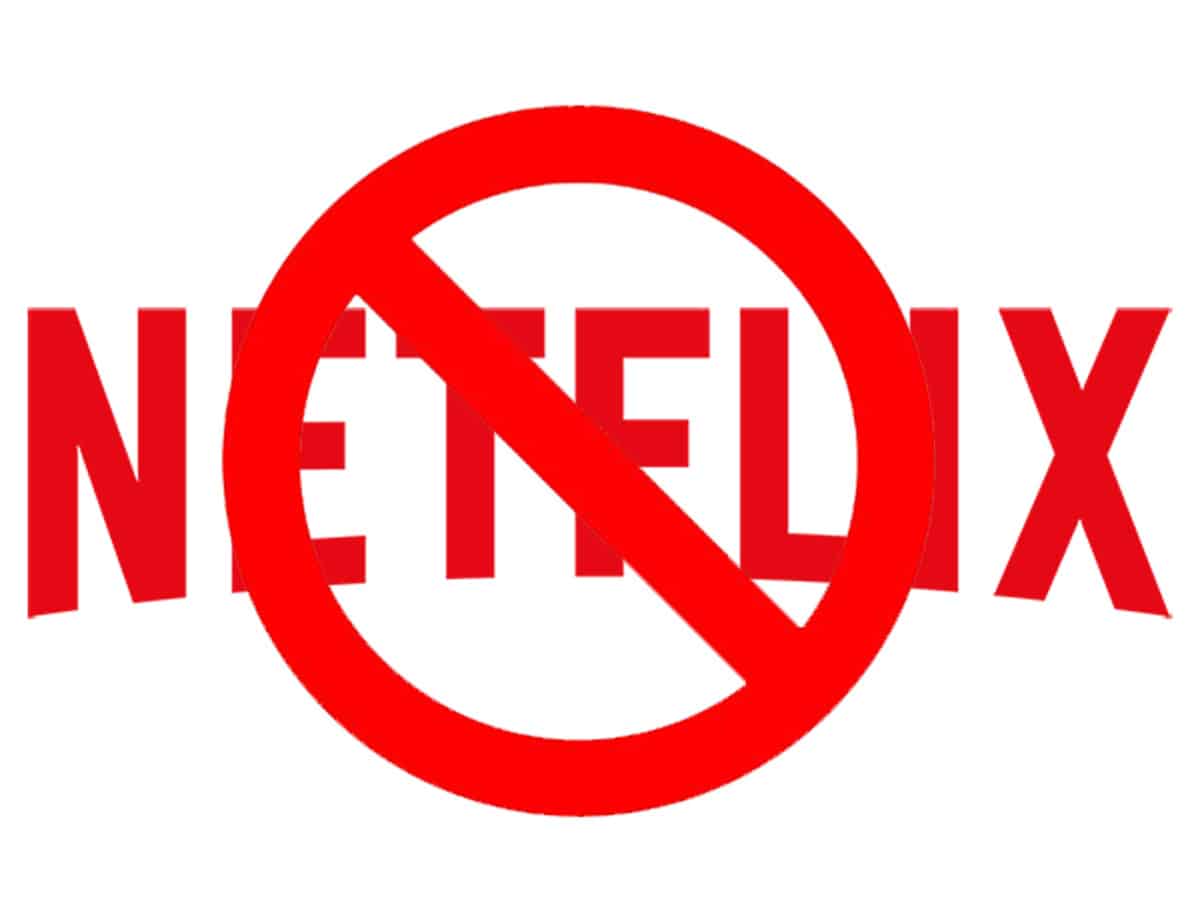 There are 2 reasons VPN users can't watch Netflix. The first is called geoblocking. It's when services like Netflix block certain countries' users from watching their content for legal reasons. Believe it or not, Netflix doesn't restrict people in different countries from watching content just to be annoying–there are very good business reasons for them to do so. A blockbuster film or series can cost hundreds of millions of dollars, while even relatively minor productions cost millions. To recoup these expenses, studios and their distribution partners rely on sales of cinema tickets and physical media, plus increasingly on streaming licenses. As such, these licenses are fairly pricey, and they need to be purchased separate for each market.
So, if Netflix wants to stream the next hit Marvel film, they have to consider which licenses make the most sense to purchase. The USA, UK, Canada, and even the Netherlands are all good candidates, as their user demographics favor big Hollywood blockbusters. But what about more foreign locales, like Laos or Turkmenistan, or countries where audience tend to prefer selections from their own unique cinematic history, like France? The high cost of purchasing licensing rights from Disney for these countries may well outweigh the return on investment from audiences less interested in these films.
Netflix redirects would-be viewers from other countries away from their regionally licensed streams. And since they shell out a small fortune for big-name titles, they don't take kindly to the "wrong" people using proxy services to access this content. Thus are geoblocks born to ensure Netflix both maximizes profits on the licenses they hold, and to uphold license agreements with copyright holders.
A second reason why Netflix may be blocked is more about the country or building you're in. (Some) corporations and countries take a great interest in controlling what media their populations have access to, and take steps to blacklist websites and ban VPNs. The exact methods vary, including firewalls, deep packet inspection and DNS filtering, but the result is the same: no Netflix for you without a VPN capable of overcoming these countermeasures.
Why doesn't Buffered VPN work with Netflix?
The central reason Buffered VPN doesn't work with Netflix is very simple. Buffered VPN only uses shared/dynamic IPs. This means that every time you log into the service, you get a new IP; usually one that's been used by dozens or hundreds of users before you. Since many of these people are trying to watch Netflix just like you, the IP you use stands out to the streaming service. After all, why would hundreds of people be using different accounts from a single IP? That's right–because they're using a VPN's shared/dynamic address. Netflix understands this logic very well and is constantly on the lookout for these kinds of IPs and servers.
Once a shared IP is discovered, it's added to a "blacklist" of addresses that can't access Netflix. Since Buffered VPN only uses dynamic/shared IPs, virtually none of their servers can access Netflix reliably. This, in a nutshell, is why Buffered VPN doesn't work with Netflix. The company did do their best to keep changing dynamic IPs faster than Netflix could blacklist them through much of 2018. But as of now, Buffered VPN is largely ineffective for accessing Netflix, barring a stroke of dumb luck.
Why doesn't Buffered VPN just change shared IPs faster?
Like we said, Buffered VPN used to change shared IPs faster than Netflix could find them. This meant that users could freely watch Netflix, Hulu, Amazon Prime Video, and other streaming services while behind the VPN. The problem is as follows: the longer Netflix goes to war against shared IPs, the better they get at it. In the past, a human operator was required to confirm additions to the IP blacklist. Today, the process is mostly automated – so as soon as it becomes clear that an IP is likely shared between a large number of users, it stops working with Netflix. There's really nothing Buffered VPN can do to fight the problem because of their policy to only use shared IPs.
To be sure, many of our recommended VPN providers use shared IPs as well, but they all have other novel methods to make their connections work in conjunction with rotating IP lists. Others offer ways of getting your VPN connection a unique IP (discussed below) for sneaking past blacklists. The point is, Buffered VPN offers only the basics, and as of 2019, that's just not enough to get past Netflix anymore.
What about dedicated IP addresses?
The services we list on this page offer dedicated or "static" IPs. With these, nobody other than yourself logs into Netflix using the same Internet address. This means that Netflix has no simple way to tell you're using a VPN and can't block you. Although a dedicated IP sometimes costs a little extra money, most users find that it's worth not having to cycle through dozens of servers to watch Netflix. Moreover, having a dedicated IP means you don't have to share your online address with anyone, no matter what you're doing.
The best part is that with our recommended services, you can have both kinds of IPs. You can get a dedicated IP for streaming and other low-risk activities where privacy isn't paramount and use shared IPs when you want the maximum possible level of privacy. Obviously, Buffered VPN lacks this functionality, otherwise it wouldn't be the subject of this article!
Closing words
Sorry Buffered VPN fans, your outlook for unblocking Netflix is looking grim with your current provider is grim. However, with our recommended VPN servers, you not only get unrivaled access to all your favorite international streams, but a plethora of other privacy provisions as well.
What will you do with your new VPN? Got a favorite stream you want to tell us about that you couldn't access before now? Leave us a comment below!