We are reader supported and may earn a commission when you buy through links on our site.
Learn more
Best Sky Go VPN to Watch When Abroad (Working in 2021)
UK citizens abroad or fans of British TV rejoice: today we're going to show you how to unblock and watch Sky Go anywhere in the world using a VPN. You'll learn why geoblocks exist and how they work, plus how a VPN can help bypass them in just a few easy clicks.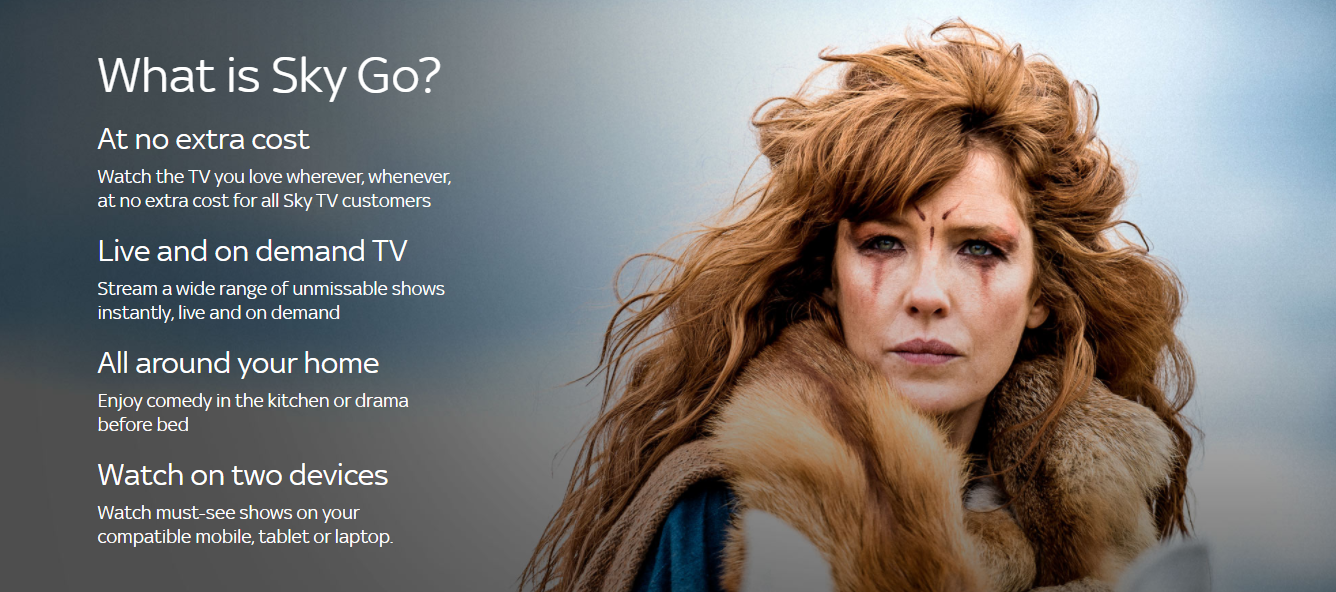 Spoofing an IP from the United Kingdom is your ticket to great geoblocked content like Sky Go. Access it from abroad with these VPNs:
NordVPN – Best for Sky Go – NordVPN maintains actual hundreds of servers in London, with their full array of specialty nodes on offer for tasks like P2P downloading, browsing Tor, or unblocking sites like Sky Go outside the UK.
Surfshark – A smart choice for spoofing past UK geoblocks as well as proxy bans with its advanced feature set.
ExpressVPN – One of the most popular VPNs for its speed; now even faster with the launch of Lightway encryption.
CyberGhost – Operates a dizzying array of UK servers, with an interface absolutely anyone can use to good effect.
IPVanish – The provider of choice for low-powered streaming devices like the Firestick.
VyprVPN – Stuck in a censored countries like China? Break through with the Chameleon protocol.
Sky Go is the online arm of Sky TV, allowing you to watch Sky content anytime and from anywhere… or so they say. But did you ever try to watch Sky Go programming from outside the UK only to find that you couldn't? We're about to tell you how to unblock Sky Go using a VPN and introduce you to the five best VPNs for Sky Go.
30-days money back guarantee
How to watch Sky Go abroad with a VPN
Today, we'll start off by having a brief look at what Sky Go is and what's available. Then we'll discuss the need for a VPN to unlock Sky Go from anywhere. We will then discuss Virtual Private Networks, what they are, how they work, their benefits and what to consider when selecting a provider. We will finally introduce the five best VPN for Sky and discuss each provider's main features and characteristics.
But now, here are a few things to consider in your VPN provider.
Location And Number Of Servers: Since you want to bypass Sky Go's geographical restrictions, you need a VPN provider that offers servers in the UK. And you want a provider with many servers. Servers don't have unlimited capacity and when they get too busy, they can slow down. More servers means less load on each and consequently, better performance.
Performance And Stability: A VPN will add some network overhead that could slow down the communication. You want to minimize this so you need fast VPN servers. You also want the service to be available when you need it. For that, you need a reliable supplier, one with the best uptime.
Strong Encryption Parameters: This is important when doing anything that requires privacy. It's what makes your data almost impossible to crack and will stop your ISP from snooping on you. The stronger the encryption protocol, the harder your data is to crack. Don't accept anything below 128 bits but 256 bits or more is better. All our Top providers offer 256-bit encryption.
Available Software For Your Platform: We don't always use a Windows computer. Sky Go was meant to be used mostly on mobile devices. You need to choose a VPN provider that has client software for all the platforms you intend on using.
Provision For Simultaneous Connections: When you have multiple devices that all need protection, you'd rather have a single VPN account to protect them all. Some providers will only allow a single connection while other might permit up to five or more.
Strict No-logging Policy: This is one of the most important features when it comes to safeguarding your privacy. Even if your VPN provider were hacked or were forced to reveal information about you or your online activities, you'd be protected because there were no records to reveal your identity.
Best Sky Go VPNs to unblock content from abroad
With the above criteria in mind, we scoured the VPN market for the top providers. Our results were conclusive, showing the following VPNs to be the best for unblocking Sky Go anywhere in the world: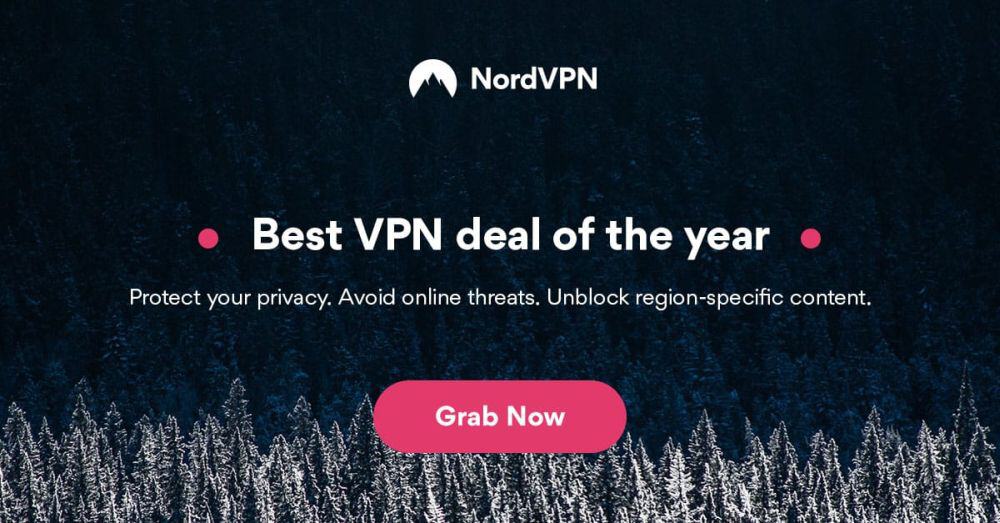 NordVPN is the best overall VPN for spoofing past geoblocks to access streaming sites like Sky Go outside of its home country. This well-loved VPN offers a strict no-logging policy along with traffic encryption using 256-bit AES and 2,048-bit DH keys over the OpenVPN protocol. Another feature that's on by default is DNS leak protection, a feature many providers don't even have. A NordVPN subscription lets you use their service from six devices, the highest among our top five providers.
Different from most other providers, NordVPN lets you select a server based on intended use such as torrenting, anti-DDoS, or video streaming. There are 5,600+ servers spread across 60 countries, including the UK. Client software is available for Windows, MacOS, and Android. There is no dedicated Linux client but detailed instructions on how to set up the service on Linux are provided. And to protect your whole house, there are four different models of preconfigured routers available through a partnership with Flashrouters
Read our full NordVPN review.
Pros
SPECIAL OFFER: 2-yr plan (68% off - link below)
Different IP addresses aervers
No IP/DNS leaks found
Strict zero logs policy on both traffic and metadata
24/7 Chat Support.
Cons
They can take 30 days to process refunds.

One of the best site unblockers on the market hasn't actually been around all that long; Surfshark made its debut in 2019, but has fast become a favorite in the privacy community. It offers an incredible selection of high-powered servers–over 3200 servers in 65 countries in total–with static IPs and double-encrypted connections available in the UK.
You likely won't need these specialty connections to unblock Sky Go, though. Surfshark's network features built-in smart DNS and Camouflage obfuscation to bypass VPN-blocking efforts used by streaming sites like Netflix, and to disguise your VPN traffic altogether (useful for overzealous ISPs trying to nail you with throttling).
Surfshark never limits your speed, bandwidth, or traffic type, and you can connect as many devices to your subscription as you like. Moreover, their RAM-only servers are speedy and stable, yet more useful for their inability to store records of your activity. Combined with Surfshark's solid no-logging policy, and you have a truly private solution for unblocking Sky Go.
Pros
Robust servers blast through geoblocks to access your favorite streaming sites
Multi-hop connections readily available
TrustPilot 4.3/5 rating
Absolutely no logging of connection data, IP addresses, bandwidth used, or traffic
Responsive customer support available 24/7.
Cons
Connection speeds won't impress users of other high-end VPNs
Apps don't allow for much manual fiddling for power users.
Read our full Surfshark review.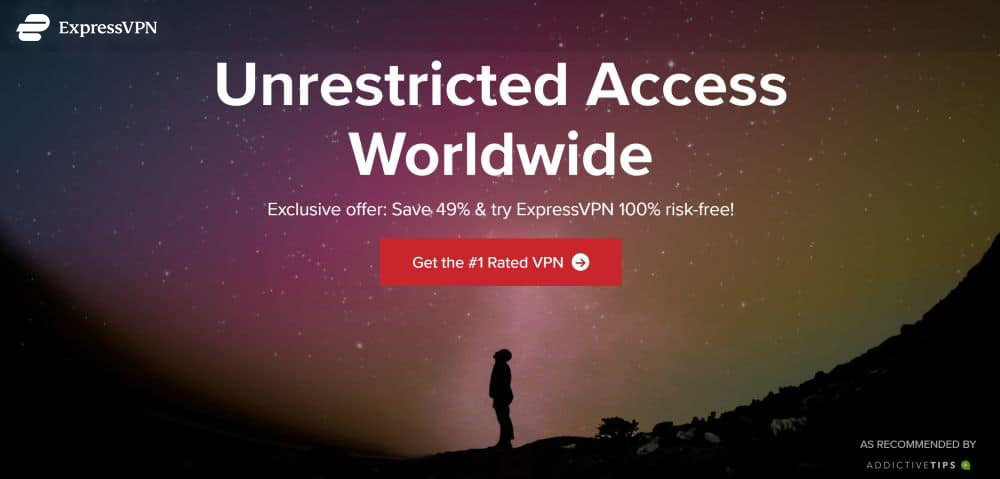 ExpressVPN is recognized for its strong encryption protocols, its servers' impressive speed, and its worldwide server network of over 3,000 servers in some 94 countries. No matter what you want to watch and what its geographical restrictions are, chances are there is a server in the right country. And of course, they have servers in the UK, which is what matters for Sky Go.
ExpressVPN uses the OpenVPN protocol with 256-bit AES encryption and perfect forward secrecy by default. It uses 4,096-bit DHE-RSA keys that are protected by the SHA-512 algorithm.
The provider only has a partial no-logging policy. However, the only data they admittedly keep are the servers users connect to and the dates which they do. Your privacy seems to be relatively well protected. Their Network Lock feature will block all internet traffic if the connection ever drops, ensuring that none of your data is exposed.
An ExpressVPN subscription lets you connect to the VPN from three devices simultaneously. There are desktop clients for Windows, MacOS, and Linux plus an Android app as well. You may also install the VPN software on a router, thereby protecting your whole house. Despite the fact that they don't offer preconfigured routers, they provide detailed instructions on how to set it up on more than dozen models of routers from various manufacturers.
Read our full ExpressVPN review.
Pros
Unblocks US Netflix
3,000+ super fast servers
No DNS/IP leaks found
No logs for personal data
24/7 Live Chat.
Cons
Expensive month-to-month plan.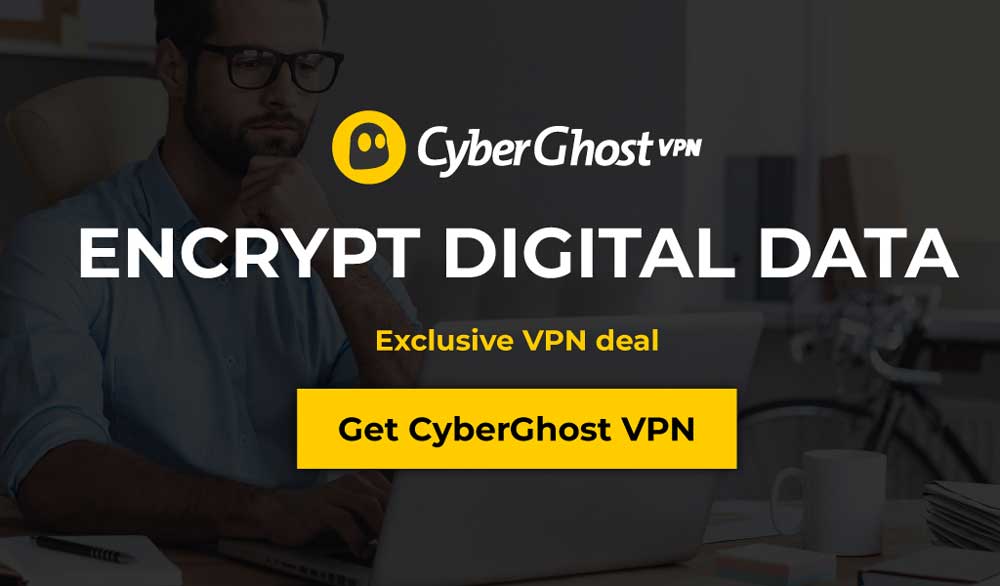 CyberGhost has an impressive 5,900 servers in about 90 different countries. Among them, 1,051 are located in the UK. This makes CyberGhost an excellent option to unblock Sky Go.
Like its competitors, CyberGhost uses the OpenVPN protocol with 256-bit AES Encryption and 2048-bit keys. Increased security is achieved through the use of perfect secrecy. CyberGhost as a strict zero-logging policy. The provider won't even keep user's email addresses. CyberGhost chose to have all subscription purchases processed by resellers so the only personal information CyberGhost keeps about users is their usernames. Other important features of CyberGhost include an Internet Kill Switch that will automatically disconnect your network if the VPN connection goes down as well as DNS and IP leak protection. On the client side, apps are available for Windows, MacOS, iOS and Android.
Read our full CyberGhost review.
Pros
Unblocks US Netflix in web browser
P2P allowed on any server except in US and Russia
Apps for ALL devices
No log files
Live chat support (24/7).
Cons
Some streaming sites cannot be unblocked.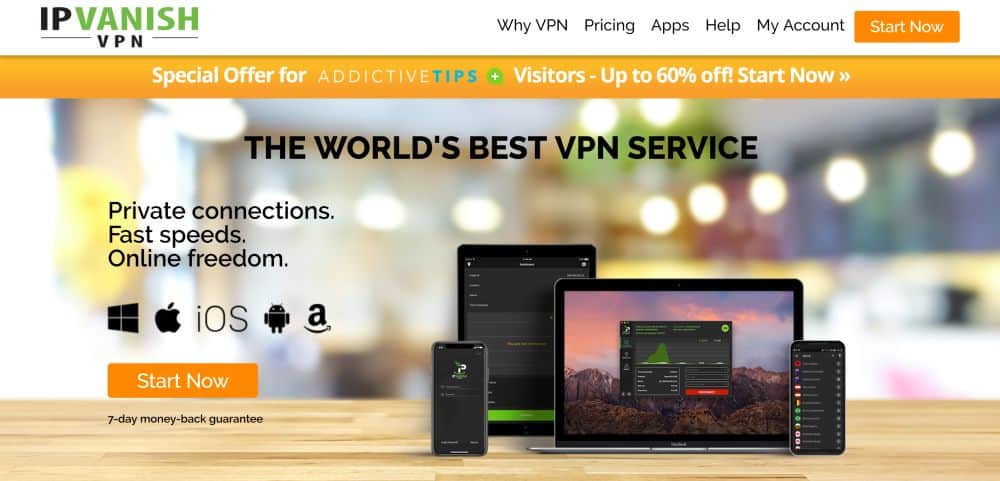 IPVanish's primary characteristic is a fast service emphasizing both security and privacy. The provider boasts a full no-logging policy and keeps no data on users' activities. Even employees aren't able to see what you're doing or where you're going online.
By default, IPVanish uses the OpenVPN protocol with 256-bit encryption, a standard feature amongst most providers. The service features SHA512 authentication and DHE-RSA 2,048-bit key exchange with perfect forward secrecy. IPVanish also features a "kill switch" that will disconnect the network should the VPN disconnect unexpectedly.
With more than 1,300 servers across some 60 countries, chance are you'll find the country you need with IPVanish. The UK, of course, is one of these countries. Your subscription allows up to five devices to connect simultaneously. You will find IPVanish client software for Windows and Macintosh computers and they provide detailed instructions on how to set it up on Linux. There is also a very good Android client app. IPVanish provides detailed setup instructions for most well-known router brands and they also have partnerships with three suppliers offering routers with preinstalled IPVanish VPN software. This is great if you want to protect all your local network at once.
Read our full IPVanish review.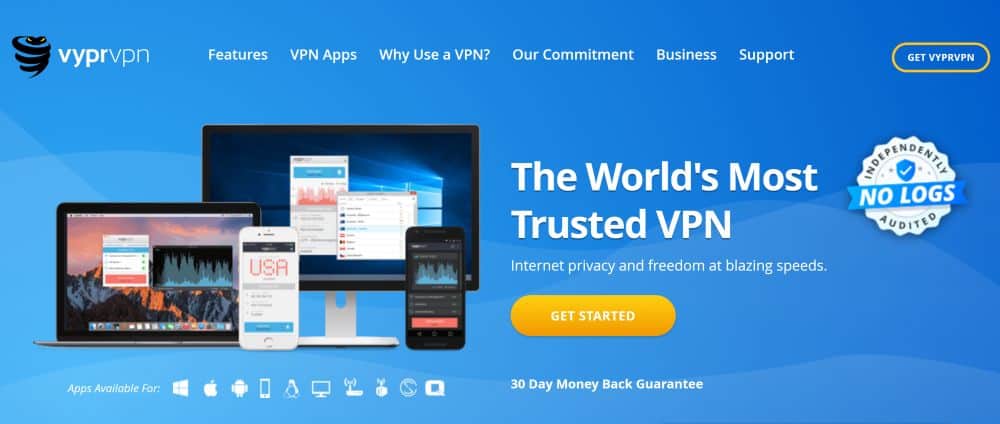 VyprVPN is best known for its strong encryption protocols, some of the best in the business. The service comes with 24/7 online customer support, a free 3-day trial, and features a vast server network of some 700 servers spread out all around the planet. It might not be as many servers as other providers on our list but it's more than enough in most situations and, as far as Sky Go is concerned, there are servers in the UK.
The biggest drawback of VyprVPN is that it's one of the VPN Providers with the most logging. From what they're saying, they store "the user's source IP address, the VyprVPN IP address used by the user, connection start and stop time and the total number of bytes used." However, They're also saying that data is retained only for 30 days and is mainly used to improve the service. They also admittedly don't log details of user activity. From a privacy standpoint, this appears to be an acceptable level of logging.
VyperVPN encrypts data using the OpenVPN protocol with 256-bit AES encryption, 2,048-bit RSA keys without perfect forward secrecy and SHA256 authentication. Furthermore, an internet kill switch is included.
A VyprVPN Pro subscription grants you simultaneous access from up to three devices. Client applications are available for Windows, MacOS, and Android. Like with most providers, detailed Linux configuration instructions are available. VyprVPN offers a router app that installs over the Tomato OS, a customized operating system that runs on several routers from major manufacturers. Some instructions are provided but the level of detail appears to be somewhat limited.
Read our full VyprVPN review.
Why You Need A VPN To Watch Sky Go
The problem with Sky Go is that it's only available in the United Kingdom. Although this can be a major annoyance, it's done to enforce broadcasting restrictions that are often imposed by content producers. Sky, for instance, might be licensed to offer a TV program or channel but only within the UK. They are contractually obligated to implement geo-blocking to enforce licensing limitations.
So, if you're a Brit travelling abroad or a fan of British TV from elsewhere, you're out of luck. Fortunately, a VPN will let you circumvent the issue, by making you appear as if you were located in the UK, no matter where you actually are.
Virtual Private Networks In A Nutshell
The primary use of Virtual Private Networks or VPN is to provide users with privacy and security while using the Internet. We call them virtual because they establish a virtual tunnel between the protected device and a remote VPN server. All data in or out of the protected device is encrypted using strong algorithms before being sent through the tunnel to a VPN server. At the far end, data is decrypted and sent out on the Internet. Even though the data is decrypted and then sent on the Internet at the far end of the tunnel, it is still untraceable to you or to your equipment. Once the data exits the tunnel, it is seen as originating from the VPN server, not from your computer (this process is often called "spoofing").
But most importantly, someone (Internet Service Providers, government agencies or malicious users) trying to intercept your traffic and spy on you will always do it from your end. This is the segment that is encrypted when using a VPN. Anyone intercepting and examining your traffic would only see undecipherable data between you and a VPN server. They wouldn't know where you're going or what you're doing.
Benefits Of Using A VPN
There are several benefits to using a VPN besides bypassing geo-blocking. Circumventing restrictions imposed by service providers, academic institutions or workplaces is one of the primary reasons why people use them. Circumventing a country's Internet access restrictions is also one of the most common uses of Virtual Private Networks. But of course, protecting your privacy is usually the number one reason people use them.
Security And Privacy: This is the primary advantage of using a Virtual Private Network. A VPN offers a very strong level of encryption that typically makes your data almost impossible to crack. You'll be free to type in passwords, enter credit card numbers, do your online banking or access any sensitive site with no worries. Protected by a VPN, any ill-intentioned person won't be able to see anything you're doing and steal your personal information.
Usage Restrictions: There are countless places where Internet access is restricted. It is common in academic institutions, office environment and most public WiFi hotspots. These restrictions can be a way of limiting bandwidth usage, reducing time wasted by employees and students, protecting copyright owners or just for enforcing ethics or morality.
No matter why restrictions are in place, they are implemented using systems that a VPN can normally bypass. We say normally because it does not always work. Since VPN usage has become more and more popular in recent years, many organizations have developed ways to block VPN traffic. Fortunately, VPN client software has gotten better and many providers' client software has a stealth mode that will make traffic appear to be "normal", thereby bypassing any VPN blocking. The best ones even do it with no user intervention.
Country-Based Restrictions: Some countries also have strict Internet usage restrictions, often much worse than what you'd find in any office or school. China, for example, has been known to block access to western social networks such as Facebook, Twitter, or Instagram. Google searches are censored and the search results you get from China are different from what you'd get elsewhere. Other countries also impose similar restrictions. All use methods such as destination IP filtering, transparent proxying and a handful of other techniques to enforce these restrictions.
Virtual Private Networks can bypass most national restrictions just as they are bypassing corporate, or institutional restrictions. After all, governments use the same methods as organizations to restrict Internet access. There's one important difference. The consequences of bypassing country restrictions in some jurisdiction can be serious. Make sure you're aware of what the risks are before doing anything you might regret.
What Is Sky Go?
Sky Go, which used to be known as Sky Player, is the online TV service from Sky. It lets users watch live and on-demand video content from Mac and Windows computers, mobile phones, and several Xbox and PlayStation game consoles. On-demand content includes sports highlights, news, movies and TV shows. Content is viewable for a limited time and is protected by digital rights management software, preventing it from being copied to disc or viewed beyond the date carried by its license. The service is available at no extra cost to existing Sky TV customers. Accessible content varies, depending on each subscriber's Sky package. Non-Sky TV customers can access the service by subscribing on a pay-per-view basis.
Sky Go is viewable on up to two devices, although it can be increased to four with a Sky Go Extra subscription for a monthly fee. The deprecated Microsoft Silverlight 3.0 browser plug-in is required to play content on computers. Due to viewing rights, some programming is not available to watch via Sky Go.
What's Available On Sky Go?
There's a lot of content available on Sky Go. The service carries pretty much any channel that's available in the UK except the BBC. You'll find all ITV channels, the Sky channels, Fox–which is not a big surprise considering that Twentieth Century Fox owns a controlling interest in Sky. There are also several specialized channels such as Comedy Central, SyFy, TLC, Discovery, National Geographic, Animal Planet, Dave, Star Plus, and Gold.
Among the content for kids, you'll find the usual trio of Disney channels, the two Nickelodeon channels, Boomerang, Cartoonito and Cartoon Network, to name a few. And of course, you'll also find the eleven Sky Cinema channels as well as ten Sky Sports channels and two Eurosport channels.
Overall, you have a great selection of available content that is certain to please most viewers.
In Conclusion
Sky Go offers an impressive lineup of live and on-demand content that's available at no extra cost to all Sky TV subscribers… as long as they don't leave the UK. But for those who are abroad and still want to take advantage of the service, a VPN will let them bypass geographical restrictions imposed by the service.
There are countless VPN providers on the market and selecting the best one for a specific purpose can be a daunting task. We've done the hard work for you and introduced the five best VPN for Sky Go. Each one will let you bypass the service's geo-blocking while increasing your online privacy and security.
Have you tried any of our recommended VPN providers? Would you care to share your experience with us? What do you like most about your provider? Use the comments below to share your thoughts.