We are reader supported and may earn a commission when you buy through links on our site.
Learn more
How to Watch BBC iPlayer in USA or Abroad (Unblock Guide 2021)
Geoblocks are a drag, but you can still unblock BBC iPlayer from anywhere in the world. All you need is a VPN, and today we'll show you the best providers for reliable iPlayer streaming outside the U.K. Follow this guide to access your favorite BBC content in minutes using a reliable VPN.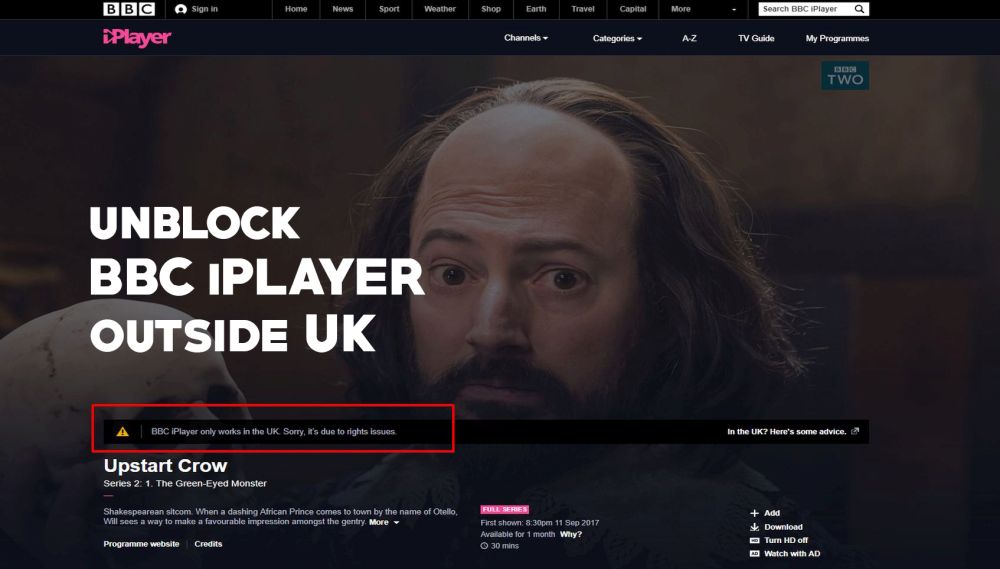 From nature documentaries to cooking shows, there are a lot of great programs created by the BBC (aka the British Broadcasting Corporation). Although this content is originally created for a British audience, in fact many of these shows are enjoyed by people all over the world. If you live in the UK, you can watch all of these BBC programs online using the BBC iPlayer on the BBC's website at https://www.bbc.co.uk/iplayer/. However, if you are based outside of the UK, then you can't normally access the content on the iPlayer site.
Don't miss out on your favorite BBC iPlayer streams, unblock the site with these VPNs:
NordVPN – Best for iPlayer – No other provider rivals NordVPN's incredible server network, which offers tens of thousands of spoofable IP addresses that make it very hard for the BBC iPlayer to block you out.
Surfshark – Employs the most modern encryption protocols to tunnel through internet restrictions anywhere in the world.
IPVanish – One of the most reliable providers for unblocking streaming sites, torrenting safely, and staying hidden online.
So what can you do if you're based in the USA or in another country and you want to watch programs on the BBC iPlayer? Fortunately, there are technological solutions to this problem. Whether you want to catch up on the last season of Doctor Who or you just can't wait to see the newest episodes of the Great British Bake-Off, in this article we'll show you several options of how to watch BBC iPlayer in the USA.
30-days money back guarantee
Best Option – Use A VPN
The first and most overall effective solution for streaming British content of all kinds is to use a VPN, or Virtual Private Network. This is a service which works by installing a small piece of software onto your machine which encrypts all of the data that you send out over the internet. The encrypted data is sent first to a server owned by your VPN provider, then decrypted and sent onward to its final destination
CHECK OUT: Our VPN Encryption Guide
In this case, you would set your VPN to be based in the UK. Then you would send a request for the iPlayer website by pointing your browser at the iPlayer URL, and the data would be routed via the VPN server in the UK. This makes it seem to the iPlayer website as if you yourself are based in the UK, so it will serve you all of the content that is normally only available to British users. The advantage of this method is that you can access all British content – including Channel 4 and other UK-only sites as well as the BBC iPlayer. And you can use this same method to access region-locked content from other countries such as Canada, Australia, or Japan. The disadvantage is that to get a reliable and secure VPN service, you will need to pay a monthly fee to a VPN provider.
To use a VPN, download the installer and follow the instructions according to your VPN provider. When you open your VPN program, you should see a list of servers in different countries. Find a server in the UK and click to connect to it. Once you are connected, you can visit https://www.bbc.co.uk/iplayer/ and browse the site as you normally would. Any content which is available to a British viewer will be available to you too now.
Security-Related Reasons to Use A VPN
As well as helping you to access region-locked content, there are also good security reasons to use a VPN. Technically it is not allowed to stream content from iPlayer unless you have a British TV license, which needs to be paid for every year. Although it is not likely to cause a problem if you stream without this license, it is possible that you could be slapped with a fine if you are caught.
More concerning is if you use illegal streaming sites or P2P downloads such as torrents. Using these services allows you access to copyrighted content, and copyright holders can be much fiercer than the BBC at tracking down infractions. If you are going to stream or download content over the internet, it is inadvisable to do so over an unsecured internet connection. If you are caught doing this, you could be liable for a fine or even prosecution.
To keep yourself safe if you stream or download content, we strongly advise using a VPN. The encryption used by a VPN means that no one, not even your ISP, can see what web pages or content you have been accessing. Your ISP can see how much data you have used, but not what the content of that data is. This means that even if law enforcement or government agencies suspect you of illicit internet activity and they force your ISP to hand over logs of your internet use, they will not be able to see what you have been accessing.
How to Choose A VPN
There are loads of VPN providers out there, and it can be hard to know which you should choose. We advise against using free VPN services, as the security of these providers can be extremely sketchy. Sometimes free providers can impose data caps or limitations, not encrypt data correctly, or sell on your user data to other companies. Instead, we recommend choosing a reputable VPN provider which meets the following criteria:
Use These VPNs to Unblock iPlayer Abroad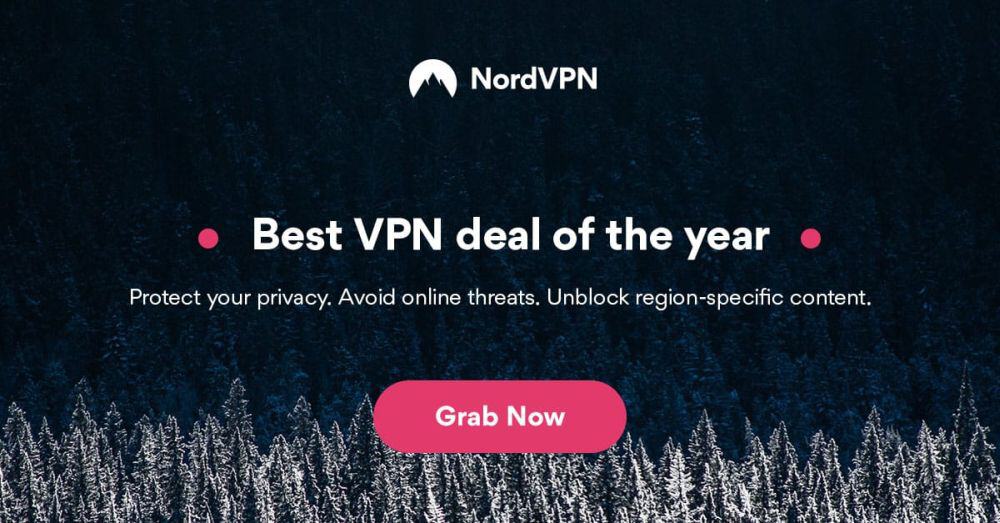 NordVPN is overall the best VPN for unblocking streaming sites like BBC iPlayer, whether you're in the USA, Germany, or even China. Even in recent years, when large media companies are employing sophisticated VPN-blocking methods, NordVPN manages to get through. How?
Encryption, namely an unbreakable 256-bit AES cipher, coupled with advanced tunneling protocols which are basically impossible for third parties to decipher. Of course, NordVPN also offers raw, brute force in the form of their massive 5,500+ server network, giving you tens of thousands of virtual IP addresses to use. It's very hard for sites to update their shared IP blacklists at the rate that NordVPN creates new ones, allowing for consistent access.
Moreover, NordVPN offers over 440 servers in the UK, with options for static IPs and double encryption. Their network is plenty powerful to deliver buffer-free streams, and you'll never leave a trace of your activity behind thanks to their outstanding no-logging guarantee.
Read our full NordVPN review.
Pros
Optimized servers for unblocking Netflix
Over 5,400 servers in 61 countries
Up to 6 simultaneous connections
"Double" data protection
Customer Service (24/7 Chat).
Cons
Some servers can be unreliable
Apps can be a bit cumbersome to use.

Surfshark doesn't quite have the sheer force capability as older and more established providers, but they've got smart privacy provisions that make the process of unblocking BBC's iPlayer quite a simple trick. While there aren't hundreds of UK servers in their 800+ node network, the ones they have really punch above their weight.
For one, establishing a link to these servers takes place over OpenVPN, IKEv2/IPSec, or WireGuard tunnels, then gets encrypted via the 256-AES-GCM cipher. These are the most modern methods commercially available, and are usually enough on their own to get past geoblocks. But failing that, you've got multi-hop and static IP connections to the UK, as well.
Surfshark's RAM-only server network is incapable of storing logs of your usage metadata, and provide snappier response times and better stream quality to boot. Overall, a solid choice for BBC abroad.
Pros
Unblock 15 international Netflix libraries, including the US and Japan
Unblock Netflix on any server, no more picking and choosing
No questions asked money back guarantee
Favorable BVI jurisdiction guarantees no logs kept
Support staff manned by actual human beings 24/7.
Cons
Overall, not much to complain about
Relatively young VPN still has to prove itself trustworthy over the long haul.
Read our full Surfshark review.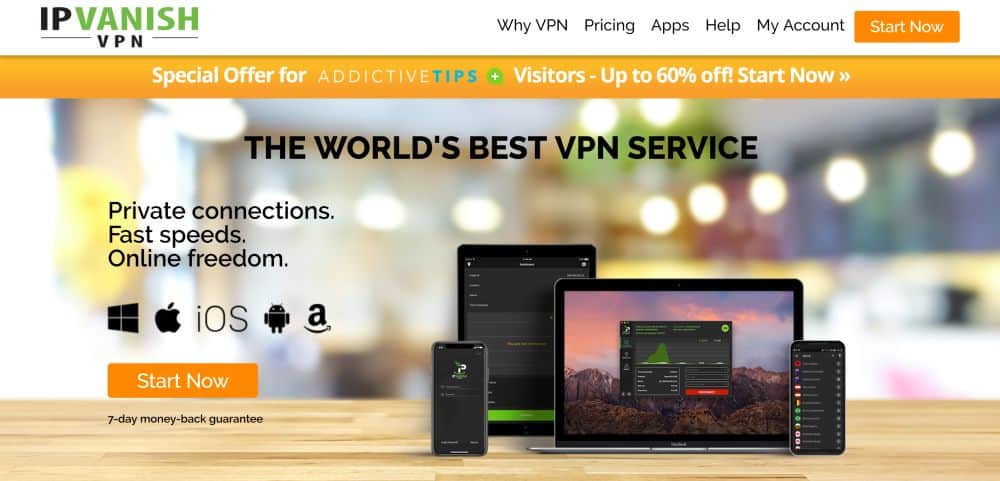 IPVanish offers lightning-fast connection speeds, over 1,300 servers in 60 different countries, software support for PC, Mac, iOS, and Android, and a strict no-logging policy. There are no bandwidth caps or limitations so you can use as much data as you need without worrying, and the encryption used is strong 256-bit. The service also has bonus features like the ability to install the software directly onto your router so that all traffic over your network will be automatically protected, and a kill switch option to prevent you from accidentally downloading over an unsecured connection.
Read our full IPVanish review.
Here you go, problem solved, BBC iPlayer now thinks you're in the UK. No more geo-location errors. Neat, eh?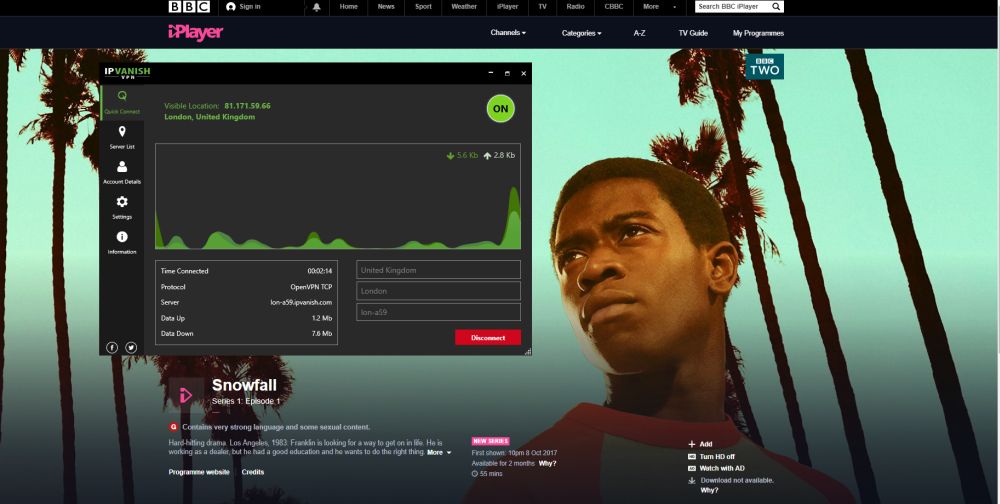 Alternative Method – Use the iPlayer WWW Add-On for Kodi
If you use the Kodi media centre software, then there's an add-on which lets you access iPlayer. The Kodi software is a popular choice for media centre PCs, so if you already have a system in your home then you can configure it to show iPlayer content as well as all your other video content.
Installing the iPlayer WWW add-on for Kodi is very easy, as it is an official Kodi add-on which is in the default Kodi repository. That means that you don't need to add any third-party repository to your system to install it. It also means that the video feeds are pulled directly from iPlayer, so the streams are always fast, reliable, and high quality.
You do need a VPN to use the iPlayer WWW add-on for Kodi. So if you don't have a VPN yet, follow our advice in the section above to get a VPN and set it up. We always recommend using a VPN when using Kodi add-ons, so this is a good time to protect yourself and get access to more content.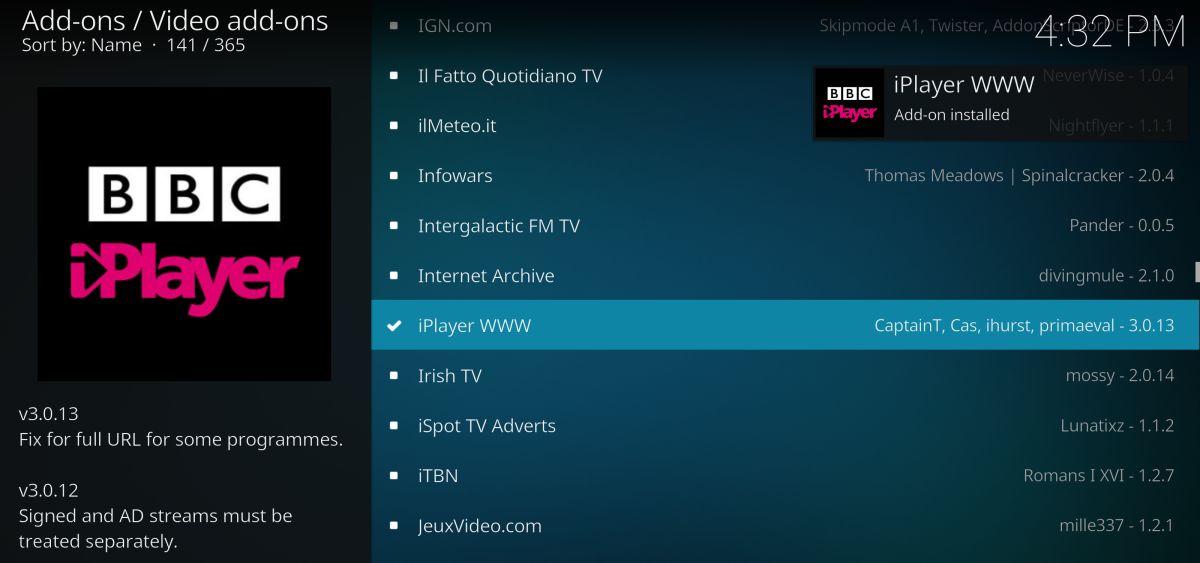 When this is done, here's how to install the iPlayer WWW add-on for Kodi:
Start on your Kodi home screen
Click on Add-ons
Click on the icon that looks like an open box
Click on Install from repository
Go to Kodi Add-on repository
Go to Video add-ons
Scroll down to iPlayer WWW
Click on it and a box describing the add-on appears. Click install on the bottom menu
Wait a minute and you'll see a notification once the add-on in installed
To use the iPlayer WWW add-on, start on your Kodi home screen
Go to Add-ons
Go to Video add-ons
Click on the iPlayer WWW icon
You will see a list of options like Highlights, Categories, Watch Live, and Programme List A-Z
Click on Programme List A-Z and then on a letter to see shows beginning with that letter. For example, go to T and scroll down to see Top Gear
Clicking on the name of a show will bring up a list of available episodes. Hover over the title of any episode and you'll see a description of the episode and a thumbnail in the information box on the left. The date the episode was originally shown appears on the right
Click on the title of an episode and the stream will begin
For Chrome Users, Use the Beebs Extension for Chrome
If you use the Google Chrome browser, there is an extension that will let you use the BBC iPlayer. The extension is called Beebs, and it is very simple – it has no settings and no setup required. It does one thing only, which is let you watch iPlayer, but it does this very well.'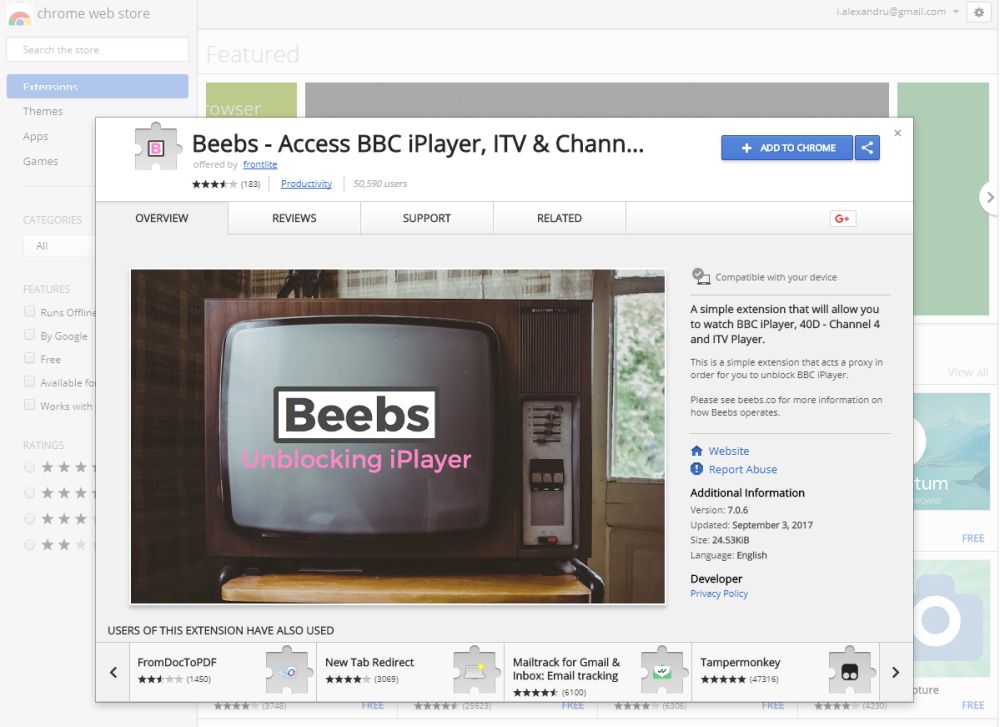 Here's how to install Beebs:
Open up Google Chrome
Go to https://chrome.google.com/webstore/detail/beebs-access-bbc-iplayer/opmliiafmgjkgkfadkpomlefdllhajdi
Check the popup for information about the extension. Click on the blue box which says ADD TO CHROME in the top right of the popup
Chrome will ask your permission to install the extension. Click on Add extension
Wait for a moment while it installs. Once installation is complete, it will automatically open the iPlayer page
You can click on https://www.bbc.co.uk/iplayer to visit the iPlayer if required
Now click on any show or episode to open the player page. Click on the icon that looks like a pink triangle to begin playing the episode
If this is the first time you've used iPlayer, you may need to register for an account. Follow the instructions on screen and you can set up your account – but don't worry, it's free to register
Now your show will start playing
For Firefox Users, Use the Media Hint Extension for Firefox
If you use Firefox rather than Chrome as your browser, there's a different option you can use to watch iPlayer content. The Media Hint extension can be used to access all sorts of region-locked content including iPlayer, as well as Netflix, Hulu, Pandora, HBO, and more. The Media Hint service does require a subscription, however, you can get a free seven-day trial to see if you like the service and want to keep using it. That means you can watch shows on iPlayer for a week for free, which is great if there's a series that you want to binge.
Here's how to install the Media Hint extension for Firefox:
Open up Firefox
Click the green Add to Firefox button
Check the status of the installation in the popup which appears, and once it is ready click on Install to begin
Wait a second and you'll see a notification that the extension has been installed
Your browser will go to https://mediahint.com/login where you can sign in or create a new account. Set up an account with the seven-day free trial and log in
Go to bbc.co.uk/iplayer/
Now click on any show or episode to open the player page. Click on the icon that looks like a pink triangle to begin playing the episode
If this is the first time you've used iPlayer, you may need to register for an account. Follow the instructions on screen and you can set up your account – but don't worry, it's free to register
Now your show will start playing
Conclusion
Any of these four options can help you to watch BBC iPlayer content from outside of the UK, such as in the USA. If you are looking for an all-around solution which can let you watch other region-locked content as well as keeping you safe, then we recommend using a VPN. If you use the Kodi media centre software, then definitely check out the iPlayer WWW add-on. And if you use Chrome or Firefox as your browser, then you can try out Beebs or Media Hint respectively.
Do you have any hints for watching iPlayer from the States? And what's your favourite show from the BBC? Let us know in the comments below!