We are reader supported and may earn a commission when you buy through links on our site.
Learn more
Best Small Business VPNs to Keep Data Locked (2021 Guide)
Small businesses have enough to worry about without cybersecurity concerns in the mix. However, by using a VPN, you can essentially lock down your company's sensitive data stream, blocking out hackers and third-party snoops at the click of a button. We recommend the top-rated small business VPNs below.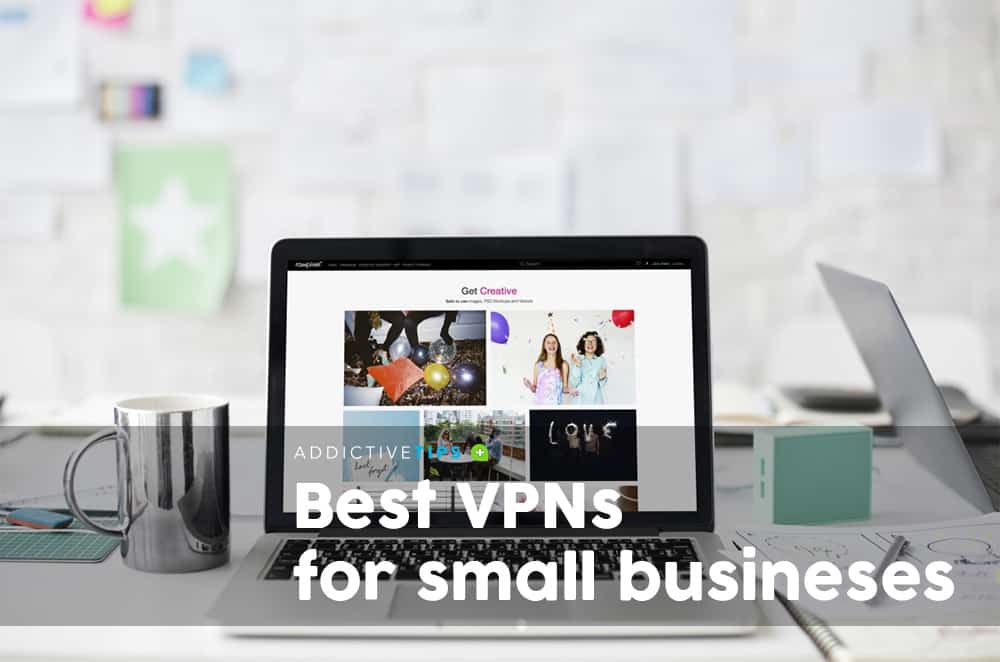 As a small business owner, you'll face countless challenges while building and managing your company. At the top of your list of concerns should be maintaining your privacy online. After all, the modern digital world has its fair share of dangers, including data-stealing hackers, malicious internet service providers, and surveillance bots that watch your every move. It's surprisingly easy for someone to take a peek at your private data, a move that could seriously damage your credibility and reputation.
Secure your business's sensitive credentials against hackers with these high-security VPNs:
NordVPN – Best Business VPN – NordVPN is relied upon by individuals and businesses around the world to lock down their sensitive information against hackers, snoops, and even competing businesses. Enjoy anonymous connections via NordLynx encryption across thousands of servers worldwide.
Surfshark – Unlimited simultaneous connections, NSA-grade encryption, and adblocking in an affordable package.
ExpressVPN – Need a router VPN that won't slow you down? Pick the provider with Lightway encryption for top connection speeds across the board.
PureVPN – A well-rounded provider with advanced VPN tunneling, plus web filtering, adblocking, and more.
IPVanish – Offers a great balance of essential privacy provisions and speed for a good price.
VyprVPN – A strong recommendation for businesses located in or which regularly deal with heavily censored countries, like China.
Every client, every customer, and every employee matters to your small business. That's why you should take extra steps to ensure a safe public internet connection for everyone who walks through the door. Virtual private networks add this security, and best of all, they're easy to use, inexpensive, and extremely effective. Read the guide below to find the best VPNs for small businesses so you can keep your data locked down no matter what threats come along.
30-days money back guarantee
How to choose a safe VPN provider
It seems like there's a VPN for every niche these days. Hundreds of services crowd the market, each one promising the best security, the fastest speeds, and the easiest-to-use software. Given this glut of features on offer, it's not hard to get caught up in the details and forget which features are the most important. We used the criteria below to evaluate our recommended small business VPNs. Put these at the top of your research list and you'll be sure to land a low-cost, high-return VPN every time.
Most secure VPNs to lock down your small business's sensitive data
Be it a small enterprise or a medium-sized company, the need for data privacy is very much real. With that in mind, we've done the research by testing tens of VPNs services in the search for the best small business VPN that gets the job done.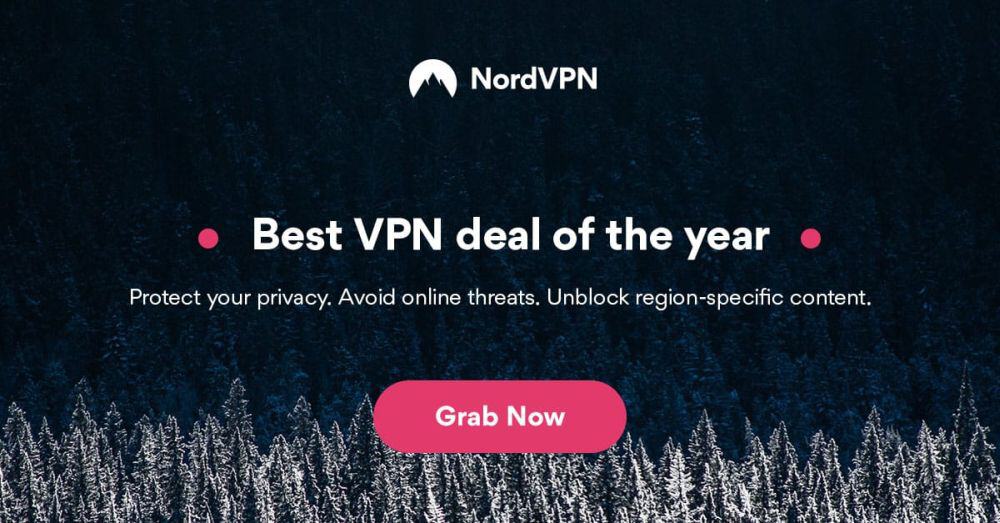 Reliability, speed, and server selection are three of NordVPN's best-known features. The company has been around for years, refining its offerings to deliver customers exactly what they need. The most impressive part of the NordVPN experience is its incredible server network, with over 5,500 servers in 58 countries (more than twice the size of your average VPN). This allows NordVPN to deliver customized features to its users, including speed-adjusted servers for lightning-fast downloads and onion over VPN servers for even stronger privacy.
Double encryption is another one of NordVPN's amazing offerings. Select servers wrap all data in 2048-bit SSL encryption, making each packet so well protected that not even a supercomputer could break the cryptography. There's also NordVPN's thorough zero-logging policy that covers everything from traffic to bandwidth, IP addresses, and even timestamps. If privacy and speed are the biggest priorities for your small business, make NordVPN your first stop.
NordVPN's full-featured software and apps are available for Windows, Mac, Android, and iOS devices, including complete router install instructions. Its strong encryption allows open, private access to the internet even in countries like China, with simultaneous access for up to six devices so you can always have peace of mind. Finally, you can feel good trusting a VPN located in the privacy-friendly jurisdiction of Panama.
Read our full NordVPN review.
Pros
Highly affordable plans
Over 5,400 servers in 61 countries
Tor over VPN, double VPN
Based in Panama
Money back guarantee policy (30-days).
Cons
Apps can be a bit cumbersome to use.

In a few years, Surfshark could easily be the number-one recommendation on this list of small business-friendly VPNs. The deciding factor is unlimited simultaneous connections, which allows you to protect every one of your devices without having to rely on a central router VPN installation (though, this is also available!)
But, in the privacy world, trust is king, and Surfshark has only been around since 2019. But, based on its feature set alone, we still easily rate Surfshark as one of the most secure VPNs around. It also offers strong ROI, as it costs next to nothing per month, yet offers 256-AES-GCM encryption, spoofable IPs via 3200+ servers across 65 countries, adblocking and anti-malware, plus different configurable settings for individual Wi-Fi networks.
And with RAM-only servers and a strict no-logging policy, you know Surfshark is dead-serious about its commitment to protecting the private information that keeps your business running.
Pros
Unblock 15 international Netflix libraries, including the US and Japan
Unblock Netflix on any server, no more picking and choosing
Accepts all major credit cards, Apple, Google, and Amazon Pay, PayPal, and even Bitcoin
Favorable BVI jurisdiction guarantees no logs kept
24/7 live chat ensures maximum uptime.
Cons
Overall, not much to complain about
Apps don't allow for much manual fiddling for power users.
Read our full Surfshark review.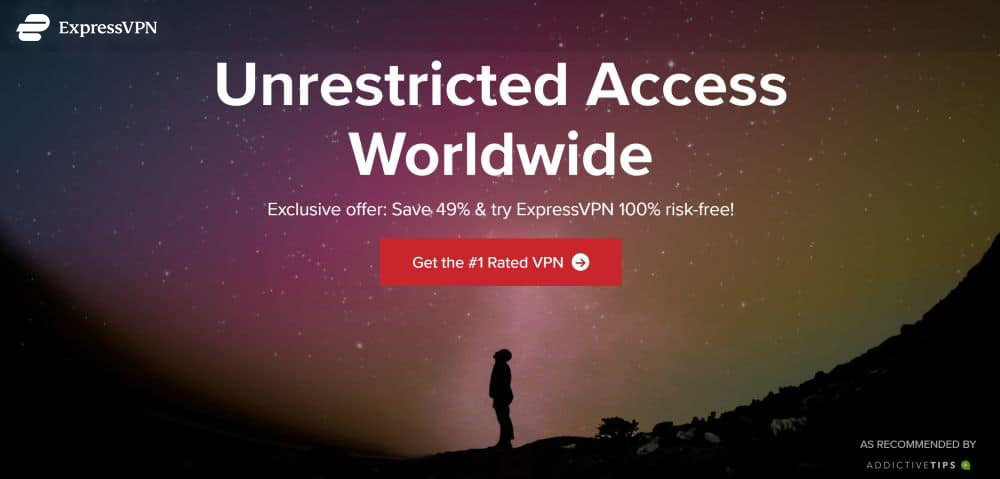 ExpressVPN pushes speed and privacy to their limits. The service operates a network of 3,000+ servers in 94 different countries, each with incredibly high overall speed test scores. No matter if your small business is in a town or if you travel around the world, you'll always be able to find a good connection with ExpressVPN. There's even a built-in speed test in several versions of the VPN's software to make it easy to find the best servers.
ExpressVPN's speeds don't come at the price of privacy features, either. 256-bit AES encryption protects all of your data, along with DNS leak protection, an automatic kill switch, and a zero-traffic logging policy. You'll also be able to take advantage of unlimited bandwidth and no restrictions on P2P network or torrent downloads, ensuring you have free range of the entire internet for all of your communication and file-transferring needs.
More features from ExpressVPN include simultaneous connections for up to 5 devices, with even more available through router installation; secure, easy to use software for Windows, Mac, Linux, Android, iOS, and more; full access to blocked websites, censored content, and VoIP software; knowledgeable support staff with 24/7 available via chat or e-mail. Truly, you'll be hard-pressed to find a more complete VPN package for your small business anywhere on the market.
Read our full ExpressVPN review.
Pros
Unblocking Netflix USA, iPlayer, Amazon Prime
Fast serves with minimal speed loss
OpenVPN, IPSec & IKEv2 Encryption
No logging policy well enforced
Great support (24/7 chat).
Cons
Power-users configuration options.
PureVPN is a fast, friendly, privacy-aware VPN designed for both personal and small business use. The company runs a network of over 2,000 servers in 180+ locations for incredibly fast, lag-free connections around the world. 256-bit AES encryption ensures all data that passes through those servers stays locked up tight, and zero traffic logs guarantees your private data can't fall into the wrong hands. You'll also get to take advantage of easy to install router software along with five simultaneous device connections!
PureVPN operates their entire server network without interference from third parties. All software and hardware maintenance and upgrades are handled internally, which adds an extra layer of privacy to the service as a whole. It also means PureVPN can offer additional features most VPNs skip over, including anti-virus protection, ad-blocking, and anti-phishing measures.
PureVPN's features at a glance:
Top-tier business features include dedicated bandwidth, an account manager, and even 24/7 priority support.
Excellent compatibility with custom apps for all modern operating systems, smartphones, and more.
New PureVPN 360 for added security against hacking and malware.
Read our full PureVPN review.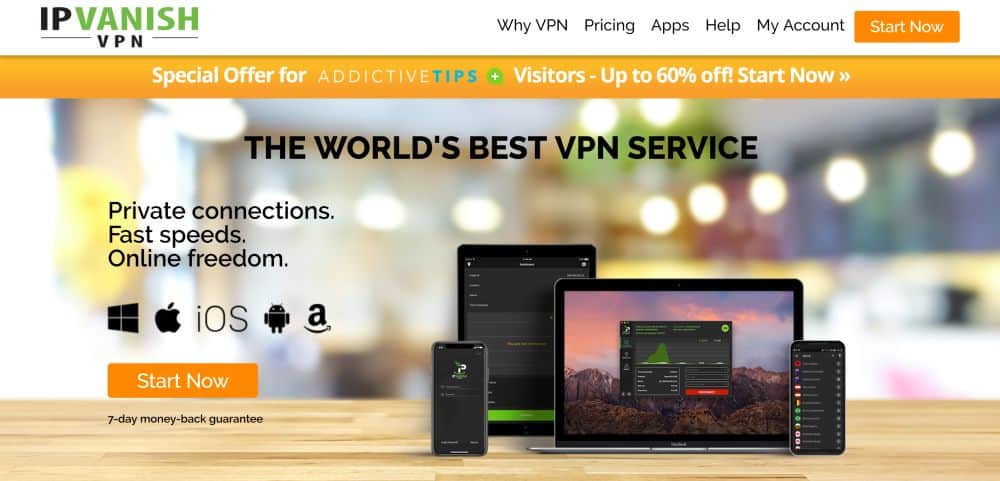 When speed and security are your top priorities, IPVanish is a great VPN to go with. The service offers strong 256-bit AES encryption on all traffic, delivers a straightforward zero-traffic logging policy, and has both DNS leak protection and automatic kill switch features for most versions of its custom software. These features are backed by a huge network of over 1,300 servers in over 60 countries, which should give you a fast and steady connection no matter where your business operates.
IPVanish supports small business through a few unique features. For starters, you'll get five simultaneous connections with every plan, nearly twice as high as most other VPNs. If that's not enough, IPVanish also offers easy to use router software that ups the limit while providing secured Wi-Fi for your customers and guests.
IPVanish also includes the following:
Fast, easy-to-use software for PCs, laptops, tablets, smartphones, even Chromebooks.
Customer support that's available 24/7 in case anything goes wrong.
Unlimited bandwidth, no speed caps, and no restrictions on traffic.
Read our full IPVanish review.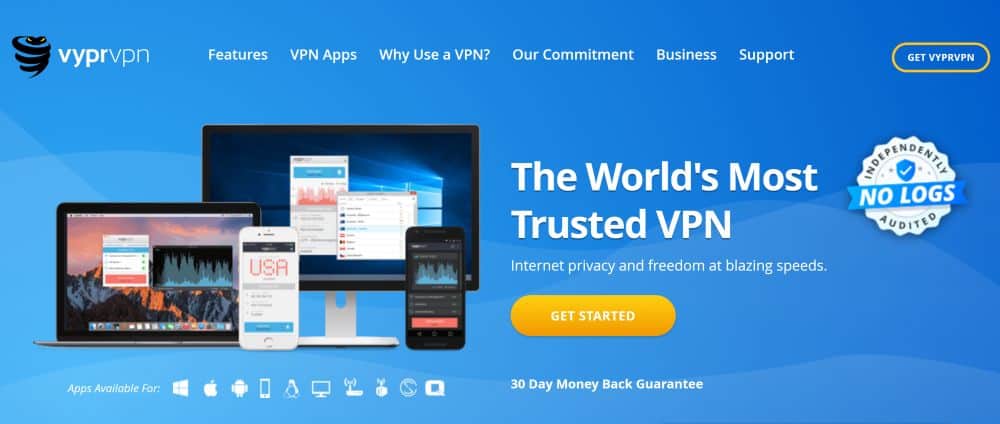 VyprVPN approaches the online privacy problem from a few different angles. It starts with 256-bit AES encryption and a zero logging policy on traffic and DNS requests, all essential features to keep data hidden and out of the wrong hands. VyprVPN also owns its entire network of 700+ servers in 70 different countries, which allows them to control who accesses the hardware and software and keep third parties completely out of the picture.
The biggest must-have feature for VyprVPN is Chameleon technology. This unique protocol encrypts the metadata attached to each piece of information, defeating even the most invasive methods of data mining, such as deep packet inspection. With VyprVPN and Chameleon in place, you'll be able to do business in the most restrictive of environments, even in censorship-heavy countries like China.
VyprVPN also includes the following features:
Chameleon technology helps defeat ISP throttling and bypass censorship blocks to maintain open access to the internet at all times.
Business exclusive features include multiple user management, a dedicated account manager, and a dedicated IP address.
Support for all desktop operating systems, mobile devices, and a wide variety of routers.
Read our full VyprVPN review.
What a VPN can do for your business or startup
The best VPNs are seamless additions to your work routine; you sign up for a reliable service, you install the software, you log in and you forget about it. The VPN runs quietly in the background to keep your identity and your data perfectly safe, all while you carry out your business as usual. It's amazing that something so powerful can be so easy to use!
To understand why VPNs are so useful, we'll need to take a look at how the internet works as a whole. When you click on a link in your web browser, your computer sends out a packet of information with a request for data. That packet travels through your ISP and is sent to the appropriate server on the internet where the information is retrieved. The data follows the same path back and displays on your screen–all you had to do was wait a few moments and it happened automatically.
The problem with this process is that everything that travels through the internet is sent in an open format. Anyone can read the contents of those packets and know who sent the request. It's sort of like sending a postcard through the mail. If you use a VPN, however, that postcard is stuffed into an envelope that nobody can read–not your ISP, nor some random hacker sitting in a cafe.
VPNs encrypt the data you send before it leaves your computer or smartphone, and it stays that way through most of its journey. The VPN service takes care of the actual request, which also means your identity isn't attached to the packets. The end result is a connection to the internet that works just like before, only now it's for your eyes only.
More benefits of small business VPNs
Using a VPN does more than just add a little privacy to your daily social media routine. With a VPN in place all of your online activity will be encrypted, ensuring e-mails and customer communications are unreadable to prying eyes. You'll also secure your work phone as well as laptops and tablets your employees use from day to day.
Below are just a few of the extra features you'll be able to use while running a VPN in your small business:
Keep business trips confidential
Traveling is often necessary for your business, but giving up your private information isn't. Using public hotspots or hotel Wi-Fi carries a number of risks, including data snooping bots and unknown ISPs. To keep your data safe while you travel, always run VPN software on laptops and smartphones. It's also a good idea to encrypt your iPhone and encrypt your Android devices to ensure privacy even when you're not actively online.
Make all communications private
If your small business uses social media, conference call services, or VoIP programs like Skype to communicate with customers or partners, you could be giving away a lot of private information. VPNs secure these communications so you can be sure they're always private and confidential no matter who's trying to listen in.
Protect non-local storage
Swapping files with your partners is an everyday activity in most small businesses. If you use online cloud storage services like Dropbox or Google Drive to share or backup data, you could be leaking data without even realizing it. VPNs also encrypt these types of transfers, so make sure you're using one when uploading or downloading files to your cloud storage services.
Beyond VPNs – securing your browser and e-mail
The weakest link in any privacy environment is always the user. VPNs may provide unbreakable end-to-end encryption, but what if someone forgets to log in? You can also accidentally give away personal information or business secrets through e-mail and everyday browsing. All it takes is one slip-up and your data is out in the wild.
To help create an atmosphere of complete privacy and security, start by paying closer attention to your browser extensions. Disable any plug-ins that aren't absolutely necessary, as they can sometimes share information without your consent. Once you've cleared out the rubbish, add a few smart extensions that increase your privacy.
Browser extensions for improved online security:
Privacy Badger – An incredible browser extension that works to disable invasive ads, tracking scripts, and browser fingerprinting efforts. Built by the Electronic Frontier Foundation (EFF), a reliable source of online privacy data and activism.
Disconnect – Websites frequently track your activity long after you've left their home page. With Disconnect, you'll stop them in their tracks every time.
HTTPS Everywhere – Another extension made by the EFF, HTTPS Everywhere forces certain websites to deliver secure versions of their page whenever possible. This helps keep especially sensitive data encrypted no matter what.
With your browser ready for the wild web, it's time to take a closer look at your e-mail habits. Most small businesses use a combination of social media and standard e-mails to keep in touch with customers and employees. Some of these e-mail services encrypt their data, but many others don't bother. If you want to keep your e-mail truly private, ditch the free webmail service and look into one of the following providers.
Encrypted e-mail services for better online privacy:
ProtonMail – Feature rich and reliable, ProtonMail is one of the favorite services of online privacy advocates. Includes both web based and mobile access apps, and it's perfect for small and mid-sized businesses.
Lavabit – The original encrypted e-mail provider with a long history of fighting against online surveillance. The interface is less friendly than its competitors, but you can't beat the huge list of privacy features.
Tutanota – Tutanota aims to be a fast and easy e-mail service that carefully preserves user privacy. It's a relative newcomer to the encrypted e-mail market, but it offers a great set of basic features.
Conclusion
Running a business is tough, but a VPN takes a lot of the worry about cybersecurity away–so long as you choose the right provider, that is. We've reviewed the VPNs with the toughest privacy provisions on the market, which will keep your sensitive data safe from hackers and malicious attacks, while simultaneously protecting the digital rights of your staff and customers alike.
What other considerations do small business owners need to make about their privacy online? Do you currently use a VPN for your company? Tell us your story below.