We are reader supported and may earn a commission when you buy through links on our site.
Learn more
How to Get an Israeli IP Address from Any Country
There are plenty of good reasons to get an Israeli IP address, especially if you live in a nearby country with harsh Internet censorship. Today, we cover the best VPNs capable of netting you an encrypted connection to a virtual IP in Israel, as well as some of the reasons to do so.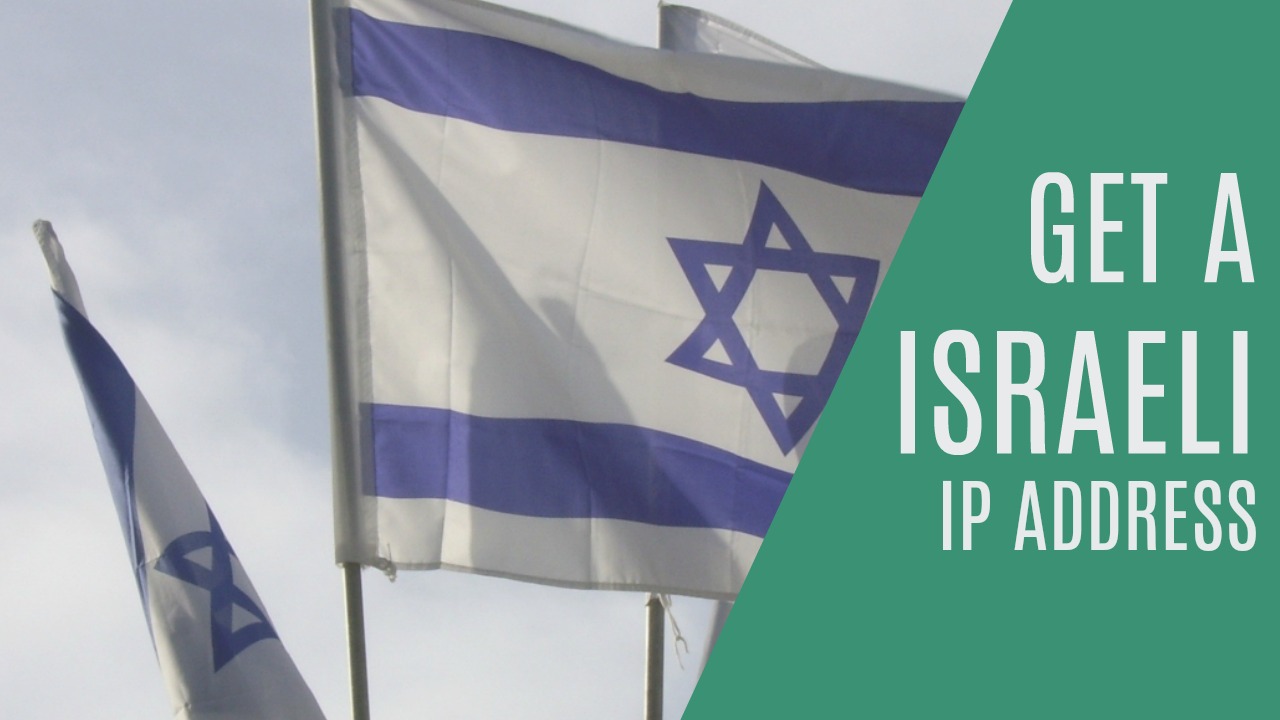 Looking to connect to the internet with an IP address in Israel? With the right tools you can access websites, videos, live streams, and more, all from any country in the world, and all as if you were sitting in a cafe in Tel Aviv. The best way to do this is to grab a reliable virtual private network (VPN) service, which lets you surf the internet anonymously and with any IP address you like.
Israeli IP addresses are invaluable to people living in more heavily censored countries nearby. Securely spoof into Israel with these VPNs:
NordVPN – Best Israeli Spoofer – NordVPN's network is legendary, dotting virtually every corner of the globe. Whether you connect to Israel to escape digital persecution or you're just trying to access Hebrew content from back home, NordVPN has your back.
Surfshark – A smart choice for anyone on a budget, but who also doesn't want to compromise on security.
ExpressVPN – The premium choice for downloading, streaming, or voice calling, thanks to its blazing-fast network.
CyberGhost – Our top recommendation for VPN newbies who want a privacy solution that "just works" without much configuration.
PrivateVPN – One of the best VPNs for power users who love to tinker with encryption settings for maximum effect.
But how do you choose the right VPN? Which one has the best Israeli IP addresses? What if you have to fight with net neutrality or internet fast lane issues? Don't worry, we've got you covered. Read on to learn all you need to know about getting an Israeli IP address and using it to access Israel-only websites as if you were a native.
30-days money back guarantee
How to Choose the Best VPN for Israeli IP Addresses
VPNs create a tunnel between yourself and the rest of the internet. On one end, all data goes through an encryption process that locks down information tight, making it so no one can see what you're doing. On the other end, your identity and IP address are removed, replaced with anonymous information provided by the VPN. From beginning to end, you can surf the web with full freedom, all you have to do is install the VPN and you're ready to go.
Criteria for Selecting a VPN
How do you choose the best VPN for the job? Researching the right service is never an easy job. You want a good balance between speed and security, never sacrificing one for the other. You also need to make sure the VPN has multiple server locations inside Israel, as that's the only way to get an Israeli IP address.
We used the criteria below to make our list of recommendations. Following these will ensure you have the best VPN experience possible, no matter where you live or what device you use to connect to the internet.
Best VPNs for an Israeli IP Address
Ready to take the VPN plunge? All of the services below were vetted using the criteria above. Each one is fast, reliable, secure, and perfect for accessing the private internet with an Israeli IP address.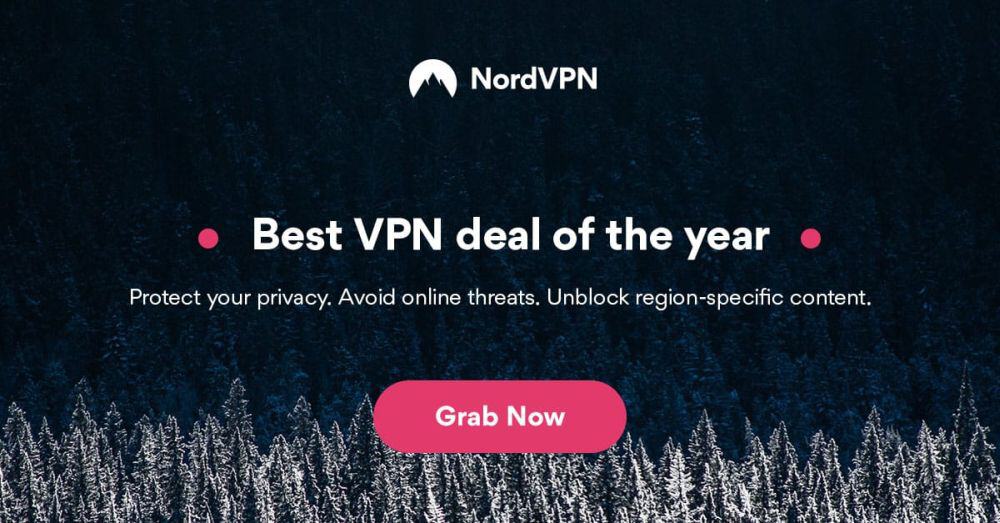 If you need speed and server variety, NordVPN should be at the top of your list, as it on ours. The trusted and reliable VPN keeps users safe with strong privacy practices across the board, allowing you to connect and stay invisible without sacrificing speed. What stands out the most about NordVPN is the size of its network. The list is constantly growing, but right now it sits at over 5,500 servers in 59 different countries, more than twice the nearest competitor.
NordVPN provides several unique features no other VPN offers, including double encryption servers, location obfuscation features, dedicated IP addresses, and anti-DDoS options. There's also a thorough zero-logging policy that covers everything from bandwidth to time stamps, traffic to IP addresses, meaning your activity is never recorded or shared with third parties. Backing this is 256-bit AES encryption on all data, an automatic kill switch, DNS leak protection, and a host of customizable encryption features.
Read our full NordVPN review.
Pros
SPECIAL OFFER: 2-yr plan (68% off - link below)
No bandwidth caps
Allows multiple connections (6 devices)
Extra-secure Double VPN for data encryption
Money back guarantee policy.
Cons
Some servers can be unreliable
Sometimes slow in procesing refunds (but always do).

Surfshark has come a long way in a short time. Since debuting in 2019, they've ramped up their server count to encompass 3200+ nodes in 65 countries, including Israel. By default, this makes Surfshark an excellent choice for attaining greater Internet freedoms for people living in surrounding countries suffering from harsh government censorship.
But, Surfshark stands out for other reasons. They offer 256-AES-GCM encryption on every connection (the same used by the NSA), along with blanket obfuscation, smart DNS functionality, and even a special NoBorders mode for countering government restrictions. For bandwidth-starved networks, you can use Surfshark's split-tunneling to pick and choose which traffic gets encrypted, and which continues inconspicuously.
Speeds are fast across their network, which is based on RAM-only infrastructure. This has the added benefit of wiping your sensitive user metadata from Surfshark's memory, which lends their strict no-logging policy a lot of credibility.
Pros
Bypass government censorship with NoBorders mode
Multi-hop connections readily available
VPN split tunneling available
Logging policy independently audited and verified
Refund requests are simple and fast–no waiting or hassle.
Cons
Server network is not nearly as expansive as major competitors
Apps don't allow for much manual fiddling for power users.
Read our full Surfshark review.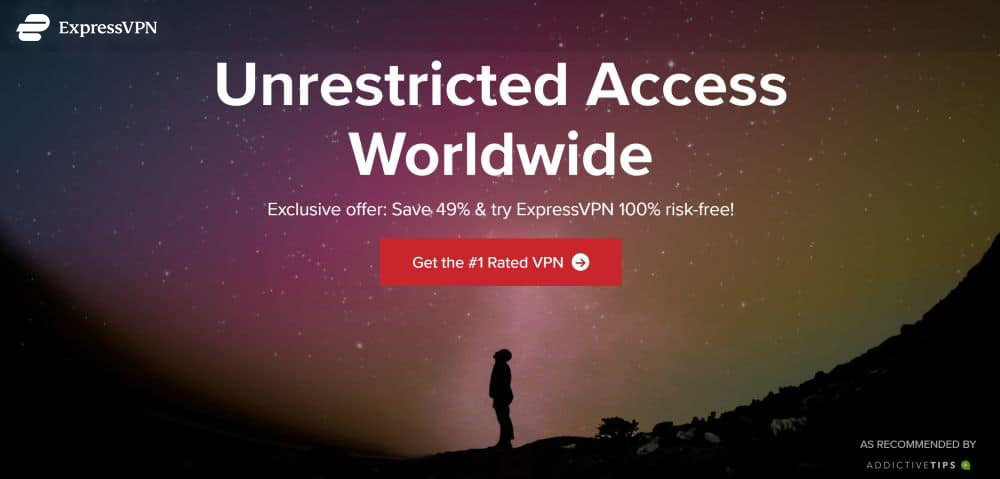 Looking for a super-fast VPN that's also extremely easy to use? ExpressVPN is the one for you. This well-known and highly ranked service offers fast speeds, reliable security, and easy to use software for a wide variety of devices, making it one of the best and the most popular VPNs around. It doesn't matter what hardware you want to connect from or where you're located, ExpressVPN can keep you secure while providing an ideal online experience, every time.
ExpressVPN runs a large network of over 3,000 servers in 94 countries, giving you excellent connection speeds along with fantastic anonymous IP addresses across the globe. ExpressVPN's privacy features also keep you secure with 256-bit AES encryption, and a zero-logging policy on traffic, DNS requests, and IP addresses. DNS leak protection and an automatic kill switch deliver a reliable safety net in case of an accidental disconnect or other internet issue.
ExpressVPN offers multiple locations in Israel for fast access to Israeli IP addresses. It also offers the company's full range of encryption protocols for the most secure online experience possible.
Read our full ExpressVPN review.
Pros
SPECIAL OFFER: 3 months free (49% off - link below)
Super fast servers (minimal speed loss)
Torrenting allowed
Strict no-logging policy
Customer Service (24/7 Chat).
Cons
Month-to-month plan has high cost.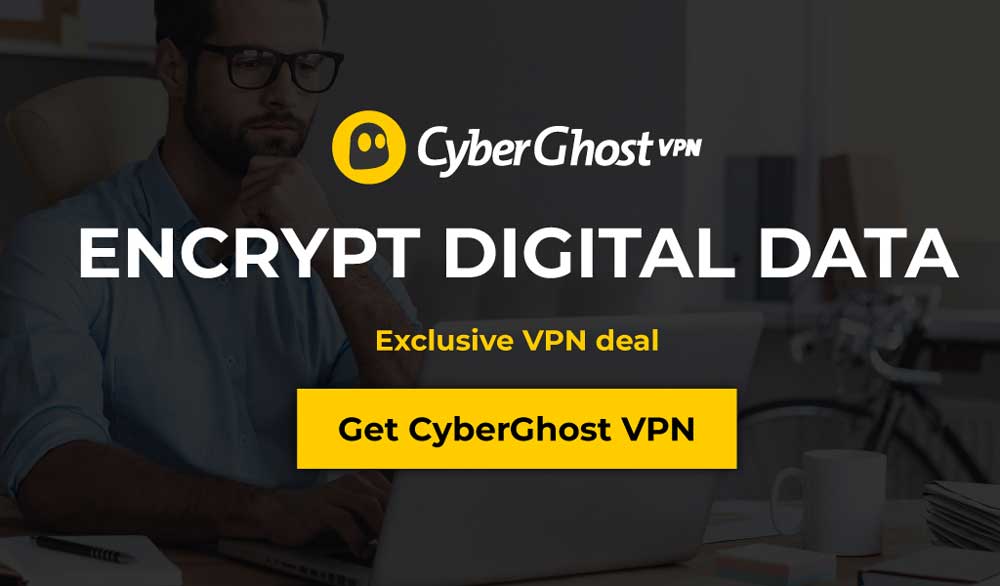 Need speed? Demand security? Want an easy to use app for all of your devices? CyberGhost is the VPN for you. The service offers incredible speeds thanks to a huge network of 5,900 servers in 90 different countries, enough to guarantee a great connection for travelers around the world. With CyberGhost you'll never have to worry about connection issues or internet slowdown thanks to its fast and reliable servers. All you have to do is sign up, log in, and enjoy.
CyberGhost's privacy features are perfect for keeping you secure and anonymous online. The VPN keeps you safe with 256-bit AES encryption on all data, a zero-logging policy on traffic, time stamps, and IP address, and both DNS leak protection and an automatic kill switch. These features hide your identity each time you go online, allowing you to connect with fully encrypted data and a hidden identity no matter where you go.
CyberGhost operates nine different servers in Israel, each one delivering fast download speeds for the best movie streams possible.
Read our full CyberGhost review.
Pros
Unblocking Netflix USA, iPlayer, Amazon Prime, YouTube
3,600+ servers in 55+ countries
Located in Romania (out of 14 eyes)
No log files
Reliable and knowledgeable 24/7 live chat support.
Cons
WebRTC leak detected
Doesn't work well in China.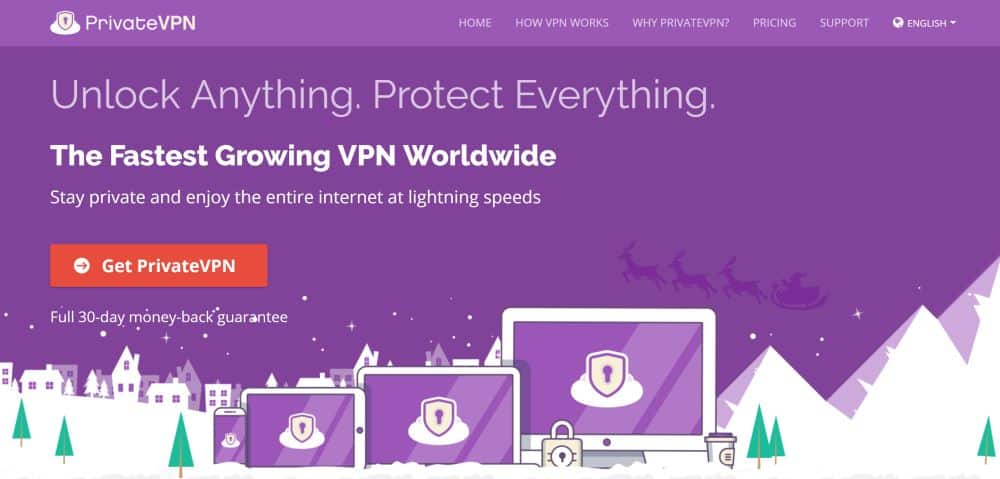 PrivateVPN is the best VPN service for anyone who wants secure and reliable online protection for their devices. The service delivers a mix of speed and security without sacrificing functionality, allowing you to stay safe while streaming movies, checking your e-mail, or browsing social media. PrivateVPN accomplishes this with lightweight and intuitive software, making it accessible from Android and iOS smartphones and desktop PCs alike. The familiar setup is incredibly easy to use, too, so you never have to worry about configurations, just log in and go.
This top-ranked VPN provider runs a stable, reliable, and dedicated network of 150+ servers in around 60 different countries, enough to deliver good speeds and high IP address variety regardless of location. The company locks down data all data passing through this network with 256-bit AES encryption, and it keeps your connection safe with an automatic kill switch, DNS leak protection, and a zero logging policy on traffic.
PrivateVPN's network covers Israel with multiple locations. You can log in and switch servers to get an Israeli IP address in just a few seconds.
How to Get an Israeli IP Address with a VPN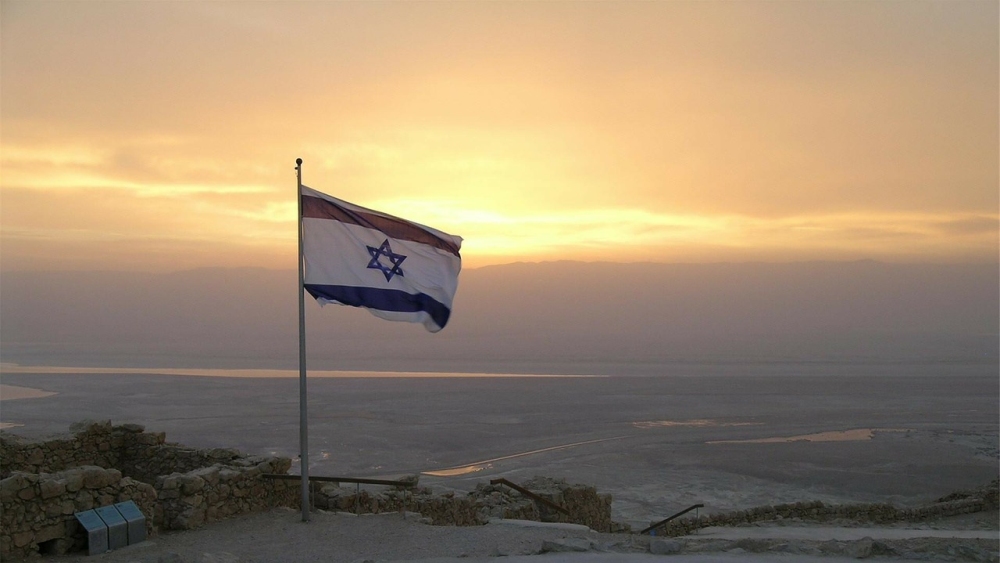 The difficult part of getting an Israeli IP address is finding the right VPN service for the job. Now that you have the recommendations above, you should be able to choose a company and create an account with ease. All that's left is downloading and connecting, then you're good to go. Follow the steps below to get an Israeli IP address and verify it's working from your device.
Step 1 – Download and Connect
Got your VPN account ready to go? The next step is to download the app, install it, and connect it to the VPN service. Most VPN software is extremely easy to use, so this process should only take a few moments to complete. Note that the specific details for connecting will be different for every VPN. If you have any trouble installing or connecting, refer to your VPN's support pages for assistance.
In a web browser, sign into your VPN account and download the software. Mobile users may need to download the app from Google Play or the iTunes App Store.
Install the app on your device, launch it, then enter your login credentials.
Open the list of servers and choose one located inside of Israel.
Connect to the server. Give the VPN a few moments to resolve the connection.
Open a web browser or app and use it with your new Israeli IP.
Step 2 – Verify Your IP
After connecting, it's a good idea to verify that you actually have an IP address from Israel. Configuration errors or other problems can often cause leaks in your IP, meaning you won't actually have a virtual IP address, even if you're connected. This step is strictly optional, but since it only takes a few seconds to complete, it's a good idea to do it.
Run your VPN software, preferably on a PC or laptop, then make sure it's connected to a server in Israel.
Open your web browser and go to ipleak.net.
Wait for the page to load. It will automatically run your IP address lookup.
Check the box at the top of the page beneath "Your IP addresses". If it shows Israel, you're set.
If the box shows your physical location, you may need to check with your VPN provider to resolve an IP leak errors.
Step 3 – Enjoy a Private Internet Connection
With your Israeli IP address online and secure, you're now free to enjoy the internet. Use your newfound location variability to stream movies from any country, break through censorship barriers, and enjoy local content at the push of a button. Don't forget you can use your VPN on other devices, too, including tablets, smartphones, and even Fire TV.
Why Get an Israeli IP Address with a VPN?
What are the benefits of using a VPN to get an IP address from Israel? A lot of that depends on who you are and where you're located. Everyone can enjoy a few extras while surfing the web with a VPN, however. Check the list below for some of the best benefits.
Unblock Israeli Websites
IP addresses are most commonly used to shape traffic depending on a user's location. If you live in the U.S., for example, and visit an international website, you'll see certain text and images relating to the United States. The same holds true for a huge variety of services and countries. By using a VPN to get an Israeli IP address, you can access the web as if you were located in Israel itself, even if you're traveling abroad.
Watch Videos from Israel
Ever noticed when you visit an online videos site you get a different set of movies than your friends abroad? Or have you ever tried visiting YouTube, Hulu, or Netflix and received the frustrating proxy error screen? These are due to international content laws that prevent media from being streamed across country borders. If you live in the U.S. or Canada, for example, each time you log onto Netflix you'll see movies licensed to play in those areas.
What if you want to watch videos from Israel? You either need to move to the country, or grab a VPN and switch to an Israeli IP address. This simple trick gives you full access to movies, TV shows, live broadcasts, and sports as if you were an Israeli.
Virtual Residency in Israel
If you're from Israel but travel frequently, you might have encountered a few issues with accessing your accounts from home. Online banking, credit cards, and other sensitive accounts often block access from foreign IP addresses, meaning you can't log in to check your balance unless you're inside Israel. Fortunately, using a VPN with an Israeli IP address means you can use all of these sites just as easily as when you're back home.
Bypass Censorship Blocks
Whether you're in Israel fighting online censorship or outside looking to keep your internet free and open, a VPN can solve your problems. Some sites such as Facebook, Twitter, or Wikipedia are blocked in a number of (nearby) countries. If your IP address matches your physical location and you try to bypass these blocks, it's easy for an agency to track you down. By using a VPN you'll scramble and anonymize your connection, allowing you to surf the web without divulging your identity and view any website you like.
Conclusion
Getting an Israeli IP address is easier than you thought, isn't it? All you need is the right VPN and a few minutes to create an account and set things up. Then you're free to download and stream anything you like, secure in the knowledge that your data and your identity are perfectly private.
Did our recommendations help you unlock the internet as you knew it back home while abroad? What other tips do you have for Israelis looking to unblock the internet or stay secure? Leave a comment below.