We are reader supported and may earn a commission when you buy through links on our site.
Learn more
Children Online Safety Guide: All you need to know about protecting them
Today we're discussing a very important topic: how to keep your kids safe online. At the end of this article, you'll have gained best practices for avoiding the darker corners of the Internet, plus a thorough understanding of what proactive measures you can take to keep your connection safe and private, namely by installing a VPN.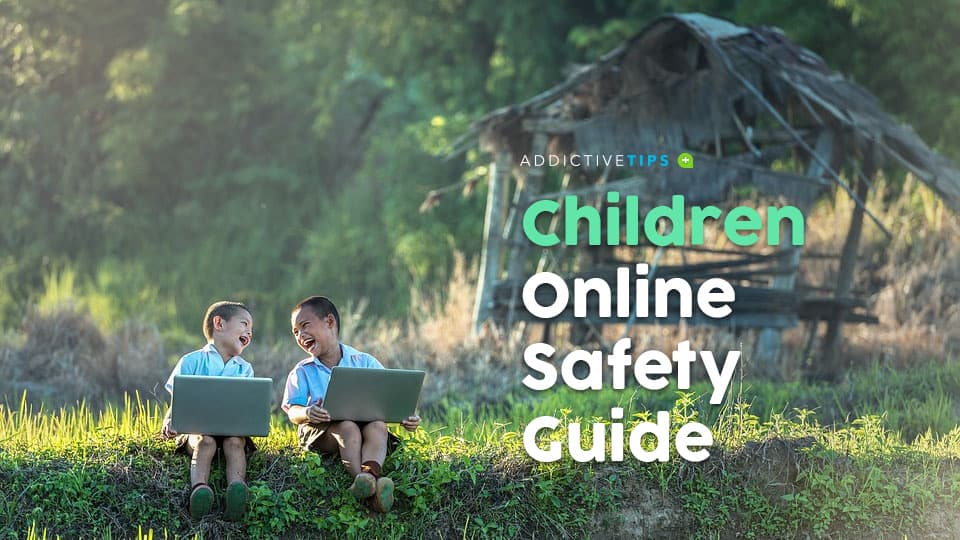 The internet is an incredible force for communication and for learning, and for children it can be a wonderful source of information, entertainment, and connection with their friends. However, there are also many dangers that children face online. Whether it's viruses which can infect a computer and are hidden within what appear to be legitimate downloads, or inappropriate adult content that might show up in search results, there are many new risks that children can be subject to while they go about their everyday life online.
Protecting your children on the Internet is a complex issue, but you can mitigate a host of threats by using a VPN:
NordVPN – Best Family VPN – NordVPN is a stalwart defender of digital privacy, and is an exceptional choice for families. Unbreakable encryption, advanced content filtering, and numerous fail-safes offer top-shelf security for children on the Internet.
Surfshark – A modern VPN offering unlimited simultaneous connections, NSA-grade encryption, and adblocking.
ExpressVPN – One of the fastest VPNs, and ideal for families with kids who love gaming and streaming.
If you have kids and you are concerned about keeping them safe, today we're going to offer some tips and advice on how to keep your kids safe online.
30-days money back guarantee
1. Set A Good Example and Talk To Them
The most important way in which you can help to keep your kids safe online is to talk to them about how to use the internet safely and responsibly. Let your kids watch you when you use the internet for research, and show them how you search for information that you need. This way you can teach them about how to tell if a site is trustworthy, and how to make good decisions when they are online. Remember to tell them the importance of not giving out their passwords and not leaving themselves logged in to websites on public computers like those at their school.
Also, take some time to teach yourself about internet security. Learn about the risks that could affect you as an internet user, and find out about common internet scam techniques like phishing. Take some time to set up filters on your email to delete phishing or spam emails, and improve your general security through techniques like using a password manager and using a VPN. The more aware that you are of the risks on the internet and how to protect yourself against them, the better you'll be able to advise your kids and help to keep them safe.
If you need a place to start, check out our top 5 essential tips for safer Internet browsing.
2. Use Restricted Modes on Websites
Lots of websites have a restricted mode or a kids' mode which will filter out offensive or adult content. For example, YouTube has a restricted mode which will not display and videos which have been flagged by users for being inappropriate. The site warns that the restricted mode is not 100% accurate at filtering out all content which you might want your kids to avoid, but it will prevent them from seeing most of the inappropriate content.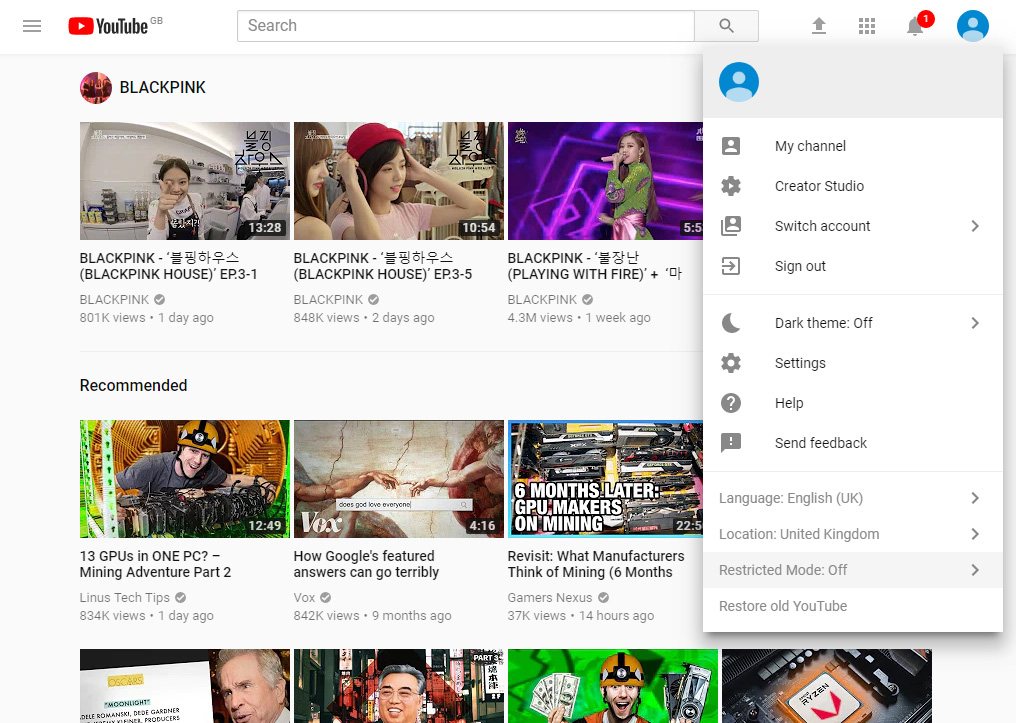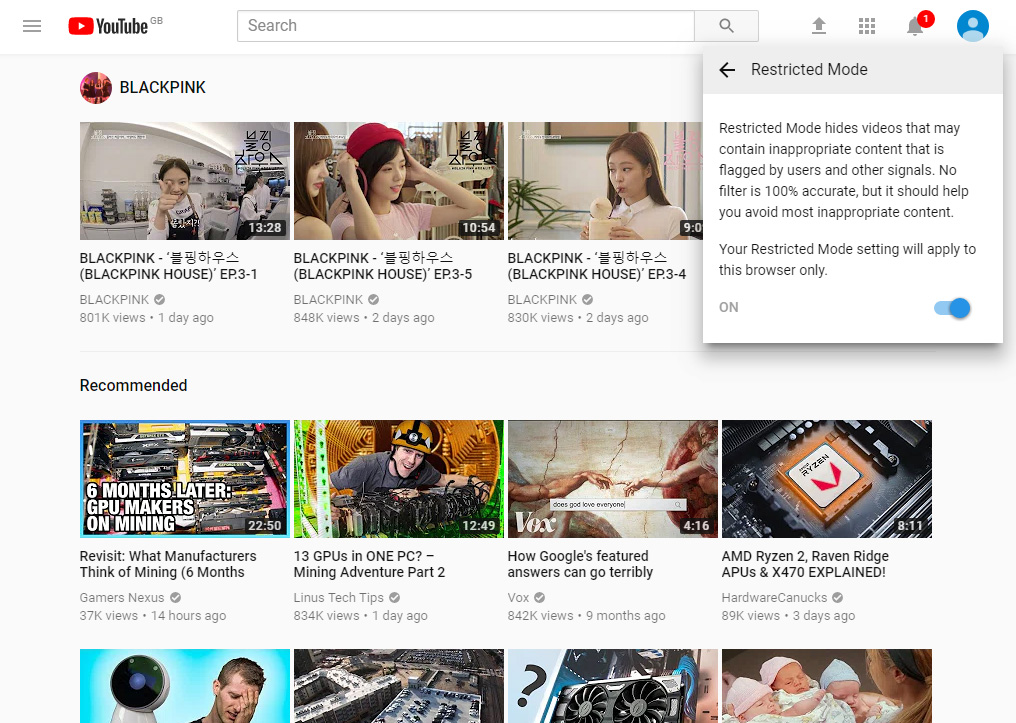 To turn on restricted mode for YouTube, click on the icon for your account in the top right of the screen. This opens up the user menu where you can change your settings, switch accounts, change your YouTube theme, and change your language and location preferences. Down near the bottom of this list is an option which says Restricted Mode: Off. Click on this and you'll be taken to a short description of what restricted mode is. Click the slider to enable restricted mode, and you'll see an indicator saying ON at the bottom. Now YouTube will filter out inappropriate content and you can let your kids watch YouTube. But, as we mentioned before, you should still supervise their use of the site as some inappropriate content may remain visible if it hasn't been flagged yet.
Netflix is increasingly popular with kids, so check out our guide on how to set parental controls on Netflix.
You will want to turn on SafeSearch for Google too. This feature of Google will filter out explicit content such as pornography from search results. It works for images and videos as well as websites, so it's a good idea to enable this feature so your kids can search safely. Once again, like YouTube's restricted mode, the SafeSearch is not 100% effective at filtering out all inappropriate content. But it is certainly a good start, and enabling it will make it safer for your child to search using Google.
To turn on SafeSearch, go to a page of Google search results and find the Settings option in the top bar. Look down until you find Turn on SafeSearch and click this. SafeSearch will be turned on straight away and you'll see a yellow popup box saying Explicit results filtered with SafeSearch. Now it will be safer for your kids to use Google.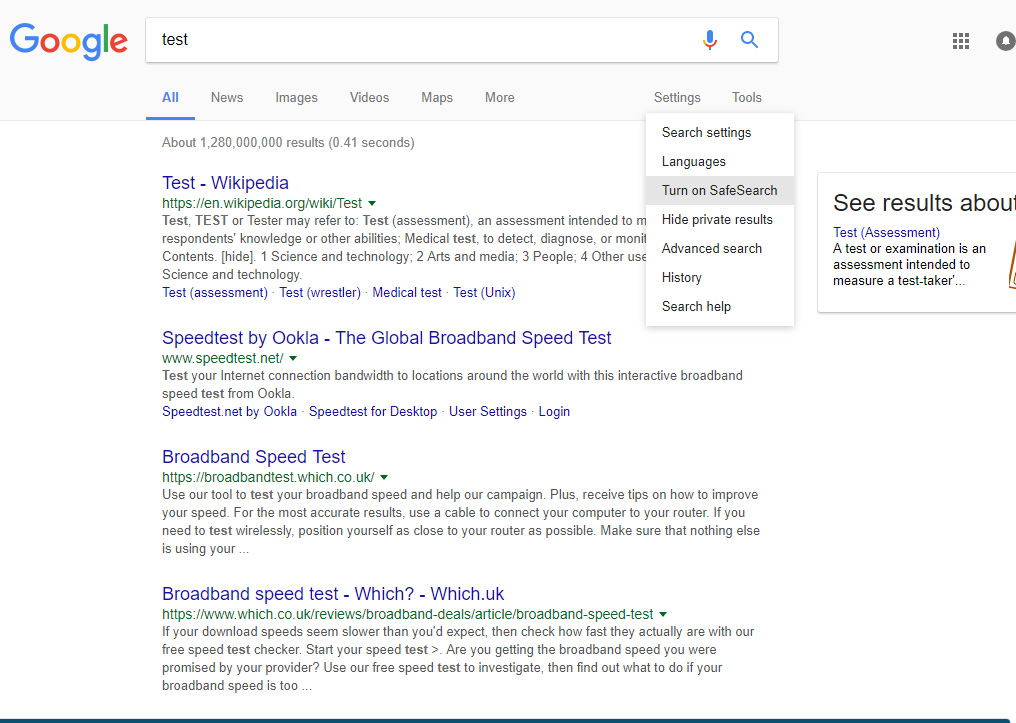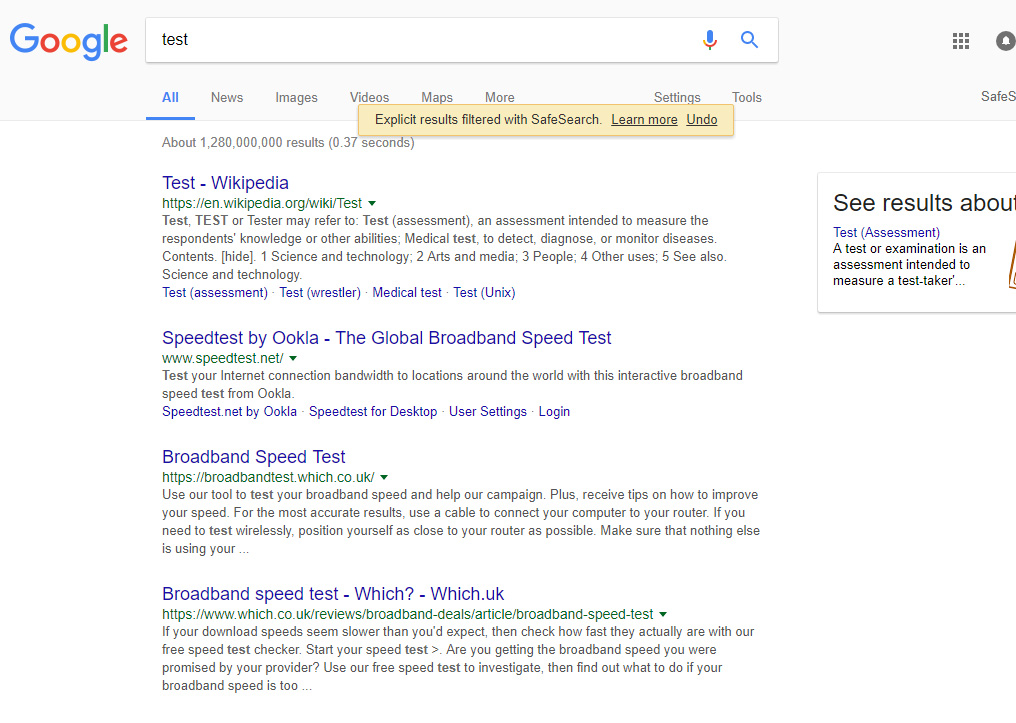 Alternatively, you might consider introducing your children to a kid-friendly search site like KidRex.org. This search site returns results using a Google Custom Search which is filtered for inappropriate content. There are also options for parents to report any unsafe sites which have slipped through the filter. The design and layout of the site is designed to be easy and appealing for young children to use, and the search results are presented without ads or other distracting or confusing links.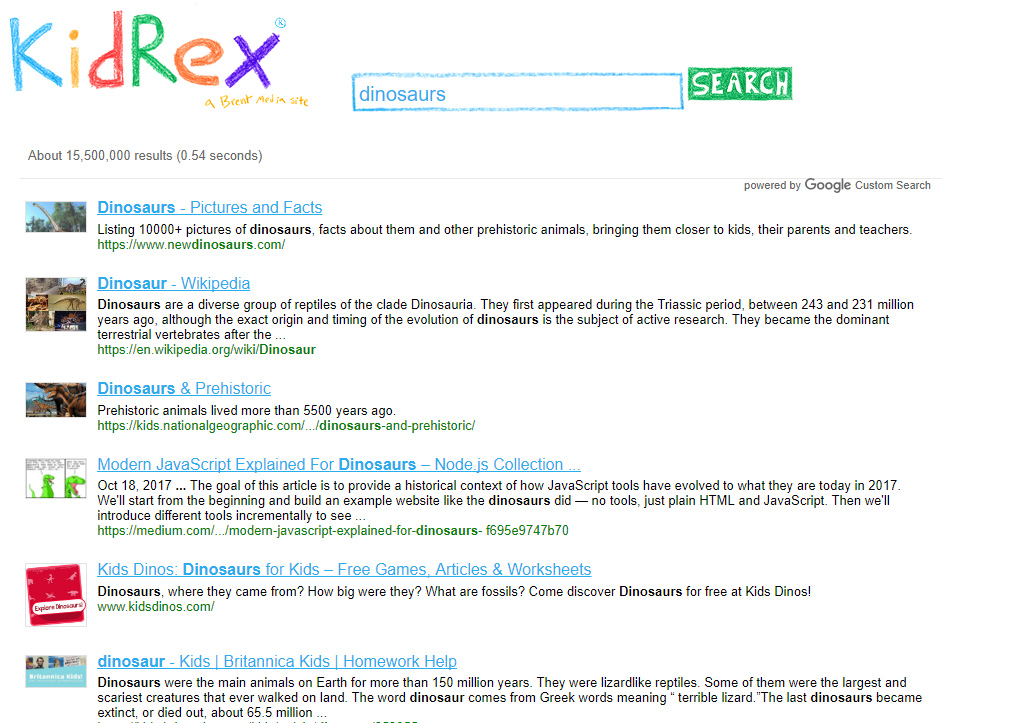 3. Don't Let Them Download or Steam Content Illegally
There are big risks involved in downloading content illegally and not just legal risks. Obviously, you want to make sure that your kids aren't using torrents or other P2P filesharing methods to download movies or music, as this kind of activity is very easy for an ISP to spot.
If your ISP tracks activity on your network identifiable as downloading content illegally, they could kick you off your network or hand over your details to the copyright holders or to law enforcement. You could end up paying a fine or facing prosecution for allowing content to be downloaded illegally over the internet connection which you pay for. Some law firms take part in a procedure called copyright trolling in which they send threatening letters to people suspected of downloading, and demand that they pay thousands of dollars or they could be taken to court. Even though these threats are usually not legally sound, they are still worrying and scary to receive.
But the issue with accessing copyrighted content isn't just about legal threats. The sites on which you download torrents or find streams of content can often have a lot of inappropriate content on them too. Typically you'll find pornography and other adult content linked right from the homepage of torrent websites, and streaming sites often have links to scams or gambling sites next to their content. As an adult, you know how to avoid this content and how to manage the risks if you're going to download or stream content illegally. But children don't have this knowledge, so you should strong discourage them from downloading illegally.
Instead, you should try to ensure that there are sites where your children can watch content safely and legally. You might want to consider getting a subscription for a site like Netflix, Hulu, or Crunchyroll if you don't already have one, so that your children can use the site to stream content safely instead of going on dodgy download sites.
RELATED READING: Best Legal Torrent Sites
4. Teach Them About Social Media
Whether it's Facebook, Twitter, SnapChat, Periscope, Tumblr, or Instagram, there are a ton of social media websites that youngsters like to use. New sites are constantly popping up and adults might not be aware of what the new platform that kids are using is. It's hard work to keep up to date on every social network out there and what risks it could possibly pose to your children.
To allow for this, make a special effort to teach your children about how to use social media. Make sure that they understand what is posted privately to their friends, and what is posted publicly. Remind them that it's very easy for public posts to cause problems – for example, teach them that you should never complain about a company that you work for on a public platform. Teach them not to give out personally identifying information like their full name, home address, or bank details. Also talk to them about how they interact with their friends online. Cyberbullying is a big problem for many kids – and your child could be either a perpetrator or a victim without you knowing about it.
One good piece of advice is to create your own accounts on the social media sites that your child uses and to follow them or friend them on that site. Let your child know that you're going to do this, and explain to them that you need to keep an eye on their account to make sure they stay safe. This way you can learn about how the site works and the content that is typically shared on it.
5. Install Anti-Virus and Anti-Malware Software
Another risk that kids face online is malicious software like viruses and malware. Adults, especially those who use computers a lot, are used to avoiding suspicious looking links and know to be careful when working with some formats such as .exe or .pdf files, as these can often carry viruses. But children don't know this, and they may have a hard time differentiating genuine content or downloads from malicious content.
To keep your kids and your devices safe from this malicious software, it's a good idea to install anti-virus and anti-malware software on to machines which are used by your children. In Windows you can find this software build in in the action centre section, and in Windows 7, 8, and 10, the available software is actually very good. You might also want to install a commercial program like Norton or Avast to provide on-going protection as well.
It's also advisable to run regular scans on your computer and any computer which your kids use. Try software like Malwarebytes which identifies and removes any evidence of trojans, trackers, or other malicious software.
6. Give Kids Their Own Accounts With Limited Access
On many systems, it is possible to set up separate accounts for your children which have limited access and permissions. In Windows, for example, you can easily set up a user account for your children without administrative access. This means that they can still use the programs that you have installed on the machine, but they can't install new programs or change important settings. Similar profiles are available on software like the open source media centre Kodi, which lets you set up separate profiles so that only some users have access to particular media files. This is handy if you have a selection of action movies, for example, which you want to watch but aren't appropriate for your kids. You can put these movies into a folder and make sure that only you and not your children have access to that folder.
Similarly, you can set up a child-friendly version of the operating system on both Android and iOS phones. This is especially good for very young children who want to play with apps or games on your or their own phone, but who might accidentally delete something important or make purchases if they had access to a full phone operating system.
7. Be Careful With The Use Of Geolocation
Remember to talk with your child about the use of geolocation for apps. Apps which allow you to find your phone in case you lose it can be very helpful, especially for kids who are a bit disorganised and might lose their phone. But make sure that they understand the importance of keeping their login information secret to prevent potentially malicious third parties using phone apps to track them.
Some parents like to install a tracking program onto their children's phones so that they can see where their child is at any time. On the one hand, this is a quick and easy way to keep tabs on your child and make sure that they are safe. On the other hand, this level of tracking is extremely invasive and suggests a fundamental distrust of your child. If you are going to use a tracking program, then you should always tell your child and explain how it works. That way, they know that they need to be honest with you about where they are, and they know that they can trust you to be honest with them.
8. Use A VPN
One concern about online security involves your children being tracked online. A worrying example is that of VTech, in which a hacker managed to get around the security of a toymaker and steal information from millions of accounts. The majority of these accounts belonged to children, and the attack resulted in the IP addresses, personal information like data of birth, and histories of millions of children being exposed.
To prevent your child from being tracked by malicious websites and to keep your IP address secured, it's advisable to get a VPN. This is a program which you install onto your computer and which encrypts all of the data that you send over the internet. This encryption means that your IP address is hidden and hackers won't be able to access your device or that of your children. It's advisable to install a VPN onto every device that your children use regularly, like their computer, tablet, and phone.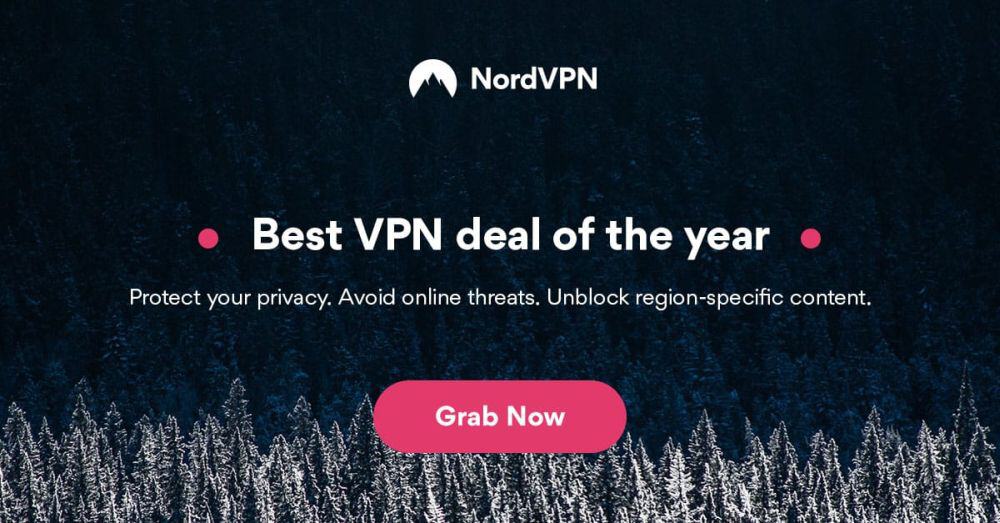 NordVPN sets the standard by which all other VPNs are judged, making them an excellent choice for guarding the privacy and identity of your children online. Enjoy military-grade protections behind a wall of unbreakable NordLynx encryption, bolstered by myriad leak protections, an independently vetted no-logging policy, and access to secure servers all over the world. Moreover, NordVPN offers CyberSec, which blocks dangerous websites, dodges botnets, and stops annoying and potentially malicious ads before they can even load.
Read our full NordVPN review.
Pros
Very affordable plans
Mind-boggling number of servers
Connect up to 6 devices at once
Strict zero logs policy on both traffic and metadata
Money back guarantee policy (30-days).
Cons
Not much
Refund processing can take up to 30 days.

Surfshark is an ideal VPN for families. It offers unlimited simultaneous connections, so you can protect every compatible device in your household. The core offering is 256-AES-GCM encryption, though parents will also love the CleanWeb suite which blocks out known malware links as well as pop-ups and ad trackers. You can also choose which apps get encrypted with Surfshark's Whitelister split-tunneling feature. And with RAM-only servers and a solid no-logging policy, your children will never leave behind a trace of their activity or identity.
Pros
Every server optimized for unblocking Netflix, BBC iPlayer, Hulu, and more
All 800+ servers are P2P-friendly, with private DNS and obfuscation
30-day satisfaction guarantee
Logging policy independently audited and verified
Support staff manned by actual human beings 24/7.
Cons
Speeds occasionally suffer a noticeable drop
Apps don't allow for much manual fiddling for power users.
Read our full Surfshark review.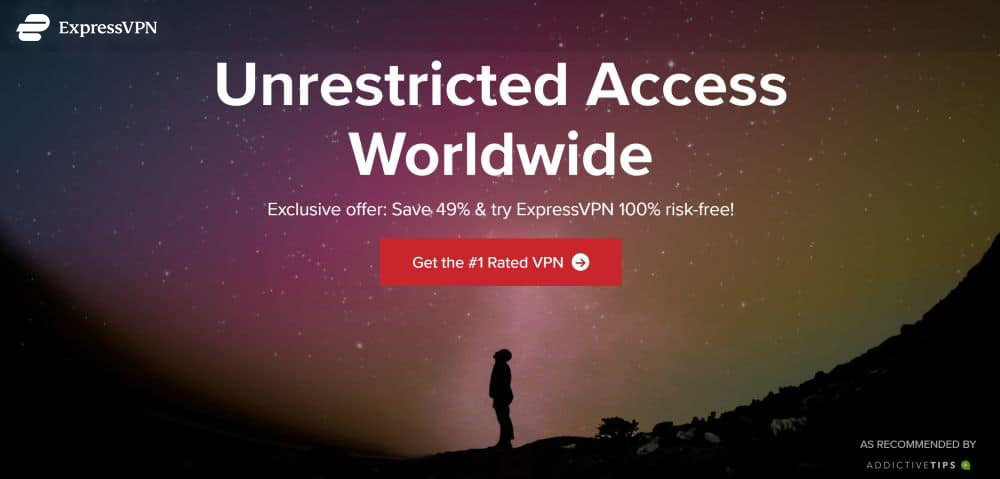 If you're looking for a VPN which is well regarded, has super strong security, and is dead easy to use, then we recommend ExpressVPN. With super fast connection speeds, a massive network of more than 3,000 servers in 94 countries, and strong 256-bit AES encryption and a no logging policy, this service has everything that you need in a VPN. The software is so simple that even children will be able to use it, and you can install the software on machines running Windows, Mac OS, Android, iOS, and many more.
Read our full ExpressVPN review.
Pros
Unblocks American Netflix, iPlayer, Hulu
Fastest servers we have tested
Torrenting/P2P allowed
No logging policy well enforced
24/7 Customer Service.
Cons
Power-users configuration options.
Conclusion
There are many potential threats to children's safety when they go online. From viruses which could infect their computer and steal their data, to cyberbullying over social networks, these threats are of a different sort than what you grew up with in the pre-internet age. However, there are plenty of ways that you can act to keep your child safe. Making sure that you follow good internet security practises yourself and explaining why and how you do so to your child will help them a lot in modelling safe online behaviour. You can also take advantage of the restricted or kid-friendly versions of websites, apps, and devices to give children then best online experience.
Parents, what do you think? Do you have any tips about keeping your child safe online? Tell us your thoughts in the comments below.