We are reader supported and may earn a commission when you buy through links on our site.
Learn more
How to Use a VPN with Outlook and Office 365
Office 365 offers incredible utility for professional and everday applications alike, but it still has some security flaws. Before you panic that someone might hack into your Outlook inbox, consider how easy it is to get set up with a VPN to enhance your privacy online. We walk you through the process in our VPN quick-start guide for Office 365 users below.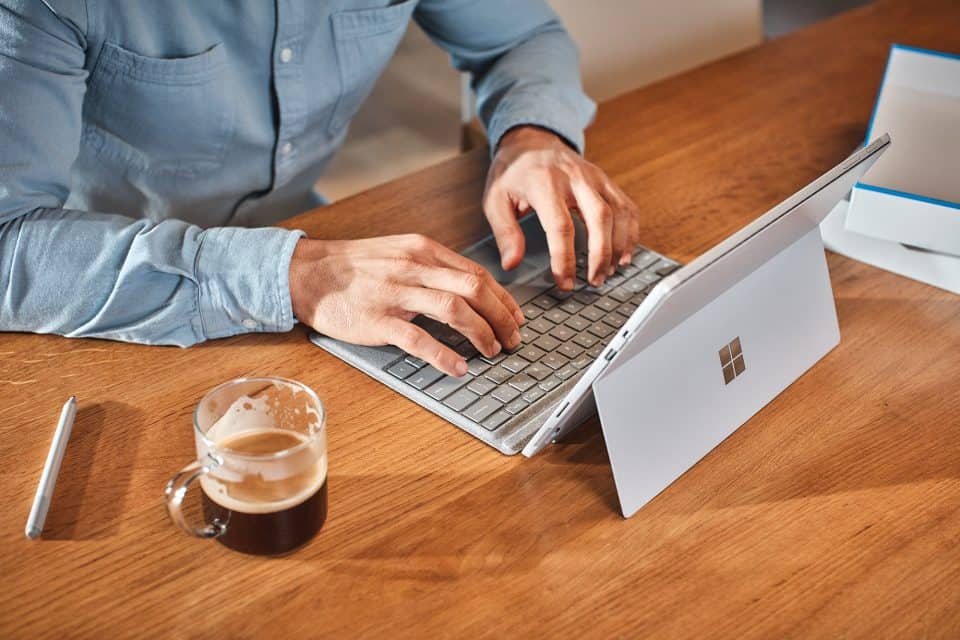 Office 365 was first released in 2011 as a part of the Microsoft Office group of products. The biggest benefit of using Office 365 is being able to access applications like Outlook without experiencing firewall blocks. In addition, Office 365 works with a cloud service, so you can access your data remotely without being tied down to your office space or home. While this solution brings with it a plethora of benefits, there are still concerns over security risks that come with using cloud services at scale. Enter virtual private networks to shore up the gap.
Upgrade your privacy when using Office 365 and Outlook with these VPNs:
NordVPN – Best for Outlook – With powerful encryption, a vast server network, great speeds and reliable network stability, NordVPN is a productive, secure companion for Office 365.
Surfshark – Unlimited simultaneous connections, split tunneling, and advanced VPN protocols.
ExpressVPN – Blazing fast network speeds and a great logging policy.
CyberGhost – Well-trusted generalist VPN with some specialist tricks up its sleeve.
PrivateVPN – Owns their entire server network, offering total privacy online.
PureVPN – A complete cybersecurity suite including powerful VPN provisions.
However, it's not enough to just get any old VPN. You need a quality provider to ensure optimal protection, reliability, and ease of use. In this article, we'll discuss how to pick the right VPN service, offer you our favorite provider recommendations, and delve into benefits of using a VPN.
30-days money back guarantee
Why use a VPN for Office 365 and Outlook?
Privacy
Using Office 365, as well as Outlook, comes with many advantages. However, there has been some debate over how safe the cloud is for storing sensitive information. Rather than trusting Microsoft with the data of your entire business (or even personal), choosing a VPN provider will protect all your information at a small price. Whether you are a journalist covering a sensitive topic or an employee doing market research, a VPN with military-grade encryption and a no-logging policy will ensure that no one, from cybercriminals to your ISP, will be able to access your data. It does so by manipulating your IP address and rendering you untraceable.
Accessing the cloud from abroad
A VPN can be a life saver if you are located abroad and need to access your personal files on Office 365. Not only will it become a bulletproof way to work remotely while traveling, but you will be able to access all your personal accounts wherever you are located in the world. Many users have reported connectivity issues or even connection loss when accessing Office 365 applications with an active VPN. However, with one of our recommended providers, you will have no such issue. In addition, you'll be able to get access to your personal accounts, such as your bank account, while bypassing regional blocks and keeping your data secure when you're not using Microsoft Office products.
Bypassing censorship blocks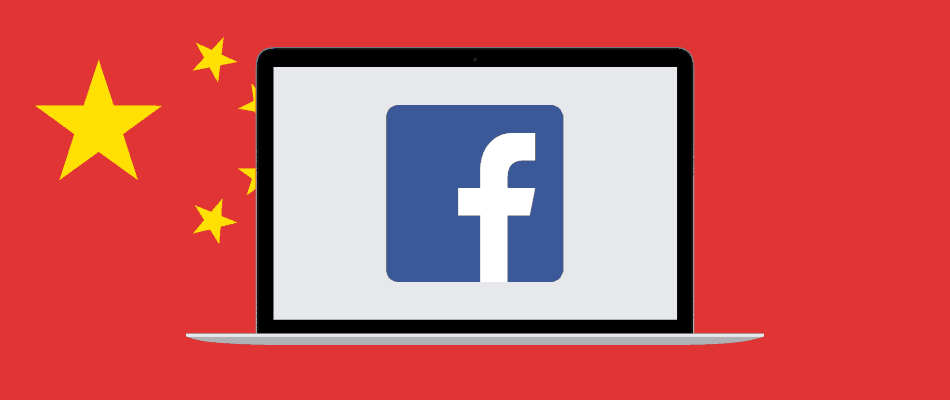 One of the major advantages of using a VPN service is sidestepping geoblocks and firewall restrictions. If you are travelling for work but your work files are restricted under your company's firewall, a VPN is there to solve all your problems. Additionally, a VPN service will allow you to access massive ranges of Netflix content, as well as other restricted pages or services from abroad. For example, if you are looking to access Wikipedia or Facebook from China, using a VPN will allow you to do so without running into restrictions placed by the Great Firewall of China.
Using Office and Outlook from a public or hotel WiFi
If you are abroad for work and are about to access all your personal files on Office 365 through the hotel or public WiFi, please think twice. You may be unaware of this, but public hotspots are not safe for confidential browsing or emailing on Outlook. This is because there is no encryption on data passing through these servers, and even an untrained hacker will be able to intercept this sort of connection with a simple plugin. In order to keep your personal and professional data private, you will need an encrypted connection, which is something you can get with a quality VPN. Not only will it make you anonymous online, but your files will be inaccessible to malicious hackers and cybercriminals.
How to choose a great VPN
Using a VPN to protect your connection while using Outlook and Office 365 is typically a breeze, but finding the right provider can prove to be a challenge. After all, the VPN market is a crowded one, and many companies claim to be the best, for better or worse. We narrowed down the field using the following search criteria:
Most secure VPN recommendations for Outlook and Office 365
Looking for a the perfect VPN for your Office 365-equipped device? Take a look at our top 6 recommended providers: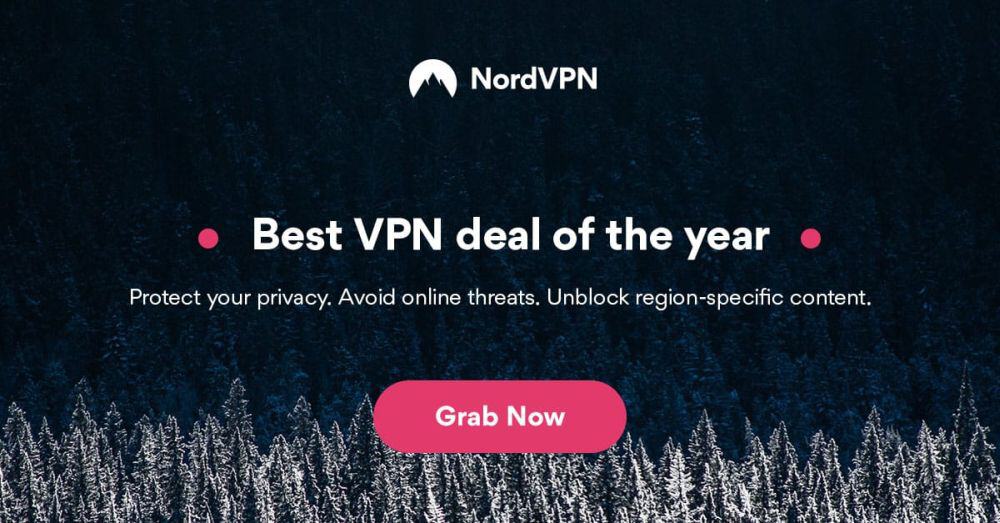 NordVPN is another one of our top recommendations due to its advanced features and massive server network. The provider has 5,500+ servers in 58 countries, which makes it the largest network in the entire industry. The location distribution allows you to connect virtually to any location excluding Antarctica, meaning you'll be able to overcome geoblocks and establish the fastest available connection no matter where you're using Office. Another important feature is the large number of specialty servers. For example, Obfuscated Servers hide the fact that you are using a VPN while Double VPN servers route your data through two layers of encryption, ensuring no one outside of your circle can access your data.
In addition to the above, NordVPN employs impeccable security features. With 256-bit AES encryption keys, you can be certain that even the world's strongest supercomputer will not be able to access your data. Furthermore, the provider's no-logging policy, covering everything from traffic to bandwidth and browsing history, is considered to be the most complete policy in the industry. Additional features for ultimate privacy and security include an automatic kill switch and a DNS leak test, both of which help stop data leaks before they reach your ISP (albeit via different mechanisms).
Read our full NordVPN review.
Pros
Works with Netflix, BBC iPlayer without breaking a sweat
Fast and stable connections
Strong security features
No logs and encrypted connections for total privacy
Money back guarantee policy.
Cons
Refund processing can take up to 30 days.

Whether you're trying to boost the security of your home office or you need to interact with data on the cloud while traveling abroad, Surfshark is a smart choice for Office 365 users.
It boasts some of the most modern privacy provisions in the industry, including the NSA-approved 256-AES-GCM encryption cipher. Moreover, Surfshark has dumped outdated tunneling protocols in favor of faster, more secure options like OpenVPN, IKEv2/IPSec, WireGuard. Together, these create an unbreakable link between your device and the free and open Internet, free of surveillance, hacking, or censorship.
But there's more for Outlook users to love; Surfshark's Whitelister enables split-tunneling, so you can pick and choose which applications route their data through VPN servers, and which go on like normal. Outlook in particular can be finicky with certain VPN protocols, so this can be a lifesaver. You can also customize individual settings per Wi-Fi network, great for commuters on laptops.
Surfshark never keeps any logs of your identifiable metadata, and their entire 800+ server network is completely diskless and thus incapable of long-term storage.
Pros
Unblock 15 international Netflix libraries, including the US and Japan
Over 800 servers in 50 countries worldwide, and constantly growing
Wide app availability on desktop, mobile, consoles, smart TVs and more
Independently audited privacy practices
Responsive customer support available 24/7.
Cons
Server network is not nearly as expansive as major competitors
Young VPN still has plenty of room to grow in terms of advanced functionality.
Read our full Surfshark review.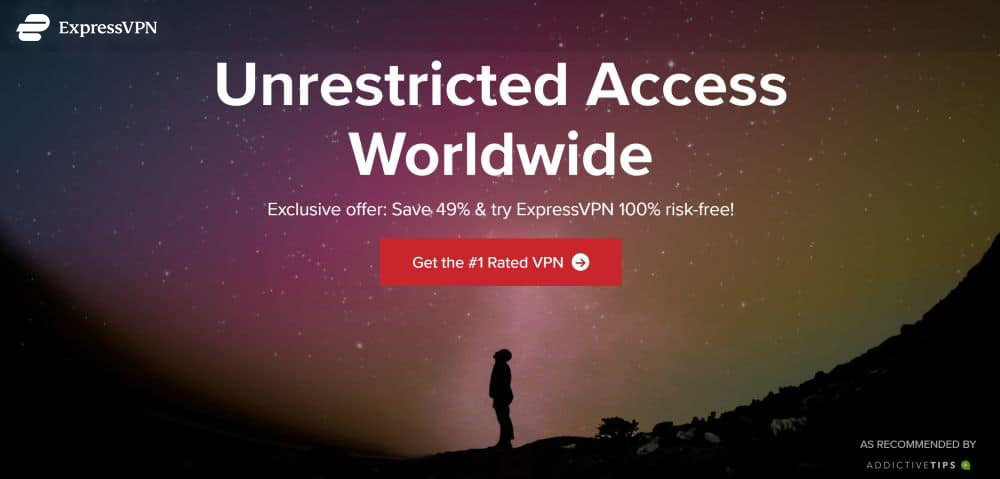 ExpressVPN offers outstanding speed and security. With a server network of 3,000+ nodes in 94 countries, you have the option to establish a fast and secure connection no matter where you are in the world. In addition, ExpressVPN places no limitations on bandwidth, traffic, or server switches, making it ideal for corporate use (which can use a lot of data). Getting started is fast and easy too thanks to dedicated apps for a wide range of systems, including Windows, Mac OS, Linux, iOS, Android, and even routers like D-Link and Tomato.
ExpressVPN's security features are highly advanced, with 256-bit AES encryption at its core. Cracking a single key would take a supercomputer millions of years, leaving little hope for hackers, ISPs, or whoever else might want your data. Specific encryption protocols include OpenVPN's UDP and TCP, as well as SSTP, which helps beat even the most hardcore censorship blocks (think China). Additionally, ExpressVPN has a solid no-logging policy on traffic, DNS requests, and even browsing history, which will ensure that no third parties ever get their hands on your information and personal data. With a built-in kill switch and DNS leak test, you can be certain that you won't leak data to your ISP – even if your connection drops or something else goes wrong.
Read our full ExpressVPN review.
Pros
Unblocks US Netflix
Fast serves with minimal speed loss
OpenVPN, IPSec & IKEv2 Encryption
No logging policy well enforced
Customer Service (24/7 Chat).
Cons
Power-users configuration options.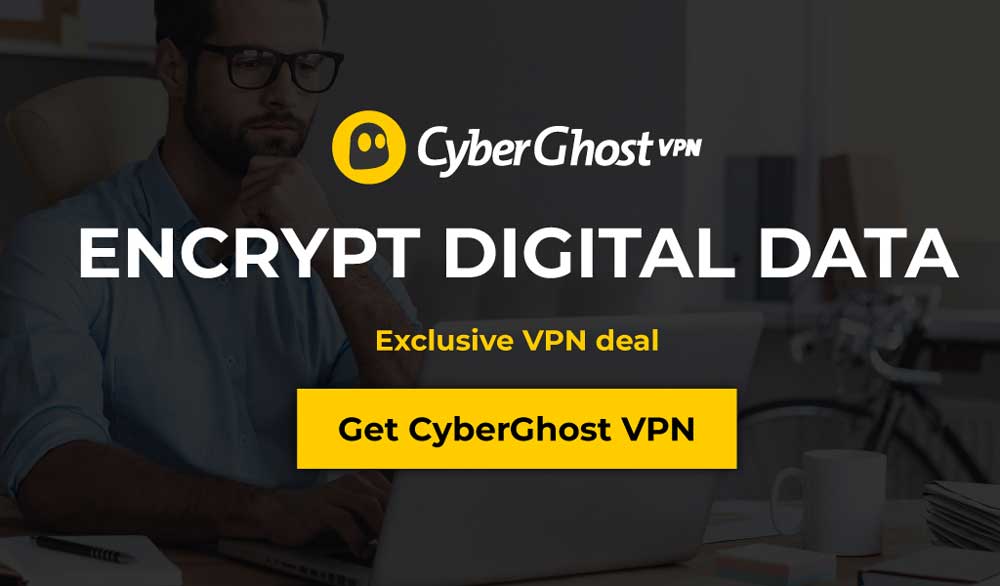 CyberGhost is a great choice of VPN service if what you're looking for is a combination of reliability and ease of use. You have the option to choose from 6 pre-configured profiles that apply automatic settings based on the use-case. These profiles include "protect my WiFi connection" and "surf anonymously", both of which are good for increased security while using Office 365 or Outlook. If you want to get more advanced, you have the option to further customize these profiles with toggles like "extra speed" or "block malicious websites". You can even manually select from one of over 5,500 servers in 80 countries to dial in the optimal connection.
On the security front, CyberGhost uses 256-bit AES encryption which is considered to be unbreakable. This means that third parties won't be able to view your data, even if they manage to get access to it. Complementing the encryption is a zero-logging policy considered to be immaculate to the point that not even your email address is stored. If you are using the service on desktop, you have additional features that will protect you from data leaks and other security mishaps. These include a connection guard, an in-built kill switch, and an online tracking blocker.
In addition to this simple configuration system for desktop apps, CyberGhost works seamlessly on almost every major device and operating system from iPhones to video game consoles.
Read our full CyberGhost review.
Pros
Unblocking Netflix, iPlayer, YouTube, Hulu
3,600+ servers, 55+ countries
No leaks detected
No log files
45-day money-back guarantee.
Cons
Sometimes experiencing average speeds.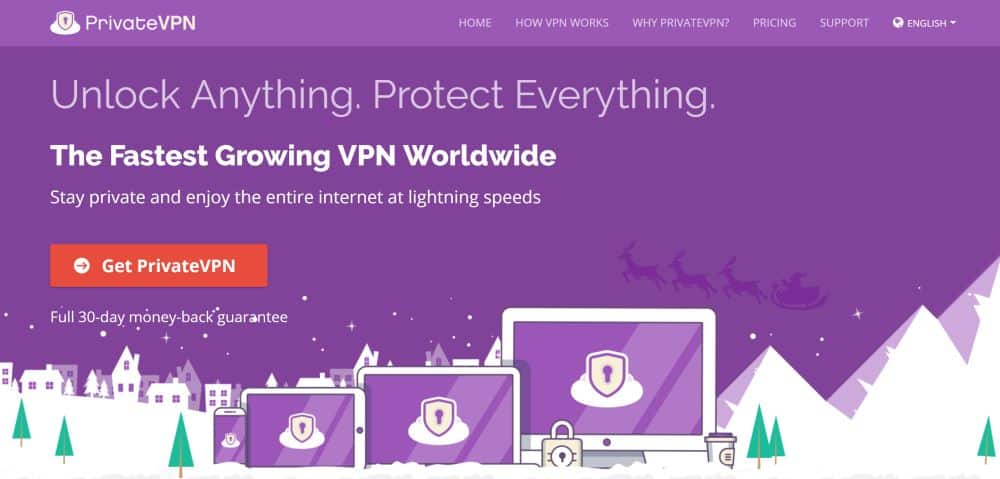 PrivateVPN, true to its name, is one of the safest VPNs out there. Your data will be locked down with military-grade 2048-bit encryption with AES-256 encryption, meaning any sensitive information will be protected. Specific encryption protocols include OpenVPN, PPTP, and the very fast (but slightly less secure) L2TP. In addition, the zero-logging policy on all traffic ensures that your (and your business's) privacy is never threatened while you're using Office. Additional features include an automatic kill switch and DNS leak protection which will alert you should your connection ever be interrupted.
In addition to top-of-the-line security, PrivateVPN offers a great range of basic features and extras. While PrivateVPN's server network is smaller than other services on our list, its 150 servers are distributed across 60+ countries, and are incredibly powerful, both in terms of bandwidth and speed. This means you get the same kind of speed and low latency you'd enjoy on industry-leading VPNs with smaller networks. Moreover, bandwidth, speed, and server switches are all unlimited so you can use this service for as long as you choose to work.
In addition to all of the above, PrivateVPN lets you connect up to 6 different devices simultaneously: enough for a small office This makes PrivateVPN ideal for corporate Office 365 and Outlook life. The best part, however, is the option to do a free remote setup to help you save time.
Read our full PrivateVPN review.
PureVPN may be the last service on our list, but it is far from the least. The service covers more locations than any other provider on our list, with 2,000+ nodes in 140 countries. This means you can connect to an IP address from virtually any country you want, getting fast connections to international offices. Furthermore, PureVPN places no limitations on bandwidth, traffic, or server switching so you can use the service 24/7 without worrying about surcharges. Should you ever run into a problem with the connection, there is 24-hour live chat support available to you, and representatives can walk you through the issue to resolve it as fast as possible. PureVPN is available as a desktop or mobile application, browser extension, and even has dedicated apps for routers and smart TVs.
In addition to a solid foundation for a top quality VPN, PureVPN is also technologically powerful. Firstly, the provider uses 256-bit encryption to protect your personal and corporate data when you're using Office 365 and Outlook. The second line of defense comes from a no-logging policy that covers everything from IP addresses to timestamps and browsing history, protecting your data from prying third parties. Finally, Ozone technology proactively protects your device, data, and identity, 24/7 – even when you're away from all your devices.
Read our full PureVPN review.
Conclusion
Office 365, including the Outlook application, has been one of the most useful updates to the Microsoft line of products. However, while it allows you to use the applications remotely through the cloud service, the question of security continues to bother users and businesses. Many have reported issues with using Office 365 with a VPN, but by opting for one of our recommended providers, you will be able to overcome regional blocks, keep your data secure, and access all the files remotely wherever you are located in the world.
Have you tried any of these VPN providers with Office 365 or one of its applications? Leave us your feedback down below!