iSendr – Send Large Files Online Using P2P Technology
Do you often find yourself in need of sending large files to your friends, family members or coworkers? While there are countless services out there that allow you to send files to others, most that are easy to use have limits on file size, and those that support large file sizes are either complicated or require a paid subscription. iSendr is an on-demand P2P web-application which aims to bring ease in transferring files without much effort involved. Since it uses P2P technology, it offers absolutely no limit on file size and lets you transfer even an enormous sized file in only two simple steps.
iSendr not only allows you to transfer large files; it also offers data obfuscation along with a staunch AES-128 encryption support to ensure secure file transfer. Furthermore, you can also protect the whole process with a password, to keep any hacker or agency to intercept your data.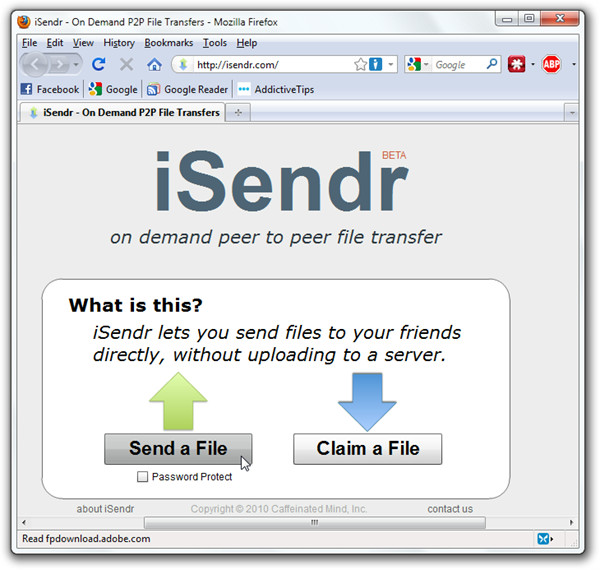 To begin, head over to iSendr (link provided at the bottom of this article), enable Password Protect option if needed, click Send a File and it will generate a unique link for retrieving this file from the other end. Now all that is required is to provide your friend, family, or peer with the generated link, so that they can download it to their computer.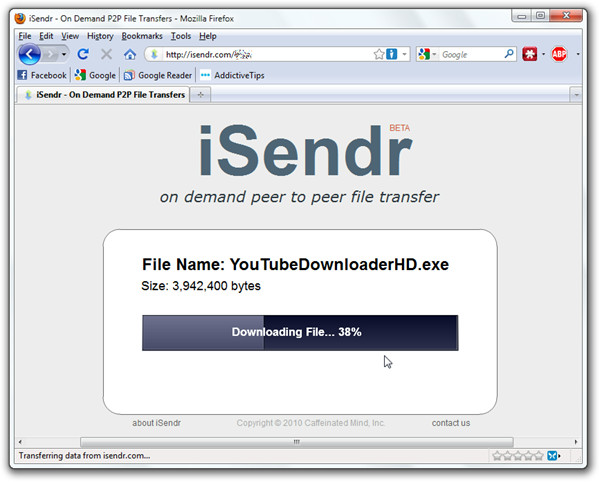 As you can see, this no-frills P2P approach can come really handy for multiple scenarios. Be it a large video from the family gathering you had last evening, to large files you are working on and need to send to your colleague for collaboration who is currently out of town but has internet access, iSenr can save the day for you. Using P2P ensures that the transfers are being made from your computer to that of the other user directly and the files aren't being stored on any third-party servers, thus eliminating concern for prying eyes getting access to your personal or sensitive data. It also enables the service to be available for free, as the developers don't have to pay for file storage servers to cater for serving large files.
Have another favourite file transfer service? Know of any other similar alternatives? Want to let us know of what you think of iSendr? Don't forget to drop us a comment below and let us and our readers know of your opinion. Enjoy!
Visit iSendr
Update: iSendr has been discontinued. For a similar alternative, try justbeamit.