We are reader supported and may earn a commission when you buy through links on our site.
Learn more
Best VPN for Kindle Fire and How to Install It
If you're searching for the best VPN for Kindle Fire, there are a few solid options on the market. Today, we'll show you the top Kindle Fire VPNs, and how to install and use them on your device. You'll also learn about the dangers of so-called "free" VPNs, and how to stay safe on your Kindle device.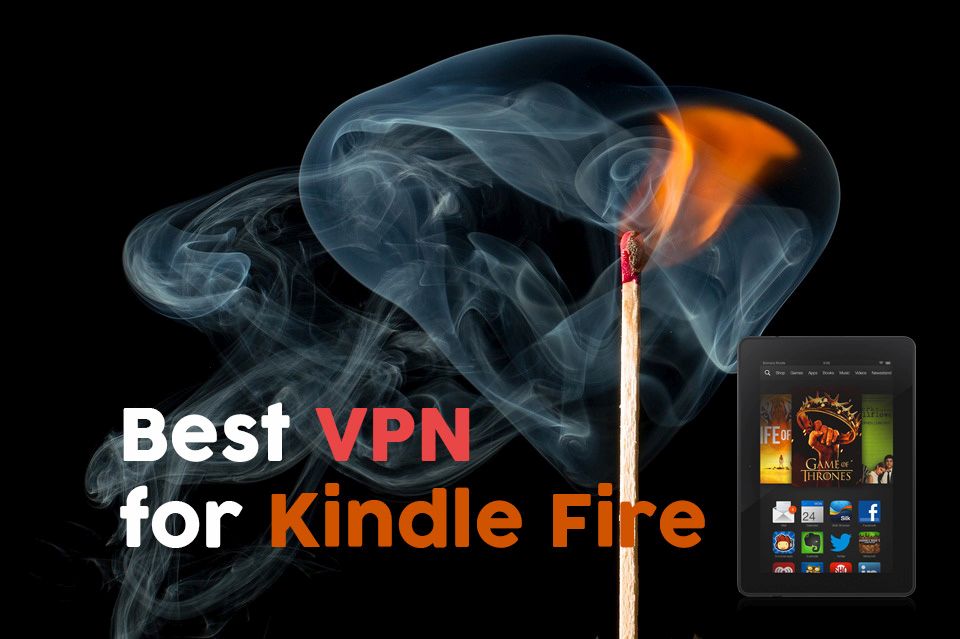 Amazon's Fire Tablet, formerly called the Kindle Fire or Kindle Hire HD, has been a big hit with users who are looking for a good-value tablet that they can use for reading, watching videos, and performing basic tasks like email and web browsing. The integration with Amazon's vast library of eBooks, on-demand video, and music content makes the Fire a tempting option for users who love to consume lots of entertainment media.
However, there are some drawbacks to using a Fire tablet. Because the Fire is linked to your specific Amazon Fire subscription, there are limitations on how much content you can access. Furthermore, there are region locks on Amazon's content which means that some content can only be accessed from certain regions. The good news is that it's possible to get around these restrictions by using a VPN.
Boost the security and unblocking power of your Kindle Fire with these compatible VPNs:
NordVPN – Best for Kindle Fire – NordVPN doesn't hold anything back from Kindle Fire, with full access to their massive server network and advanced 256-bit encryption protocols.
ExpressVPN – Simple one-tap interface, blazing fast speeds, and a great logging policy.
IPVanish – A popular choice for Firestick, also available on Amazon tablets.
VyprVPN – One of the most secure VPNs in the world with its Chameleon protocol.
Below we'll explain why you might want a VPN for your Fire tablet, then talk about our top picks for best VPNs for the Kindle Fire, and finally we'll go through the different methods with which you can use a VPN on your tablet.
30-days money back guarantee
Choosing the Right VPN Provider
You can see why a VPN would be useful for your Fire. But there are so many VPN providers out there. How do you know which one to choose for your Fire? To help you make up your mind, we've put together a list of our top VPNs for Fire. Here are the criteria we used to pick these VPNs:
Many servers in lots of different countries. In order to let you browse as many regional versions of the Amazon store as possible, you'll want to find a VPN provider who offers servers in a large number of countries. You'll also want a provider with plenty of different servers within those countries, so that you'll have the best chance of finding a server that's fast and reliable.
Fast connection speeds. A VPN will always slow down your connection a little bit as the data has to go through the extra step on encryption and decryption. But a good VPN, like the ones we recommend below, will have connections fast enough that you barely even notice they're there.
An app in the Amazon store. The easiest way to set up a VPN on your Fire is to find a VPN provider who offers an app in the Amazon store. We'll go into more detail about this near the end of the article, but when possible we looked for VPN providers who have a native app for you to use. We also like to see support for multiple other operating systems so that you can use your VPN on all your other devices if you want.
Good security. The industry standard for encryption is 256 bits, which is almost impossible to crack. It's also important that the provider has a no-logging policy to guarantee that they won't keep any records of your internet use.
Top VPNs for Kindle Fire Devices
We tested out the market leaders, and now present the best VPNs for your Amazon Kindle Fire or Fire HD: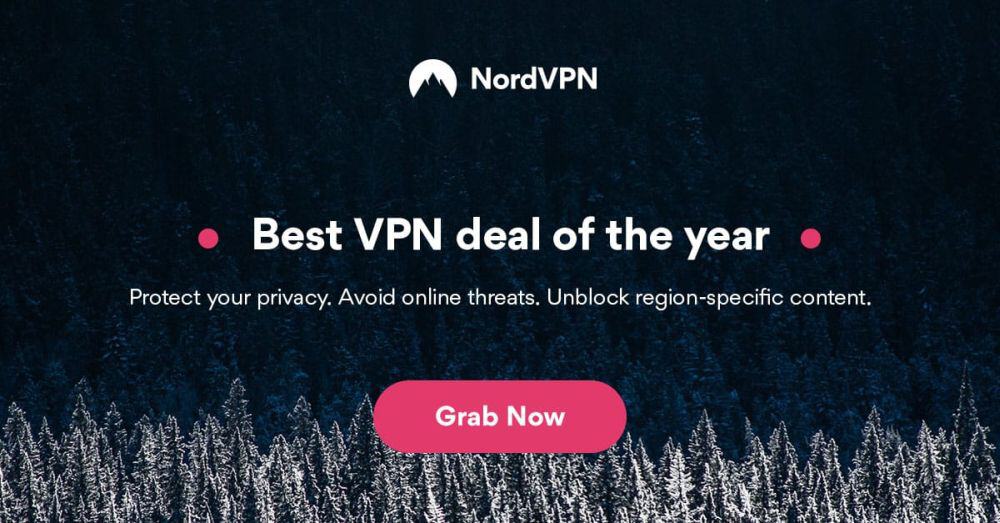 NordVPN is the world's best VPN, and it is compatible for Kindle Fire Tablets. It doesn't require root, jailbreaking, or sideloading; just search it out in the Appstore and you're good to go.
We love that NordVPN didn't leave anything out for their tablet apps. You get full access to their 5,500+ servers in 59 countries, with links established via OpenVPN, IKEv2/IPSec, L2TP, and NordVPN's proprietary NordLynx protocol (ideal for cutting through censorship). There are no logs kept by this Panama-based provider, and they even accept cryptocurrency for full anonymity.
Overall, NordVPN's extremely easy to use, and provides ready access to geoblocked content libraries like Netflix. Connections are fast and stable, offering buffer-free streams anywhere in the world.
Read our full NordVPN review.
Pros
Very affordable plans
Different IP addresses aervers
Torrenting is explicitly permitted
Retains no metadata of your browsing
Money back guarantee policy.
Cons
Can't specify City or Province in App.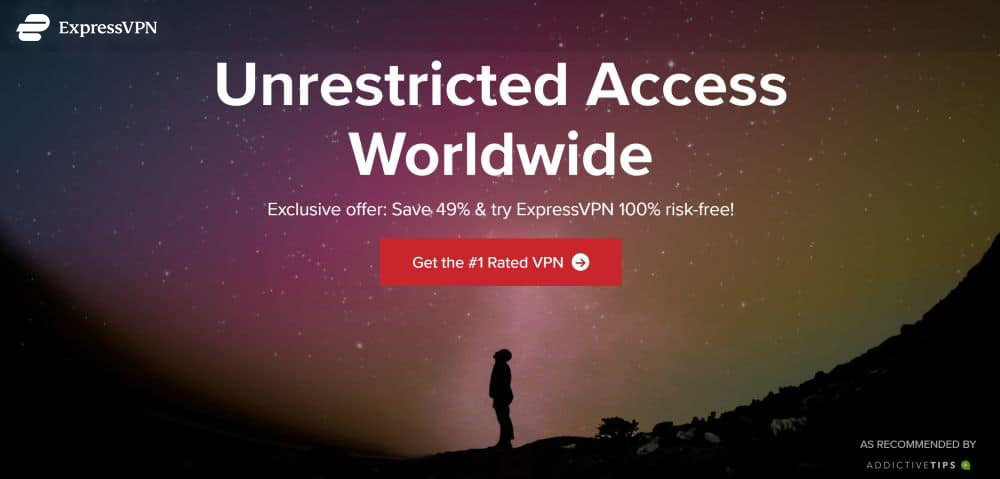 ExpressVPN is a much-loved VPN provider among power users thanks to its incredibly fast connection speeds and its huge network of servers in 145 different locations across more than 90 countries. The total network offers more than 3,000 servers, so it gives you a large number of options for optimizing your connection speed (you can hone in further with the built-in speed test) or spoofing just the right IP address.
Best of all for Fire users, ExpressVPN has its own native Fire app in the Amazon store. That means that you don't need to go through any complicated configuration process – you just download the app from the store and you can start using it to protect yourself straight away. The security offered is the required 256-bit encryption, and the company has a no-logging policy, so you can be sure that your privacy will be protected.
Read our full ExpressVPN review.
Pros
Unblocks American Netflix, iPlayer, Hulu
3,000+ super fast servers
No DNS/IP leaks found
No logs for personal data
Customer Service (24/7 Chat).
Cons
Expensive month-to-month plan.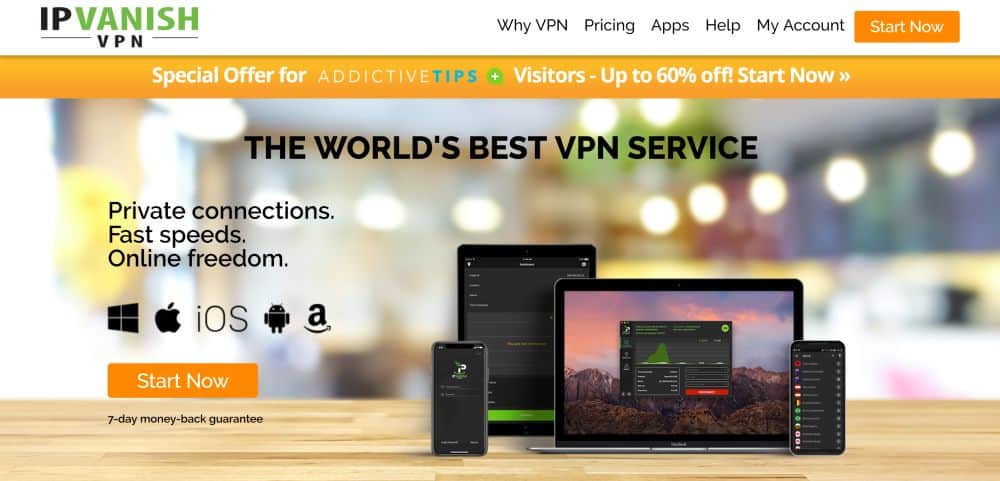 Another VPN which is a strong choice for Fire users is IPVanish. With more than 1,300 servers in over 60 countries, you'll be able to get around region locks to access the content you want. The security is also good, with 256-bit encryption and a strict no-logging policy. A big strength of this provider is the speed of its connections, which are among the fastest and most reliable on the market.
IPVanish has an app on the Amazon store which runs natively and which you can use to set up and configure your VPN connection easily. You can find full instructions on how to step up and use IPVanish on your Fire device on their website.
Read our full IPVanish review.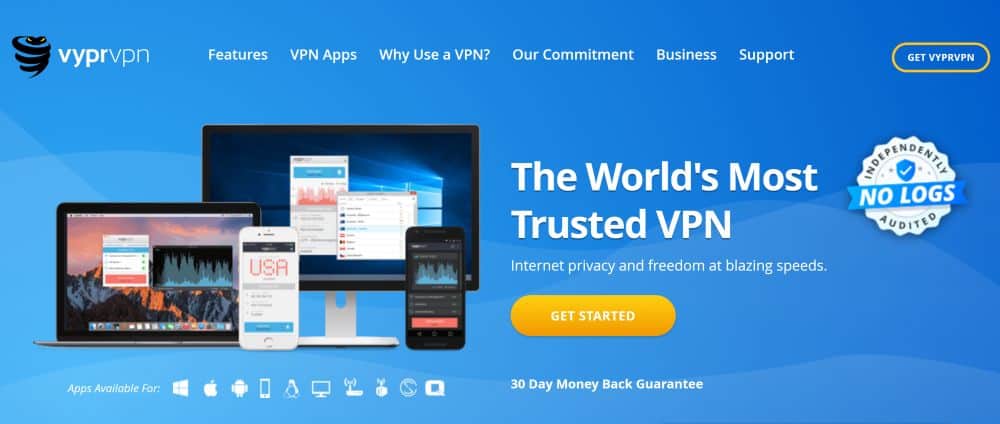 If you are very concerned about security and want to get around region locks of all kinds, we recommend the VyprVPN service. It has exceptional security features like the special Chameleon protocol which encrypts metadata as well as the data itself. In other words, the origin and destination of your data packets is hidden as well as the contents of the packets themselves. This allows you to get around VPN detection such as that used in China by the government to restrict internet use, making it a great choice for someone who travels a lot.
VyprVPN has recently launched an app on the Amazon store which you can use to easily secure your Fire. You'll also find VyprVPN software for Windows, Mac, Android, and iOS. The network includes 700+ servers in more than 70 locations, and of course the company has a comprehensive no-logging policy to keep your data private.
Read our full VyprVPN review.
Why You Might Want a VPN for Your Kindle Fire
If you haven't used a VPN before, here's how it works: you install a small piece of software onto your Fire and it encrypts all of the data that your device sends over the internet. This data is sent to a server run by your VPN provider in the country of your choosing, where it is decrypted and sent on its way to its original destination. The web page or video that you're loading is then sent back to your device as usual.
Essentially, your browsing experience will see to be the same, but you'll be protected as the data that your device sends out won't be readable by other parties and it will be very difficult for anyone to gain access to your device.
RELATED READING: What exactly does a VPN hide?
Things You Can Do with a VPN for Your Kindle Fire
There are a number of different things that you can do with a VPN for your Fire:
Get Around Region Locks
If you live in the US and have an Amazon account, you might be surprised when you travel to another country and find that your device no longer has access to the same content as it did before. Fires are perfect for travelling because they are lightweight and you can carry a lot of content on them, however, you will only be able to access content from the Amazon store of whichever country you are currently in.
If you want to have access to your full library or to the full catalogue of Amazon products, then you can use a VPN to do what's called location spoofing. This works because you can choose the location of the server at which your data is encrypted. If you connect to a server in the US, it will appear to the Amazon store as if you are accessing it from within the US and it will show you American content. You can use this same method to access content from any regional Amazon store that you want.
Keep Your Internet Browsing Private
When you use your Fire at home, you send data in an unencrypted form over the internet infrastructure provided by your ISP. This means that your ISP can monitor every website you visit and every piece of content that you stream or download. This is worrying because you might want to protect your privacy against snooping from your ISP – or from the government. When you use a VPN, the encryption of your data means that neither your ISP or any other observer can see what you are accessing.
Protect Yourself On Public Networks
It's so useful to have a Fire when you're out and about, because you can content to public Wi-Fi networks at airports, cafes, or libraries and use it to watch media, browse the web, or write emails. However, connecting to a public Wi-Fi network can be risky. When your device is connected to a network along with many other devices, it is possible for hackers to access your device and to read your private data. In order to keep your personal data like credit card numbers safe, you should always use a VPN when you connect to a public network.
FULL GUIDE: Hacked? Here's how to freeze your credit
Three Ways to Use a VPN for Your Kindle Fire
It can be a little bit complicated to install a VPN onto your Kindle Fire, but we're going to show you three different ways to do it. You can choose the method which works best for you, depending on your needs:
Use an app. The easiest way to set up and use a VPN on your Fire is to use an app from the Amazon store. If you're not very experienced with VPNs or you're not very technically minded, then this is the way to go. All you need to do is to log into the Amazon store and search for the name of your VPN provider. If they have an app, you should download it from the store. When you open the app, you can connect to the server of your choice and once it's connected, your device will be protected. Unfortunately, not all VPN providers offer apps on the Amazon store, so if your provider doesn't have an app then you can try one of the other methods below. If you do want to use an app, then the three providers we recommended above all have apps on the store that you can use.
Manually configure a VPN on your Fire. If you have some experience with using VPNs and you know your way around your Fire's settings, then you can manually configure the VPN of your choice. To do this, you use the VPN section in the Wireless settings of your device where you add in information like the name, type, server address, and settings for your VPN. You can find all of this information on the website of your particular VPN provider. See the full instructions on how to set up your VPN on the Amazon help site here: https://www.amazon.com/gp/help/customer/display.html?nodeId=201540230
Install software onto your router. Another option is to install VPN software directly onto your router at home. This will mean that all traffic that goes across your network from any device is automatically encrypted. The advantage of this method is that you'll be protected your other devices and the devices of your guests in addition to your Kindle, with no extra setup required. The disadvantage is that your VPN will not be available when you're away from your home network, such as when you're at work or when you're traveling. Learn how to do it in our complete guide to vpn routers.
Beware of Free VPN Apps in the Amazon Store
Finally, a word of warning. If you're looking into VPNs for your Fire you might be tempted by some of the free VPNs that you find on the Amazon store. However, these apps can be ineffectual at best and downright dangerous at worst. Some free VPN apps are operated by providers who sell off data about their customers, undermining the point of personal security. Other providers have been found to inject ads into browsers or even to use devices connected to them to conduct malicious attacks like DDoS.
If privacy and security are important to you then it's far preferable to get a paid VPN which is trustworthy and reliable, rather than using a dubious free VPN which could harm your device.
Conclusion
For Kindle Fire users who want to get the most out of their device, a VPN can help by both giving you access to more international content (especially when you're travelling) and by keeping your device and your data secure. Not that many VPN services offer Fire-specific apps in the Amazon store, but the three we recommended all do. Alternatively, you can always manually configure your VPN or install software onto your router in order to protect your device when there isn't an app available.
What's your favourite VPN for your Kindle Fire? Let us know in the comments below!