We are reader supported and may earn a commission when you buy through links on our site.
Learn more
Best Legal Torrent Sites For Content That Is Safe
P2P filesharing is much maligned in the media, but there are plenty of legal torrent sites out there that allow you to download legitimate content without fear of reprisal from ISPs or copyright holders. Today, we present some of our favorite torrent sites for legal downloads. We'll also recommend the best torrenting VPNs, just to be on the safe side.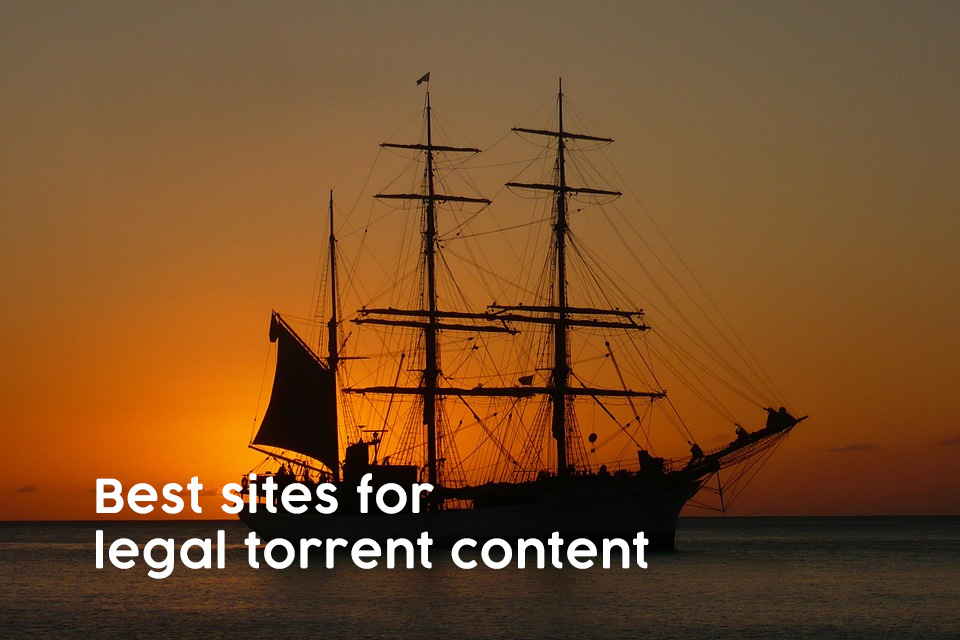 Torrenting has gotten a bad rap as being solely a method for illegally sharing copyrighted files. If you look at the crackdown on The Pirate Bay and other similar sites, you can see there is a lot of interest from copyright holders in not only shutting down torrenting sites but also in raising suspicions about the use of torrents in general. But this is an unfair stereotype. There are plenty of reasons to use torrents for fully legal activities, such as downloading open source software. Torrents offer a unique way for users to share files without someone having to pay an expensive hosting bill.
Want increased privacy for your legal torrenting? Check out these P2P-friendly VPNs:

NordVPN – Best Torrenting VPN – NordVPN's specially optimized servers make torrenting a private and speedy process. Panamanian jurisdiction, zero logs, unbreakable encryption.
Surfshark – Every server just works for torrents. Unlimited bandwidth and simultaneous connections.
ExpressVPN – Split tunneling, dynamic IP switching, and of course blazing fast download speeds.
PrivateVPN – Not the biggest network, but entirely owned and operated by the provider for total privacy.
If you're looking for legal torrent content, then today's article is for you. We'll show you some of the best torrenting sites that you can use to download torrents safely and legally. Read on to learn about the best legal torrent sites.
30-days money back guarantee
Stay Safe When Torrenting With A VPN
Unfortunately, ISPs tend to see torrent activity on their network and immediately send out threatening letters, even if the activity is actually downloading legal torrents. Therefore, we advise all torrent users to protect themselves by getting a VPN which will encrypt all of their data and stop anyone from spying on their internet activity. This way, your ISP will not know whether you are using torrents and so you will not receive any threatening letters or have to deal with other annoyances.
How To Choose A VPN Provider For Torrents
You can see why it is important for torrent users to have a VPN, even if they use legal torrents. But finding the right VPN provider can be tricky. Not all VPN providers allow torrent use on their networks, even of legal torrents, and you have to look for VPNs with no bandwidth caps or other limits if you want to download a lot of content. For these reasons, we advise against using free VPNs as not only do they usually not allow torrents, they also have security problems which can make you less safe. You should look for a torrent-friendly paid VPN provider instead.
In order to find the right VPN for you, look for the following features:
Most Secure VPNs For Torrent Users
Unfair as it is, even lawful torrent users need to be careful. We've compiled the following list of the best VPNs for the most secure, legal torrent downloads: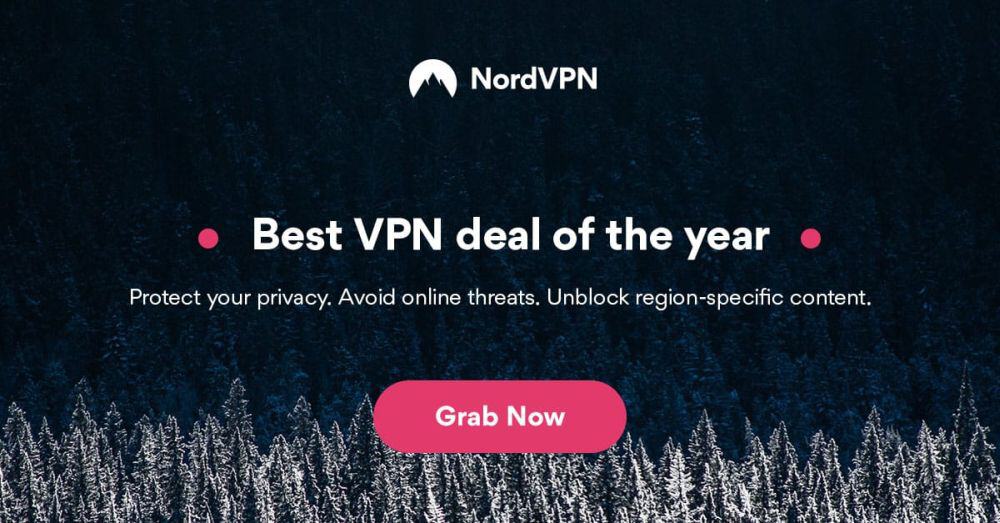 NordVPN offers not only regular VPN servers, but also speciality servers which are specifically for P2P downloads like torrents. These are fine tuned and optimised for torrent use so that your downloads will be not only safe but also super fast. That security is backed by industry-standard 256-bit AES encryption, a strict no-logging policy, and even an incredible double VPN server which encrypts your data through two different proxy servers for ultimate crack-proofing. Other security features include the option for a CyberSec security function which blocks ads and protects you from malware, as well as both a general and an app-specific kill switch which you can use to automatically shut off your torrent program should the VPN connection go down.
In addition to regular VPN servers, P2P servers, and double VPN servers, you'll also find obfuscated servers so you can use the VPN even in countries with VPN blocking like China, anti DDoS servers to protect you while you play online games, onion over VPN servers for anonymity, and dedicated IP address servers for when you need a static IP. The huge network of servers covers more than 5,500 servers in total 59 countries, and you can use the handy map interface of the software to find the server you want. The software can be installed on devices running Windows, Mac OS, Linux, iOS, Chrome OS, Android, or Windows Phone.
Read our full NordVPN review.
Pros
Highly affordable plans
Extensive server park of over 5,400 different servers
256-bit AES encryption with perfect forward secrecy
Extra-secure Double VPN for data encryption
Great support (24/7 chat).
Cons
Not much
They can take 30 days to process refunds.

Surfshark is practically made for torrenting, with fast connections, strong privacy, and zero logging. That said, they do things a little differently from other providers.
For one, they do away with the concept of specialty servers, instead opting to make every server P2P-optimized. That means no matter which of their 800+ nodes (in 50 countries) you choose, it'll offer fast download speeds and high security. No bandwidth limits, no restrictions on traffic–there are even unlimited simultaneous connections so you can split your subscription with a friend to make it even cheaper.
Of course, speed is worth little without security, and Surfshark delivers it aplenty. Connections are established through OpenVPN, IKEv2/IPSec, and WireGuard, then secured with the unbreakable 256-AES-GCM cipher. Blanket obfuscation is also available on every server, plus IP, DNS, and even WebRTC leak protection. Round it out with a kill switch, and not a single packet of your torrent traffic will leave your device unencrypted.
Pros
Reliably unblocks Netflix US, UK, Japan, and more
Unlimited server switching
No questions asked money back guarantee
Based in the British Virgin Islands, where there are no data retention laws
Refund requests are simple and fast–no waiting or hassle.
Cons
Growing network doesn't have same coverage as more mature VPNs
Power users may wish for more settings to fiddle with.
Read our full Surfshark review.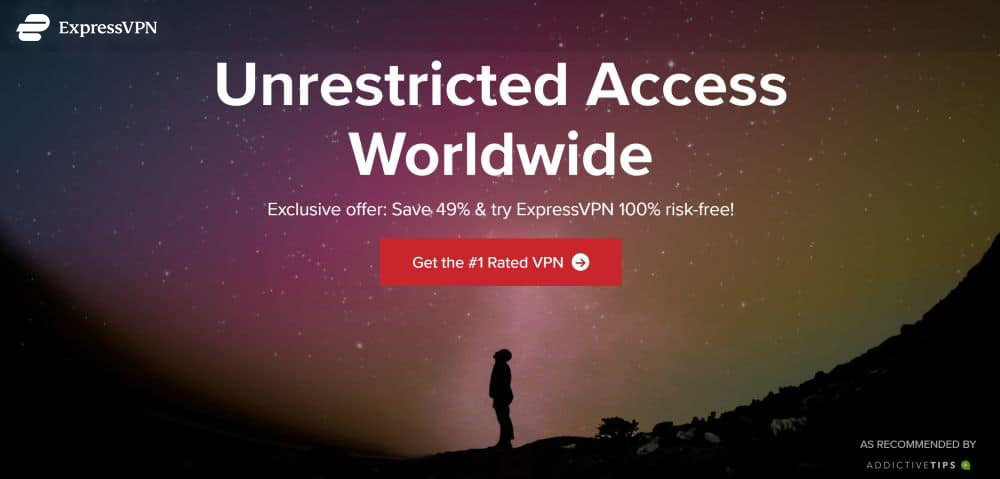 ExpressVPN is a VPN that you'll see recommended all over, thanks to its combination of great security, high performance, and easy to use software. The company is friendly to torrents, with no bandwidth restrictions and the ability to encrypt torrent traffic using any server in the network. Another bonus for torrent users is the blazing fast speeds which mean you can download files in a blink of an eye.
In terms of security, you'll find that the service uses strong 256-bit encryption and has a strict no logging policy so you needn't worry about your data falling into the wrong hands. As well, you'll find extra security features in the software like an IP address checker, DNS leak protection, and a kill switch which is important for torrenters. The large network of servers covers more than 3,000 servers in 94 different countries, and the software is available for Windows, Mac OS, Linux, and Android, plus some games consoles and smart TVs, and there are also browser extensions available for the Google Chrome, Mozilla Firefox, and Apple Safari browsers.
Read our full ExpressVPN review.
Pros
SPECIAL OFFER: 3 months free (49% off - link below)
Fastest servers we have tested
Torrenting/P2P allowed
Strict no-logs policy
Customer Service (24/7 Chat).
Cons
Max 3 simultaneous connections
Slightly more expensive than some other options.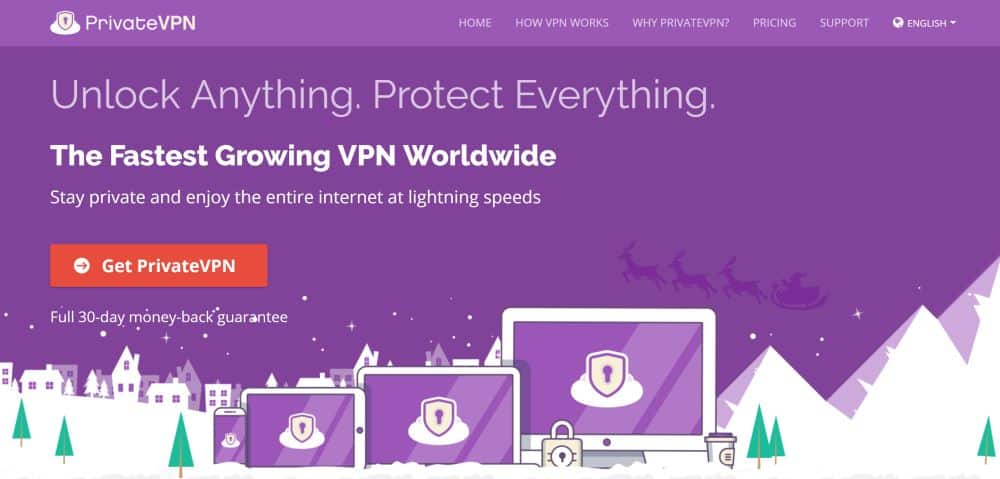 PrivateVPN is a great choice for you if you like to use streaming sites as well as torrents. Your subscription will net you some of the fastest connections we've seen, so you'll get your files downloaded quickly. What's more, the VPN allows you to unblock streaming sites like Netflix and Hulu, which most VPNs don't work with. Security is flexible yet powerful, with 128-bit encryption as standard along with an option to go up to 256-bit encryption when you need your connection locked down. Finally, there are no traffic logs kept so no one can see the sites that you visit.
The network of servers available is smaller than other services, with 150+ servers in around 60 countries. But these servers are all especially fast and reliable, so this balances out for most practical purposes. The software is available for Windows, Mac OS, Linux, Android, iOS, and Amazon Fire Stick, and can be installed as a browser extension for Chrome.
Best Legal Torrent Sites
The good news for torrent fans is that there are plenty of sites out there which have great selections of fully legal torrents. Whether you want to read new books, watch independent movies, listen to new bands, or try out open source software, you can find all of this content for free and legally on torrent sites. Check out the sites listed below for some of the best legal torrents:
1. Public Domain Torrents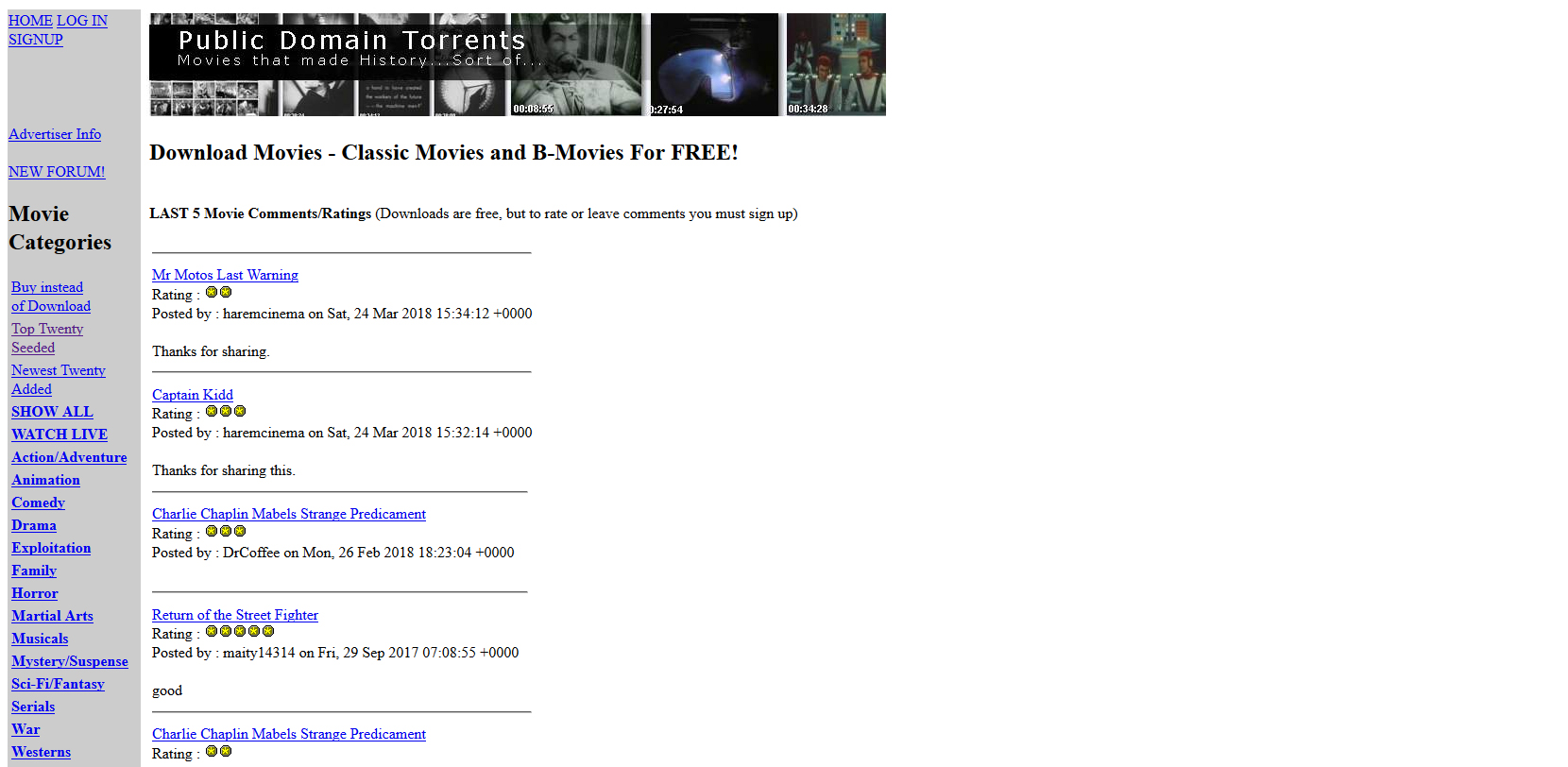 Located at https://www.publicdomaintorrents.info/
The design of this site is old fashioned, but don't let that put you off. Movie buffs will find an incredible selection of classic movies here which are now out of copyright and free for everyone to download and watch. There are a bunch of categories like Action/Adventure, Animation, Comedy, Drama, Exploitation, Family, Horror, Martial Arts, Musicals, Mystery/Suspense, Sci-Fi/Fantasy, Serials, War, and Westerns to choose from, plus lists of the most popular movies too.
2. The Internet Archive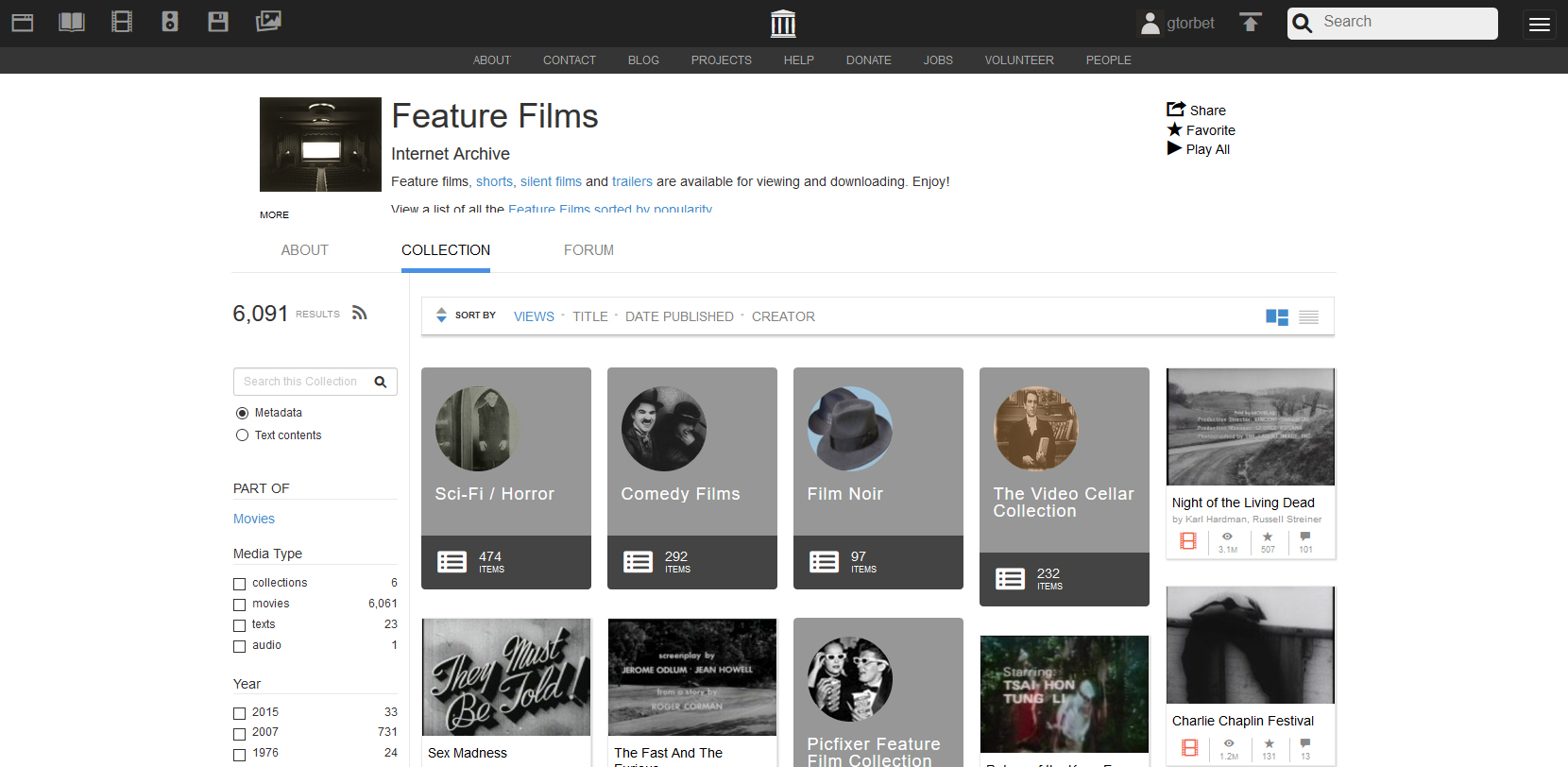 Located at https://archive.org
If you don't know about archive.org, then you're missing out one of the internet's best resources. The site is dedicated to housing artistic material of all sorts to ensure that it is available to users across the internet for free. They have a popular Feature Films section at https://archive.org/details/feature_films which houses classic movies in themes like horror and film noir, and these films are available to download in a variety of forms including torrents. There are also free books and other texts, free music, and free software all available from this one great site.
3. Legit Torrents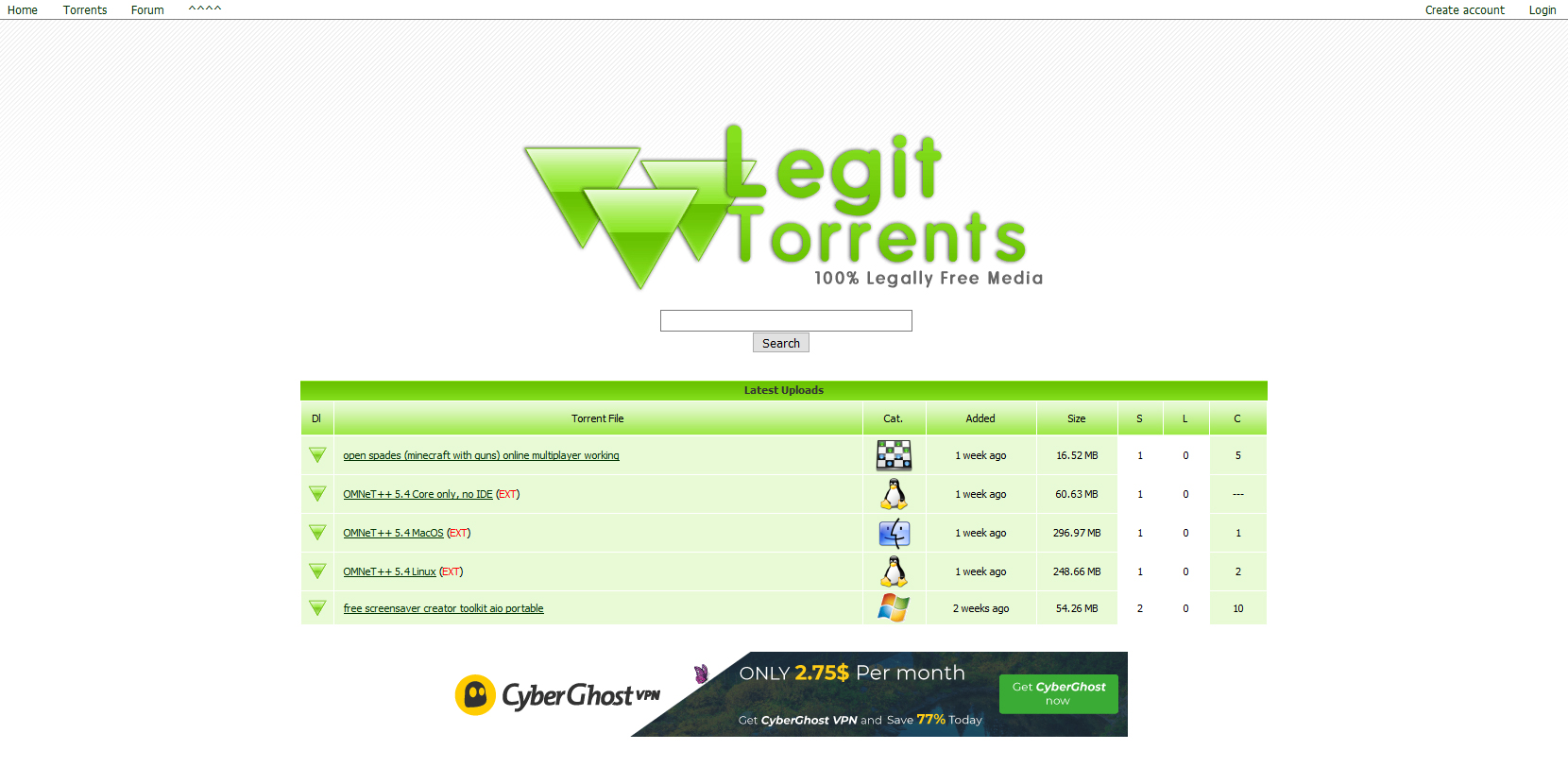 Located at https://www.legittorrents.info/index.php
This site looks and operates like other popular torrent sites like kickasstorrents, with the only difference being that this site shares 100% legally free media. It is often used to share open source software such as Linux distributions, which are shared via torrent to relieve individuals of the burden of hosting large files for download. There are other categories available as well as software though, like music, movies, games, anime, and books.
4. Bitlove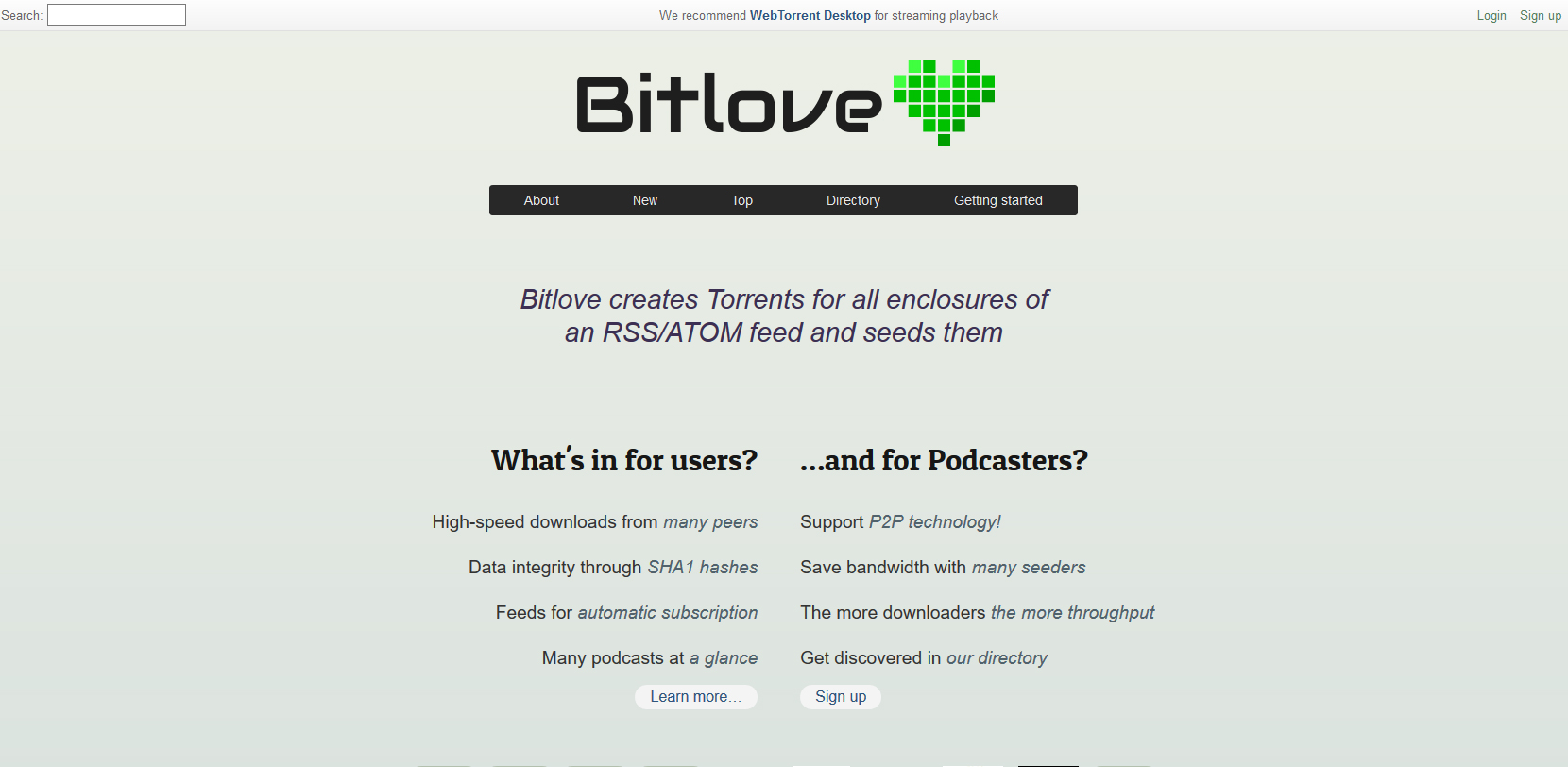 Located at https://bitlove.org/
This site is a must for podcast lovers. As well as audio podcasts, video podcasts have become more popular in recent years. However, downloading these large files for the podcasts can be slow and cumbersome. That is why Bitlove exists – it converts RSS or ATOM feeds (the way that podcasts are listed) into downloadable torrent files so you can download lots of content super fast. If you love listening to podcasts about new music or watching video podcasts about game play, for example, you'll find a ton of content here that you'll enjoy. The directory of torrentified podcasts at https://bitlove.org/directory is a great resource too.
5. Linux Tracker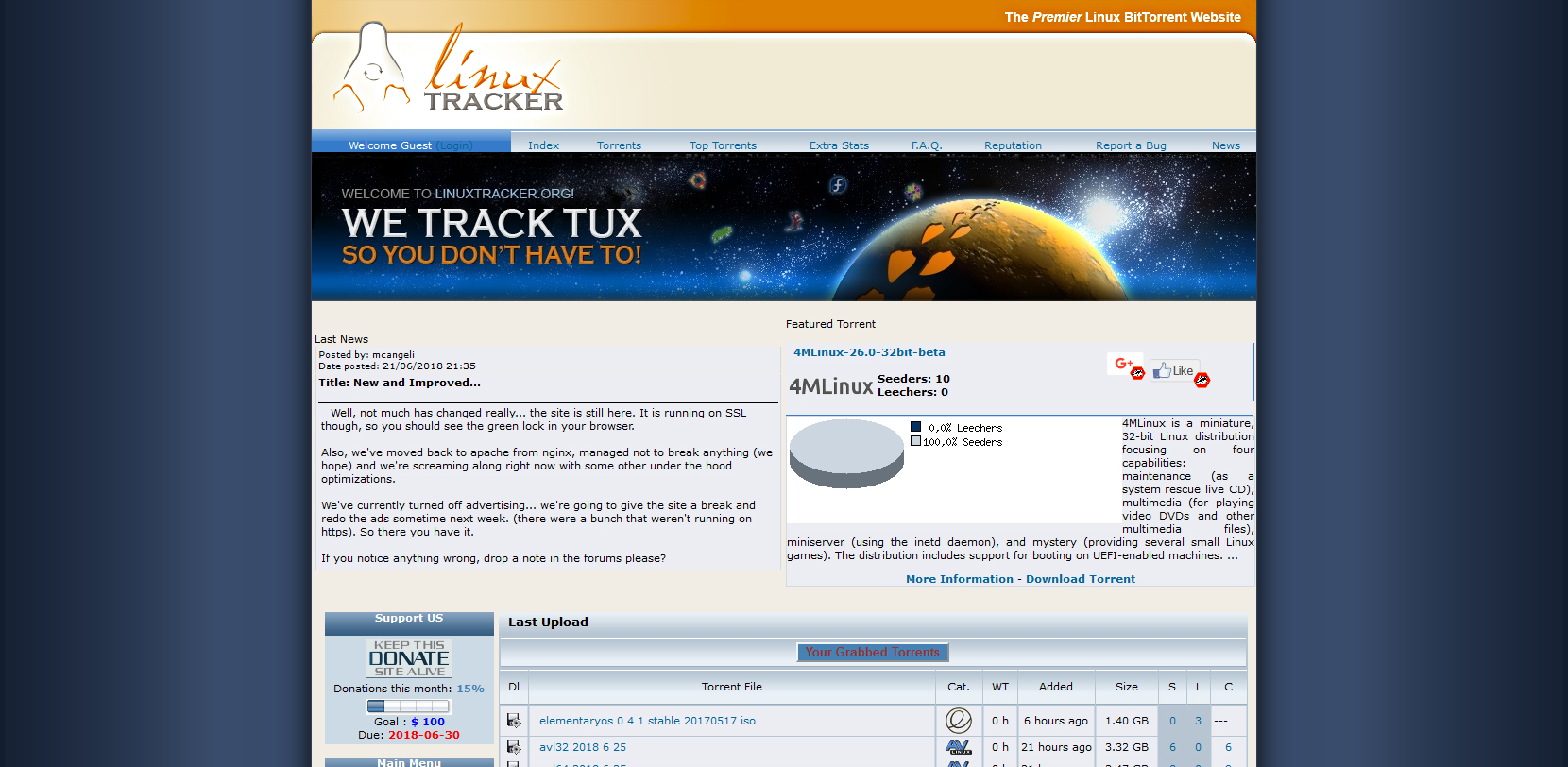 Located at https://linuxtracker.org/
Another great resource for Linux users is the Linx Tracker website. Here you can find torrent files to download Linux distros of all kinds, plus a forum where you can discuss Linux topics and get advice on running a Linux machine. If you're looking for an obscure Linux distro then this is the best site to find it.
6. Vodo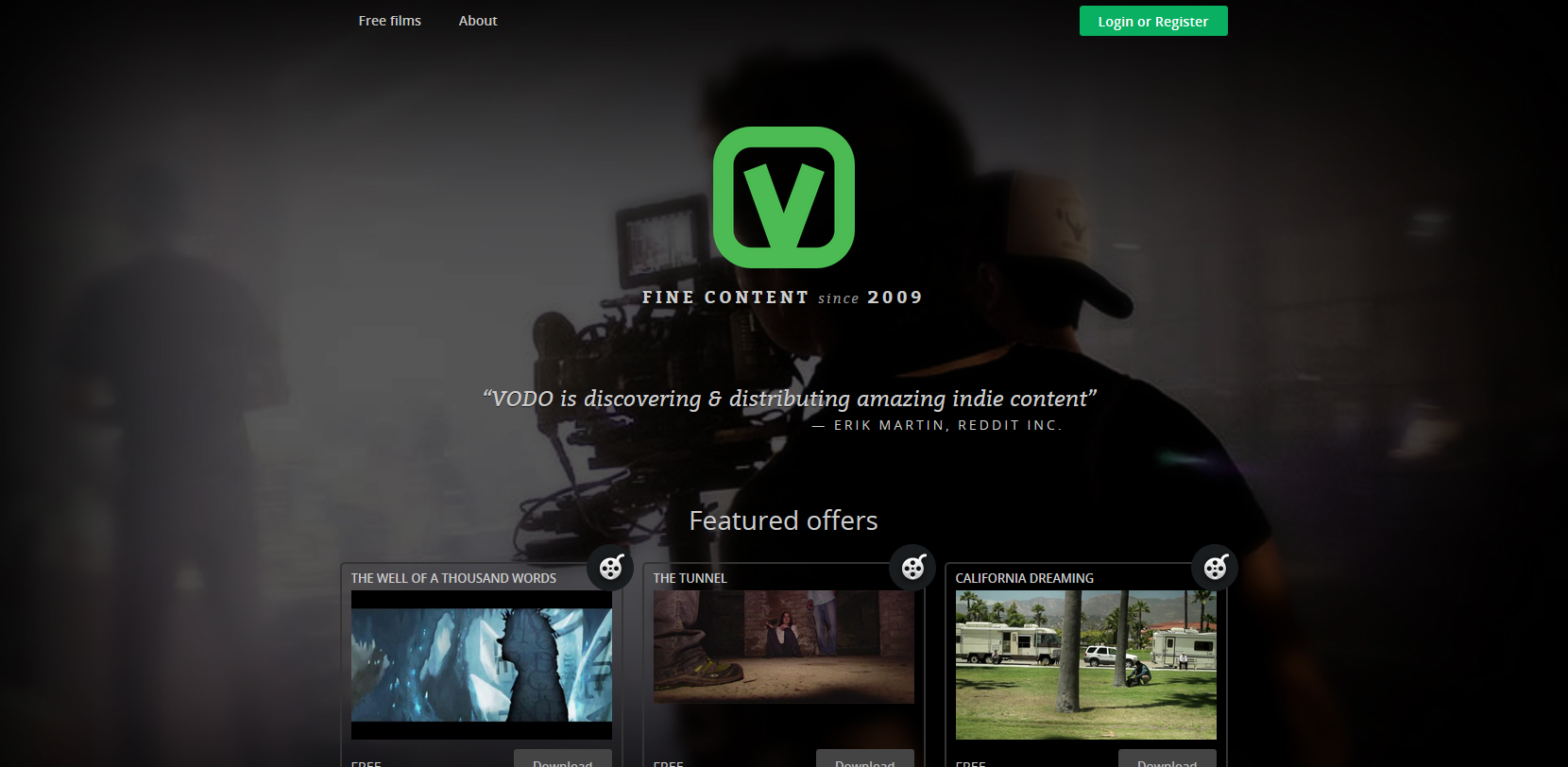 Located at https://vodo.net/
Gamers, and fans of indie games in particular, rejoice. Vodo is a site which collects gorgeous, original and interesting games all of which can be downloaded and played for free. The site is attractive and well designed, with a dashboard of featured games and individual pages for each particular game just like the Steam store has. If you enjoy the content, there is an option to donate to the developers if you want to. There is also a section for free films which you can find at https://vodo.net/films/
7. Vuze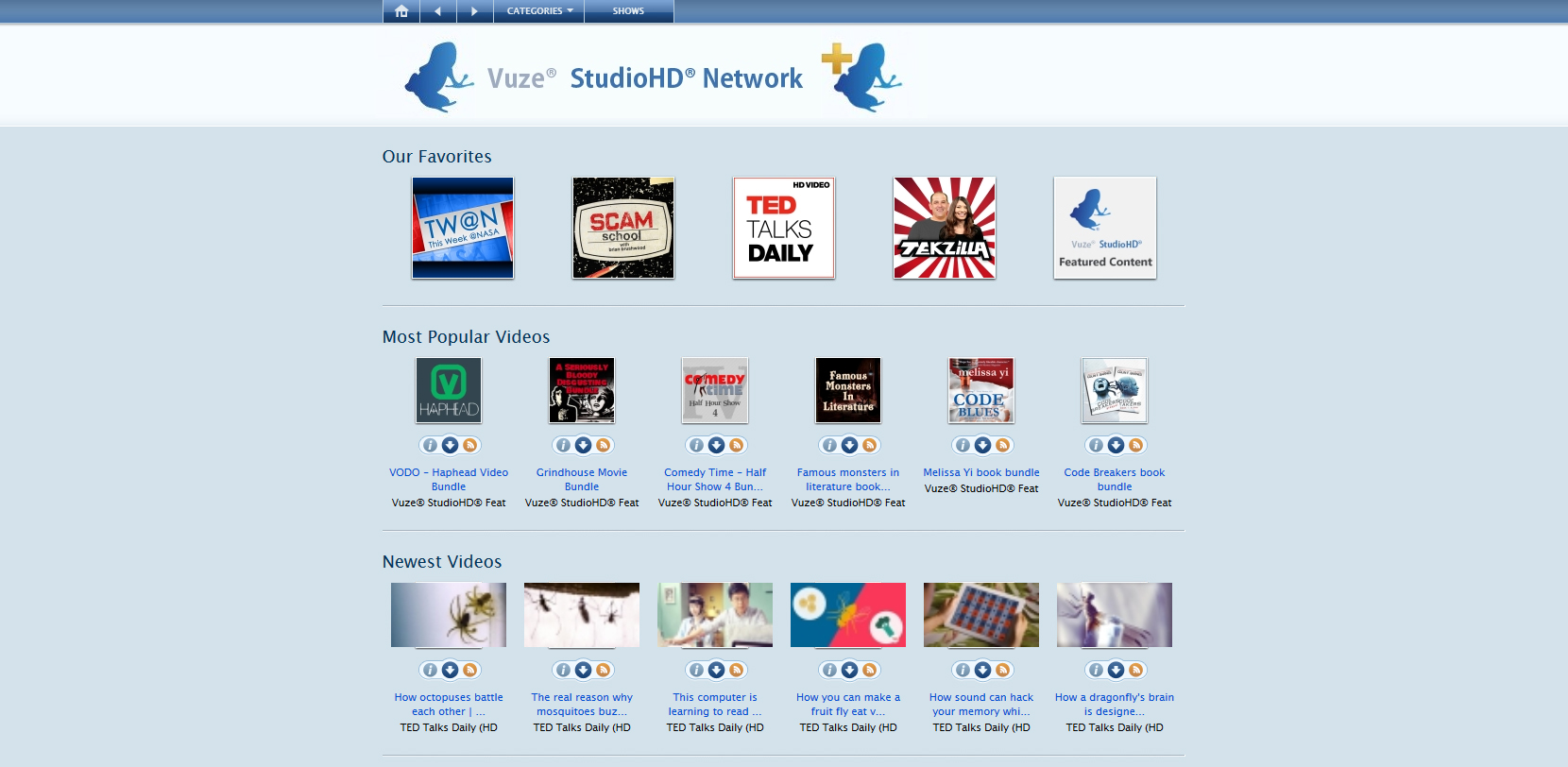 Located at https://www.vuze.com/content/
Vuze is a popular torrent client, and at their website they have a variety of legal content to illustrate all the things you can do with torrents. You'll find popular videos which are presented in a Youtube-like format, plus the opportunity to download other types of video such as Ted Talks. Some of the most popular content is bundles of themed copyright-free content such as the Grindhouse Movie Bundle or the Famous Monsters in Literature book pack which let you download a collection of related files to browse at your leisure.
8. Jamendo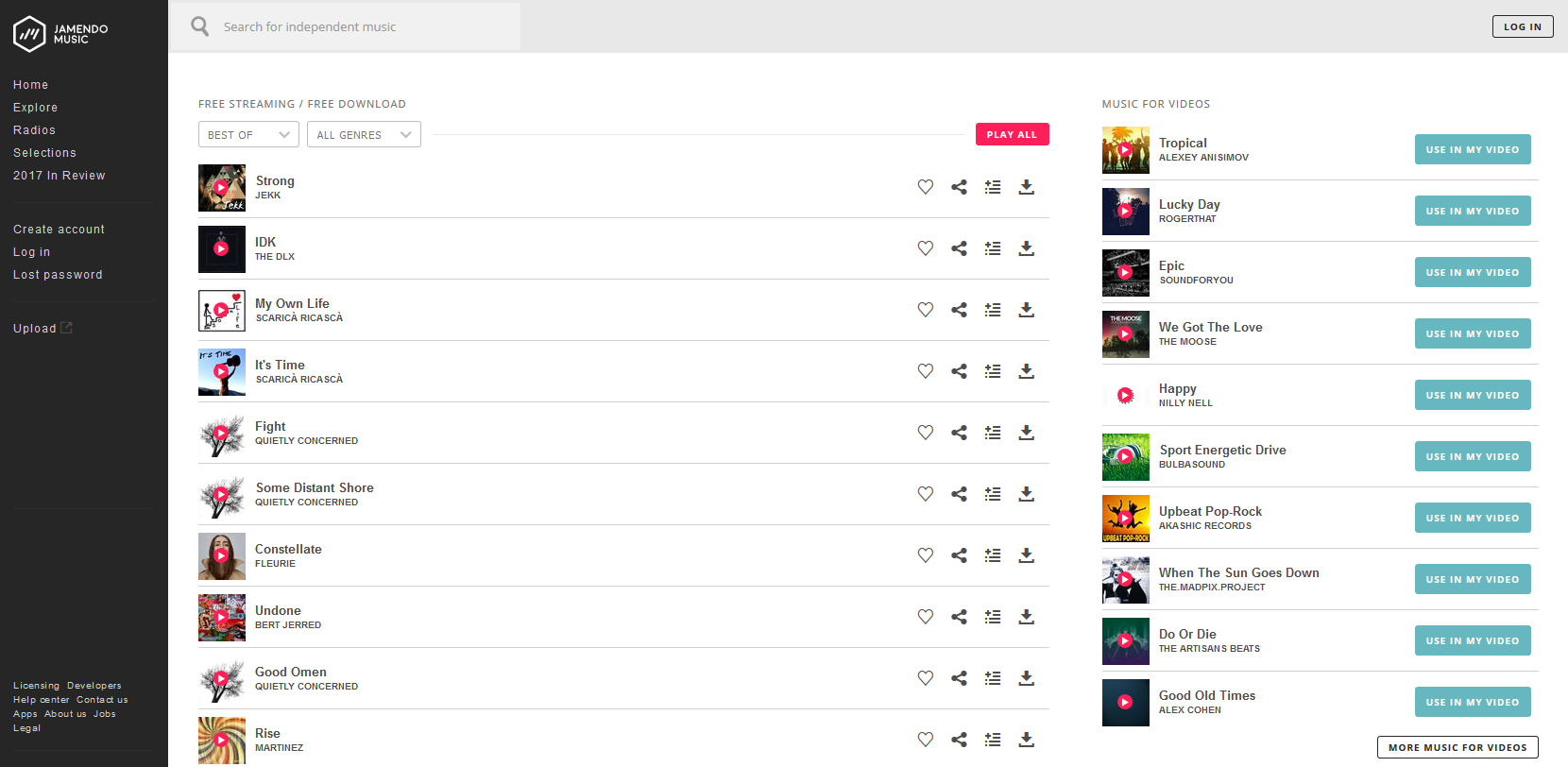 Located at https://www.jamendo.com/start
This music site hosts free music for streaming or downloading from independent artists. Whether you're wanting to browse for a new band to listen to, or you want to download a whole catalogue of music by a favourite artist, you'll find a bunch of music on this site that's made outside of the traditional record label system. There are over 500,000 tracks from more than 400,000 artists available, in a slick website format that looks like Spotify but has no annoying ads and lets you download tracks when you want to. A handy feature for YouTube and other video content creators is the Music for Videos section where you can find license-free music tracks to use in your videos.
Conclusion
Torrents have gotten a bad rap for their association with illegal file sharing, which has lead to many people thinking that all torrents are illegal. But in fact there are tons of legitimate reasons for using torrents like downloading open source software, movies which are out of copyright, and independent movies. We've shared some of our favourite sites for downloading fully legal and free to use torrents. Even ISPs, who should know better, can still target torrent users when they use legal torrents, however. That's why we recommend that all torrent users, even legal torrent users, get a VPN to keep themselves safe and protected.
Which is your favourite torrent site? Do you use any of the sites that we've recommended, and which is your favourite? Tell us about it in the comments below.