The Complete Guide To How Torrents Work
Torrent is a word fast becoming synonymous with piracy. Any time you read about music or TV show piracy being on the rise, you read about several sites that host torrents with the words 'illegal' and lawsuit often being mentioned. So what are torrent files? What is this evil that lurks in corners of the internet but promises free TV shows and music? We're taking a brief look at what a torrent file is, how torrents work, common terms used when talking about torrents, and whether or not they are legal.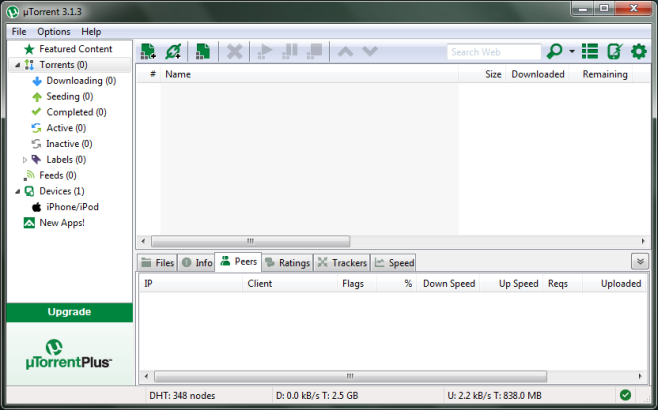 What Is A Torrent?
A torrent is essentially a kind of file. The information in this file relates to the files and folders that are to be distributed. For example, if you're trying to download the latest version of Ubuntu, a torrent file for Ubuntu will contain information on the files and folders that you need to download in order to get Ubuntu. The torrent file will also contain information on where you can get these files and folders. Other essential information contained in a torrent file are hash values that used for verifying a file.
How Does A Torrent Work?
Torrent files facilitate transfer of large files from one system to another. To torrent a file essentially means to transfer a file over a P2P network. The files are transferred in bits and you may not necessarily receive all of a file from one single person. Collectively, however, you will get the complete file and based on the hash information in the torrent file, it will be assembled, and verified. In the end you come away with the file you wanted. In order for you to get a file, it must be available with either a single person, or in bits and pieces with multiple people.
What Are Torrent Clients?
A torrent client is a bridge, a medium, for transferring files from one system to another. Where the Torrent file itself has information on where to get the file, where to send it to, and how to put it all together, the torrent client acts as the connection between the multiple systems that will send the file to its destination. Basically, without a torrent client, you cannot download a torrent file. BitTorrent is a popular torrent client and protocol. uTorrent is torrent client built for the BitTorrent protocol.
A torrent client will allow you to download multiple files at once, it will help you seed your files, manage how much bandwidth is dedicated to downloading a file, and much more.
Terms In Torrents
You may have heard the phrase, 'Always seed your torrent' and wondered what it meant. Here's a brief look at what the different terminologies mean when you talk about torrenting a file.
Seeds
A torrent is P2P files transfer and a seed is someone who has the file that you're downloading. A seed or seeder will have the complete file and not just bits and pieces of it.
Peer
A peer is anyone who has bits and pieces of the file you want to download, but not the complete file. As you download a file and receive it in parts, you too become a peer. When parts of a file have been downloaded to your system, you too become a source for downloading a file and other users who are downloading it will receive bits of it from you.
Leechers
A leecher is someone who downloads files over a torrent but doesn't allow other users to download it from him/her. A leecher basically gets every benefit from a torrent file and gives nothing back.
Torrent Sites
A torrent site is basically a searchable database of torrent files. The torrent file is needed to initiate a download. Needless to say, these files are in the millions and need to be organized into one central searchable location. Lot of different torrent sites exist such as The Pirate Bay and Kickass Torrents though not all the torrents hosted on these sites are legal to download.
Are They Legal?
Legality is a huge question when it comes to torrents. It goes without saying that downloading a TV show or a movie is indeed illegal. There is no grey area here. You may ask that if downloading movies and TV shows is illegal then what else do you use torrent for? You can use torrents to download freely available software such as Ubuntu, or you can use it to download software that you've bought a license for but do not have the installation files such as MS Office or Photoshop.
People often resort to using torrents as a means of downloading files when the official download source becomes congested or when it's just too slow. An example of this is anything that you need to download from Apple. Whether it's iTunes, xCode, or Quick Player, a torrent will always be faster than Apple's own servers making a torrent a better and faster option.