We are reader supported and may earn a commission when you buy through links on our site.
Learn more
Best VPN for Romania in 2021 to Protect Your Privacy
Digital rights in Romania aren't perfect, but you can guarantee your privacy online by using the right VPN. In today's guide, we take a close look at what features the best providers have to offer Romanian Internet users, plus how to use them to your benefit.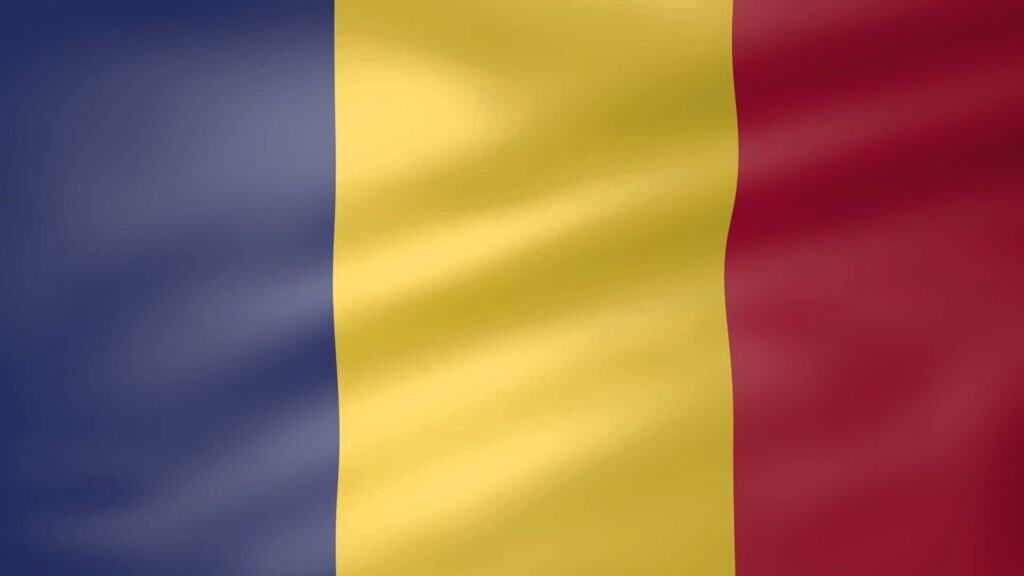 Don't leave your right to privacy online in the hands of Romanian ISPs and governmental agencies; anonymize your connection with these VPNs:
NordVPN – Best VPN Romania – Amongst privacy-focused users in Romania, NordVPN is a household name thanks to its incredibly powerful network, NordLynx encryption, and independently vetted no-logging policy.
Surfshark – A cheap VPN that offers a lot in terms of spoofing and security. Rapidly growing network, split tunneling, static IPs, and more.
ExpressVPN – Not the cheapest, but easily one of the fastest VPNs on the market. Ideal for heavy streaming, gaming, or P2P downloads.
CyberGhost – A true Romanian VPN, with a ludicrous number of servers, advanced tunneling, and user-friendly UI.
PrivateVPN – Lean but mean, with a dedicated, 100% provider-owned network and flexible encryption settings.
PureVPN – Tons of servers, powerful cryptography, and numerous extras like NAT filtering, antivirus, leak protection, and more.
Picking a VPN for Romania can be tricky. There are many options out there, and finding the best provider can feel overwhelming. In this article, we'll help you make the best choice for your specific situation. We'll start by covering which features you should look for in a VPN provider, then present five providers we hand-picked for Romanian users. Last but not least, we'll talk about what you can do with a VPN, and explain why free VPNs may not be your best choice.
30-days money back guarantee
What makes a good VPN?
For most other countries, data privacy and freedom from censorship are both salient factors in picking a VPN. This is a lot less true for Romania, where a benevolent legal environment means that you don't have to worry about either too much. To help you figure out what you should pay attention to, here's a list of characteristics that should be top-of-mind:
Top VPNs for total privacy on Romanian Internet
Now that you know what to look for, let's get down to business and look at the top VPN providers for Romania: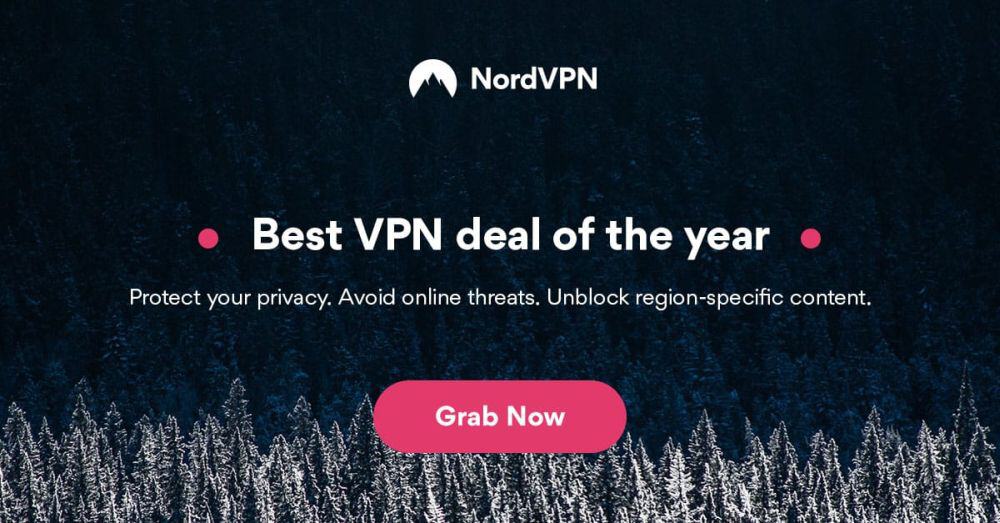 If you want to stay safe and secure while using the internet in Romania, NordVPN may be your best choice. For starters, the service has one of the most complete zero-logging policies in the VPN business. No records of your traffic, IP address, bandwidth or browsing history are stored – ever. In addition to this, NordVPN comes with a variety of specialty servers for various use cases. Gamers can make good use of the Anti-DDoS server, which prevents attacks during gametime. Users who want to make sure they're browsing anonymously can use Double VPN servers that route data through not one but two proxies with two layers of encryption.
In addition to the above features, NordVPN has two advantages for security-minded users. First, a free DNS leak test that helps users find out if their ISP can trace their online activities. Second, the service is based in Panama: a country exempt from the Five, Nine and Fourteen Eyes surveillance agreements between major world powers. Put simply, it's hard to beat NordVPN when it comes to security. What's more, this service has one of the biggest server networks in the business: 5,500 proxy servers in 59 countries. This means that users can enjoy high download speeds, seamless streaming and low latency – all while knowing their data and online activities are secure.
Read our full NordVPN review.
Pros
Very fast speeds make this a strong choice for 4K streaming
Fast and stable connections
Strong security features
Based in Panama
Live Chat Support.
Cons
Very little
Sometimes slow in procesing refunds (but always do).

Surfshark is the most hyped new VPN to come out in recent years, drawing near universal praise from the privacy community. It offers outstanding levels of security, tons of extra features, and a price even the most budget-conscious Romanian can approve of.
Surfshark does away with outdated encryption, favoring OpenVPN, IKEv2/IPSec, WireGuard and Shadowsocks (on Windows an Android only), secured by the 256-AES-GCM cipher. This offers a superb balance of speed and security–but that's not where it stops. Each of their 3200 servers in 65 countries is capable of obfuscation, smart DNS configuration, adblocking, and even censorship-breaking methods–all of which auto-enable as needed to counter the threat to your freedom.
In addition to this, you can actually share Surfshark with a friend to split costs–there are no limits on simultaneous connections, and this provider never logs your identifiable metadata, so there's no stopping you from getting the best price.
Pros
Unblock 15 international Netflix libraries, including the US and Japan
Over 800 servers in 50 countries worldwide, and constantly growing
Unlimited simultaneous connections–Protect your whole family!
VPN home jurisdiction in British Virgin Islands is ideal for privacy
24/7 live chat ensures maximum uptime.
Cons
Growing network doesn't have same coverage as more mature VPNs
Relatively young VPN still has to prove itself trustworthy over the long haul.
Read our full Surfshark review.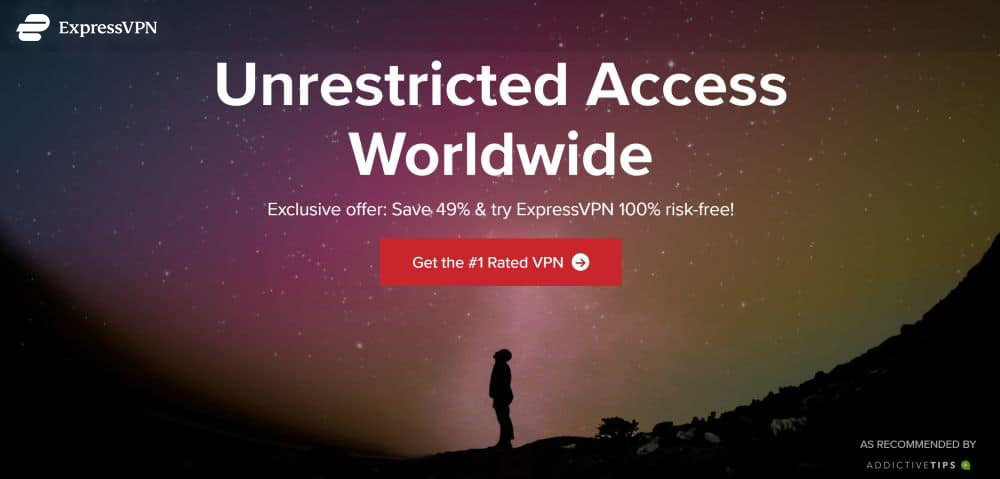 ExpressVPN is our top VPN choice for Romania for several reasons. First, the service has an "all-inclusive" attitude to its services. There are absolutely no speed caps; no bandwidth limits; no restrictions on streaming from websites like Hulu or Netflix. There's no restriction on P2P networks either, meaning that you can torrent, use Kodi and play video games to your heart's content. Just pay the monthly fee and you're all set. Best of all, ExpressVPN offers both UDP and L2TP encryption standards, meaning you can enjoy the web with no slowdown – even as all your data is safely protected by encryption.
Another selling point for ExpressVPN is its vast server network. With over 3,000 proxy servers in 94 countries, there's virtually no content library you can't access and no gaming server you can't play on. Just pick a country and go. All you need to do to get started is download ExpressVPN's lightweight app, available for desktop devices – Windows, Mac and Linux – as well as Android and iOS smartphones and tablets. There are also installation options for browsers like Chrome and Firefox; multimedia devices like Apple TV; routers (D-Link, Linksys and more). All in all, it's hard to go with a service that's so powerful and easy to start using.
Read our full ExpressVPN review.
Pros
SPECIAL OFFER: 3 months free (49% off - link below)
Reliable and fast connections
Supports ALL devices
Strict no-logs policy
Live Chat Support.
Cons
Slightly more expensive than some other options.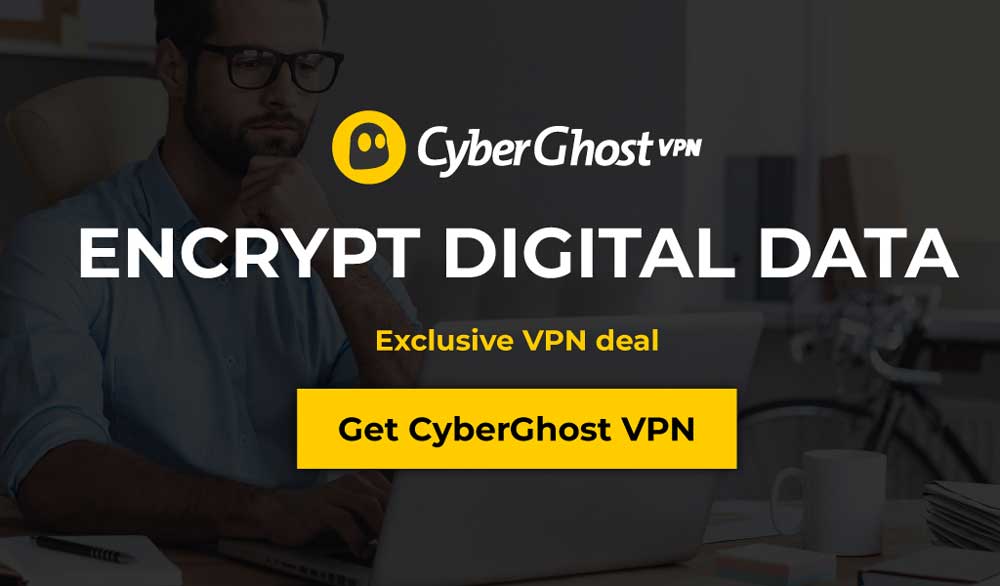 CyberGhost is the go-to VPN for users who want top-tier security and speed without all the technical difficulties. For starters, the service comes with a suite of apps that make it easy to install CyberGhost on a Windows, iOS or Linux desktop – as well as all popular mobile devices and even some routers. The apps use a colorful, minimalist display to make safe browsing easy. They also feature 6 simple configuration profiles, from "torrent anonymously" to "unblock streaming". Getting started with the VPN is as simple as picking the right configuration and starting your connection.
Don't be fooled by how convenient CyberGhost is, though. The service comes with a large suite of valuable add-ons and security features. For example, users can block malicious websites, block ads, block online tracking. They can also activate an "Extra Speed" switch when they need a little extra oomph. Connections are encrypted using 256-bit AES encryption which would take millions of years to crack. The logging policy is one of the cleanest in the business, with CyberGhost logging virtually nothing – not even your e-mail address. Take all these features, and a large proxy server network (5,900 servers in 90 countries), and it's easy to see why this provider is a top choice for Romanian VPN users.
Read our full CyberGhost review.
Pros
Unblocks US Netflix in App
Torrenting allowed
Robust encryption standards
Strict no-logs policy
45-days 'No-hassle' money back guarante.
Cons
WebRTC IPv6 leak in macOS
Can't unblock some popular streaming sites.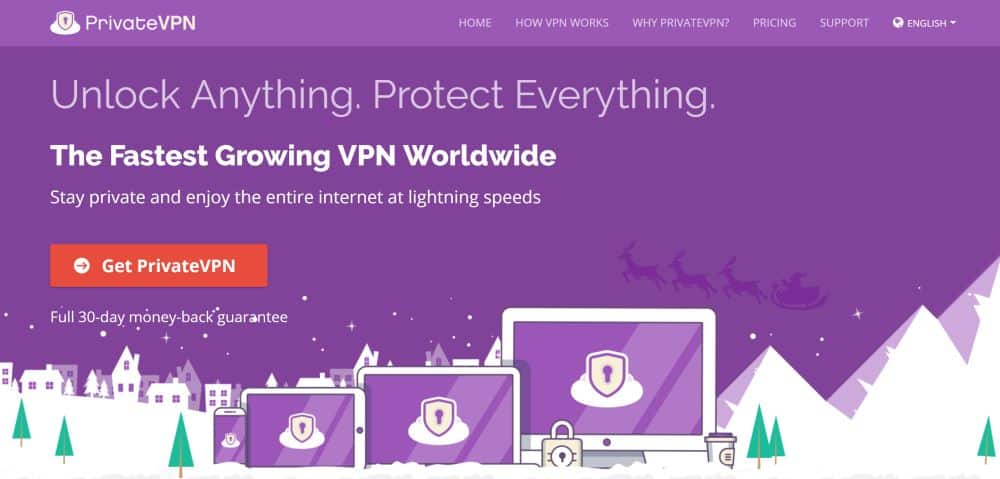 PrivateVPN is the perfect service if you want to to access the internet quickly, securely, and using multiple devices. The service comes with up to six simultaneous connections, which means you can use it on your smartphone, tablet, desktop computer and router – and still have two connections left for guests and household members. The 2048-bit, AES-256 encryption would take quadrillions of years to crack, meaning you're virtually untraceable. The service comes with no bandwidth limits, no speed limits, and two of the fastest encryption protocols on the web: L2TP and UDP.
PrivateVPN has a strong zero-logging policy that doesn't store your information. It also has 150 servers in 60+ countries, meaning you can access virtually any content library in the world by getting the necessary IP. Last but not least, PrivateVPN is P2P friendly, meaning they do not stop or dissuade users from torrenting, using Kodi, etc. Between all these features and the service's generous 30-day money back guarantee, it's hard to imagine a better service for streamers, gamers and torrent users.
First thing's first. PureVPN has a massive server network, with 2,000+ servers in 140+ countries. If you want to access specialized content – like Russian TV streams or New Zealand's unique content libraries – this is the VPN for you. This is also an optimal service if you want to access unique features like split tunneling (a function that lets you send some of your data through a VPN, and some through your ISP). Another rare feature PureVPN offers is "anti-ISP throttling", which removes the speed limits set by ISPs and lets you use your network to its maximum technically possible speed.
In addition to these rare features, PureVPN comes with unlimited bandwidth and a selection of dedicated streaming servers. If you want to download or enjoy music and video content, you'll find that using these servers gives you superior speed and seamless connectivity. What's more, PureVPN has built-in P2P protection that lets you stream and torrent with fast, reliable connections. Last but not least, the service comes with 24-hour Live Chat support, which is always happy to help you along if you get stuck while installing or using PureVPN.
Read our full PureVPN review.
Romania, data privacy and internet freedom
Romania has always been committed to data privacy. It often led the resistance against EU's 2006 Data Retention Directive until the latter was declared invalid in April 2014. To this day, the country is at the forefront of protecting EU and Romanian internet users' data. Non-compliance with national privacy laws can lead to fines of up to $13,000, while transferring data to other countries is illegal. Put simply, Romania is one of the safest places in the world in terms of data privacy.
RELATED READING: Best and worst countries for Internet freedom
At the same time, Romania's not perfect. For starters, there's been some recent talk about a law that lets state authorities access corporate data with no court warrant. Second, the country does make occasional efforts to restrict or ban content. In December 2008, the National Authority for Communications tried to block 40 websites, targeting adult content in particular. In August 2010, Social-Democrat Senator Lia Olugta Vasilescu proposed to ban vulgar language on certain web forums. More to the point, the government actively restricts online betting websites: only 23 are approved to do business inside the country.
Despite these hiccups, Romania is a top country for both data privacy and censorship. The main reason to get a VPN inside the country isn't to beat national filters or keep your data secure. It's mostly to access foreign web content, choose which gaming servers you play on, browse the internet as if you were in another country. For example, few international and US-based streaming companies give Romanian residents their full content libraries. By getting a foreign IP, you can access the full versions of Hulu and Netflix, BBC iPlayer, NBA/NFL/NHL streaming and more. What's more, a VPN lets you play video games, shop, use social networks and surf the web as if you were elsewhere, which is handy for all kinds of reasons – from getting in touch with people back home to practicing a new language.
What else is a VPN good for in Romania?
The key thing to remember when picking the right VPN for Romania is that while the country itself is free, the rest of the world isn't. International websites outside Romania may reserve the right to store your data, sell it to third parties, log your online activities, and more. This personal information can then be used against you, whether to market to you or pursue criminal charges against you. Having a VPN to secure your connections and obscure your real Romanian IP can help prevent all these unpleasant outcomes.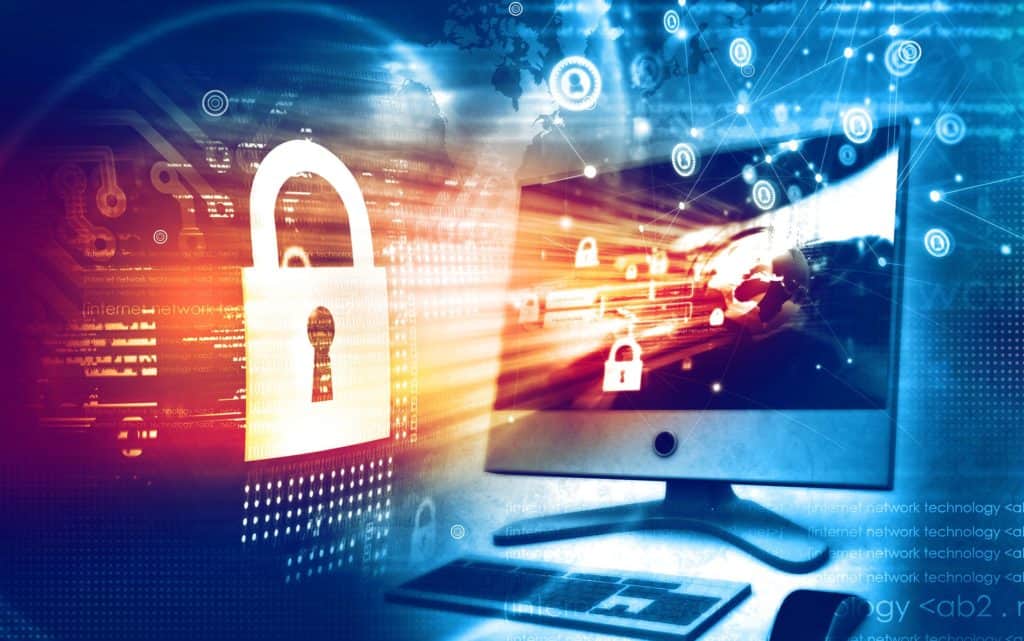 First and foremost, though, having a Romanian VPN is all about freely accessing international services from inside the country. The VPNs above can help you stream from websites like Netflix, listen to Spotify, watch BBC iPlayer, and access TV stations' streaming digital streams from all over the world. This is especially relevant if you want to feel like you're back home. After all, having a VPN in Romania can literally make your computer think you're in the US, the UK or anywhere else you'd like to be, removing the hassle of having to navigate Romanian-language search engines, game servers and more.
A word of warning about free VPNs
If you're looking for a free VPN, you're liable to see lots of ads for free VPNs services. While many of them use encryption, and virtually all of them let you log in from one or several countries' IPs, be mindful of these free services. For starters, most of them log your data and sell them to third parties. This is how free VPNs make their money.
Even then, using them can be problematic for several reasons. For example, most free VPNs show you ads, which can interfere with your streaming, gaming and browsing. They also have speed limits, bandwidth limits and a tiny selection of server choices. Last but not least, free VPNs virtually always ask you to upgrade to their paid versions, which are more expensive than the services on this page. If you want to save yourself some time and money, go for a reputable, recommended service instead.
In conclusion
In conclusion, picking a VPN for Romania isn't as simple as choosing the one best provider. It's about finding the right fit between your needs and a quality provider's features. One thing you can do is go through several VPNs, stopping at the one that gives you the best experience. The VPNs we recommend come with money-back guarantees, which makes this easy to do.
Something else you can do is think carefully about what you really want. Is it to stream content from overseas while in Romania? Then go for a P2P and streaming-optimized service. Do you want to browse anonymously and safely, avoiding ISP and government snooping? Then choose a safety-oriented service. So long as you do your homework – which you have by reading this article – you're almost always going to end up with a provider that you like.
Are you a Romanian citizen, or a traveler or expat to that country? What are your primary uses for a VPN? Are your hopes high for the future of internet freedom in Romania? Leave us a comment below!