We are reader supported and may earn a commission when you buy through links on our site.
Learn more
Unlocator not Working with Netflix? Here's What You Should Do
Unlocator use to be a great tool for unblocking Netflix's international content catalogue, but it no longer works as intended. But don't worry, we've done some digging, and have found several viable alternatives that will not only allow you to bypass the Netflix VPN ban, but boost your privacy online in the process.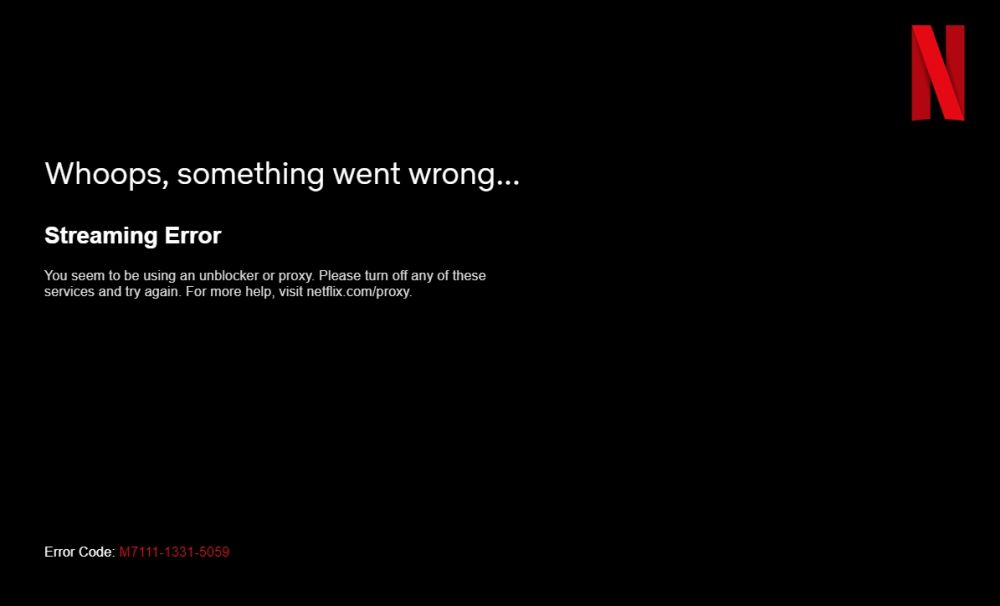 Let's face it – everyone loves a good Netflix binge. However, users outside the U.S. have relatively limited content catalogues (with some notable exceptions like Japan, which has the largest library in the world), which is a bummer considering they're paying the same price for fewer streams. Even if you're a U.S. user traveling abroad, the minute you step off the plane, you're stuck with whatever content Netflix has licensed in that country. Unlocator is low-priced service that allows you to bypass certain regional blocks, but it fails spectacularly to unblock Netflix. That's why we've written today's Unlocator "Netflix blocked" workaround, so you never have to see this image again.
Netflix's proxy ban claims another victim with Unlocator, but you can still get through with these VPNs:
NordVPN – Best Netflix VPN – NordVPN has been wrestling with Netflix for years, but it always comes out on top. Tens of thousands of spoofable IPS, NordLynx encryption, and great speeds allow for smooth streaming anywhere in the world.
Surfshark – Clever automatic privacy provisions dodge Netflix's VPN ban with amazing consistency.
ExpressVPN – The VPN of choice for bandwidth-starved networks, due to fast speeds and hyper-efficient Lightway encryption.
CyberGhost – Hassle-free access to Netflix abroad. Click "unblock streaming" and grab some popcorn.
PrivateVPN – Allows power users to tweak the balance of encryption and performance for buffer-free streams.
PureVPN – Useful for unblocking content in over 140 countries worldwide.
Unlocator isn't alone; most VPNs can't overcome Netflix's proxy error. In each of these cases, there really is no silver-bullet configuration that makes the task possible–you simply have to shop around for another solution. Today, we'll introduce the top VPNs with a proven record of staying a step ahead of the infamous Netflix VPN ban. Then, we'll briefly discuss the matter of why geoblocks happen in the first place. Finally, we'll illuminate just what Unlocator lacks to access Netflix.
30-days money back guarantee
VPN alternatives to Unlocator proven to work with Netflix
The number of VPNs with ready access to Netflix's various international content catalogues has plummeted in recent years. Essentially, Netflix periodically blacklists all shared IP addresses with a known association to a VPN server. However, a select few providers have managed to stay a step ahead of the game, either by adding more servers, switching IPs on the servers they already have, or employing more novel methods of bypassing the VPN ban.
Unlocator users know that the service fails to unblock Netflix most of the time. For those searching for a workaround, we have done the research and came up with the absolute best VPNs for Netflix: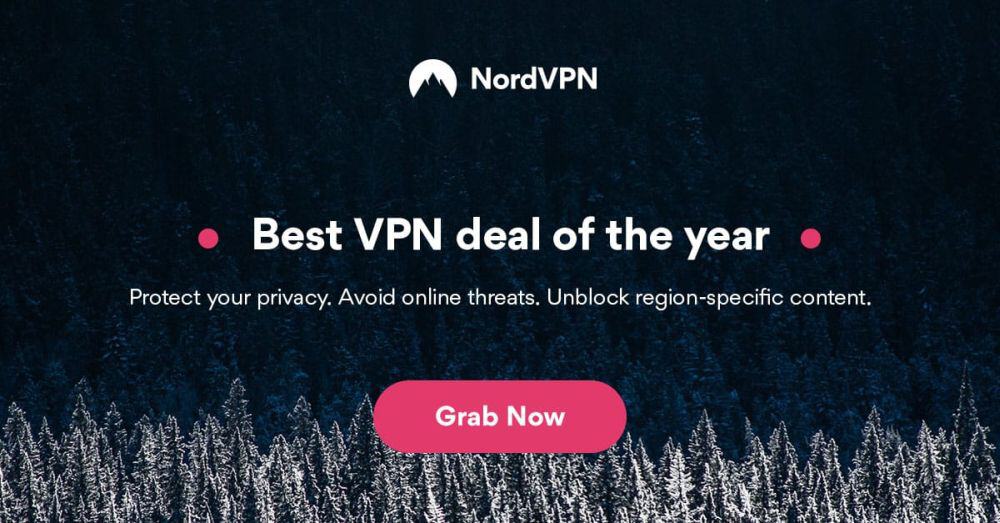 NordVPN is our top recommended Netflix unblocker for several reasons. Firstly, the provider offers subscribers one of the biggest server networks in the industry, consisting of 5,800+ servers in 59 countries. This gives you the ability to change IP addresses often enough for Netflix not to be able to block you out of their system. Furthermore, NordVPN offers a range of speciality servers for added utility. Shared IP bans got you down? Connect with a static IP address. Want to sneak by deep packet inspection? Obfuscated servers allow you to punch through even the toughest forms of censorship.
In terms of security, NordVPN adheres to the industry's gold standard: 256-bit AES encryption, which generates more possible key combinations than there are atoms in the known universe. Specific protocols include OpenVPN's UDP and TCP, as well as L2TP. In addition, NordVPN employs a thorough no-logging policy, ensuring no traffic, IP addresses, or browsing histories are ever stored for third parties to find. Additional security features for ultimate online anonymity include an automatic kill switch and an in-built DNS leak test. With no restrictions on bandwidth, speed, or server switching, you can start enjoying Netflix within minutes of downloading the app.
Read our full NordVPN review.
Pros
Unblocks American Netflix
Over 5,400 servers in 61 countries
Strong encryption is used on all connections
Extra-secure Double VPN for data encryption
Money back guarantee policy.
Cons
Some servers can be unreliable
Apps can sometime be slow to connect.

Surfshark offers perhaps the least complicated method of unblocking Netflix. No matter which of their 3200+ servers you connect to, you'll get access to one of their many international content libraries. Of the 65 countries within Surfshark's network, this "magic" works on 17 libraries. If you connect to a server in a country not on that list of 17, it'll default to Netflix US. Not bad, right?
It works through a combination of factors: unbreakable 256-AES-GCM encryption, plus baked-in smart DNS functionality with a dash of blanket obfuscation thrown in for good measure. When Netflix's VPN block detects your incoming traffic, it won't have any idea how to block it.
Surfshark's RAM-only network offers impressive speeds via OpenVPN, IKEv2/IPSec, and especially WireGuard, while continuously purging its databanks of any trace of your activity. Coupled with a strong no-logging policy, and you have one of the most secure Unlocator alternatives for Netflix around.
Pros
Robust servers blast through geoblocks to access your favorite streaming sites
Every server is a speciality server
Trial in confidence with a 30-day money back guarantee
Logging policy independently audited and verified
Helpful 24/7 live chat with an actual human being.
Cons
Server network is not nearly as expansive as major competitors
Power users may wish for more settings to fiddle with.
Read our full Surfshark review.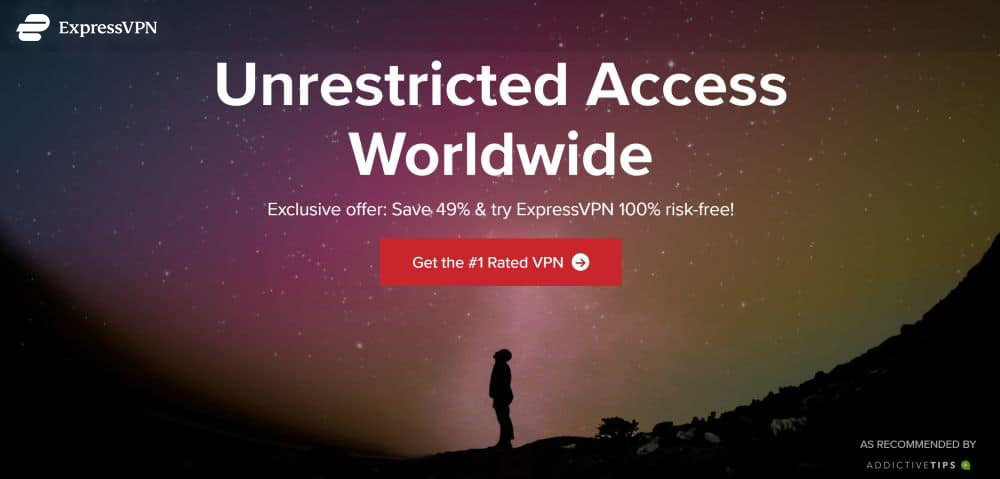 ExpressVPN is highly reliable for unblocking Netflix. With 3,000+ proxy servers in 94 countries, you get a massive range of IP addresses to choose from–handy for staying one step ahead of Netflix's periodic IP blacklists. What's more, ExpressVPN preserves most of your natural connection speed, allowing you to stream with no slowdown or buffering issues. Coupled with the utter lack of restrictions on bandwidth, traffic types, and server switching, and you've got a solid option for streaming international content.
In terms of security, ExpressVPN uses some of the toughest security features on the market. First, with 256-bit AES encryption, you can be certain that your data will be protected at all times. Encryption protocols include UDP, TCP, and ultra-fast L2TP, all of which provide the ideal blend of speed and security. Furthermore, ExpressVPN employs a solid no-logging policy that covers traffic, DNS requests, IP addresses, and even browsing history. Additional features include an automatic kill switch and a DNS leak test, both of which will protect your data should you ever get disconnected.
Don't be daunted by all those features, though; ExpressVPN is dead-simple to use, allowing for one-click connections anyone can configure. What's more, they've got dedicated software available for all major operating systems, including Windows, Mac, Android, iOS, and iPad. You have the option to connect three devices at once, which means that you can enjoy your favorite films and TV shows on your computer, smartphone, and even tablet. Customer support is always readily available to answer any and all queries.
Read our full ExpressVPN review.
Pros
Unblocks US Netflix
Super fast servers (minimal speed loss)
Torrenting allowed
Strict no-logs policy for personal information
Live Chat Support.
Cons
Slightly pricier than competition.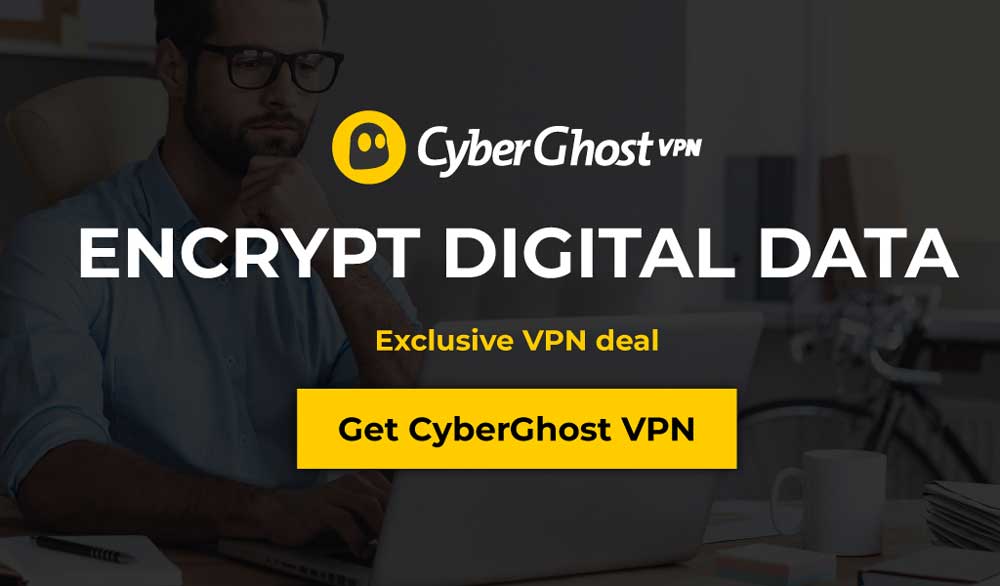 CyberGhost places major focus on user-friendliness, reliability, and privacy. If you want to get started with unblocking Netflix without dealing with complicated setups, this is a solid choice for you. Upon launch, you can choose from six different profiles, all pre-configured to be perfectly set up for the use-case. Netflix users will want "Unblock Streaming" for their purposes. If you want to customize the profiles further, you can do so with simple toggles, including "extra speed" and "block malicious website". You've also got full agency to choose your own server from among their massive, 6,000-strong server network, dispersed across 87 countries worldwide.
Despite being minimalistic and straightforward, CyberGhost has some of the strongest security features on the market. For starters, the provider uses 256-bit AES encryption via OpenVPN, which makes your data virtually unbreakable. Next, we have CyberGhost's immaculate no-logging policy, which is among the most complete you'll find anywhere. This range of features is complete with a connection guard, kill switch, ad blocker, and online tracking blocker, all of which were designed to make you untraceable on the web.
Read our full CyberGhost review.
Pros
LOW PRICE: 6 EXTRA free months (79% off - link below)
Torrenting allowed
Jurisdiction in Romania
Zero logs
Reliable and knowledgeable 24/7 live chat support.
Cons
WebRTC IPv6 leak in macOS
Doesn't unblock all streaming services.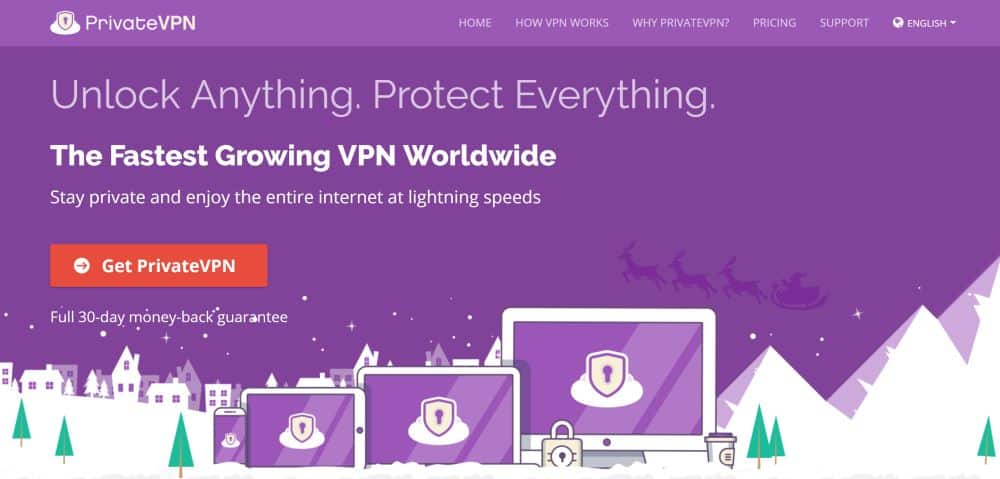 PrivateVPN is a little different to other providers on our list, but it definitely doesn't fall behind in terms of utility. Although its network consists of just around 150 servers in 60+ countries, don't let the numbers fool you. Each one of these servers is surprisingly robust, offering incredible preservation of your natural connection speeds and reliable access to Netflix. In fact, PrivateVPN has specifically labeled Netflix-ready servers, taking all the guesswork out of unblocking your favorite streams. With unlimited bandwidth, server switching, and speed, this provider is an excellent choice for those looking to use a VPN on a regular basis.
True to its name, PrivateVPN respects your anonymity, with 256-bit AES encryption via OpenVPN. There are also options to use either UDP or TCP, L2TP, or to set up a SOCKS5 proxy to blast through the toughest censorship, like the Great Firewall of China. Backing this up is a quality no-logging policy that prevents your activity from ever being used against you. Dedicated apps are available on all major platforms, enabling you to enjoy your favorite Netflix streams on your favorite device.
Read our full PrivateVPN review.
PureVPN may be the last on our list, but it's definitely not the least. One of the main reasons is the amount of premium features offered with every subscription at a surprisingly low price point. Firstly, PureVPN has an expansive server network numbering over 2,000 nodes in 140 countries–useful for enabling reliable access to virtually any Netflix catalogue in the world thanks to the massive range of IP addresses available. Additionally, PureVPN places zero limitations on bandwidth, server switching, or speed, so you can seamlessly stream content with no slowdowns, buffering delays, or lagging.
Being one of the oldest VPNs on the market, PureVPN has had plenty of time to load up their app with a variety of useful cybersecurity extras, including app filtering, DDoS protection, dedicated IP addresses, NAT firewalls, anti-spam filtering, and antivirus software. If that's not enough, try PureVPN's proprietary Ozone server, which automatically configures a URL filter, anti-malware protection, IDS/IPS, an offensive content filter, and app blocker. Clearly, PureVPN has put some thought into catering for every need their users could possibly have for cybersecurity, and delivers in spades.
Read our full PureVPN review.
What do these providers have that Unlocator doesn't?
So, what do our recommended providers have that Unlocator doesn't? For starters, Unlocator is a basic service that simply alters your DNS in order to allow you to bypass regional blocks. This may work with some websites, but Netflix is far more sophisticated than most. A quality VPN service, on the other hand, acts completely differently. It changes how your location appears to all third parties, including your ISP, by encrypting all your data and changing your IP address to one that belongs to a chosen server. In a nutshell, providers like ExpressVPN and NordVPN can make you completely anonymous online, further helping you with bypassing regional blocks and restrictions.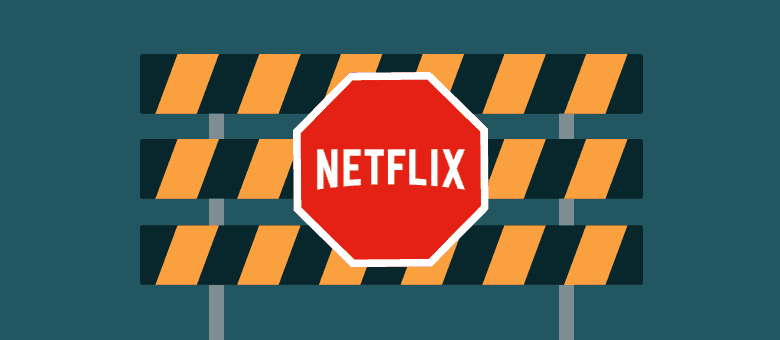 Another major factor that allow quality VPN providers to access Netflix is their huge server networks. Because these services are so committed to offering users a way to overcome Netflix bans, they constantly expand their server networks. Consequently, this gives users plenty of IP address options, even if Netflix is regularly blocking them. As an added (and crucial) bonus, our recommended VPN providers offer unlimited bandwidth to users, which means that at no point will you experience slowdowns or buffering delays. So, if you're ready to enjoy Netflix without geo-restrictions, speed caps, and error messages, simply choose one of our trusted services; you'll be ready to get started within minutes.
Why can't I access Netflix?
It's no news that Netflix is in a long, merciless war against VPNs. The entertainment service is essentially forced to block all users who are trying to bypass licensing contracts, and we'll explain why.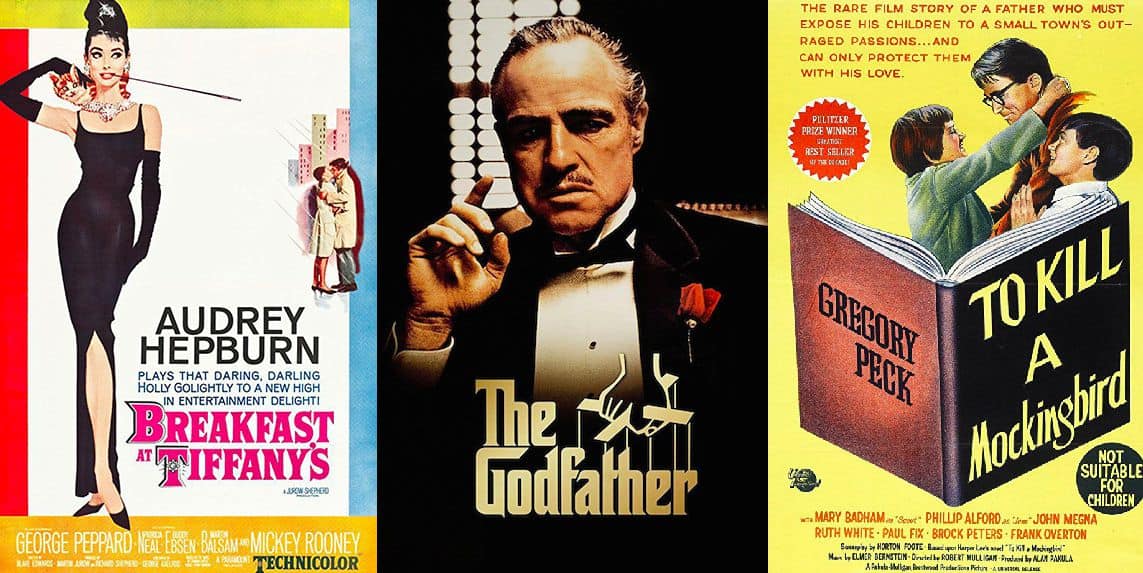 Say you are trying to stream "The Godfather", which is available on American Netflix but is unavailable in your country. You opt for a VPN service that allows you to change your IP address to an American one and, in turn, stream the film from your location. However, here's the catch. By allowing you to do so, Netflix violates its content licensing agreements with copyright holders, putting the entire relationship at risk. In order to maintain its status as a reputable content distributor, Netflix is obligated to block anyone trying to access their service with a VPN.
Over time, Netflix has become so good at detecting whether an IP address is coming from a VPN service or not that most providers gave up on supporting Netflix altogether. This is how it works – when Netflix sees several users coming in with the same IP address, it immediately adds it to its IP banlist and blocks the users from the service. So, unless the VPN provider has a massive server network and an abundance of IP addresses ready to go, it will be difficult for most companies to keep up with Netflix blockers.
Conclusion
So, here we go, now you know everything there is to know about unblocking Netflix reliably and securely, regardless of where you are located in the world. Ever since Netflix increased its efforts to block all VPN services on its website, providers like Unlocator no longer have the power to offer users the ability to bypass these sort of censorship blocks. However, the services we've recommended have been consistently successful at allowing people to not only bypass geographical restrictions, but remain anonymous online at all times.
What is your next move? Which Netflix catalogue are you going to unblock next? Let us know in the comments down below!