We are reader supported and may earn a commission when you buy through links on our site.
Learn more
Best VPN for Digital Nomads in 2021
Make no mistake: if you're a digital nomad, you absolutely need a VPN to stay safe online. Whether you're traveling to countries with harsh censorship or surveillance or simply bouncing around public Wi-Fi points, our top VPNs are proven to help digital nomads take back control of their cybersecurity.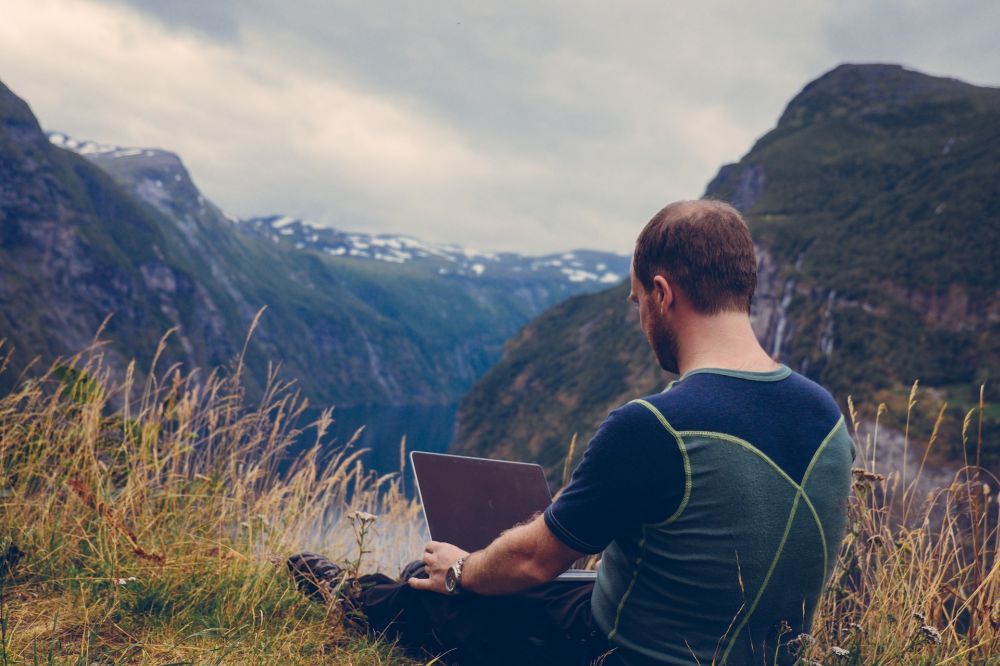 Travel a lot for work? Make it a point to stay on the move? Whether you're a full-on digital nomad or just a freelancer who likes to see the sights, switching locations on a regular basis can do wonders for your state of mind.
It can also bring a number of security and privacy risks, too, especially if you make heavy use of public Wi-Fi connections. If you work as a digital nomad, there are some special measures you should take to keep your data safe, the most important of which is to use a good VPN.
What's in a VPN?
Virtual private networks use encryption and IP address obfuscation to keep you safe online. Running VPN software in the background encrypts your internet connection, wrapping a layer of complex code around every packet of data. This keeps third parties from spying on your activity, and thanks to virtual IP address reassignment, it will be impossible to determine your location, as well. This one-two punch of anonymity and security is perfect for the digital nomad, the frequent traveler, or anyone who values their online privacy.
Encryption itself bestows a ton of benefits upon users, everything from breaking through censorship walls to accessing geo-restricted video streams. Finding the right VPN for your nomad needs means checking dozens of different features, comparing them, testing out speed scores and latency reports, etc. We did most of the hard work for you by choosing some reliable VPNs below. We made our selection using the following criteria, ensuring you'll stay safe while traveling.
Fast download speeds – VPNs can be slower than a standard internet connection. If you want fast downloads, you need a VPN that puts a huge priority on speed.
Large server network – Digital nomads do a lot of traveling, so the more servers a VPN offers, the better your internet access will be.
Unlimited bandwidth – Some VPNs restrict how much bandwidth you can use, leaving you unencrypted and unprotected the minute you run out.
Unmonitored web access – You don't want a VPN monitoring how fast your connection is or restricting access based on what files you download. This is doubly true if you do a lot of P2P file sharing.
Zero-logging policy – VPNs can log your activity just like an ISP. To ensure your data stays safe, the best VPNs have a zero-logging policy that promises no sensitive data is ever stored on their servers.
Top 7 VPNs for Digital Nomads
Travelers, expats, and digital nomads, your search for a VPN stops here. We've tested out every provider on the market, and have determined the best VPNs for digital nomads to be: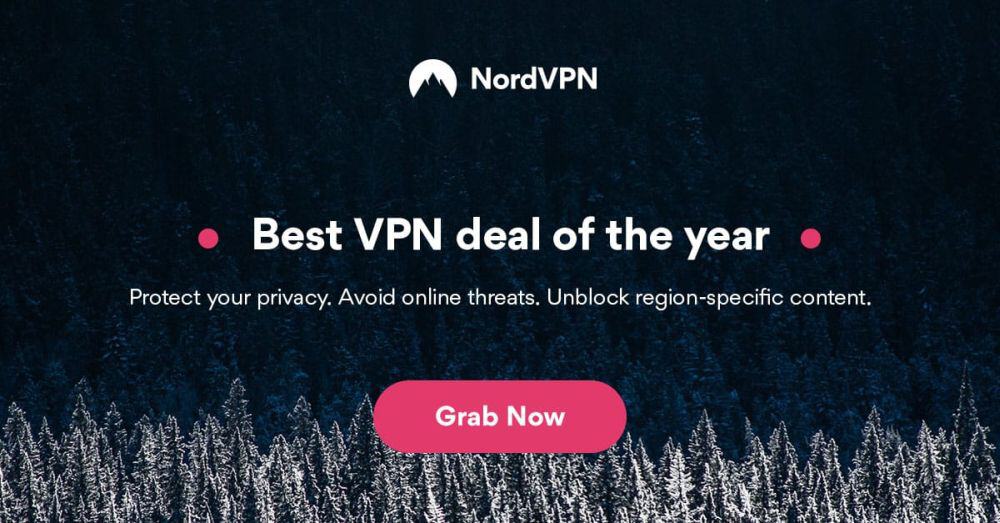 One of the biggest features VPNs like to tout is the number of servers in their network. The average sits at around a few hundred in a couple dozen countries, which is fine for most users, even digital nomads. NordVPN goes out of their way to provide the largest network possible, however. The list is constantly growing, but at the time of writing NordVPN operates over 5,700 servers in 60 countries, covering every continent except for Antarctica. This directly translates to more options for your daily needs, and it means you'll never suffer from slow connections or unbearable lag.
For privacy, NordVPN provides exactly the features you need to stay safe: 256-bit AES encryption, DNS leak protection, and an automatic kill switch. The company's zero-logging policy is second to none, as well, covering time stamps, DNS requests, IP addresses, and traffic. Better still, thanks to NordVPN's huge server network, you can gain access to exclusive security features like onion over VPN routing or double encryption, just in case you need to be invincible.
Read our full NordVPN review.

Surfshark is perhaps the best choice for shoestring travelers who prioritize budget above all. Its thoroughly modernized VPN offering is available for a pittance–and you can actually make it cheaper by sharing with friends, family, or travel mates thanks to Surfshark's consumer-friendly policy of allowing unlimited simultaneous connections.
What's more, Surfshark allows cryptocurrency payments, so you can divorce your identity from your VPN usage entirely. Of course, there's going to be very little trace of your activity indeed, as Surfshark maintains a strict no-logging policy on top of its RAM-only server network.
And speaking of networks, there are over 3200 servers in 65 countries to connect to, via OpenVPN, IKEv2/IPSec, and WireGuard tunnels protected by NSA-grade 256-AES-GCM encryption. Surfshark also offers anti-malware, pop-up blocking, and anti-ad tracking, IP/DNS/WebRTC leak protection and a kill switch to keep your defense up at all times.
Best of all for nomads, you can configure Wi-Fi networks individually–shoot for good performance on your home network while maxing out on security on public Wi-Fi. It's all possible with Surfshark.
Read our full Surfshark review.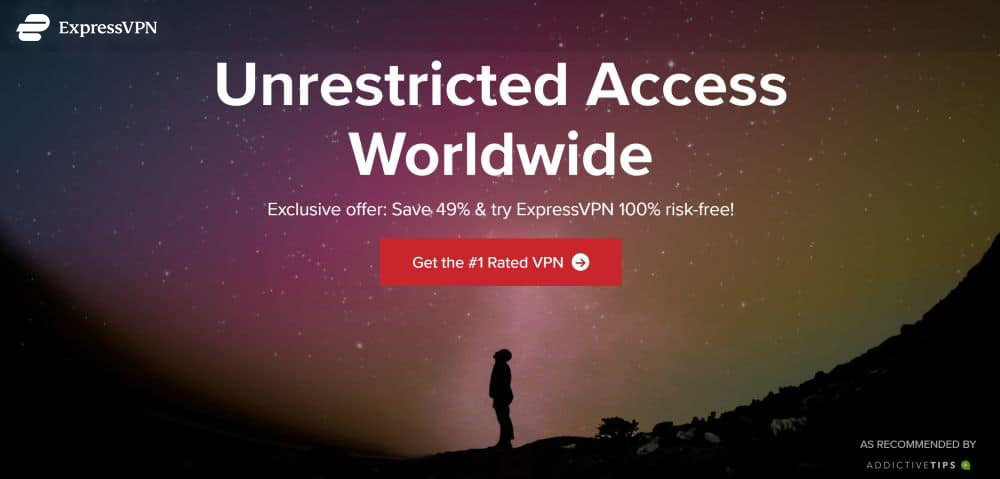 ExpressVPN knows that digital nomads are crazy about speed. Private internet access isn't enough, you have to be able to upload and download at respectable rates, otherwise each day of work will be an exercise in frustration. To cater to these needs, ExpressVPN deploys a network of 3,000+ servers spread across 94 different countries, one of the widest distribution nets in the industry. You'll always have access to a fast server, no matter where you happen to be traveling. ExpressVPN makes it easy to connect, too, with built-in speed tests and a fast one-click network button on all versions of its software.
On the privacy side of things, ExpressVPN secures your data with 256-bit AES encryption backed by a thorough zero-logging policy on traffic, DNS requests, and IP addresses. For extra security, ExpressVPN's software also comes with an automatic kill switch and DNS leak protection features, both of which make sure your identity is never compromised, even in the case of an accidental disconnect.
Read our full ExpressVPN review.
PureVPN wants to be more than just a VPN. This company's goal is to provide all-in-one data protection from a single unified package available on as many devices as possible, including laptops, tablets, and smartphones Ever wanted anti-virus protection, malware shields, app blocking, or DNS level website filtering? PureVPN delivers all of those features in its security suite, each one fully customizable through an intuitive software interface. It's perfect for digital nomads who are worried about more than just data security.
On the VPN side of things, Pure provides a sturdy zero-logging policy on all traffic, an automatic kill switch to prevent accidental identity reveals, 256-bit AES encryption on all data, and DNS leak protection. You also get access to a large network of over 2,000 servers in 140+ different countries.
Read our full PureVPN review.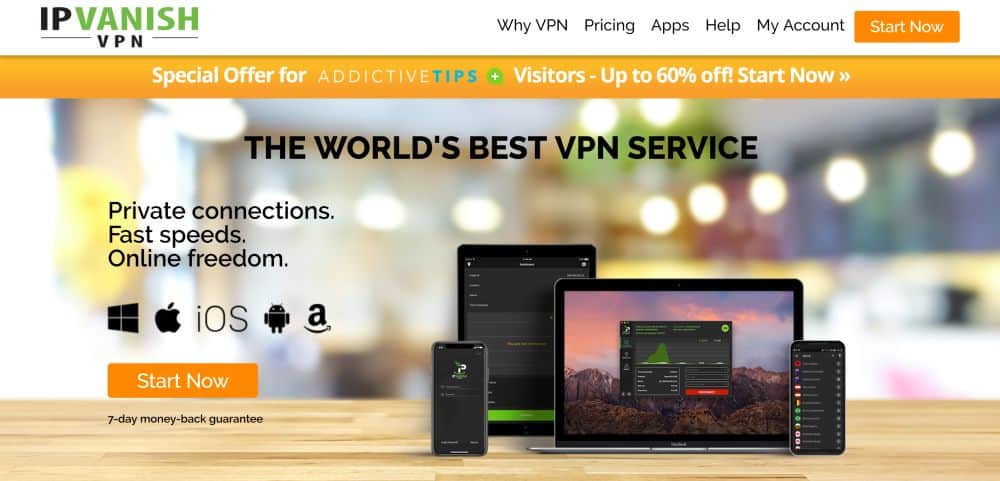 Looking for the perfect balance of speed and privacy? IPVanish hits things right on the mark with an amazing service that stays lightning fast without sacrificing security. As soon as you log into the IPVanish network you're kept safe by 256-bit AES encryption, DNS leak protection, and an automatic kill switch. You also get the benefit of a zero-logging policy on traffic to keep your activity safe. Whether you're living the digital nomad life or just surfing the 'net at home, IPVanish can keep you hidden.
The IPVanish network is another high point of the service. The company currently operates over 1,300 servers in 75+ different locations globally, casting a wide net to ensure you can find a fast connection with an IP address in the region of your choosing no matter where you travel.
Read our full IPVanish review.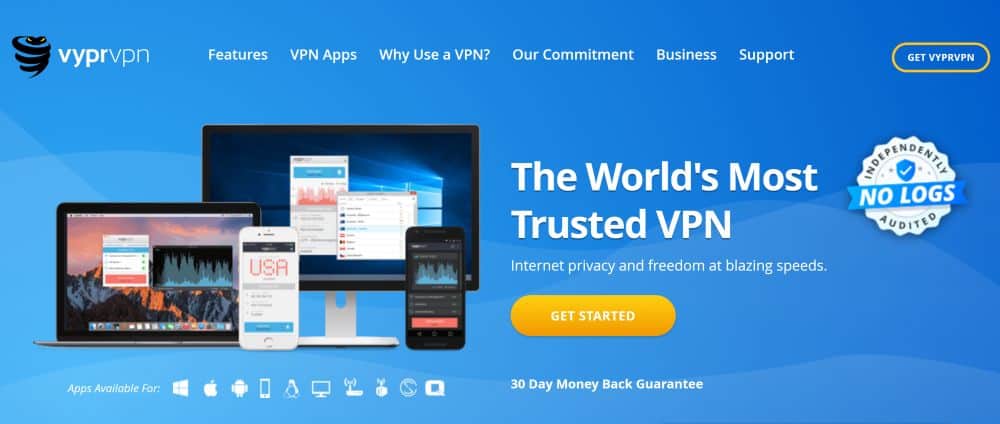 VyprVPN has some of the best privacy features of any VPN. The company starts things off by owning its entire network from head to toe, all 700 servers in 70 different countries. This prevents third parties from having access to your data or even hardware that may be processing your data. Sturdy 256-bit AES encryption, DNS leak protection, an automatic kill switch, and a zero-logging policy that covers traffic and DNS requests fill out VyprVPN's main security package, providing an incredibly strong foundation for online anonymity.
VyprVPN goes well beyond the industry standards with one of its best features: Chameleon. This exclusive protocol wraps every packet of data in an extra layer of encryption, obfuscating the metadata to defeat deep packet inspections. This means VyprVPN can break through censorship walls in places like China or Russia and keep your activity hidden even if you're under active surveillance. There's nothing like the cloak of Chameleon to keep your digital nomad world safe and secure.
Read our full VyprVPN review.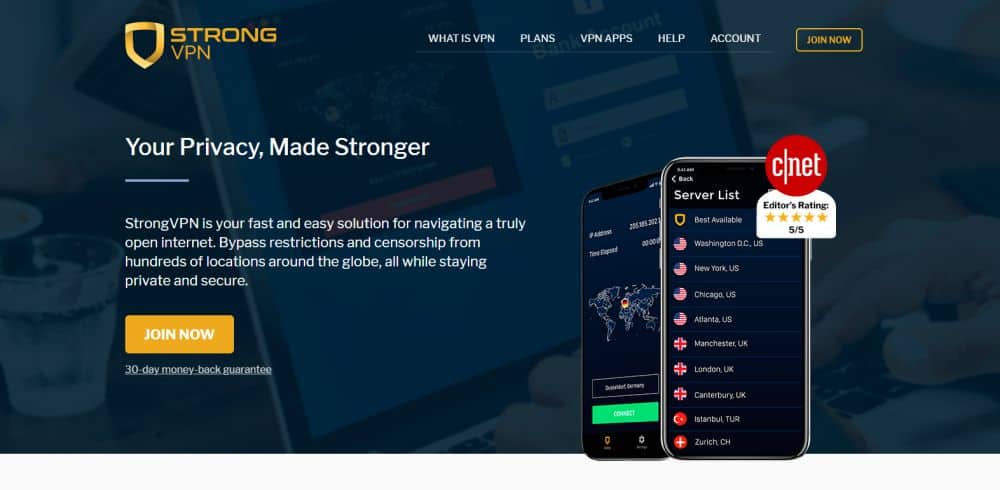 StrongVPN knows a thing or two about tough encryption. The service is built around incredible privacy practices designed to keep you safe around the world, even in privacy-hostile countries like China or Russia. To that end, StrongVPN deploys a small but reliable network of 650+ nodes in more than 20 different countries, each one backed by a zero traffic logging policy and 24/7 technical support. Encryption sits at an incredible 256-bit AES, enough to prevent governments, ISPs, even persistent hackers from taking a peek at your data.
Benefits of Using a VPN as a Digital Nomad
When your life and locations are always changing, the digital world becomes the only steady thing around. Unfortunately, it's also the most vulnerable part of your workflow. Nefarious hackers, spying ISPs, and even unscrupulous governments are keen to take advantage of your open information. VPNs stop these efforts in their tracks, and they bring a host of other useful features to the table, as well.
Stay Safe on Public Wi-Fi
Digital nomads thrive on public internet hotspots. Hotels, cafes, restaurants, airports… You name a place, and your average digital nomad has used their Wi-Fi. On the surface this seems like an extraordinarily convenient feature. Internet access everywhere you go, all for free? Sure.
Unfortunately, public hotspots are hotbeds for nosy ISPs and even hackers. Man in the middle attacks are especially common on these open networks. They work by setting up fake Wi-Fi addresses you can connect to, or by spoofing a common website and tricking you into entering your personal details. The worst part is you never know if you've stumbled upon one of these attacks until it's too late.
RELATED READING: 8 Things to Do if You're a Victim of Identity Theft
When you connect to a public hotspot, VPN software stands between you and the network like a sentry. Every piece of information that leaves your device gets encrypted first, then sent through Wi-Fi. Even if you stumble into a man in the middle attack or are the unwitting target of a data logging ISP, the information they collect will be scrambled and completely useless. It would take a supercomputer millions of years to break even the most basic VPN encryption. That translates to some extremely safe coffee shop surfing.
Protect Against Censorship
The mobile life of a digital nomad means you'll pass through country after country, sometimes several per year. Each region has its own laws concerning internet access, some going so far as to restrict what you can and can't discuss online. Places like this don't exactly advertise their unusually tense free speech regulations, which means you could stumble into a heap of trouble without even realizing it.
The best way to avoid situations like this is to secure your information before it even touches an external connection. VPNs do just that, all without any extra work on your behalf. You can run a VPN in the background to scramble all data leaving your device. Then, even if a government is actively trying to see what you're working on, they won't be able to, all thanks to encryption.
Defeat Region Lock Restrictions
Related to the point above, region locked content is websites, videos, movies, or anything that is made available only to certain parts of the world, regardless of your nationality. Used to watching your UK TV shows? You won't be able to stream them from Japan or Taiwan, as the BBC servers are only able to see your non-UK IP address and will block access immediately. This is frustrating for anyone, but if you're a digital nomad hopping from country to country, it's downright infuriating.
Once again, VPNs can save the day. VPN traffic is routed through the services own network of servers before it reaches the internet at large. This means your data requests are assigned a new IP before any external sites detect it. By choosing a server location in a different country, you can effectively fool the internet into thinking you're someplace else. In the example above, all you have to do is pick a UK IP address, reload the BBC site, and like magic you're ready to watch Broadchurch.
Unblock Websites
Even if you're not trying to access streaming content, some websites can block or alter their content based on your location. Worse still, some sites are simply unavailable in a number of countries, all thanks to ISP-level firewalls. Since VPNs mask all outgoing traffic, though, you'll be able to break right through these walls and visit any website you please, all without divulging your identity.
Better VoIP Access
VoIP services like Skype are perfect for keeping in touch with friends and family abroad. And since you're always on the go, that means everyone you know is technically abroad. Depending on your location you may find VoIP access severely restricted. Some countries outright block foreign services, rendering your Skype conversations impossible. You can avoid paying massive fees to use the locally owned VoIP software by signing up with a VPN and switching IP locations.
Another issue with VoIP access for digital nomads is privacy. Video calls over the internet are prime targets for government surveillance efforts, especially in countries that restrict VoIP access (why do you think they block Skype in the first place?) You might think it's just you and grandma having a chat about the weather, but in reality everything is being recorded and transcribed for later analysis. VPNs can help avoid this by encrypting data passing through the VoIP service.
Reliable Online Banking Access
Managing your funds while traveling full time can be a huge hassle. Some banks forbid account access from other countries, while others closely monitor and restrict transactions over the border. This is especially common for digital nomads, since you'll be adding and spending funds from new cities on a regular basis. Banks see this as suspicious activity, and you might have a hard time convincing them otherwise.
VPNs can fix this issue with some banks by allowing you to change your virtual location to a new area. If your bank is in the U.S., for example, but you're currently hanging out in Chiang Mai, all you need to do is open your VPN software, pick a server stateside, then launch your bank's online account app. The site will think you're in the U.S., so you'll be able to check balances and make transfers with ease.
What Can VPNs Secure?
If you're a digital nomad, chances are you've got more than one portable device on your person. You also make heavy use of online services to finish your daily tasks. Both of these put your data at a greater risk than your average web user. The good news is VPNs have got you covered on a variety of fronts.
Browser data – Most of us do everything in our browser, from streaming videos to working on spreadsheets. VPNs keep browser traffic anonymous and secure, no matter which sites you visit. Some even have dedicated browser extensions to make things even easier.
Torrents – Torrent downloads are perfect for managing large files. They're also inherently less anonymous than a standard download. Good thing VPNs protect and anonymize torrent transfers, too.
Cloud storage – Most digital nomads would be lost without Google Drive, Dropbox, SpiderOak, or any other cloud storage service. This data isn't guaranteed to be secured, however, which is why running a VPN is a good idea if you use non-local cloud services to sync your workflow.
Mobile devices – A lot of people ignore security on their smartphone, but in reality it's one of the most vulnerable pieces of hardware we can use. VPN apps for iOS and Android help minimize these risks.
Laptops and tablets – No matter your portable device, most VPNs have software that will run quietly in the background to keep you safe.
File transfers – Uploading and downloading content, even through FTP, is also covered by a VPN's encryption.
Conclusion
Being a digital nomad is an exciting way to live. You regularly see new sights, you meet new people everywhere you go, and you even try new foods on a daily basis. The lifestyle relies on a good connection to the internet to make things work, however, which puts a tremendous burden on your devices' security features. You can take all the precautions you want, but at the end of the day a VPN is by far the best way to keep your data safe.