We are reader supported and may earn a commission when you buy through links on our site.
Learn more
Best WhatsApp VPN: Unblock WhatsApp from Anywhere
Many countries block VoIP services, making it necessary to seek out VPNs to unblock WhatsApp. But where to start? Today, we'll show you the best VPN providers proven to unblock WhatsApp anywhere in the world. You'll also learn HOW to use your new provider to get past geoblocks quickly and easily.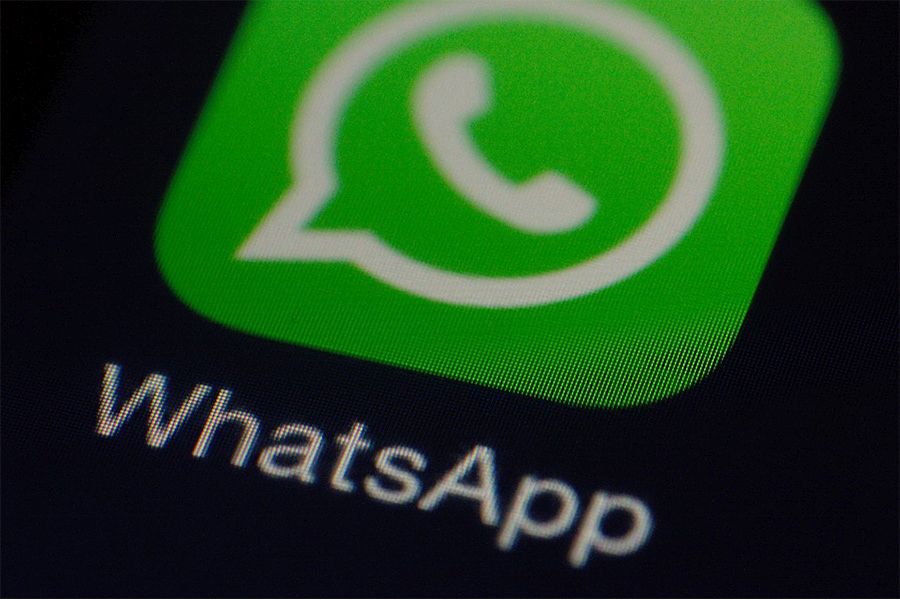 The WhatsApp Messenger service is a free cross-platform mobile app used worldwide to share text messages, videos, audio files, voice notes, and much more. The key to WhatsApp's success is the ability to use phone numbers as contacts while relying on an internet connection to exchange data. This combines the convenience of a cell phone with the flexibility of a web app, and it's one of the many reasons over a billion people use the service every day.
Using the internet for data has some drawbacks, however. WhatsApp falls under the umbrella of VoIP services in most countries, which means governments can easily block or restrict its capabilities. In areas like China, Turkey, the UAE, and throughout the Middle East, it's extremely difficult and often illegal to use WhatsApp. A growing list of countries have also enacted temporary blocks on the service, so you never know when you'll be cut off from your friends.
Take back your right to make WhatsApp calls without government censorship, use these VPNs:
NordVPN – Best for WhatsApp – NordVPN never compromises on guaranteeing your right to privacy online. Call whoever you like in complete anonymity using WhatsApp or other blocked VoIP apps with the world's best VPN.
Surfshark – Best for WhatsApp – NordVPN never compromises on guaranteeing your right to privacy online. Call whoever you like in complete anonymity using WhatsApp or other blocked VoIP apps with the world's best VPN.
ExpressVPN – Beat unfair geoblocks without sacrificing performance with the industry's fastest network.
PureVPN – Not just a VPN, but an entire cybersecurity suite with web filtering, adblocking, and more.
IPVanish – One of the most widely used VPNs by gamers and torrenters, also great for VoIP calls.
VyprVPN – 100% provider-owned network, unique Chameleon protocol, and a great no-logging policy.
There are ways to keep reliable access to WhatsApp, the most powerful of which are virtual private networks. VPNs encrypt your data and send it through a private tunnel to the internet, allowing you to bypass censorship filters and unblock WhatsApp as well as other VoIP services. You'll need a top-quality VPN to ensure your privacy and anonymity remain intact. Read on for a guide to the best VPNs for WhatsApp.
30-days money back guarantee
Evaluating the Best VPNs for WhatsApp
When researching VPNs to unblock WhatsApp, two things are of the utmost importance: privacy and speed. Privacy ensures your conversations remain encrypted and can only be read by you and the intended recipient, and speed is useful for voice and video transfers.
Finding the right VPN can be a difficult task, so we've made the process easier by providing a selection of recommendations below. We used the following criteria to make our choices, ensuring you'll have the fastest, most reliable, and the most private VPN to use with WhatsApp.
Logging policy – The core of online data privacy is a VPN's logging policy. Storing traffic and user histories can lead to eventual government seizure or third-party acquisition. If the VPN doesn't keep logs, however, no information can be shared.
Device compatibility – WhatsApp is available on most mobile platforms. In order to take advantage of the unblocking and privacy features, you'll need to run your VPN on the same device. Most quality VPN services have custom apps for all modern smartphones.
Speed – VoIP calls and video messages can take forever to upload and download. VPNs have a reputation for being a little slower than a standard internet connection, which can lead to annoying communication delays. We've chosen VPNs that put a high priority on speed so you don't have to wait for each message to load.
Bandwidth limitations – Some VPNs place a strict limit on how much data you can use in a day, week, or month. Our recommended VPNs offer unlimited bandwidth so you never encounter frustrating caps.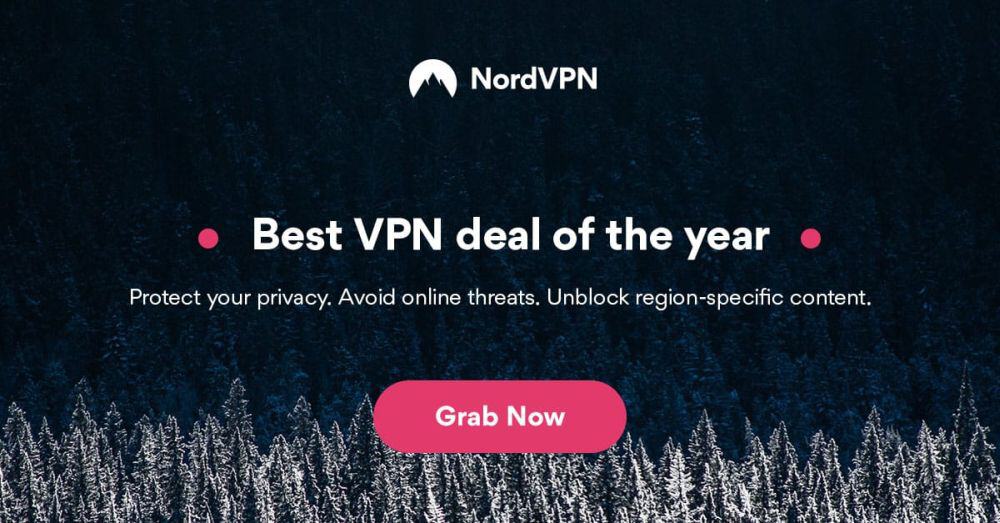 When you need location variability, NordVPN is the service for you. NordVPN operates well over 5,700 servers in 60+ different countries, one of the largest networks in the VPN industry. This gives you access to a huge variety of IP addresses and virtual locations, allowing you to watch movies from different regions, unblock Netflix and WhatsApp, and pass through most censorship filters instantaneously, all with unlimited bandwidth and no restrictions on P2P or torrent traffic.
NordVPN's security features are also worth mentioning. The company has one of the most comprehensive zero-logging policies around, covering everything from traffic to time stamps, bandwidth logs, and even IP addresses. Added to this is 256-bit AES encryption with optional 2048-bit encryption on select servers, DNS leak protection, and an automatic kill switch on several versions of their custom apps. Using NordVPN means you always have a fast and secure connection to the internet.
Read our full NordVPN review.
Pros
Unblocks American Netflix
GooglePlay users rating: 4.3/5.0
Strong encryption is used on all connections
Extra-secure Double VPN for data encryption
Great support (24/7 chat).
Cons
Some servers can be slow and unreliable
Sometimes slow in procesing refunds (but always do).

Frankly, it's amazing that we're recommending a VPN that only launched in 2019, but Surfshark's feature set and consumer-friendly practices can't be ignored. What's more, it is one of the most cost-effective ways to unblock WhatsApp calling anywhere in the world.
Surfshark makes use of the most advanced privacy provisions: 256-AES-GCM encryption, OpenVPN, IKEv2/IPSec, WireGuard protocols (plus Shadowsocks on Android and Windows), a kill switch, IP/DNS/WebRTC leak protection, and even adblocking. And with a rapidly growing but already huge network of 3200+ servers in 65 countries, you'll be easily able to spoof a virtual IP in a country with good internet freedoms.
Additionally, there are static IP and multi-hop connections available, and any one of their servers can be obfuscated or make use of their powerful NoBorders anti-censorship method. And with BVI jurisdiction, Surfshark is able to offer one of the best no-logging policies in the industry.
Pros
Unblock 15 international Netflix libraries, including the US and Japan
Diskless server network ensures you leave no trace behind
Wide app availability on desktop, mobile, consoles, smart TVs and more
Absolutely no logging of connection data, IP addresses, bandwidth used, or traffic
Helpful 24/7 live chat with an actual human being.
Cons
Connection speeds won't impress users of other high-end VPNs
Relatively young VPN still has to prove itself trustworthy over the long haul.
Read our full Surfshark review.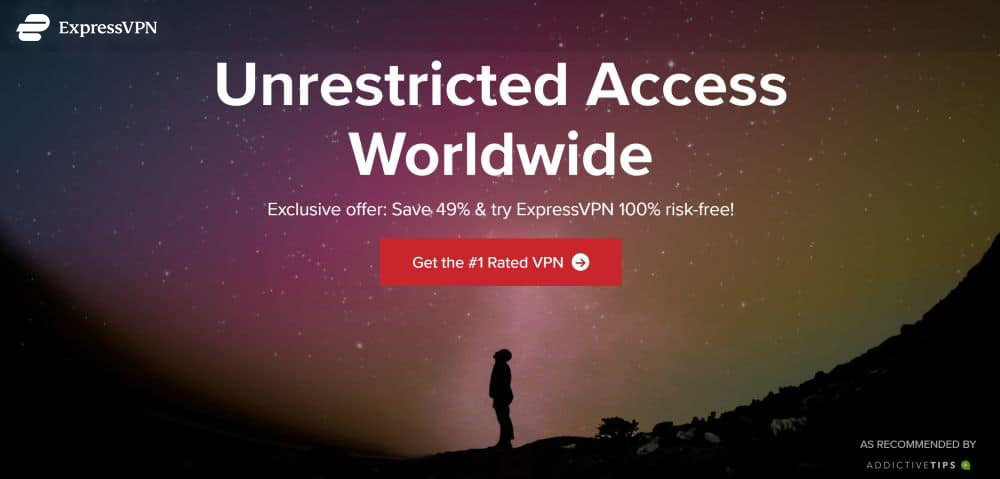 ExpressVPN does a lot of things extraordinarily well, but by far its biggest feature is speed. The company delivers incredibly fast downloads through a network of 3,000+ servers in 94 different countries. Built-in speed-test features let you try out each server and measure its performance, just in case it's feeling a bit sluggish. Whether you're in North America connecting to a European server or sitting in southeast Asia with an IP address in Brazil, ExpressVPN makes sure you always have a low-latency, high-speed connection with unlimited bandwidth and absolutely no restrictions.
For privacy, ExpressVPN employs standard 256-bit AES encryption and locks your information down with both DNS leak protection and an automatic kill switch. There's also a zero-logging policy that covers traffic, DNS requests, and IP addresses for an even higher level of privacy. ExpressVPN is one of the few services that manages to deliver an incredible amount of privacy along with lightning-fast speeds. It's easy to use, it's convenient, and it makes the internet free, fast, and open once again.
Read our full ExpressVPN review.
Pros
SPECIAL OFFER: 3 months free (49% off - link below)
Super fast, reliable connection
Secure encryption & VPN protocols
Strict no-logs policy
24/7 Live Chat.
Cons
Slightly more expensive than some other options.
PureVPN does more than encrypt your traffic and give you the ability to change virtual locations. With the service's custom software installed, you'll have access to a wide variety of security services, including a built-in ad-blocker, web filtering, malware protection, anti-phishing features, and an anti-virus scanner. PureVPN will help unblock WhatsApp and provide added privacy for your messages and video calls, but it'll also secure your browsing and streaming activities, too.
The VPN side of PureVPN doesn't skip any features. 256-bit AES encryption locks down all of your information before it leaves your device, and a zero-logging policy on traffic, DNS leak protection, and an automatic kill switch ensure no personal details will ever fall into the wrong hands. All of this is available through PureVPN's self-owned network of over 2,000 servers in 141 countries, all of which offer fast and secure access to the internet no matter where you live.
Read our full PureVPN review.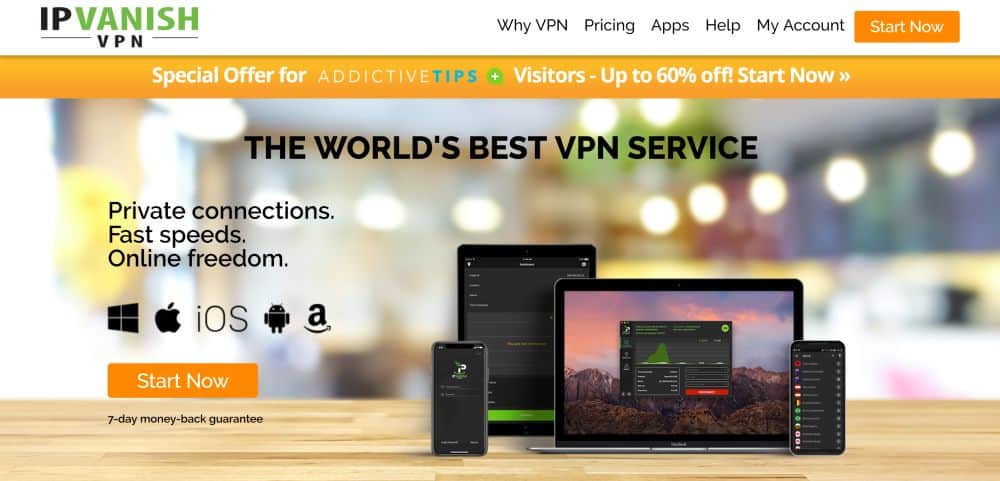 IPVanish is an incredible VPN built around the core concept of privacy. The network is over 1,300 servers strong, representing 75+ different countries with a collected 40,000 shared IP addresses. This wide range of variability delivers great base anonymity for all of your online activities, including WhatsApp conversations, VoIP chats, torrent downloads, or even movie streams through Kodi.
Everything you do while connected through IPVanish is locked down by 256-bit AES encryption, DNS leak protection, and an automatic kill switch. Activity never sticks around on the network's servers, either, as IPVanish has a zero-logging policy that covers every byte of traffic. This ensures you always have ample amounts of privacy, all without having to give up incredible download speeds.
Read our full IPVanish review.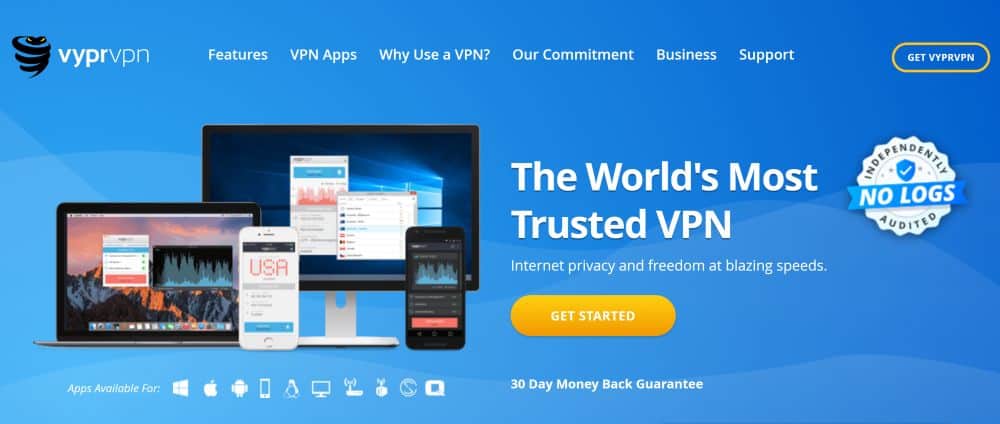 VyprVPN's privacy features are some of the most unique in the business. One of the more comforting is the fact that they own and operate their entire network of servers, over 700 in 70 different countries. VyprVPN controls all hardware maintenance and software upgrades, meaning third parties never have access to their network. When combined with VyprVPN's 256-bit AES encryption on all data, zero-logging policy that covers traffic, and standard kill switch and DNS leak protection features, you've got an incredible foundation for a private and secure online experience.
Bypassing censorship blocks is another of VyprVPN specialties, all thanks to the Chameleon protocol. Chameleon defeats deep packet inspection (DPI) by wrapping packet metadata in an extra layer of encryption, hiding details such as destination and point of origin. ISPs and governments often use DPI to throttle speeds or block user activity, especially when it comes to VoIP programs and WhatsApp. With Chameleon in place you'll be able to chat, surf, and stream without restriction, no matter where you go.
Read our full VyprVPN review.
How to Unblock WhatsApp with a VPN
VPNs do an excellent job breaking through country-wide blocks on VoIP services such as WhatsApp. Most of the time all you'll need to do is run the VPN, sign in to WhatsApp, and start chatting. Some blocking methods are a little tougher to defeat, however. In these cases you'll need to roll out more serious measures to restore access to WhatsApp. Below are a few of the more popular methods. If you need a more detailed guide, check out our tips on how to bypass VPN blocks.
Port switching – A common method of blocking WhatsApp and other VoIP services is to block ports used for communication. By switching which port your traffic travels through, you can often slip through the censorship filter without any problems. If your VPN offers this feature, try TCP port 80 or 443
Use different encryption protocols – Most VPNs use the OpenVPN protocol to encrypt and manage traffic. It offers the best balance of speed and privacy, but it's also easy to detect and block. Most VPNs let you switch protocols to make it more difficult to monitor your traffic. Try either L2TP/IPSec or PPTP modes in your VPN's software. Both are a little slower than the standard OpenVPN, but they often defeat WhatsApp blocks in an instant
SSH tunnels – Creating and using an SSH tunnel requires a little more technical knowledge than most methods, but it's an extremely effective way to obfuscate your traffic and unblock WhatsApp. Download SSH Tunnel for iOS (limited use free version) and SSH Tunnel for Android (root required for advanced features) to get started
SSL tunnels – Similar to the SSH tunnel method above, SSL tunnels are a little more difficult to detect and offer a much higher degree of privacy in exchange for a drop in speed. The best way to use an SSL tunnel is to download stunnel on your mobile device, though you'll need to set up your own stunnel server or rent one from a third-party provider
Is WhatsApp's Default Encryption Secure?
WhatsApp announced a few years ago that all messages sent through the service would be encrypted end-to-end. This was great news for the user base of over one billion, but it didn't take long to find flaws in the plan. A potential backdoor was discovered in 2016 that allowed hackers to gain access to encrypted messages. WhatsApp has since patched the exploit, but you never know when new vulnerabilities will be discovered.
While the default security features in WhatsApp are useful, data encryption provided by a VPN is even better. Not only are you adding an extra layer of protection to every message you send, but you also ensure that no one at WhatsApp can decipher your messages. Hackers attacking WhatsApp servers won't be able to access your information, either, rendering many vulnerabilities harmless. As long as your VPN is active, your WhatsApp messages are safe.
Is it Legal to use a VPN with WhatsApp?
In any area where both VPNs and WhatsApp are allowed, yes, it's legal to use both services together for added privacy and anonymity. If you can use a VPN but WhatsApp is specifically blocked, you may encounter some legal issues. VPNs in many countries have been placed under restrictions by the local government. In most cases it's ok to have a VPN just as long as you aren't using it to access illegal content. If VoIP services or WhatsApp aren't allowed, using a VPN to unblock them may be against the law.
The regulations surrounding VPNs and VoIP access are constantly changing. Some countries even have occasional temporary blocks on certain services, which can get confusing. If you're traveling, always make sure you aren't inadvertently breaking the local laws by using a VPN to unblock WhatsApp.
Alternatives to WhatsApp
Even with an amazing VPN and all the tips and tricks in the world, it still might not be possible to unblock WhatsApp in your region. There are some surprisingly popular and functional alternatives to the messaging service, however, many of which come with stronger security and better availability built-in. Check out a few of the best alternatives to WhatsApp below, and remember to fire up your VPN before chatting!
Telegram – A sleek new app that aims to build a cross-platform communications system anyone can use for just about any purpose. Use it to text chat, voice chat, send files, and more, all with strong encryption and open, distributed network architecture. Telegram works on all smartphones and includes a web version as well as desktop PC downloadsRELATED READING: Russia Bans Telegram, VPN Use Soars
Viber – A traditional VoIP program at heart, Viber is used on a variety of mobile and desktop platforms worldwide to connect with friends and family through voice, text, and video chat. It even works with both Wi-Fi and 3G connections
Tox – Send messages to friends, start audio and video calls, share files, and so much more. Tox was built as a response to privacy-conscious users looking for a more secure option to WhatsApp and other VoIP platforms. It works with smartphones and desktop PCs alike, and it's extremely easy to use