We are reader supported and may earn a commission when you buy through links on our site.
Learn more
Best VPN for CNBC: How to Watch From Outside US
If you're looking to stream CNBC from abroad, you need a VPN. The service you choose must combine encryption, speed, and a server network with plenty of US servers. Once you do, it's surprisingly simple to spoof an American IP to unblock CNBC news–no matter where in the world you are.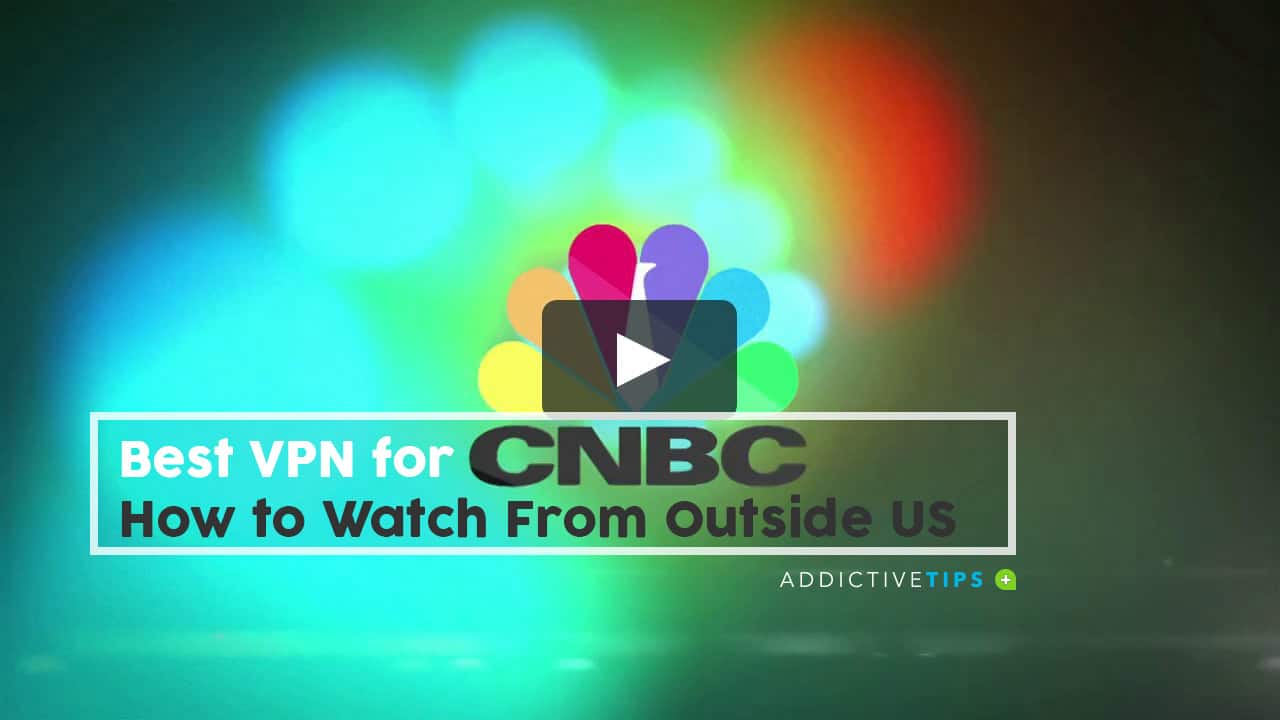 The CNBC business channel is one of the most turned-to resources for news in the United States. It reaches over 93.6 million households in America, providing access to nearly 80% of homes with basic television service. The broadcast network is also the 19th most valuable channel in the United States and is valued at over $4 billion.
Protecting your privacy online is extremely important these days, even if you're just using the web to stream CNBC. The best way to lock down your information and ensure data leaks are a thing of the past is to run a solid and reliable virtual private network. VPNs encrypt data leaving your device and hide your real identity, allowing you to surf and stream from anywhere in the world in complete privacy.
CNBC is a vital source for business news that is blocked outside the US. But you can spoof an American IP with these anonymizing VPNs to regain access:
NordVPN – Best for CNBC – NordVPN specializes in unblocking US websites like CNBC, offering more US servers than many providers offer in total. Connect via NordLynx–a modern encryption protocol optimized for speed and security.
Surfshark – Modern tunneling, myriad leak protections, plus built-in smart DNS make this a smart way to securely unblock foreign news content.
ExpressVPN – One of the fastest VPNs on the market just got faster, with the rollout of the ultra-modern Lightway encryption for buffer-free streaming.
CyberGhost – Super user-friendly, with plain-language settings like "unblock streaming" to make the process of spoofing that much easier.
PrivateVPN – The smallest network on our list, but 100% owned by the provider for greater transparency in how your data is handled.
PureVPN – The kitchen-sink VPN with a ludicrous number of servers, a wide range of leak protections, anti-virus, and much more.
Combining a VPN with CNBC is a great way to keep information safe while streaming news from any country in the world. All you need is an American IP address and our guide below to help you get things set up.
30-days money back guarantee
How to Use a VPN to Watch CNBC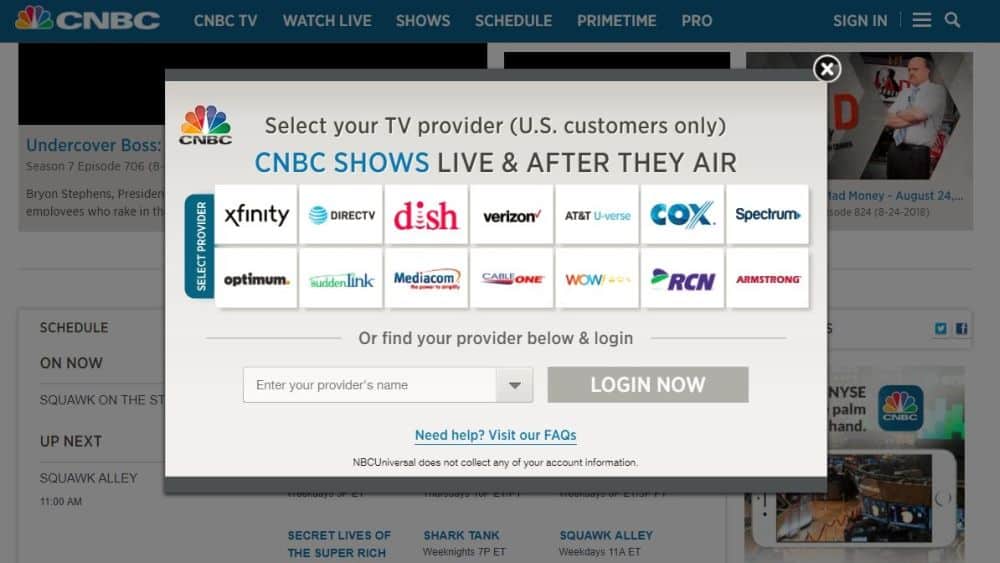 CNBC is a huge network with hundreds of features, special programs, and news reports. Much of the service's content is available for free on the web, allowing you to catch up on financial news and the business world from the comfort of your favorite device. Accessing the channel's video programs can be a little trickier, however, which is why we've provided a full guide on how to watch CNBC with a VPN below.
To get started, your first step will be to download and install VPN software. Sign into your VPN's website and download the app for your device. Install it, launch the software, then enter your login credentials to activate the connection.
Most VPNs connect to the fastest available server as soon as you open the app. To watch CNBC, however, you'll need to make sure it connects to a server in the U.S. To do this, simply open the server browser and find a node in America. You may need to browse a map or search a server list to find the right one. Click to connect, then wait a few moments for it to resolve. Now minimize the VPN app and let it run in the background.
Next you'll want to go ahead and verify your IP address to make sure there are no leaks. With your VPN active and connected to a U.S. server, open a web browser and go to ipleak.net. Wait for the page to load and it will run an IP address lookup. Look at the box beneath where it says "Your IP address". If it shows the U.S. then there are no issues and your VPN is ready to stream.
Now you're all set to connect and start watching CNBC. The site requires you to log in using a cable provider's account information, but apart from that it doesn't impose any restrictions on VPN use. Provided you have a private connection and the right IP address, you can watch it from anywhere in the world without limitation.
Start by visiting the CNBC TV website. Choose a show and an episode you want to watch by looking through the menu at the bottom, or by browsing through the icons on the main screen. Click to initiate the video. CNBC will pop up a window asking you to log in using your cable provider's details.
After you've signed in, CNBC will redirect you back to the video's main page. Now you can click the play button and start the stream without delay. Make sure your VPN is always connected to a U.S. server and running in the background, otherwise you'll miss out on some of the privacy and anonymity features you need to stay secure.
Don't have a cable provider? You don't have to give up watching CNBC. Read a bit further down the page to see some solutions proven to work. But before that, you need to pick the right VPN.
6 Best VPNs for CNBC
How do you define, research, and ultimately choose the best VPN to watch CNBC? It can be vexing to sort through encryption protocols and privacy policies. We've simplified the process for you by providing a list of important features below. In the next section, we outline the best VPNs to use with CNBC, so you can spend less time researching and more time streaming.
Important VPN Criteria
Choosing a good VPN means knowing what's important. For example, how much does encryption really affect your privacy, and does a large server network really make a difference? Finding out which VPN lives up to the marketing hype is also a difficult task. You can never be too thorough when it comes to protecting your online privacy.
We've simplified the research process by providing the most important selection criteria below. We used the same outline to choose our VPN recommendations in the next section.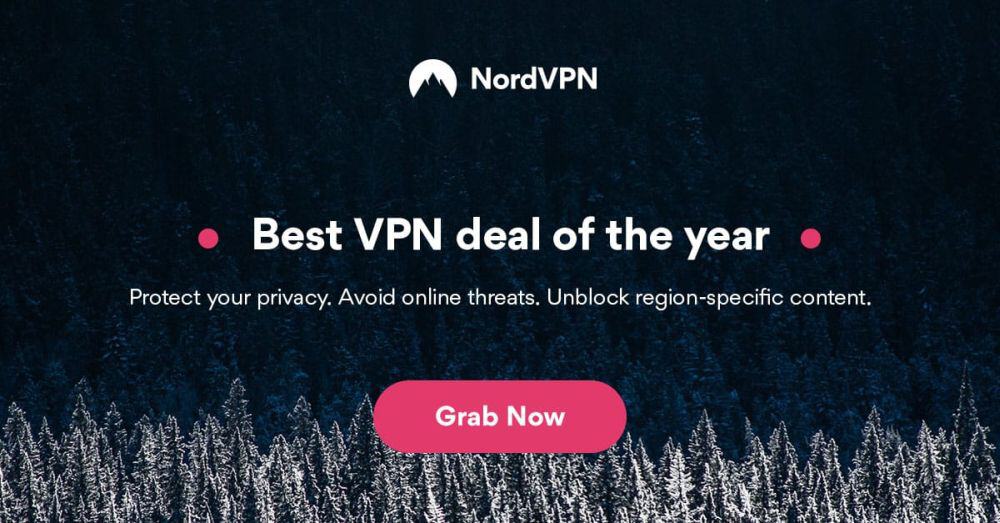 NordVPN has an incredible reputation in the online privacy community. Its top feature is an absolutely massive server network. The list is growing on a daily basis, but at the time of writing it sits at over 5,500 servers in 59 countries, including every continent except Antarctica. This amazing variety lets NordVPN deliver fast speeds and tons of IP addresses to all of its users. There's also a few unique services only NordVPN offers, as well. Want protection against DDoS attacks? Double encryption? Onion over VPN? Connect to the right server and you're set.
NordVPN also includes everything you need to stay safe: 256-bit AES encryption, DNS leak protection, an automatic kill switch, and an amazing zero-logging policy that covers time stamps, DNS requests, IP addresses, and traffic. It's also extremely easy to use, with smart, intuitive software designed for all modern devices that handles all of the heavy lifting. When you need solid, fast protection, just fire up NordVPN and you're set.
Read our full NordVPN review.
Pros
Servers optimized for unblocking Netflix
GooglePlay users rating: 4.3/5.0
Strong encryption is used on all connections
Based in Panama
Live Chat Support.
Cons
Apps can be a bit cumbersome to use.

Surfshark burst onto the VPN scene in 2019 with one of the most consumer-friendly packages we've seen. They offer only top-shelf privacy provisions, such as tunneling via OpenVPN, IKEv2/IPSec, and WireGuard with 256-AES-GCM encryption; a kill switch; no logging; plus IP, DNS, and even WebRTC leak protection. Connect to over 3200 servers in 65 countries, with options for static IPs and multi-hop encryption available in the USA and many others.
But Surfshark has been turning heads for how it "just works" to unblock streaming content like CNBC, Hulu, and even Netflix. Each server features built-in smart DNS functionality as well as the ability to automatically enable obfuscation–confounding proxy blockers commonly employed by major websites.
Did we mention Surfshark is cheap? And, you can get even more value from your subscription by protecting all your devices, plus those of friends and family with a single subscription thanks to unlimited simultaneous connections.
Pros
Bypass government censorship with NoBorders mode
Torrent safely on any server, no guesswork required
Clean, dead-simple app interface makes constant security a no-brainer
Absolutely no logging of connection data, IP addresses, bandwidth used, or traffic
Support staff manned by actual human beings 24/7.
Cons
Speeds occasionally suffer a noticeable drop
Power users may wish for more settings to fiddle with.
Read our full Surfshark review.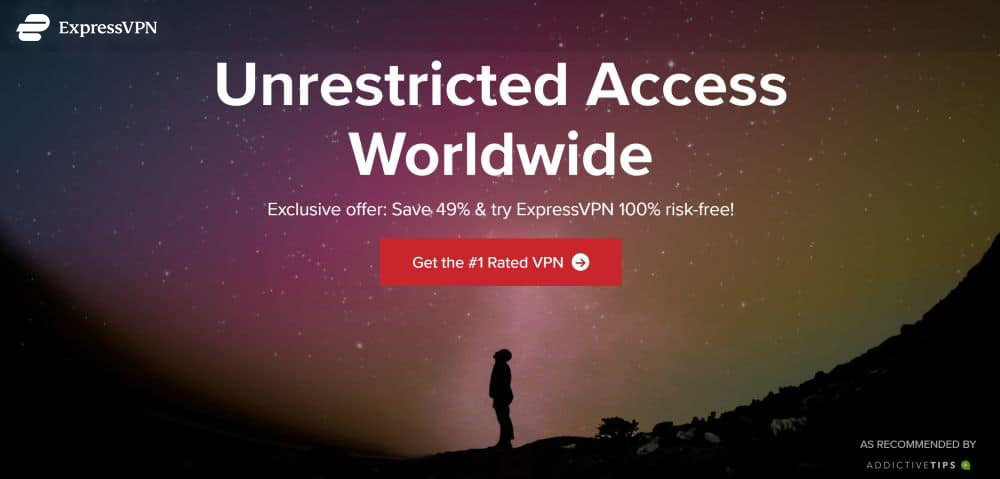 ExpressVPN is a fast, friendly, and easy-to-use service. It's perfect for everyone looking for a reliable VPN on any device, and it's especially well-suited for streaming CNBC thanks to its high quality speeds. ExpressVPN offers a wide range of privacy features to keep you safe and anonymous, including 256-bit AES encryption, a zero-logging policy, and both kill switch and DNS leak protection. ExpressVPN's server network also covers over 3,000 locations in 94 different countries, giving you plenty of options for a fast connection no matter where you live or travel to.
Using ExpressVPN is surprisingly simple, as well. The company offers custom software for most modern devices, including Windows, Mac, Linux, Android, and iOS. Once you create an account, all you need to do is download the app, sign in, and you're good to go. ExpressVPN takes care of finding the fastest server to connect you to each time you turn on your device. It keeps your data secure and your location hidden, as well.
Read our full ExpressVPN review.
Pros
Unblocking Netflix USA, iPlayer, Amazon Prime
Superfast servers (minimal speed loss)
AES-256 encryption
No logging policy well enforced
Great customer service via chat.
Cons
Power-users configuration options.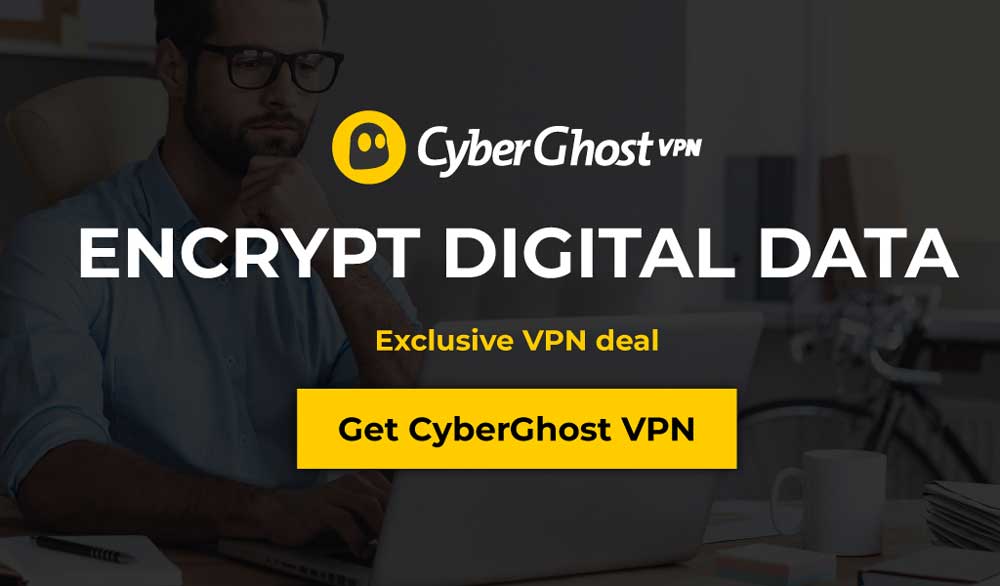 CyberGhost provides one of the best all-around VPN services on the market. Much of this is due to the company's dead-simple software that works on a wide variety of devices, including smartphones and laptops. Users get access to a huge network of over 5,900 servers in 90 countries, allowing CyberGhost to deliver incredibly fast and reliable speeds around the world. No buffering delays or internet slowdown, only great connections with a few clicks, every time.
CyberGhost's privacy features keep you secure with 256-bit AES encryption on all data, a zero-logging policy on traffic, time stamps, and IP address, and both DNS leak protection and an automatic kill switch. These foundational features hide your identity each time you go online, allowing you to connect with fully encrypted data no matter where you go. You never have to spend time configuring these features, either, as CyberGhost is ready to go right out of the box.
Read our full CyberGhost review.
Pros
Unblocks US Netflix, BBC iPlayer, YouTube
Affordable plans
2,048-bit RSA keys and SHA256 authentication
No log files
Live chat support (24/7).
Cons
Can't unblock some popular streaming sites.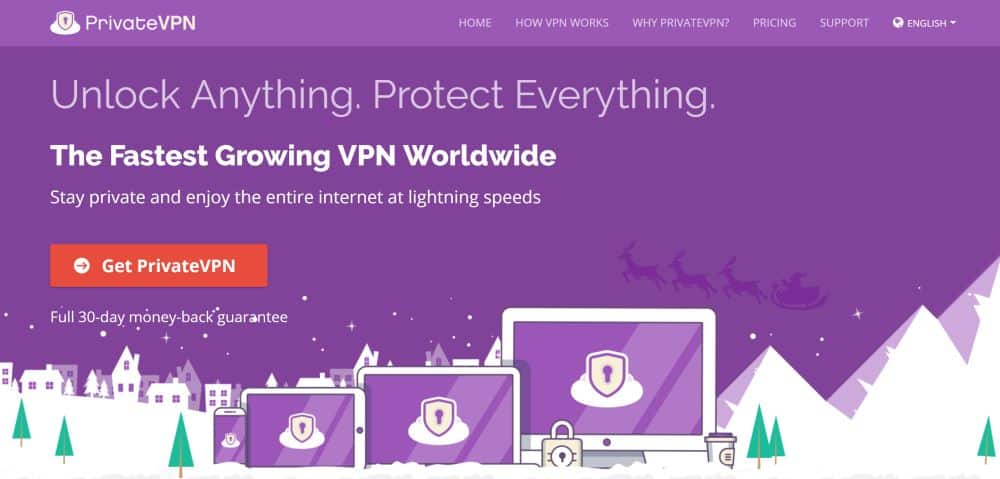 PrivateVPN has a well-balanced service that provides the right mix of speed and security, all designed to keep you safe online. PrivateVPN accomplishes this with lean and lightweight software anyone can pick up and use, making it easily accessible from desktops, tablets, and both Android and iOS smartphones. There's no need to go through complicated setups or configuration routines. Just run the app, and you're secure.
PrivateVPN operates a network of over 150 servers in 60+ countries, enough to deliver location variety and fast speeds without sacrificing reliability. PrivateVPN locks down all data passing through this network with 256-bit AES encryption, and it keeps your connection safe with an automatic kill switch, DNS leak protection, and a zero logging policy on traffic, too.
When you need more than encryption and virtual IP addresses, PureVPN is the service for you. The incredibly diverse platform offers a full security suite that protects you from a range of cyber threats, making it one of the best ways to stay safe and secure on the internet. With PureVPN you'll have anti-virus protection, malware shields, app blocking functions, and DNS website filters in a single package. Simply download the software, turn on the features you need, and you're safe.
PureVPN also provides the standard VPN privacy features on top of its added offerings. It begins with a zero-logging policy on traffic and continues with an automatic kill switch, 256-bit AES encryption on all data, and DNS leak protection. These features work together to keep your data secure no matter what. And with PureVPN's self-owned network of 2,000+ servers in 140+ countries, you're guaranteed a fast connection at all times, as well.
Read our full PureVPN review.
Watch CNBC with a VPN without Cable

Craving CNBC news but don't have an expensive cable subscription? Never fear, online streaming services are here to save the day. Below are a few of the best ways to watch CNBC without a cable subscription. Just sign up, add the right package, and enjoy.
Sling TV
The "a la carte" TV streaming service Sling TV was one of the first big hits in the cordcutting movement. Sling drops expensive pre-set channel packages in favor of a single base price with new channels available as you see fit. Want HBO but don't need AMC? Need more access to sports but don't care about movies? Not a problem with Sling. The app is available on all major devices, everything from Apple TV to Android TV, Roku, and Amazon Fire TV Stick.
CNBC isn't available from Sling's basic packages. Instead, you'll need to add the World News bundle to your existing subscription. Simply download the Sling app to your favorite device, create an account, then choose the bundle when selecting your subscription extras. Then you'll have full access to CNBC streams, no cable required.
Hulu with Live TV
Hulu is one of the most popular on-demand streaming services in the U.S. The company's push to conquer the TV streaming scene continues with Hulu with Live TV, a live broadcasting service available as a standalone subscription. Instead of on-demand access to archived episodes, Live TV lets you stream broadcast and cable channels as they air. You can catch your favorite shows the moment they're available, and even watch live sports and news programs from your computer. Hulu with Live TV is available on the same platforms as the standard service, including gaming consoles, Roku, Fire TV, Apple TV, Android TV, iOS, Android, and browsers.
CNBC is available as part of the Hulu with Live TV subscription. Note that as is the case with the standard Hulu service, Live TV comes with some pretty heavy regional restrictions, i.e. you have to live in the United States. Specific channel availability can also shift depending on your zip code, too, since Hulu with Live TV aims to provide hyper-local content.
PlayStation Vue
PlayStation Vue is a multi-platform streaming service aimed at cordcutters looking to ditch cable and move to something more convenient. It works by providing broadcast and cable channels concentrated into different packages, each one adding new themed sources providing access to more live sports, newer movie releases, and so on. The app is available on most popular streaming devices and platforms, including PlayStation 4 consoles, Roku, Fire TV, Android TV, Apple TV, and both iOS and Android.
PlayStation Vue is divided into four packages of increasing cost: Access, Core, Elite, and Ultra. CNBC is available in the lowest one, so you can sign up and enjoy it for a minimum investment. It's worth noting that PlayStation Vue is only available within the United States. You have to have a U.S. address and payment method to sign up, and Sony blocks access to many VPNs, making it extremely difficult to watch content overseas.
YouTube Live TV
The custom content giant YouTube is making a bid for a piece of the live TV streaming pie. The relatively new service adds a simple one-off subscription to existing YouTube accounts, allowing users in the U.S. to add a broad range of channels to their daily viewing routines. Dozens of networks are included in the base price, along with a few add-on extras for a small fee. Fortunately, CNBC is included with the default YouTube Live TV subscription, making it easy to watch with a minimum amount of hassle.
Conclusion
CNBC is one of the best resources for news, financial information, and business content. It's trusted by millions of Americans each day, and it delivers its content in both written and video form. With the right VPN you can watch CNBC from any device anywhere in the world, keeping you informed no matter where you travel.
Which CNBC programs do you regularly tune into? Where will you stream this content, using your VPN? Tell us about it in the comments below.