We are reader supported and may earn a commission when you buy through links on our site.
Learn more
What is the best VPN for Windows 10, 8 and 7? (2021 In-depth Review)
While Windows has come a long way in terms of shoring up its cybersecurity issues, the best VPNs will encrypt your connection for true peace of mind. Today, we review the most secure, fastest, and affordable VPNs that are compatible with Windows 7, 8, and 10, plus share some tips on making the most of your service.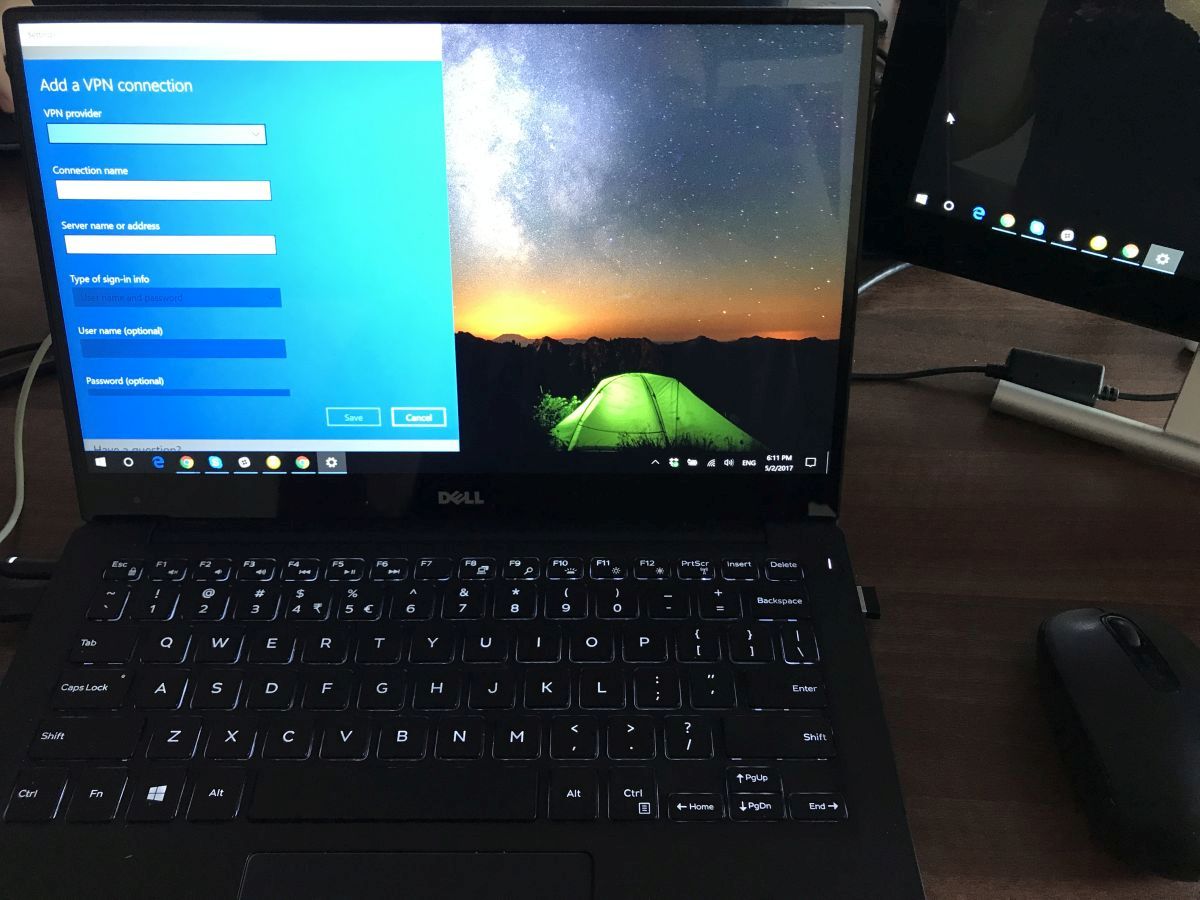 Windows has had privacy issues for years. Different hacks and phishing schemes have put online privacy at risk. Today we're telling you what are the best VPNs for Windows; those that are fast, secure, and affordable. Learn more about Windows VPNs in this article.
Staying safe on a Windows device requires more than just a firewall and antivirus software. The simple act of going online transmits private information to local service providers and beyond, offering unencrypted data for hackers to steal or ISPs to sell or share with third parties. Keeping your information private is just as vital as preventing viruses from infecting your system.
A good virtual private network (VPN) is the best way to add that measure of data security. Not only does it encrypt your data, but it also offers an easy way to access region-blocked content on services like Netflix and Hulu.
Short on time? Here's a few bullet points on the best Windows VPNs:
NordVPN – Best Windows VPN – NordVPN offers the ultimate cybersecurity package for Windows machines. Unblock any website, dodge ISP tracking and throttling, and download, VoIP call, and stream in complete anonymity.
Surfshark – A scrappy young provider with a ton of functionality and a growing network. Dirt cheap, with consumer-friendly policies and practices.
ExpressVPN – An industry veteran fine-tuned for maximum VPN speeds. Outstanding for unblocking Netflix.
IPVanish – Used by torrenters and streamers for years, and still a popular choice for its privacy and performance.
VyprVPN – Offers some of the most advanced configuration options, including their proprietary Chameleon encryption protocol.
VPNs are an indispensable tool for Windows users to keep information safe. We've collected a few of the best providers to ensure you get the best experience possible.
30-days money back guarantee
Evaluating the VPNs
Choosing a good VPN is a daunting task. You're selecting a service to handle your internet connection along with all of your private data, so the more research you do, the better. We sifted through a number of providers to find the best VPN for Windows that offers a balance of speed, security, privacy, and ease of use. Below are the criteria we used to evaluate each service.
Logging practices. Whether or not a service provider keeps logs should always be a top concern when looking for VPNs for Windows. Providers should have a strict zero-log policy to ensure data is never stored on their servers, keeping information as private as possible. Good VPNs never keep logs and they state that fact clearly, up front, and without exception.
Speed. Sluggish internet connections are frustrating. Encrypting data and routing traffic through servers located across the world can have a noticeable slowdown affect. The best VPN providers know this and have methods in place to ensure fast connections that don't skimp on privacy measures. We made sure the services below keep speed in mind when building their network.
Bandwidth and traffic limits. Some VPN providers set restrictions on the amount of bandwidth each user can consume, putting caps in place once a certain threshold has been met. They also forbid certain types of transfers, including P2P file sharing and torrents. We made sure the services below provide unlimited bandwidth with no speed restrictions and allow all types of files.
Server distribution. One of the more practical uses of a VPN is the ability to switch IPs, effectively giving your device a new geographic location. This is perfect for anyone looking to bypass region locked content or to stream Netflix, Hulu, or BBC iPlayer videos not available in their country. The VPN services below feature a wide range of server locations and let users switch between them at their leisure.
Pricing structure. Competition has driven most VPNs to adopt a similar pricing structure and rates. Most feature monthly billing options with a discount if you pay for a full year. Some even include short trials, money back guarantees, and even referral programs to help you earn free time.
Company location. A VPN's legal jurisdiction can have a profound affect on how useful the service is. If a country has strict or unusual data retention policies, a VPN provider must adhere to those laws. This can override zero-logging policies and put your private data at risk.
The best VPNs for Windows
What is the best VPN for Windows you may ask? Our research below will give you plenty of context.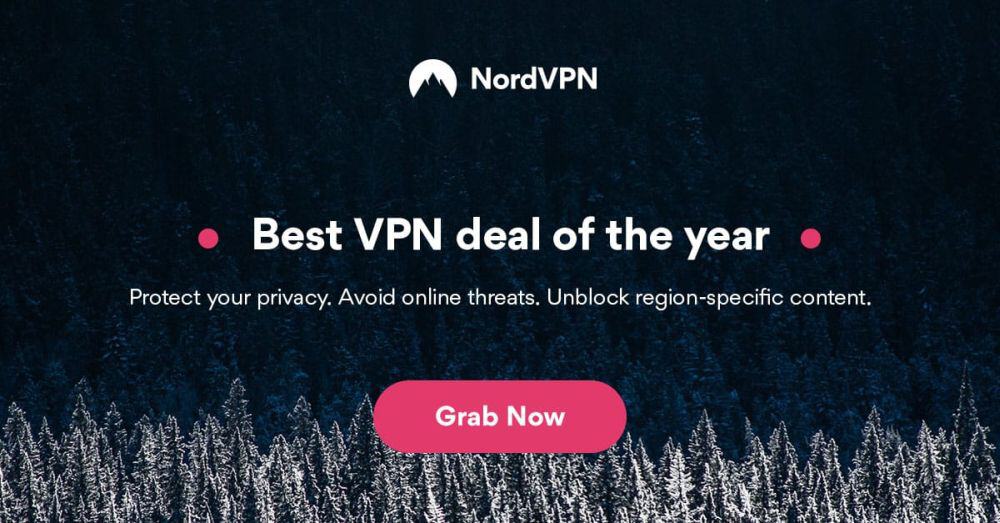 Safety and restriction-free internet access are two of NordVPN's leading features. The service employs a unique double encryption tactic that adds an additional layer of security to your data. 2048-bit SSL encryption even a supercomputer can't crack, to be more precise. This pairs nicely with a strict zero-logging policy, an automatic kill switch to prevent unencrypted data leaks, and bitcoin payments for that extra measure of privacy.
The speed and reliability of NordVPN's network is also top notch. The company deploys a network of 5,800 servers in 59 countries, a number that's constantly on the rise. This makes it easy to switch servers and change your virtual location to access blocked content. Servers are customized to deliver specific types of content more efficiently, allowing for faster video or torrent downloads. There are no bandwidth caps or file type restrictions, either.
NordVPN plans offer the full range of features for a flat monthly or yearly rate. Discounts are available for longer subscriptions, and a 30 day money back guarantee ensures you're happy with the service from top to bottom. There's even a referral program designed to give both you and your invited friends an incentive to join. The quick set-up Windows client makes getting started as easy as downloading and installing. There are also apps available for iOS, Android, Linux, Mac, and routers for complete device coverage.
Read our full NordVPN review.
Pros
Unblocks US Netflix, iPlayer, Amazon Prime and other streaming services
Different IP addresses aervers
2,048-bit SSL keys and DNS leak protection
Extra-secure Double VPN for data encryption
Live chat support is available.
Cons
Sometimes slow in procesing refunds (but always do).

Surfshark installs beautifully onto any Windows desktop, tablet or phone. It offers one of the most modern and complete VPN packages on the market, and does so without gouging you on price.
Launched in 2019, Surfshark has already managed to build an incredible network numbering 3200+ servers in 65 countries. Included are static IP and multi-hop connections, and they all have the benefit of automatic obfuscation whenever Surfshark detects VPN blocking. You'll connect through OpenVPN, IKEv2/IPSec, WireGuard (Windows users also have Shadowsocks available) tunneling protocols, secured by 256-AES-GCM encryption. This is ideal for bypassing censorship, unblocking websites and apps, and generally hiding your activity online.
There are no restrictions on bandwidth, traffic type, or even simultaneous connections, either. Surfshark even lets you tailor certain settings to specific Wi-Fi networks–great for anyone who travels a lot. However you use Surfshark, rest easy knowing they've got one of the best no-logging policies in the industry.
Pros
Every server optimized for unblocking Netflix, BBC iPlayer, Hulu, and more
One of the first VPNs to implement RAM-only servers
No questions asked money back guarantee
Zero logging policy ensures your activity can't be used against you
Get help any time of day via email, phone, or live chat.
Cons
Growing network doesn't have same coverage as more mature VPNs
Apps may be too simplistic for power users.
Read our full Surfshark review.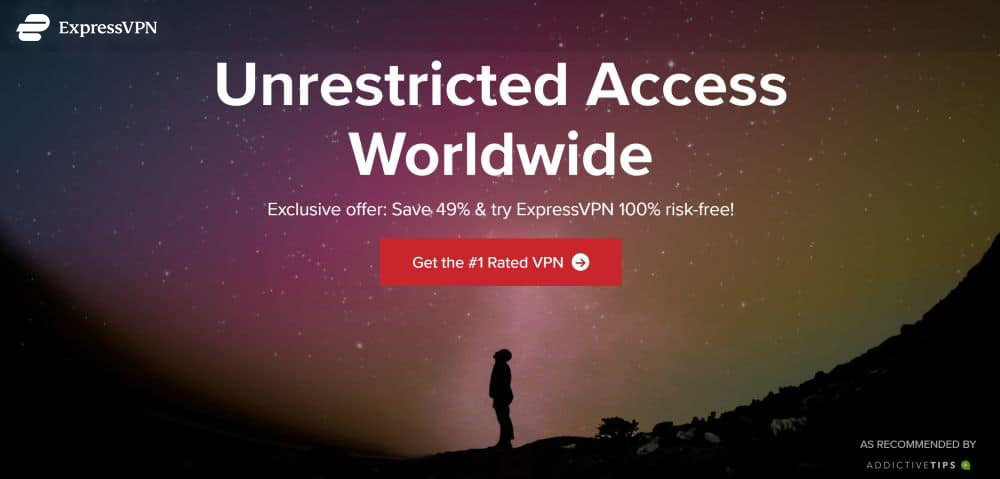 ExpressVPN aims to make VPNs accessible with a strong focus on ease of use, excellent privacy policies, and good location variability. You can choose from 3,000+ servers in 94 countries spread across Europe, Africa, the Americas, and Asia, freely switching between them to find the best connection to access region locked content regardless of your location. Unlimited bandwidth comes with every plan, and there are no speed caps or file type restrictions, either. ExpressVPN also has a zero-logging policy and uses strong encryption and IP masking to keep your data private.
The ExpressVPN Windows client is an extremely fast install. Simply sign up for the service, download the file, then log in and connect. Any features you customize are completely optional as everything works right out of the box. There are also clients available for iOS, Android, Mac, Linux, and routers to ensure all of your devices are covered.
Read our full ExpressVPN review.
Pros
SPECIAL OFFER: 3 months free (49% off - link below)
Superfast servers (minimal speed loss)
AES-256 encryption
No logs for personal data
Great support (24/7 chat).
Cons
Expensive month-to-month plan.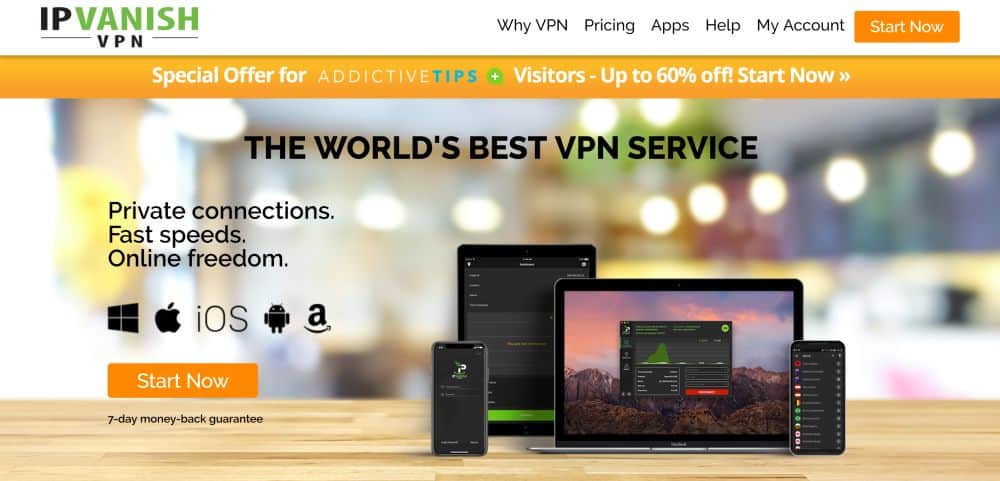 IPVanish has a simple slogan: stop the spying. The service puts data privacy first with 256-bit AES encryption and zero traffic logs, making it virtually impossible to get your information once it leaves your computer. IPVanish also delivers unlimited bandwidth, anonymous torrenting, unlimited P2P traffic, and 1,300+ servers in over 60 countries, perfect for stepping over region locked content on services like Hulu or BBC iPlayer.
IPVanish plans feature a flat monthly rate with hefty discounts if you pay annually. There's a generous seven day trial if you want to try things out before taking the VPN plunge. Coupons are often made available directly on the site, making it even more affordable than the plans suggest.
To top it off, the IPVanish software supports Mac OS X, iOS, Android, Ubuntu, Chromebook, and router software, and the Windows client is a fast and easy download.
Read our full IPVanish review.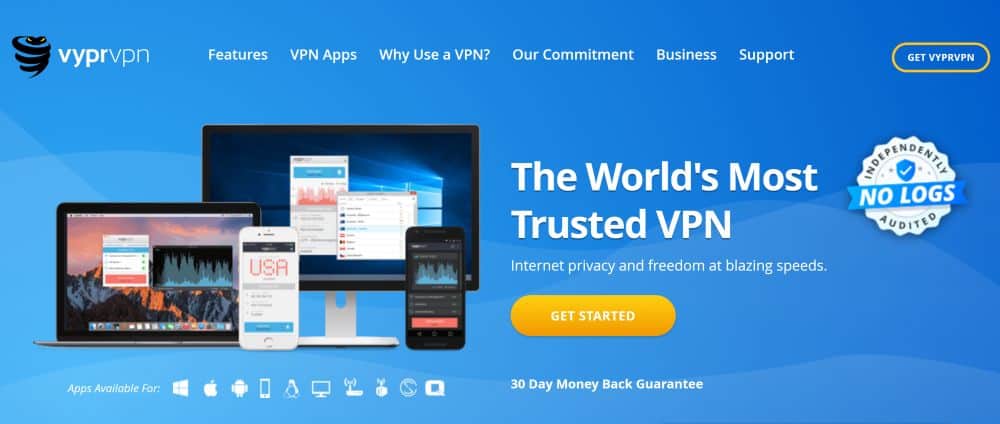 VyprVPN is a powerful virtual private network service. Its operating philosophy centers around privacy and freedom for everyone, and it delivers on that promise with a massive network of servers and speedy connections that don't sacrifice security. VyperVPN's network includes over 200,000 IP addresses spread across 700 servers in 70 different locations with unlimited switching, so accessing region locked videos through BBC iPlayer or Netflix is never an issue. There are also no data caps, speed restrictions, or banned file types.
One of the unique features of VyperVPN is that the company owns and operates all of its servers, skipping over third parties to make sure your information is always secure. The unique Chameleon technology even bypasses blocks put in place by governments to censor data, making it an ideal choice for anyone seeking free access in a limited environment.
The VyprVPN plans are straightforward and offer flat rates billed either monthly or yearly. The Windows client takes just a few moments to set up and includes fast access to all of the service's unique features. There are also apps to cover your non-Windows devices, including Anroid, iOS, Mac, Linux, routers, and even TVs.
Read our full VyprVPN review.
Why Use a VPN?
VPNs are extremely useful tools for internet users concerned about privacy. They also provide a measure of flexibility in accessing content as well as protect your mobile devices while traveling. VPNs are essentially your own private tunnel to the internet, allowing you to access the content that you want without broadcasting your location or your private data to third parties.
Some of the benefits of using a VPN include: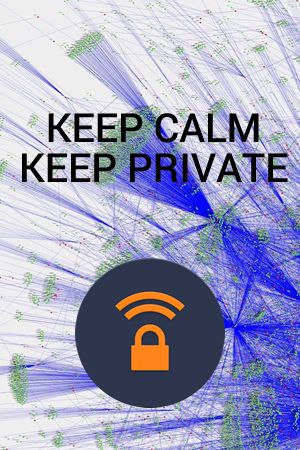 ISPs can't track you
– All of your internet data passes through a local service provider. Without a VPN that information stays unencrypted and is stored on ISP servers where it can be sold or shared with third parties. With a VPN in place that data is encrypted, turning raw information into scrambled numbers and letters. Even if the ISP turns over all of its logs, your information cannot be retrieved.
Public Wi-Fi is safer
– Using public Wi-Fi can be a huge risk. Not only do you not know the service provider behind the connection, you also don't know the practices put in place by the company providing the Wi-Fi. It's easy to snoop public connections and grab people's personal data, which is why a VPN on your laptop or mobile device is an essential travel investment. The data encryption alone goes a long way to keeping your information safe.
Access restricted content
– One of the more immediately useful features of a VPN is the ability to change locations at the click of a button, allowing you to bypass content blocks that restrict access based on your country. This allows you to step over information censored by governments or company agencies as well as watch videos on Netflix, Hulu, or BBC iPlayer you couldn't normally access.
RELATED READING: Best Netflix VPNs according to Reddit
What Can't a VPN do?
There are more threats online than data leaks and censorship. A VPN keeps your information safe when it leaves your computer, but it doesn't protect you from local threats such as viruses or malware. Windows users already know about keeping firewalls and antivirus software active, which remains true even with a VPN.
VPNs won't protect you from viruses
VPNs use encryption and rerouting to move your data and keep it safe, but they won't stop computer viruses from invading your machine.
Every device isn't automatically protected
– Installing VPN software on your Windows device encrypts the data leaving your PC, but it doesn't automatically protect other devices connected to your home network. Every phone, tablet, and laptop needs to have its own software installed and running to ensure data stays safe. Installing a VPN's router software is a workaround for this limitation, but you'll need to be comfortable configuring the hardware yourself, which can be a bit technical.
VPNs can be sluggish
– A VPN can't speed up your internet connection. The data you send to a VPN's servers still has to pass through your local service provider. In fact, VPNs are often slower than ISPs due to the encryption overhead and distances the data must travel. Many VPN providers take this into account and work to keep speeds as high as possible without sacrificing privacy.
Always Avoid Free VPNs
There's a strong temptation to use free VPNs, especially on Windows. Their banners are all over the place promising lightning fast speeds and complete data security at no cost to you. All you have to do is install a quick browser extension or download a simple program and your data is, apparently, safe.
If there's only one rule of using a VPN it's that free is always a bad idea. Providers who don't charge customers need to make revenue through other methods, often by collecting and selling the very user data they promise to protect. Even if the free VPN insists they deploy strong encryption and keep zero logs, there's no guarantee. Always shop for a reliable VPN with a good reputation. Their reasonable monthly fees truly are a small price to pay for real privacy.
ALSO READ: How to pretend you're in a different country, with a VPN.
Speeding Up Your VPN
If your VPN has good speed ratings but you just aren't seeing the results, there are a few tricks you can do to diagnose and fix the problem.
Switch servers
– VPN speed is directly affected by the distance between your computer and the server you're connected to. Try switching to a closer location, preferably within your own country, to resolve the slowdown issues.
Wait
– It sounds strange, but speed issues often resolve on their own. If a server is experiencing a heavy influx of connections it can slow things down considerably. This is especially common during peak times of day. Even if it's the middle of the night in your home, the server you're connecting to could be routing traffic for countless users just getting home from work.
Try a wired connection
– If you live in an apartment building or are an area with a large number of interfering Wi-Fi networks, slowdown can be a common issue. Try plugging your computer directly into the router to see if that resolves the speed problems.
Disable security software
– A controversial fix, but one that's worth trying simply to diagnose the issue. Firewalls and antivirus software can create lag as they scan incoming packets of data. By disabling these programs you can often regain some speed. Always enable them once you've performed your tests, however.
Change ports
– All VPN software connects using a port number and assigned protocol. Local networks can sometimes restrict the speed of these ports, throttling your speed without your knowledge. The easiest fix for this is to check your VPN's software and switch ports from there.